20 Million Trees and Beyond in Kenya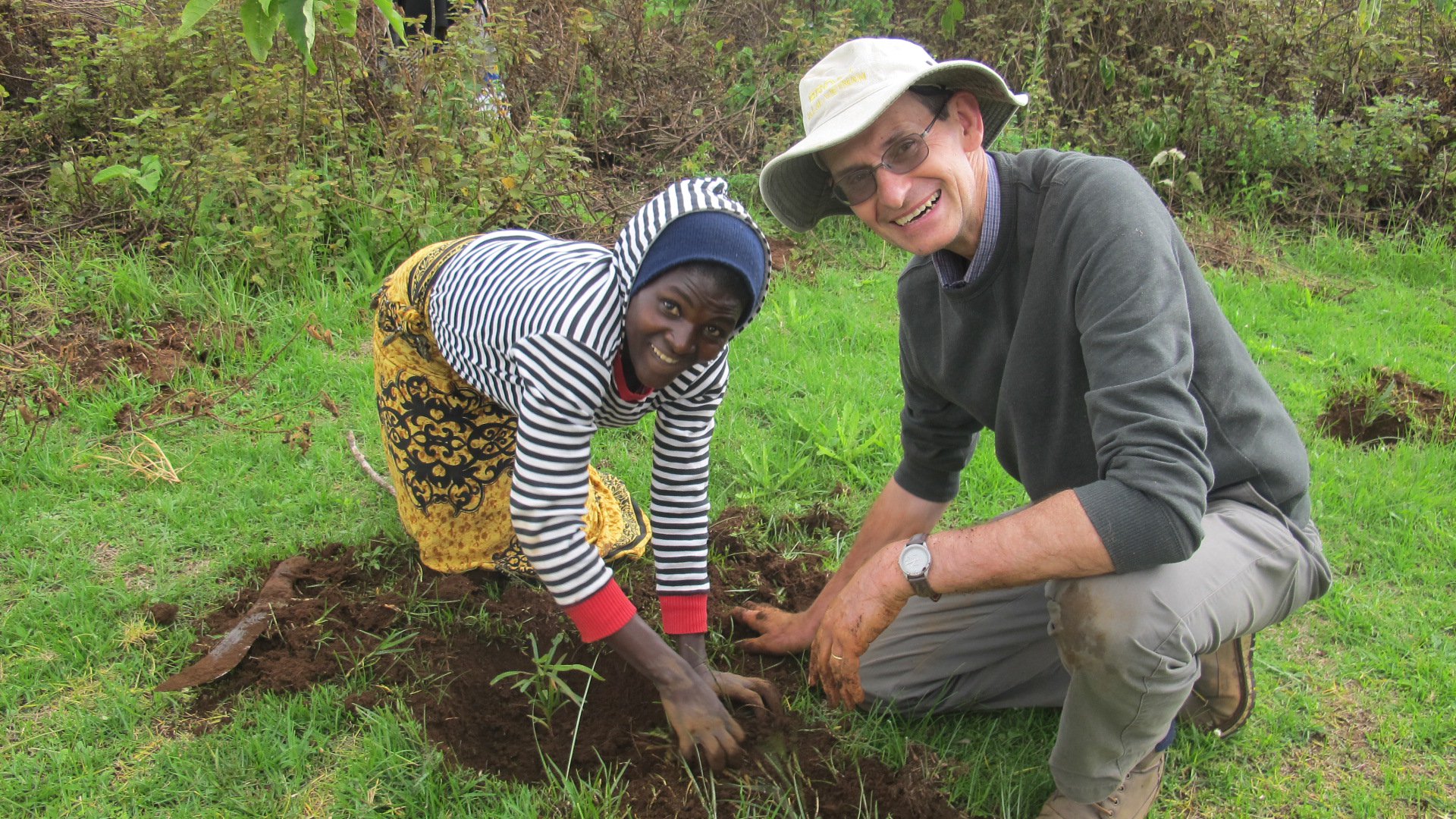 Paul Laird with one of the amazing tree planters at our planting site in Embu County on Mt. Kenya in Africa.
~ How TreeSisters and ITF's goals go hand in hand ~
The International Tree Foundation (ITF) is one of the planting partners that TreeSisters works with, specifically helping to fund the reforestation of the "water towers" of Kenya in Africa. Our Reforestation Director Lauriane Cayet-Boisrobert had a chance to sit down with Paul Laird the Programmes Manager for ITF when she was in Kenya visiting the progress of the plantings.
Lauriane asked Paul to share why he is so passionate about trees and how he came to be in this line of work. It began in childhood; when Paul was a boy he grew up in London, England spending much time in nature roaming the English countryside. As a young adult, Paul attended university to study History and modern languages but found himself feeling out of place. He then spent some time traveling around Europe working in orchards and farms as he went. When he returned to England he took up work as a laborer in the forest industry, learning how to both plant and cut trees. From this experience he decided to study Forestry, receiving his diploma from the Scottish School of Forestry (and eventually an MSc in Environmental Management) , and then seeking out a career. But once again he found himself feeling out of place as the forest industry was too industrialized. So he decided to join the British Voluntary Service Overseas program. And from there he eventually found himself in Kenya.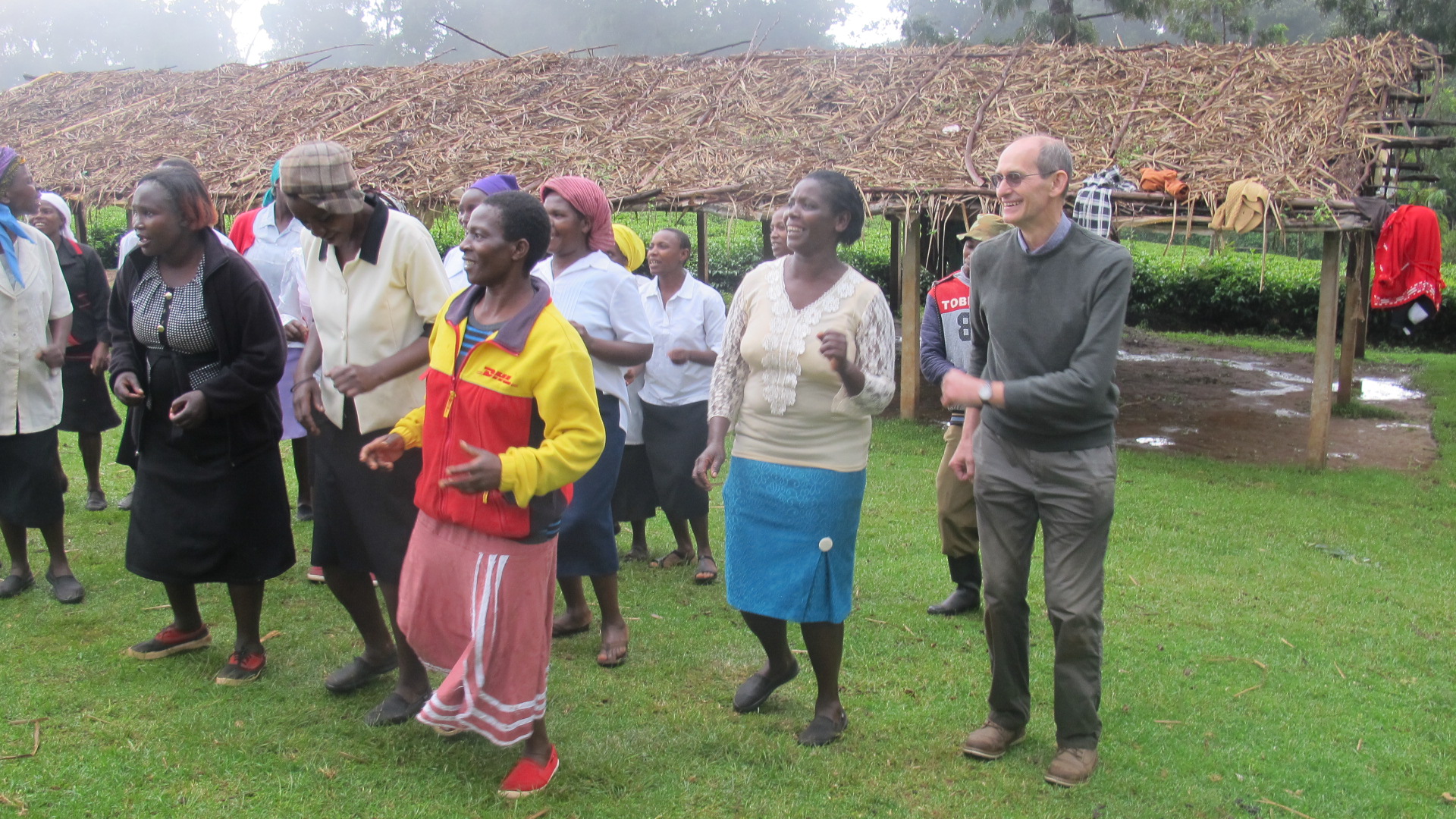 "In 1984, I turned up in the Meru county of Kenya as a forester within the rural afforestation extension scheme of the government Forest Service, and that's when I started learning about trees and about people because it was not really about the big forests. It was about reaching out to the communities around Meru - Meru County is on the slopes of Mount Kenya and is a very, very intensively agricultural landscape full of very hard-working people who also love trees. I met my wife who's also in the same line of work, Grace. And we worked together for three years with many other colleagues working with women groups and churches and schools and chiefs and all sorts of people in the community to plant trees and conserve the remaining forests outside the main Mount Kenya forest - and for me that was it. I was a happy, happy man. I felt this is what I like doing." (Image on right: Paul dancing with the women groups operating in Southeast Embu county for TreeSisters.)
ITF's 20 Million Trees Campaign
Paul joined ITF about three years ago. One of the things he was assigned to was to be part of ITF's centenary campaign to celebrate their 100 years since being founded in 1924 in Kenya, with a goal of 20 million trees to be planted in Kenya by 2024 the 100th year.
When Paul joined in, in late 2015 and early 2016, he and his co-workers realized that planting 20 Million trees in the Mt. Kenya Forest itself was a goal that wasn't feasible. They began looking at the campaign goals speaking with other organizations and partners. The more they spoke the more they realized how important the five water tower forests of Kenya were. This led to a decision to make it a National campaign.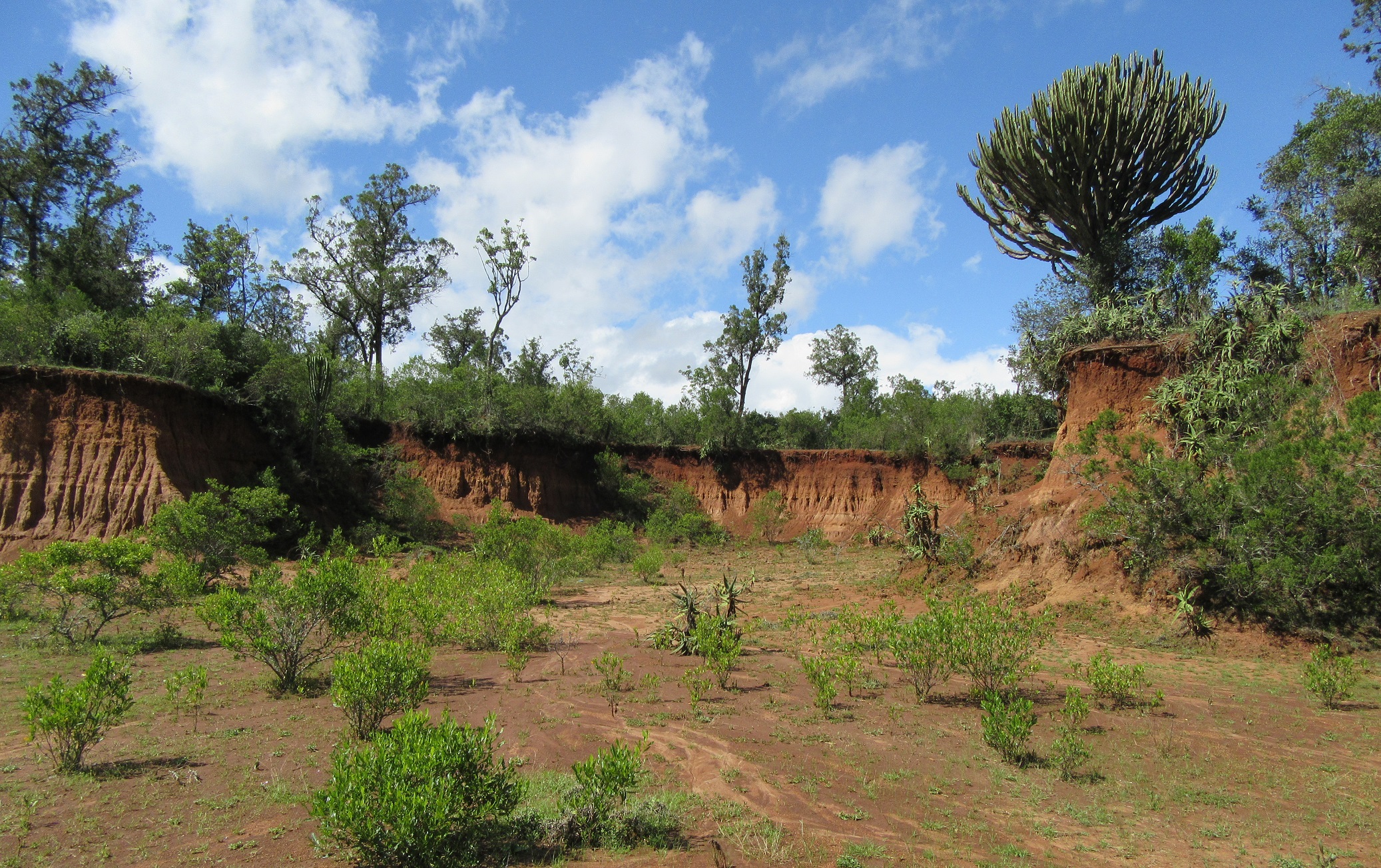 Kenya is at outright risk of scarcity of not having enough water to support its citizens' needs; its water towers are not the man-made type you see in other parts of the world but rather mountains and forests that function as water towers for the surrounding areas. These five water tower mountains cover a vast area of land from Mount Kenya all the way to the Cherangani Hills of the Northern Rift Valley, along with three other mountain locations. The Kakamega Forest which is not a water tower but rather the only rainforest in the western part of the country was also included in this campaign so that 20 million trees planted was now a much more tangible goal to reach. (Image on left: Soil erosion pattern due to removing trees off the land in northern Mt Kenya slopes and foothills.)
Paul shares that... "the other big realization of that period 2015 2016 is that restoring Kenya for us is not just for the government, not just for NGOs, but it's also for the communities around these forests. Part of the balance of that is to enable and encourage the communities around the forest to plant more trees on their own farmland. To a large extent to provide the benefits and the services that formerly they would have expected to get from the forest and which, with the increasing population can no longer be extracted at a sustainable level from the forest and can often be actually more efficiently grown on farms close to where it's used. And that led us to think much more seriously about including agroforestry trees as part of the overall count. So we now say, 20 million trees in and around Kenya's forests. That's a phrase that we could use, and it makes sense and is achievable, even if very ambitious."
Paul goes on to explain that this campaign is part of an even larger goal. "We're very thrilled that Kenya at a national level, under the Ministry of Environment has adopted this campaign as Kenya's contribution to the Queen's Commonwealth Canopy, which is a multinational campaign right across the Commonwealth to promote forests and reforestation and forest restoration and the 20 million trees are Kenya's contribution. Now, by doing that, the Ministry of Environment puts its strength with us and that is great as well."
TreeSisters and our three planting sites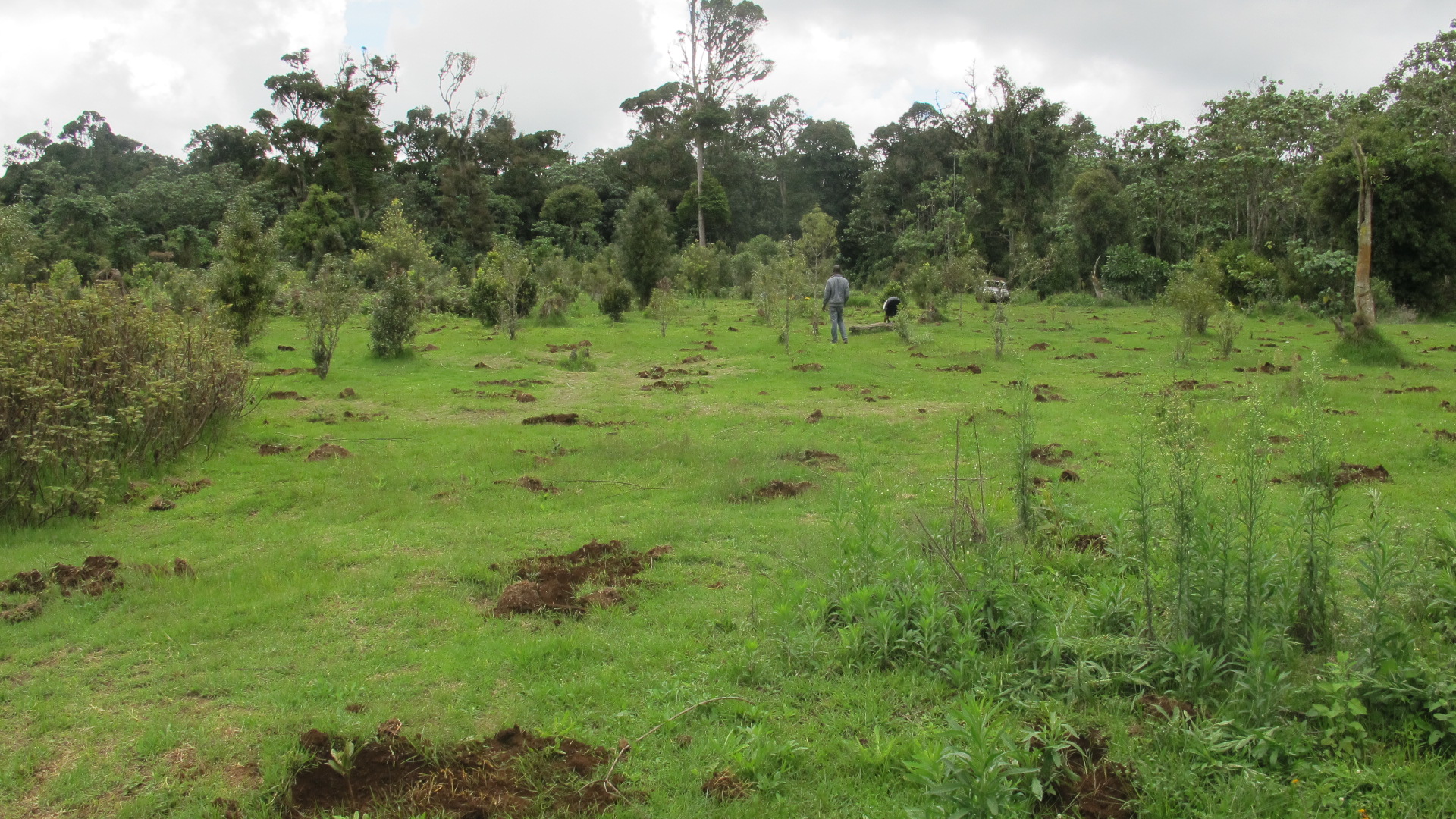 TreeSisters is helping to fund three of the planting sites within this larger campaign. Each one is unique with its own landscapes and beauty as well as the different communities that call these areas home. Each of these sites is situated around Mount Kenya. Mount Kenya is the tallest mountain in Kenya measuring over 5,000 meters in height with a huge wide curved platform rising over the lowlands up to 2,000 and 3,000 meters. All three projects that TreeSisters is funding are on the mountain sides. One is in Embu County. The other two lie in Meru County on the northeast and north almost northwest sides. (Image on right: TreeSisters' sponsored planting site in Southeast Embu County ~ Magaca site at Irangi forest. )
The first project in Embu County is where the project began with a local group known as the Mount Kenya Environmental Conservation team. Just below the forest here, you will find very intensely, and well-maintained, cultivated land used for growing tea and further down for coffee. It is highly populated with many smaller farms. Each farm having some livestock and a multitude of crops being grown for local use as well as sale. Because this area is part of an agroforestry landscape it includes many trees close to the farms as the trees are grown for their use.
About five years ago a group known as Rhino Ark came to the area and with the cooperation of the local community, set up a very large perimeter fence around the forest. This fence limits the accessibility of the local residents, but it also keeps the wildlife, elephants in particular, from coming out and trampling the community's crops. It's also helped save both human and elephant lives as previously there had been deaths caused by the elephants.

Once beyond the fence, you find a very dense area of forest with many species of plant and animal life. A wide spectrum of biodiversity. But what is also seen is damage. "Part of that history is that during the colonial period, chunks of forest were taken out of the forest and handed over for cultivation. These chunks were taken out and converted into commercial industrial plantations of Pine and Cypress, and Eucalyptus."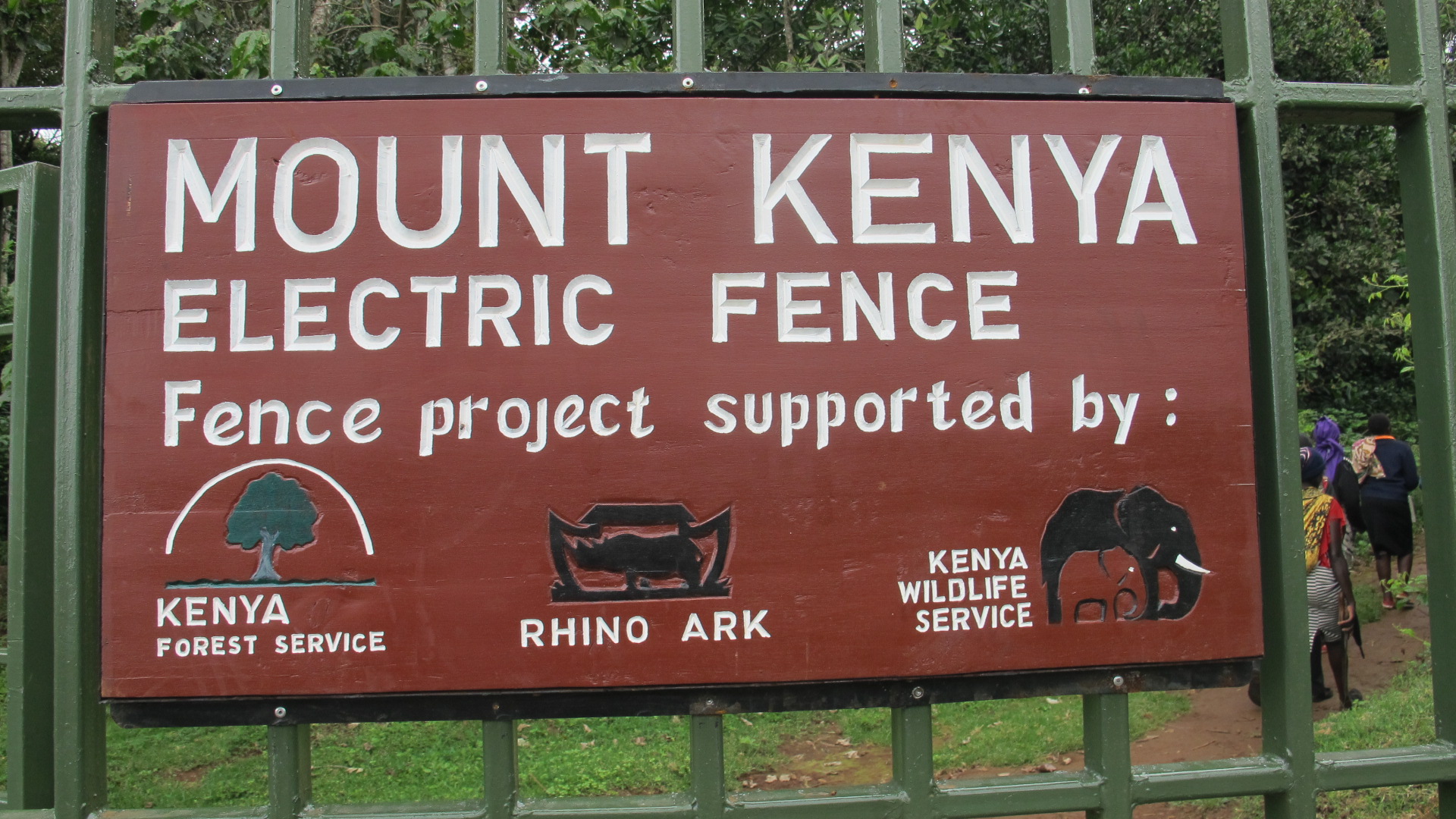 The area contained rare valuable species of trees which were harvested sometimes by the government but also sometimes by corruption and individuals seeking profit.
Paul states, "So some of the most valuable trees of the forest, like the famous Camphor tree. While I may have seen... Yes, I did see one or two back in the 1980s, I've never seen one since. The Vitex, the famous Meru Oak has mostly gone. The Iroko, or the Milicia excelsa you will rarely see these days, so much damage has been done. But the biggest damage really was the conversion to the industrial plantations." (Image on left: The warning sign for the electric fence protecting the Embu County site.)
The mismanagement of these plantations lead to the loss of the montane humid forests not only in Embu County but also the montane dry forest in the northern part of Mount Kenya so that thousands of hectares were damaged to the point of growing over with grasslands or a mixture of invasive shrubs with a few remnant trees. It is these areas that we are working to restore.
The second project in Meru county is situated in another densely populated area. It is known as the Imenti Forest. It is a long corridor of forest that serves as a corridor for elephants to travel from the Savannah dry lands of the northeast of Kenya up into the forests of Kenya. This area has a history of conflict between the elephants that travel it and the people who live in and around it, as the elephants travel outside the forest into the farms to explore and cause much damage along the way. This same area has also been over used by people using it for charcoal, timber, Cannabis, and livestock grazing. Damage accumulating on top of damage to the point as Paul says "I thought the Imenti Forest was lost and finished."
Thankfully Rhino Ark became involved here once more with the community approval. They came to understand that the individualized use of the land was at a cost to their communities and not benefiting them. Realizing that they needed to live in balance, ITF alongside Mount Kenya Trust and the local community forest association began to support efforts to involve the locals who help remove the invasive bushes that have overgrown the area. The communities now plant crops and trees which are maintained for about three years at which point the forests are allowed to recover. ITF has seen very positive and encouraging results from this effort.
The last planting site is in the Northern area of Meru County. The story of this land is that it was cleared and used for farming and housing development but with a history of mismanagement. Many long and sometimes challenging negotiations took place. People had come to consider that land their home and getting them to agree to settle elsewhere to regrow the forest was difficult.
This area had been settled by the Caucasians farmers from the colonial period. These were huge farms that stretched out over a wide area and now also often producing food that is exported to supermarkets in Europe. This area is different because it is much a much drier region. The rain that comes in from the coast is captured by the humid forest in Embu leaving this land just out of reach. The main tree species here are the Juniperus Procera a slow growing but very valuable tree and the African Olive. The land had been cleared almost up to the moorland above and the project there is to restore that dry land forest.
Progress on the goal
The Mount Kenya Environmental Conservation, one of the partners on this project, has had a period of organizational growth coupled with the challenges that have occurred with both the Community Forestation Association and the Kenya Forest Service. Their greatest strength is that they are working with twenty or more self-help groups (some only women groups) which gives them a real community basis and a wide diversity of over 500 people.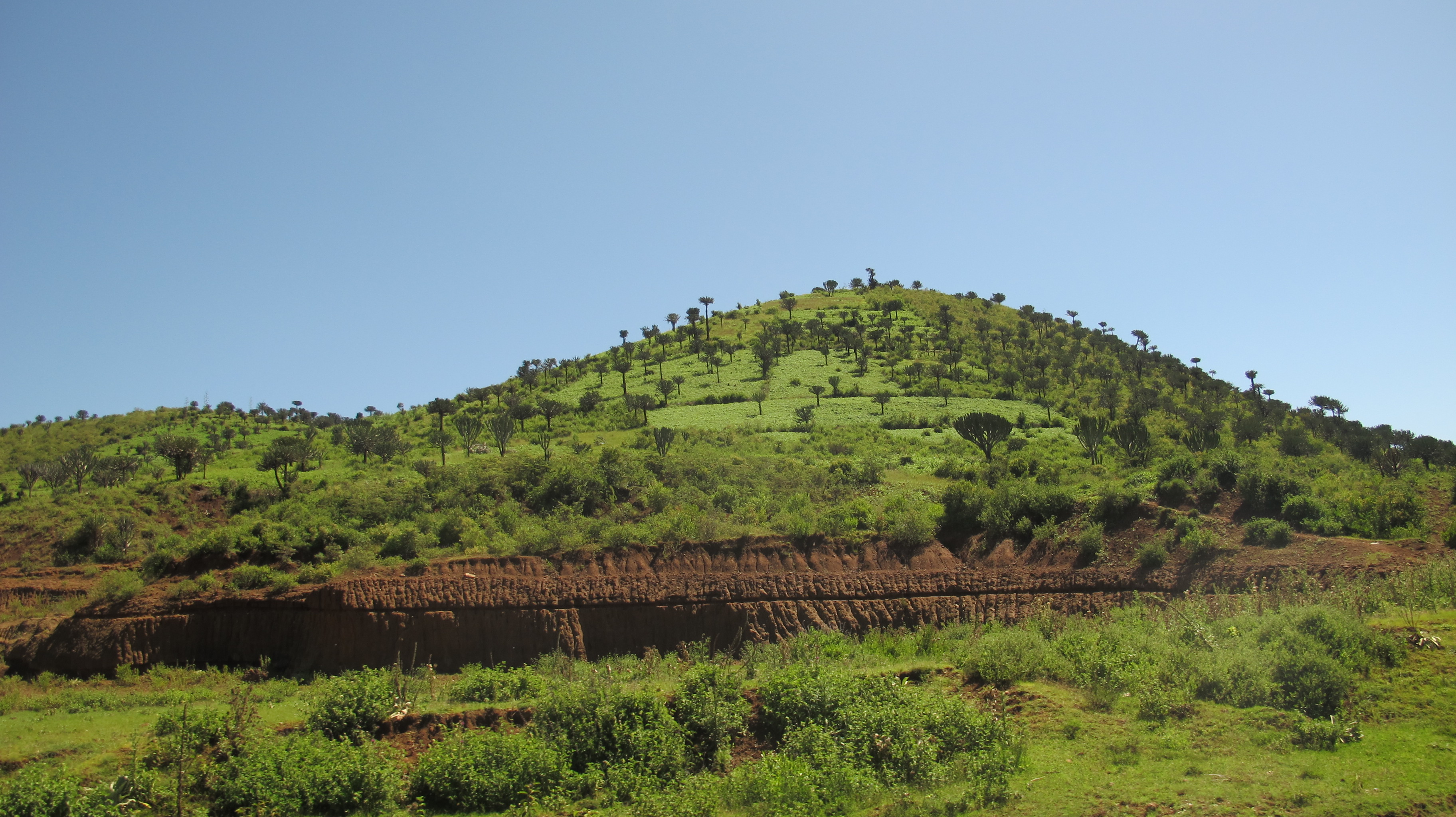 Additionally, they have improved and strengthened the quality of the tree nurseries. Through experience, they have learned which indigenous tree species grow best as well as having increased the variety of the species planted. One of the ways this has been done is by the use of "Wildlings". Germinating plants of the native species grow in clusters inside the forest. These clusters number from 20 to 50 seedlings all in one place so that there is no way all of them can grow and survive there. Some of these seedlings are carefully gathered which are then taken back to the nursery and given the conditions necessary to continue growing. This method is helping to increase the success and variety of trees that can be replanted. It is this work that the Mount Kenya Environmental Conservation is doing in that area that is funded by TreeSisters. In 2017 Mount Kenya Trust joined the campaign, enabling forest restoration to start at the sites in Meru County. (Image on right: Once a forest this picture shows the landscape that had been degraded due to the historical land clearing in Meru County.)
What stands out most for you?
In closing, Lauriane asked Paul to share what had surprised him over the last year. Paul replied that the progress being made at Imenti because that forest was close to where he once lived, and he honestly thought it was going to be destroyed completely. Having lived in Kenya, Paul can see the changes that have happened to the country. In particular, the forest management style went from one of keeping people out of the forest to one where local communities are vital in maintaining and restoring their health. And the depth of passion of the people in their communities to organize these efforts is fantastic.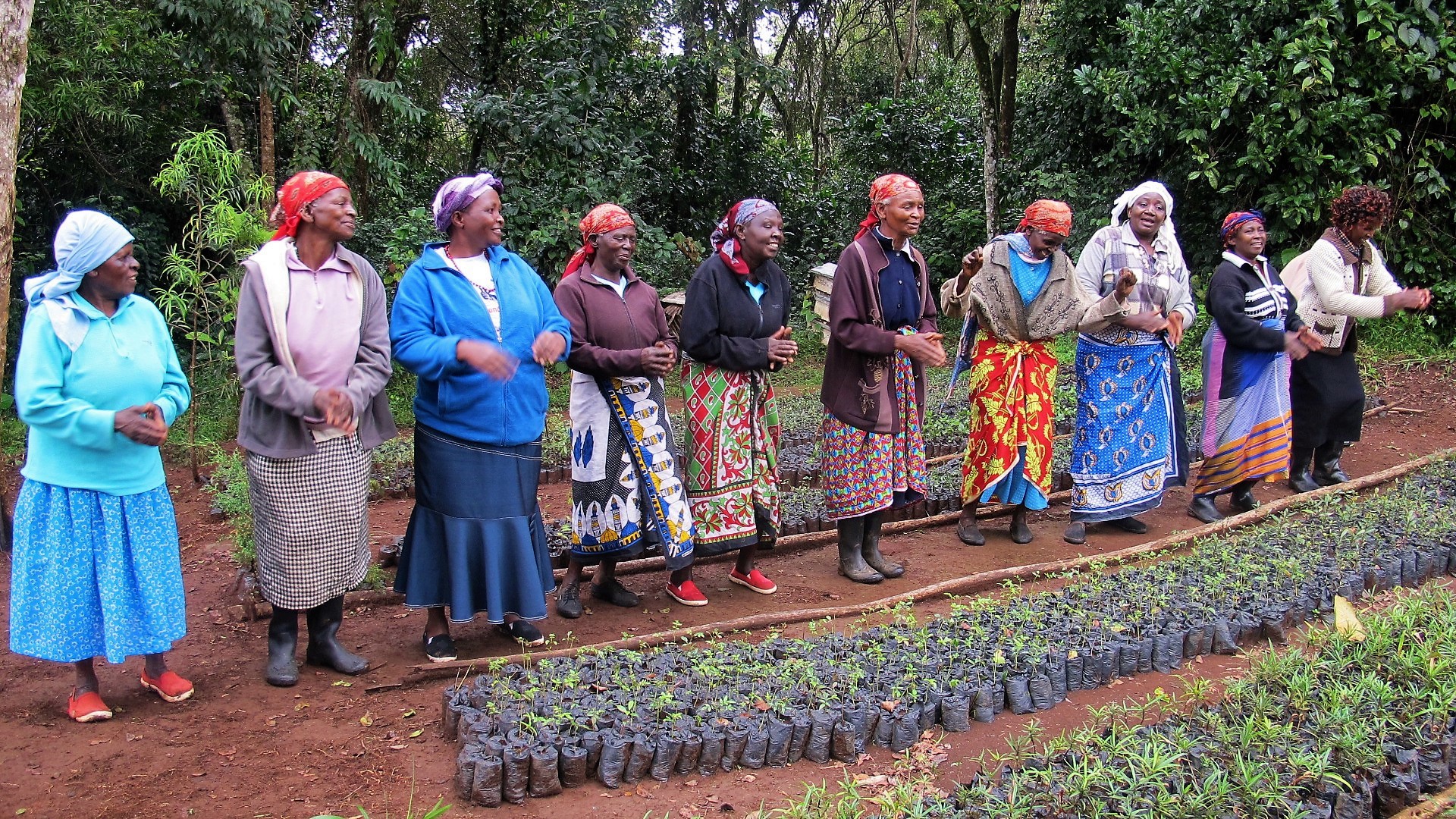 One observation Paul shared is that women are the driving force there. "If you're looking for people who achieve a balance between obviously looking after their own needs and their family which is crucial, but balance that with a spirit of partnership sort of sisterhood with their neighbors and the community around... that is very, very visible down in Embu County; when you go to the women group tree nurseries you feel it. (Image on left: Tree nursery operated by women groups where all the tree seedlings come from to reforest TreeSisters's designated planting areas in Embu County ~ Magaca site at Irangi forest).
Another thing that has surprised me and delighted me really is to see the way those women groups are driven by the women and now the men come on board because they appreciate the drive of the women. They know that if it's just men, it's more difficult then. More competitive, etc. So, one of the things that delighted me is to see how those women groups are taking on board all sorts of other forms of empowerment around how they manage their finance, how they manage how they have savings and credit schemes amongst themselves, what they call table banking, that they're running their own banks really aggregating their own income and empowering themselves. It's pretty remarkable stuff."
When asked to share his hopes Paul replied, "Planting 20 million is great. And I hope we will get there. I love quality as well as quantity. And I love the fact that we're working with communities. That it is not just a drive to plant as many trees as possible. It is about that quality of people's relationship with the forest and that growing empowerment of people around their forests. And as I've had opportunities over the last year to travel around Kenya, looking at other sites, I see the sparks of the same empowerment and enthusiasm and women involvement - not everywhere, but that is my big hope that that will really spread like wildfire across Kenya.
So that's my hope that our 20 million trees campaign can be actually part of a life change for this country. A real swing around this country. A convergence around restoring the water towers, restoring the forests for biodiversity for what we nowadays call ecosystem services. But water is obviously the key thing and restoring people's relationship with nature as something that they actually value, treasure and love having next to and interlaced with their very busy economic lives as well as their struggle to look after their families."
Finally, Paul shared that he and his wife Grace plan on retiring in Meru. They love walking and exploring, and hope to start a walking club to lead people into nature to teach them about the forest. Something, he added, you could not do 20 or even 10 years ago.
Just one more sign that things are moving back in the direction of restoration and connection with nature in Kenya.



For more about our Mt. Kenya project please read Anastacia's story and Grace Laird's story.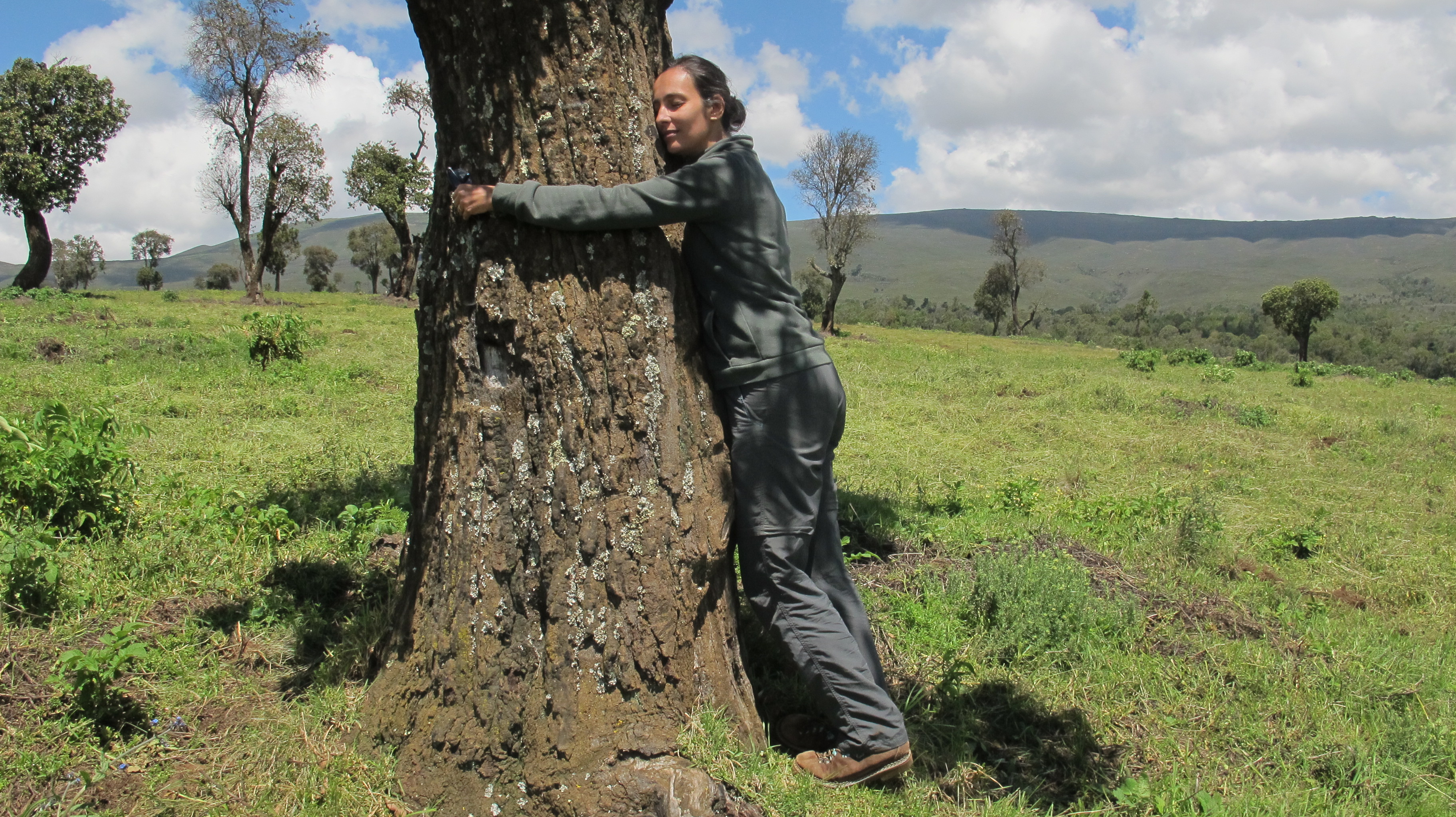 Lauriane TreeSisters Reforestation Director hugging one of the remaining full grown trees at our planting site in the Northern area of Meru County ~ Ontulili site near Timau).


Interview and photographs by Lauriane Cayet-Boisrobert
All sentences in quotes are by Paul Laird
With a special thank you to International Tree Foundation (ITF).

Blog compiled and written by Terra Canova with assistance by Lauriane Cayet-Boisrobert



---