What happened at the 2019 UN Climate Action Summit?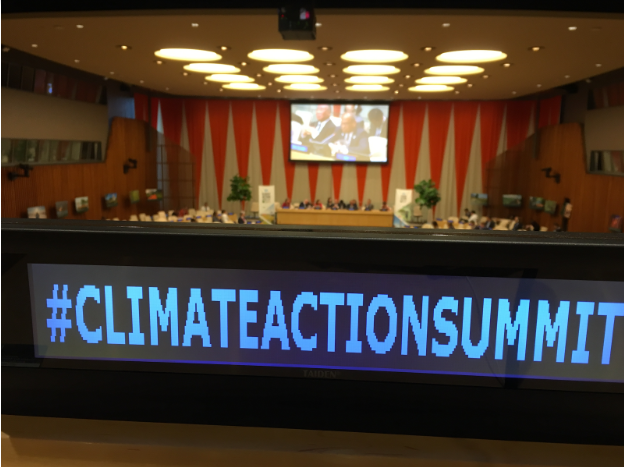 Governments discussed the role of Nature Based Solutions in solving climate change at the UN Climate Action Summit.


To my treesisters, thank you for your support, energy, and love. I felt you with me as I represented TreeSisters at the Nature Based Solutions sessions of the UN Climate Action Summit and the Global Landscapes Forum.
The voices of youth calling for action in line with science and justice contributed to a visceral sense of urgency that I have not experienced in a decade of participating in global conversations on global warming. The protests and Youth Climate Summit on September 21 created a buzz at the UN that was hard to escape--from the packed elevator where the New Zealand Ambassador leading the Nature Based Solutions track for the UN Secretary General and I shared our awe and appreciation of the youth leadership to the presence of youth traveling in packs in the hallway. Even when they weren't in the room, they set the tone for the conversations that followed as governments, NGO's and other speakers pointed to youth pleading that we must do more.
It was encouraging to see an enlarged focus on trees and Nature as central to solving global warming. This is a significant shift in climate talks. As recognition of Nature Based Solutions (NBS) grows, it will be important that they are implemented ethically, are gender responsive, appropriate for local landscapes and ecosystems, and support local communities and indigenous peoples. This is a priority for TreeSisters and we are seeking how to develop advocacy and partnerships in support of this.
Most of all, it was a privilege listening to indigenous peoples talk about their challenges in protecting and restoring land, offer solutions, and discuss working together globally in new ways to protect their lands even through the creation of a UN for Indigenous Peoples. They shared deep, long-held wisdom and like the youth, their remarks were from the heart. The Global Landscapes Forum gave a platform to indigenous youth and leaders. However, during the NBS sessions of the UN Climate Action Summit on Saturday and Sunday (21st and 22nd of September) the presentations on NBS by indigenous peoples I saw were outside the UN at side events hosted by Nature4Climate where they did not have a broad audience of governments to listen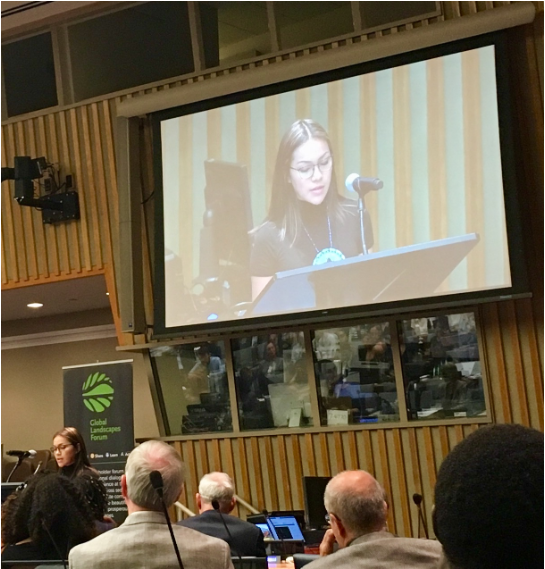 Finally, there were announcements and concrete solutions offered, which I'll outline here. Yet, as Secretary General António Guterres concluded, "We have a long way to go."

(Photograph to the left of Autumn Peltier, "Water Warrior" 15-year-old activist from Wiikwemkoong First Nation in Canada, addressing the Global Landscapes Forum at the UN.)


What Happened?
Around the 2019 UN Climate Action Summit, there were events, mass mobilizations, celebrations and government conversations throughout Climate Week. On the front and back ends were protests organized through Fridays For Future. As part of the Climate Action Summit, on 21 - 22 September there were two days of Nature Based Solutions panels at the UN, which provided an opportunity for governments at local, national, and international levels to showcase their leadership, make announcements and call for greater ambition. Perhaps the most compelling and passionate remarks at the UN as part of the Local Leadership for Climate Solutions session came from Powes Parkop of Papua New Guinea. Governor Parkop pled for international support to protect forests. "It's oxygen for the world. We share it with you all,"..."Without our forests we die," he said.
Around the summit, broader voices were included at side events, including four days of events held by the Nature4Climate coalition where indigenous peoples, NGOs, business, women, and youth were given the spotlight. At the end of the week, on 28 September, I joined the Global Landscapes Forum at UN Headquarters for a day of conversation about the UN Decade on Ecosystem Restoration.


Announcements

Below are climate and forest-related announcements.
More than 70 countries and 100 cities committed to net zero carbon emissions by 2050.

A group of international investors who manage more than USD$2.4 trillion in investments committed to make their investment portfolios carbon-neutral by 2050 through the

Net-Zero Asset Owner Alliance

.

For a more comprehensive list of announcements see the UN Climate Action Summit

Closing Release

.

There were significant forest-related announcements, including:
Looking Ahead to "Super Year" 2020 and the Decade of Ecosystem Restoration

As one of nine tracks selected by Secretary General for the Climate Action Summit, the critical role of Nature Based Solutions in climate change and meeting Sustainable Development Goals was more deeply recognized. Upon the conclusion of two days of NBS at the UN, David Nabarro, facilitator of the NBS track, said that we are "planting a seed" and NBS will now be carried in other multilateral fora and national levels.
In the past, forests largely have been in a silo separate from the dominant discourse of other climate solutions, like energy. During the Global Landscapes Forum, United Nations Environment Programme Executive Director Inger Anderson remarked she was, "So pleased that the rest of the world has discovered NBS. The climate world--yes, hello…". Anderson called Nature "our greatest ally" and "a vibrant mother earth that gives us our identity."
By the conclusion of the NBS sessions, more than 30 nations had joined the NBS manifesto. The choice of China with New Zealand as a co-lead of the NBS track afforded an opportunity for China to emerge as a global leader on Nature and climate. The world's largest emitter of greenhouse gas emissions with increasing economic influence in developing countries, China's global cooperation is key to cooling the planet. Their unprecedented leadership is welcome.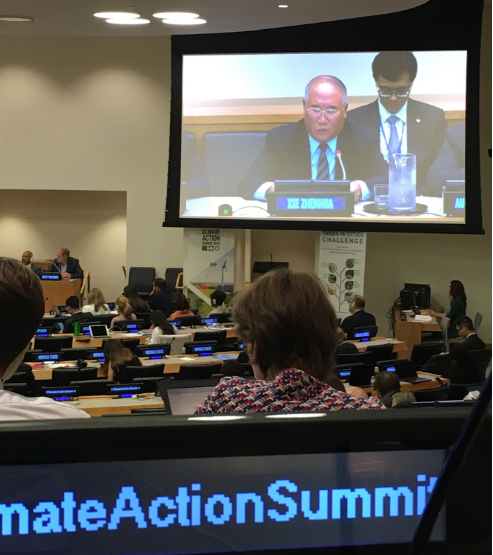 (The photograph on right is Xie Zhenhua, Special Representative for Climate Change Affairs, National Development and Reform Commission speaking during a Nature Based Solutions session at the UN.)
In October 2020, China is hosting its first major international environmental summit--the UN Conference of Parties to the Convention on Biological Diversity. In 2020, parties will consider progress in meeting the goal of protecting 17 per cent of land by that year. Looking ahead, nations will be preparing new goals for 2030. As country host with a leadership stake in NBS, the entire Chinese Government can be expected to place attention on Nature to ensure successful outcomes.
The following month, nations will meet at the COP to the UN Framework Convention on Climate Change when countries are meant to ratchet up their national pledges to the Paris Agreement.
Now that we're seeing increased recognition of the role of forests and Nature in climate, it is yet to be seen whether the voices of youth and indigenous peoples will be met by political will.
An assessment of progress on the 2014 New York Declaration on Forests five years later finds that it likely will be impossible to meet 2020 goals on halving deforestation and restore 150 million hectares of forests. The next decade is crucial.
With your support, TreeSisters will continue working with communities to plant trees. We are building partnerships with organizations, indigenous peoples, and businesses to deepen our impact. And Year of the Tree is one of the NBS proposals specifically designed to elevate practical strategies around forests in clear ways so they can be adopted by companies, governments, and individuals.
As Governor Parkos said, "If you want to go quickly go alone. If you want to go far, go together."
Together, we've got this.


By Rebecca Lefton

Photos courtesy Rebecca Lefton