Announcing the Launch of a New Reforestation Project in Borneo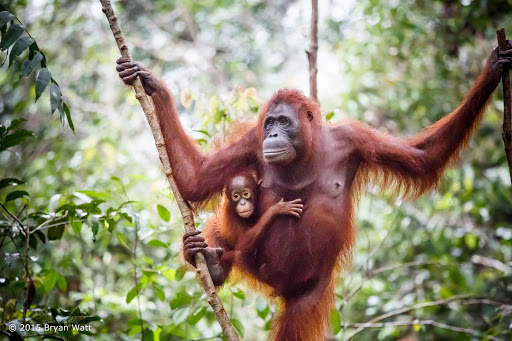 Image credit: Bryan Watt
October 1, 2020
It is with huge smiles that we welcome a new reforestation project to the TreeSisters portfolio. From 1st October, we will be funding the recovery of carbon-rich Gunung Palung National Park in Borneo, Indonesia, which over time will become a habitat for orangutans!
We are also welcoming a new reforestation partner to the TreeSisters family - Health In Harmony. Through this partnership, we aim to plant an average of 34,100 trees per year in one of the most unique National Parks in Indonesia.
The project has been in discussion throughout 2020. With the backdrop of Covid-19 and the very human crisis that has become forefront in our lives, we are thrilled to bring this project on board. The planting project is perfectly timed, it focuses not only on the recovery of forests that have been lost, but also on the resulting ecological and socio-economic benefits. This project aims to create motivation for local communities to help stop development encroaching into the nearby protected area in the future. This project is as much about the leafy green trees as it is about the positive humanitarian impact.
Here's a little more about the project and how you can get involved…
Who are Health In Harmony and why are we partnering with them?
Health In Harmony works with an Indonesian sister organisation called Alam Sehat Lestari (ASRI) who are located on the ground in Borneo, both organisations are predominantly women-led.
Health In Harmony was founded by Dr. Kinari Webb who graduated from Yale University School of Medicine and then founded Health In Harmony in 2005 to support combined human and environmental work. Kinari also co-founded Alam Sehat Lestari (ASRI) with Drg. Hotlin Ompusunggu and Antonia Gorog.
Health In Harmony and ASRI operate planting programs in and around Gunung Palung National Park, in Indonesian Borneo.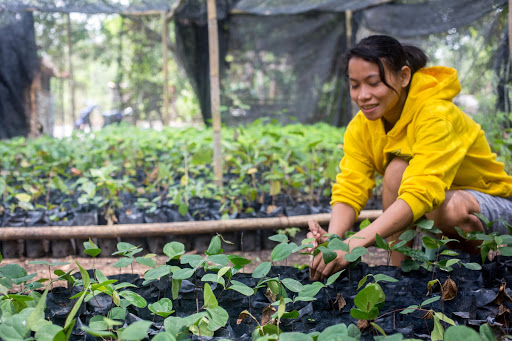 Image Credit: Chelsea Call
Health In Harmony is completely guided by what communities identify as the drivers of, and solutions for, deforestation. The projects that the communities design are focused on connecting human health care services with environmental programs such as reforestation, deforestation monitoring, and entrepreneurship development. The projects exist to support local communities find alternative and viable livelihoods to logging. Health In Harmony shares TreeSisters values. All of their projects are rooted in their guiding principles; all life on Earth is precious, diversity is a strength, and by working together we can find solutions to the crises that face our planet.
This project spoke to the TreeSisters team deeply and was first screened by Lauriane our Tree Program Manager and Michèle, our Tree Project Review Volunteer, who say:
"Their 'Radical Listening' approach with communities touched us profoundly at first sight. It matches so well with our core values as an organisation - being humility, unity, connection, right action, service. Their holistic thinking - our health and the health of the forest being interconnected, makes it so similar to our holistic vision that empowering / healing women and healing our planet go hand in hand. This project is incredibly timely." ~ Lauriane and Michèle.
Where is the TreeSisters / Health In Harmony project located?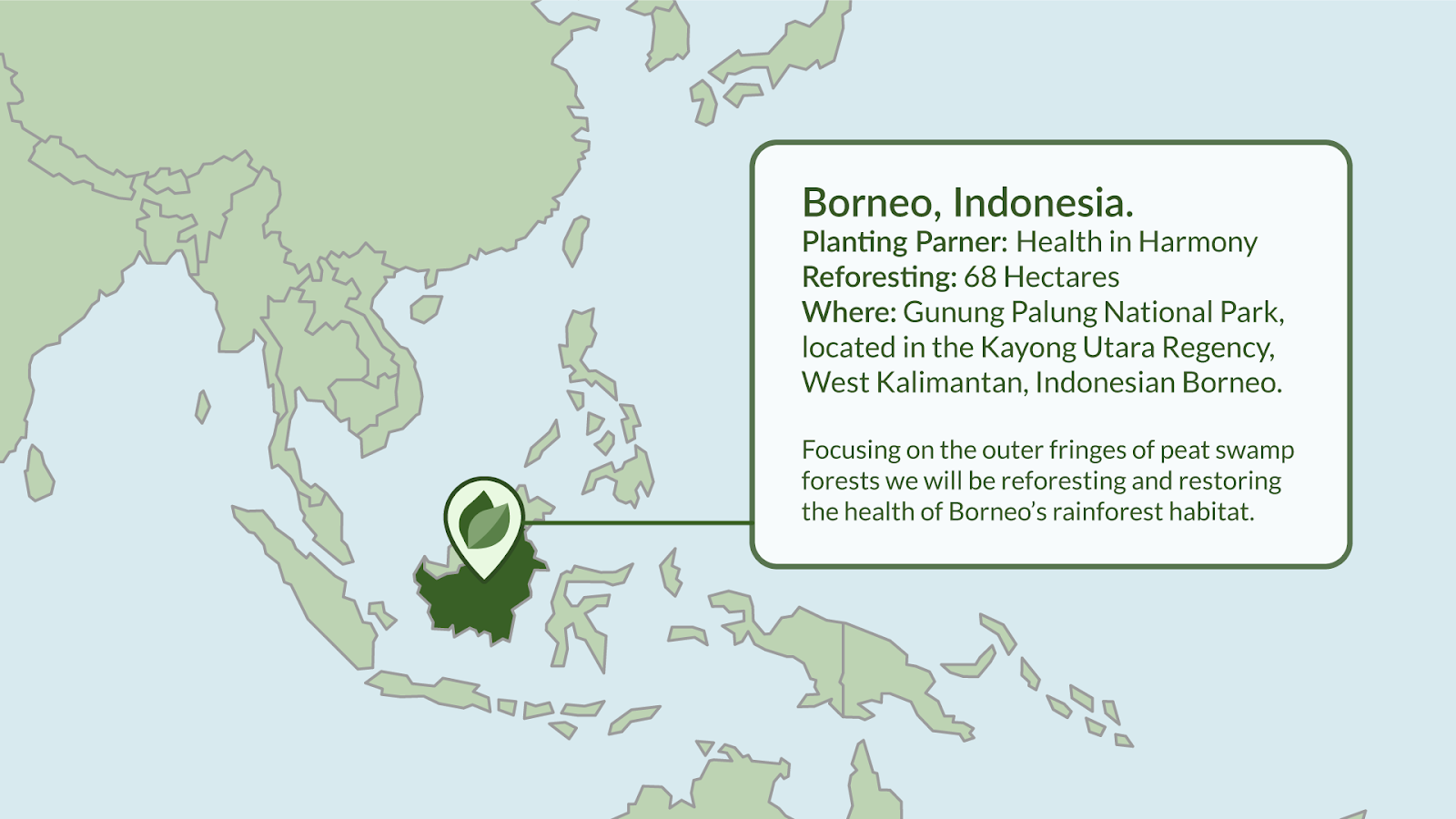 The new planting project will be reforesting 68 hectares of the outer fringes of peat swamp forests in the Gunung Mentubang area, in Gunung Palung National Park, located in the Kayong Utara Regency, West Kalimantan, Indonesian Borneo.
Gunung Palung National Park was established in 1937 as a Nature Reserve and in 1990 the area officially became a National Park. The area hosts a huge diversity of wildlife, flora and fauna and is one of few places left in the world home to wild orangutans.
The park is uniquely positioned, close to the coast line and with an extreme elevation gradient ranging from 0 to 3,600 feet above sea level. This rare combination means that within the park you can find seven distinct forest habitat types in a compressed area. The rich lowland forest, peat-swamp forest, and swamp forests with their towering trees give way to sandstone and granite slopes capped by high montane forests.
While the Gunung Palung National Park is a protected area, it has been heavily deforested. Trees have been cut down and used for timber and large parts of the park have been 'slashed and burned' to use for agriculture. Health In Harmony and ASRI work to develop solutions through a process called 'Radical Listening'. This is a methodology using listening, open-ended conversation, and consensus-building similar to TreeSisters' sistering practice. Radical Listening trusts community members to be the best identifiers of challenges and designers of solutions. When Health In Harmony began working in the park, staff spent over 400 hours listening to 40 communities around the area. Community members clearly identified the drivers of deforestation and the resources they would need to stop logging, which were: access to healthcare and training in alternative livelihoods.
Reforesting this area is also vital for the health of Borneo's rainforest habitat. The deep peat forests serve as a carbon sink, and mitigate flooding and tidal salinity that damages coastal farmlands. This habitat diversity means that an unprecedented array of plants and animals live in a relatively small area. The park is home to a nearly complete inventory of all of Borneo's fauna, including many rare, protected and/or endemic species. It is a critical habitat for approximately 2,500 orangutans from the 54,000 (approximate) remaining orangutans in Borneo. In addition to the incredibly biodiverse and a massive carbon sink, the park also contains the headwaters to the region's main source of drinking water.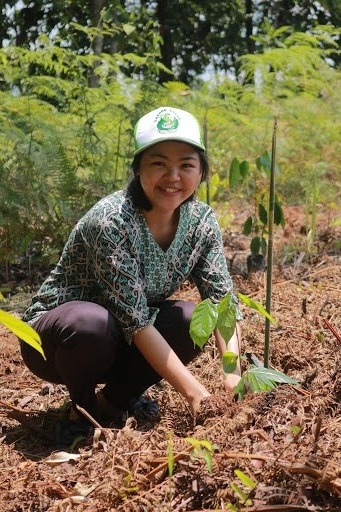 Image Credit: Oka Nurlaila
What type of trees will be planted and how will they be planted?
The trees in this project will be planted at a distance of 4x4 metres between trees, with a density of 625 seedlings per hectare. This is to restore the native canopy cover which is vital in supporting the ecosystem of an undisturbed forest. But the spacing also allows local farmers to plant crops on the ground under the trees. Health In Harmony and ASRI will educate farmers on how to cultivate supportive agricultural plants on the forest floor that do not compete with the trees. This mirrors other best practice planting project methodologies in the area by incorporating community needs within conservation goals, thus securing buy-in of local people and helping the long term success of the project. The project is a perfect example of human and forest co-collaborating and living in harmony side by side.
The trees planted will be a strategic combination of native trees - 90% will be peat swamp species, mostly endangered or critically-endangered dipterocarps. 10% will be local varieties of native fruit tree planted on harder soil next to the river. These will provide food for communities and wildlife. As the reforestation site develops over decades, we would expect to see seeds carried by wind, birds, and other wildlife to achieve natural diversity.
What will project success look like in years to come?
The project will aim to plant a total of

34,100 trees per year

across two reforestation sites

We will see complete canopy closure for each reforestation site within 3 to 5 years after planting

There will be a 50% increase in ecosystem functions such as soil fertility, soil organic mass and water quality

There will be an anticipated 25% increase in bird species richness in the reforestation sites, 3 years after planting

Approximately 5,000 of the seedlings will be gathered via ASRI clinic patients and bartered for healthcare or bought from the surrounding communities during the program period. In turn this will increase local communities' income, as well as promoting environmental awareness and increasing a direct connection between people and forest
"Protecting and regenerating rainforests is critical for the health and wellbeing of Indigenous and local communities but is also essential for mitigating the climate crisis. We are so grateful for our new partner TreeSisters, who share the urgency we feel for reforestation in Borneo and who recognize that this is about more than trees, but about biodiversity, planetary health, and a healthy future for all life." ~ Dr. Kinari Webb, Founder of Health In Harmony
How can you support the project?
We are currently in the final stage approval process. This means that in the following months, this project will be added to our portfolio of tree planting projects. Your current donation will then be split across all eleven projects and continue to reforest the tropics and restore our world.
If you are interested in, or are yet to donate to TreeSisters, we need your help to make the positive impacts of this project a reality.
Donating each month to TreeSisters is an investment in our future and our planet. Each month you will be planting trees in Borneo, trees which provide habitats, livelihoods and health for our planet.
To set up your life-giving monthly donation to TreeSisters, visit our Give page here.
---
Deepest thank you to Lauriane our Reforestation Manager for bringing this project to the TreeSisters portfolio. Thank you also to Michèle Cagnon who volunteers for TreeSisters and was instrumental in screening this incredible project.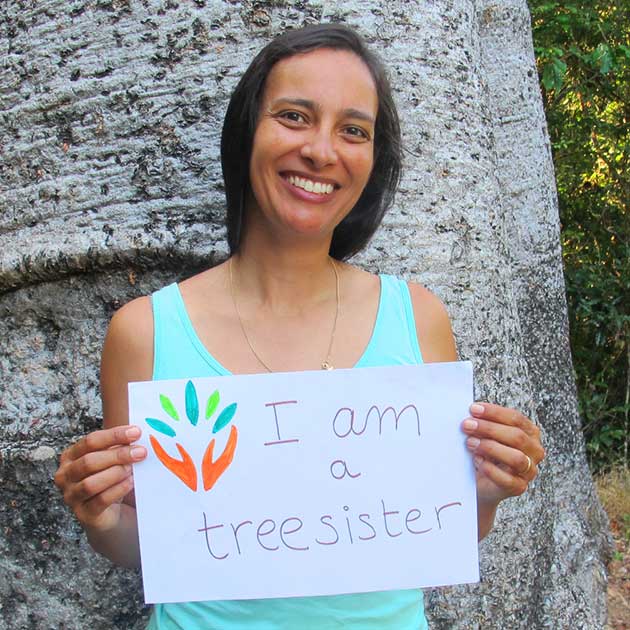 Lauriane Cayet-Boisrobert is our Reforestation Manager. She develops and manages our reforestation projects portfolio. She started by co-developing TreeSisters' forest strategy and project selection process. Lauriane is passionate about the many cultures on Earth. She tries to live in harmony with the Earth; so the Earth must stay wild and generous to us all. She feels deeply sad when the Earth is been abused at all prices, and mostly at the expenses of the people who rely on it.
---
Michèle Cagnon : "I'm Michèle and I am French. I've been part of the Tree Pod supporting the reforestation program for a year. When I was told about TreeSisters, it all sounded natural and I felt connected. It reminded me of my childhood when my father was worshipping the 500 years old chestnut tree in our village, and how I enjoyed it! Trained as a lawyer and experienced in project management in the fields of Land Development and Environmental management, I have coordinated several european-funded projects and other projects. Today I am working as a consultant in sustainable development projects and I am doing an undergraduate degree in psychology. As a strong believer of biophilia, I'd like to strengthen the link between nature and well-being, how it can improve ecological awareness but also help curing people with mental disorders. My interests include hiking and yoga. I also volunteer for a humanitarian Charity called Association PAFDES in Madagascar. Participating in TreeSisters makes sense to my feelings and actions, I'm glad to be part of the adventure."