Celebrating the Holidays with Trees!
Nature's intelligence has been pulsing through us every second of our lives - what if we collectively call it forth - give it full permission to take us over and powerfully re-educate us so that we can finally know what we are and what we're for? Planetary beings, with planet sized hearts, capable of a planetary love so complete that we cannot allow for anything other than full ecological restoration to be our legacy. ~Clare Dakin
As we head for the depths of winter, we're celebrating with two dreams come true... Firstly - we are about to start planting trees in Madagascar - a dream I've held since childhood when I first saw the deforestation there. This week, after rigorous explorations we finally stepped into a new tree partnership with Eden Reforestation - a stunning organisation that I wrote about here. We're about to fund 27,000 indigenous tropical trees with them (including mangroves). Thanks to all the women who signed up for The Forest of the Wild Feminine (20% of course profits go to trees) and the treesisters who decided to offset their car emissions next year (you can still do it here). Secondly - as we drop into the winter season of deep creative visioning, the whole team is turning towards the development of the new web site development and next year's tree-planting campaigns. We just reach 90,000 fans on Facebook, and the soil feels so fertile for a major launch next year. Also, our Grow TreeSisters Indiegogo campaign funded a further 5,300 trees in India through our existing partners, Project Green Hands. So our tree total just doubled to 59,700 trees! Thank you to all of you who are helping this tree to grow. It's about to get really interesting!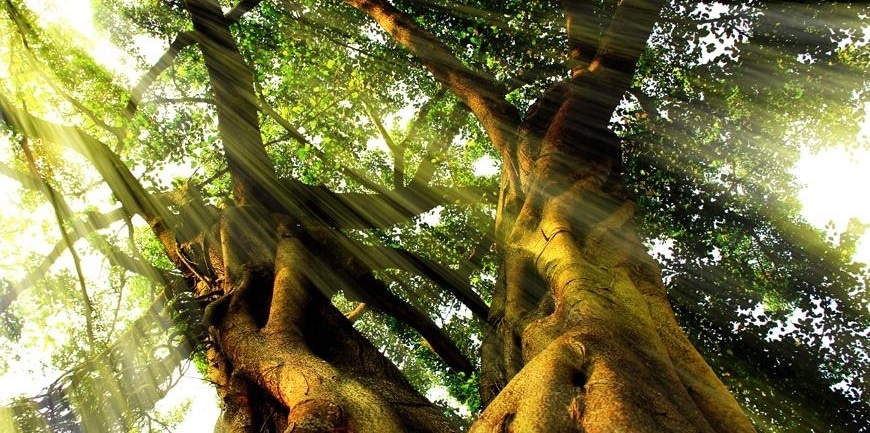 Full Moon Call
This month's Full Moon call will be going to be a live replay of our popular Roots and Sky Meditation. How intimate can it feel to become the Earth and then open to the sky? We're going to find out. If TreeSisters is about helping to nourish women so that they feel filled up, connected and more ready to step into their fullness, then this is a prime example of our offerings, and one that you might want to return to again and again to top up. This is a deep meditative drop into the earthy roots of ourselves to fully receive energy and guidance from below - before opening to do the same from above - from sky and from spirit, to balance above and below, feminine and masculine, matter and energy, inner and outer.
When: Wednesday December 23rd 11am PST / 2pm EST / 7pm UK You can find out more and invite your sisters here To register, click the button below the New Moon Call details...

*********************************************
Winter New Moon Call Series – The Sabbath of Women
Women long for beauty. We long to experience joy. We ache to feel the expansiveness of our love overflow to those we cherish. But to regularly feel beauty in our bones, to experience the depth of our joy, and to flow with the kind of love that nourishes others, we need a new practice with ancient origins. We invite you to join us for our Winter New Moon Series "The Sabbath of Women" as we explore the spiritual calling to rest, rejuvenate, and restore ourselves as women. On Thursday January 7th we will begin the three part series with "Winter: A Seasonal Sabbath Invitation." This call is an invitation to reconsider the ancient wisdom of the Sabbath practice, how it is embodied in Nature through the winter season, and how we apply it to our personal lives. Each call will hold three elements in equal measure - part wisdom teaching, part personal reflection and exploration, and part daily lifestyle application. February's theme will be "Menstruation: A Monthly Sabbath Invitation" and March's theme will be "Nature: The Daily Sabbath Invitation."
When: Thursday January 7th 11am PST / 2pm EST / 7pm UK You can find out more and invite your sisters here To register, click the button below

TreeSisters' Seasonal Donor Harvesting Call
Autumn is the time of harvesting the year's efforts. What was germinated in winter, seeded in spring, and grown in summer produces the year's annual harvest reaped in autumn, which ends at the Winter Solstice. This particular autumn has yielded incredible fruit for TreeSisters. Join us (Clare and Edveeje) for a live call in which we share the fruits of our collective labors; for what we have accomplished has your name written all over it.
Call-in details When: Tuesday January 5th 11am PST / 2pm EST / 7pm UK You can join in online or on the phone, from the comfort of your own home. Join in online here. Join in on the phone here. (We will send the call-in details again the day before the call).
Wishing you a glorious winter and a wonderful transition into the season ahead, Clare, Edveeje, Sophie and Kalyani