Collective Wisdom Of Resilience On International Women's Day 2021

April 1st, 2021
For International Women's Day 2021 we celebrated 8 extraordinary days of resilience, discovering the stories and voices of women from the TreeSisters community around the globe who have explored how creative and collaborative communities learn to adapt, respond and regenerate when working with and listening to Nature. Each day we explored different stories from within our network: from artists to businesses, inventors, activists, and planting projects, diving into all the spectacular ways in which women are showing up and weaving their magic in the world. We discovered Resilience is a word with many different meanings, depending on our life experiences, culture and ancestry. We explored the rich tapestry of individual lived experience and discovered new ways to approach the world.
8 Days of Resilience culminated in a beautiful online circle where members of the TreeSisters team joined our community to witness our experiences, share our stories and create a deep well of collective resilience wisdom that we will gather and share with our wider network. It was really nourishing and an honour to be in a space with so many women from different countries and reminded me of how we can transform emotional experience and tend to our own and each other's needs when we come together, when we are heard and seen.
"This was so wonderful. I haven't connected into any calls for a while and was entering feeling a little anxious, unsure what to expect (and rushed after a busy work day). I am so glad I joined. So special being able to share and listen to other womens' experiences and have a little insight into their world. So many great reminders of tools of resilience and similarities in how we navigate our way through life. I felt energised, nourished and connected at the end of the call. I feel honoured to have been able to share space with so many amazing women. Thank you x"
The circle we held was rich with a range of experiences from women and a real celebration of navigating the complexity of being a woman at this point in time. Many and varied themes arose from the places that we leaned into:
How Nature and creativity support us in healing and happiness;

How simplicity and compassion allow us to dig deep;

How the sisterhood of our family and friends helps to hold us.

The joy we find in children and animals that nourishes us;

How when we acknowledge the cycles of life, birth and death and the letting go, both personally and physically, it allows us to transition through difficult places.

We spoke of how we can support ourselves with the tools of meditation, silence and spirituality to help us to trust our innate wisdom; and

The gratitude that we felt for each other and the TreeSisters community that brings us together.
"I feel fully nourished and held. It was so lovely and felt safer than I expected actually due to the skilled leading. I really want to appreciate Abi, Angharad, Rebecca and the treesisters team for holding such a safe space for each of us to share our stories of resilience. Each sharing moved me and many accessed areas in myself that I found nourishing, healing and also reminders of resources I had forgotten. The body poem at the end was incredible and solidified the experience for me in a powerfully creative light. I feel empowered form the words of resilience that everyone shared, and the beauty of each woman's soul. My body is glowing with light. Sending deep gratitude to everyone who attended."
We closed the circle with a beautiful creative practice that resulted in our collective "Body Poem'. From this intimate space of sharing and being together, we dropped into our bodies to retrieve the words and sensations that had arisen in response to our journey together. These were woven together into a spoken poem of our magic and the medicine of women's resilience.
Listen Here: https://soundcloud.com/treesisters/the-body-poem-international-womens-day-2021
To dive into all of the resources, conversations and stories shared during the 8 Days Of Resilience, you can experience them all on our website here.
By Angharad Barlow
---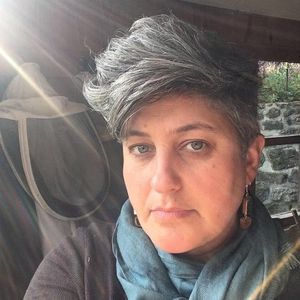 Angharad has worked with conservation projects both as a creative and on the ground for 25yrs, and her longstanding passion for insects sees her leading pollinator awareness projects and working with re-wilding and honey bee health across Europe. Her deep relationship with the honey bee has led her into greater connection with the trees, their inextricable relationship and the combined wisdom that they have to teach us.
Angharad brings experience as an Arts and community engagement facilitator, workshop leader and teacher. She is also a writer and practising artist that spends time exploring 'Art as Activism' and forms of storytelling for our human mythos. On the journey of sharing nature based practices and becoming a Voice for the Voiceless, Angharad joined TreeSisters after discovering a team of kindred spirits and an organisation with integrity and the Earth at it's heart.
Angharad has studied and trained in shamanism and embodied feminine healing and wisdom practices. She is dedicated to the restoration of masculine/feminine balance both in our relationship with the natural world and each other, empowering and supporting others to find their own gifts and connections.