International Women's Day Reflections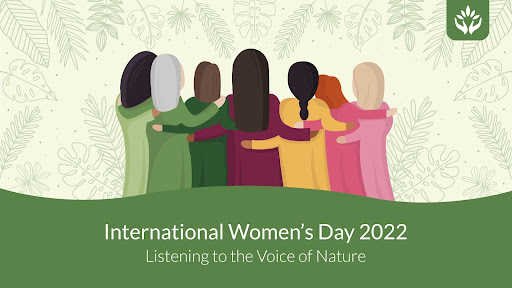 April 5th 2022
2022 saw International Women's Day celebrated with a global theme of #breakthebias.
TreeSisters chose to interpret the theme by challenging the normalised disconnect we have from the natural world. The bias that we only listen to other humans, despite nature often being so vocal. We counted down to International Women's Day by encouraging everyone to tap into and listen to the voice of nature. A voice that offers a natural climate change solution but only with our collective change. A voice so many of us, particularly in the West, have forgotten or dismissed.
For eight days, TreeSisters released short, daily conversations, meditations, personal tools, and sources of inspiration. The aim was to empower everyone to explore and deepen their listening to the natural world, even if that is something totally new. Members of the TreeSisters team discussed listening to nature as a pleasure practice and why a listening based approach has always been vital in our work. Our Kenyan planting partner, Teresa, spoke about the medicine of the trees and the relationship between people and the ecosystems around Mount Kenya. Our volunteers and Grove Tenders shared their own journeys and techniques to start the practice of listening. We also encouraged a two-day digital detox to put into practice some of what had been shared throughout the week.
This culminated on the 8th of March, International Women's Day 2022, where we held a live Zoom circle and meditation event. Led by TreeSisters, Abi Denyer-Bewick and Ellie Herndlhofer, 75 women across the globe came together to celebrate, commiserate, and be together for women and the natural world everywhere.
Here, TreeSisters Volunteer Coordinator, Groves Programme Manager and Network Relations Support, Ellie, reflects on the event and countdown:
"Our International Women's Day celebrations have been such a joy and an honour to witness and participate in. The series of sharings brought forward a slice of the immense richness that lives and breathes within the TreeSisters community. Understanding what it means to listen to nature that exists here inspires me immensely. The way we can all learn from one another through sharing our lived experiences shone through: be that through the invitation and permission to slow down, create space and actively locate ourselves within the forest, holding our innate sense of belonging at our core, to celebrating the resilience and power of gathering community around landscape restoration.
I am so grateful to each and every person that contributed, listened and shared throughout. It felt very beautiful to conclude our International Women's Day celebrations with an online circle gathering. People brought their hearts, experiences and wisdom so openly and generously. In a time of such conflict in the world, it felt particularly significant to witness how we may cultivate peace within ourselves and our communities, and the role that nature plays in that cultivation, in all her grace and generosity."
You can listen back to any of the conversations and sharings throughout this series on our website.
You can also continue to share your own experiences and tips of connecting and listening to the natural world through the hashtag #TreeSistersbreakthebias. Thank you to our contributors, volunteers, partners, and all of you for being part of our TreeSisters community.
read more blogslearn more about treesisters