Women are the Backbone of Life on Mt Kenya: Interview with Anastacia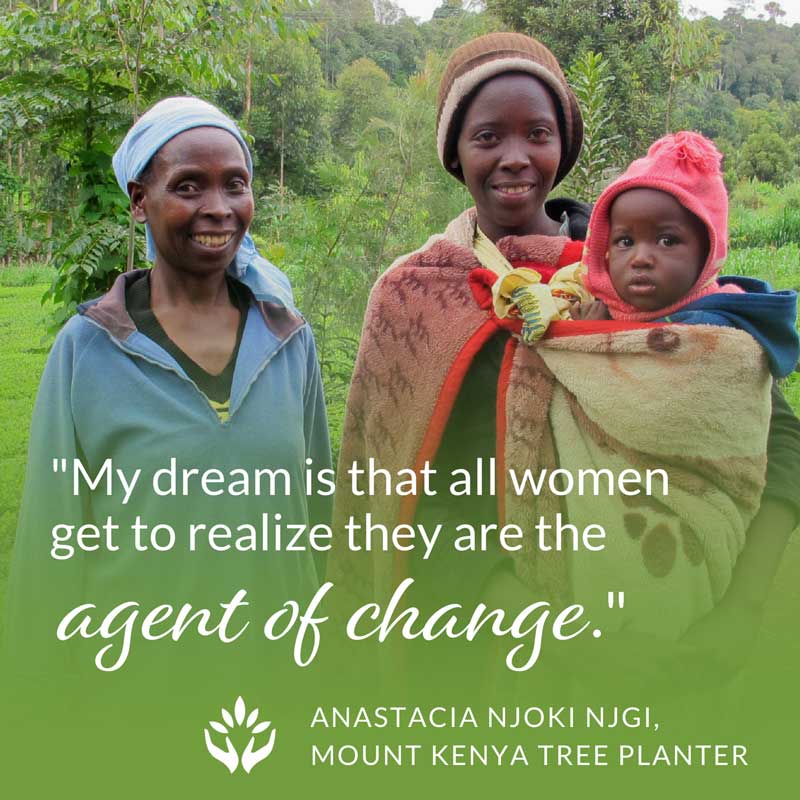 When first meeting Anastacia Njoki Njgi, it's clear that there is something very special about her. There's a shine in her eyes and a power to her voice that speaks of an unshakable determination and vigor for life. On my recent trip to Kenya, I had the pleasure of interviewing her on her farm to learn more about her, and how our Mt Kenya planting project with the International Tree Foundation (ITF) has impacted her life over the years.
Anastacia lives on a farm in Embu county with her four children, two grandchildren, and a variety of animals including a cow, goats, and chickens. The farm is half a hectare in size and has over 400 trees on it, which Anastacia talks about with pride. She speaks about the symbiotic relationship between her and the trees; how they provide for her family's everyday needs, how they breathe in our carbon dioxide and give us oxygen, and how they replenish Kenya's water table.
"In Kenya, we rely on trees for firewood, fodder for our animals, fruit, and medicines - these are the responsibilities of Kenyan women. So women naturally have a special relationship with trees and the forests."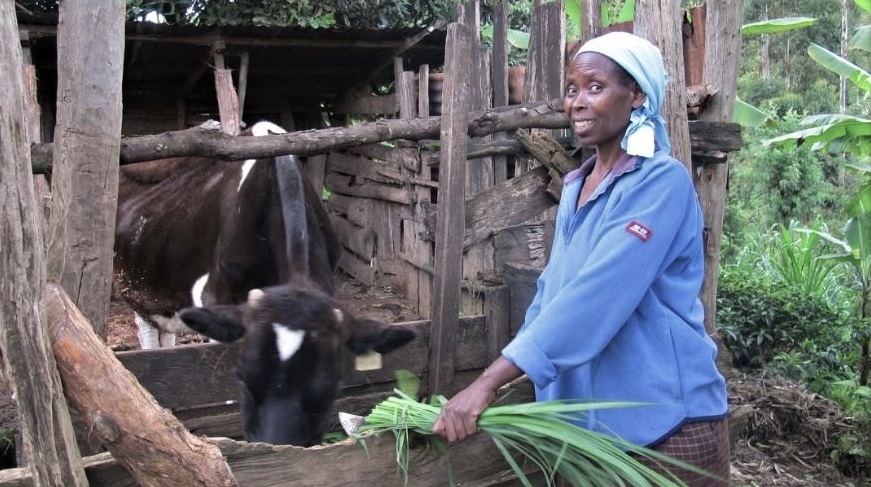 Anastacia feeding her cow with napier grass freshling collected from her home garden.
In Kenya, there is a tradition of tree planting and cultivation within the rural communities of the highlands. Anastacia has done this beautifully, planting trees on her land for fruit, fuelwood, shade and construction materials. "My favourite tree is Grevillea which I love so much," she says with a smile, "especially, the leaves which fall down from the Grevillea improves the soil of my farm".
When Anastacia's husband died years ago, Anastacia was making so little money from tea farming that she had to engage with other women and try to find activities to improve her family's living conditions. That's when she joined a self-help women's group called "the Wamiti Group", which operates the tree nursery being funded by the International Tree Foundation and TreeSisters. She now earns an income from growing and planting tree seedlings for the forest restoration of the Mt Kenya Forest Reserve.
In addition to her regular payments for her tree planting work, she has been able to buy a cow whose dairy provides an important source of income for her family. "My nickname means 'hard-working'," she tells me, which couldn't be truer. "I have to try my best! For my family." Like all mothers, she is determined to give her children the best life possible. "In Kenya today, women are working hard to find success in their children," she says. "As women, we will not let our children go without education."
But this is not an easy thing to achieve in rural Kenya, especially as a single mother. The Wamiti women's group also runs a "table banking scheme", which has allowed Anastacia to borrow a long-term loan from the group with low-interest rate, so she can send one of her daughters to university. "The project is assisting us so much, especially we women because we are able to give our children an education... I am stress-free and empowered because I have money that I can rely on to provide for my family. What else do you need?"
She also talks about the strong sense of community in the Wamiti group, and how important this is. "If you find yourself alone, you will be desperate. When you come together, especially as women, you feel empowered, because of the way we share with each other. You feel uplifted, it's like all your problems have been solved." The women's group meets every month, and they give what little extra money they have to the women who need it most. "Because of each other, we can make it."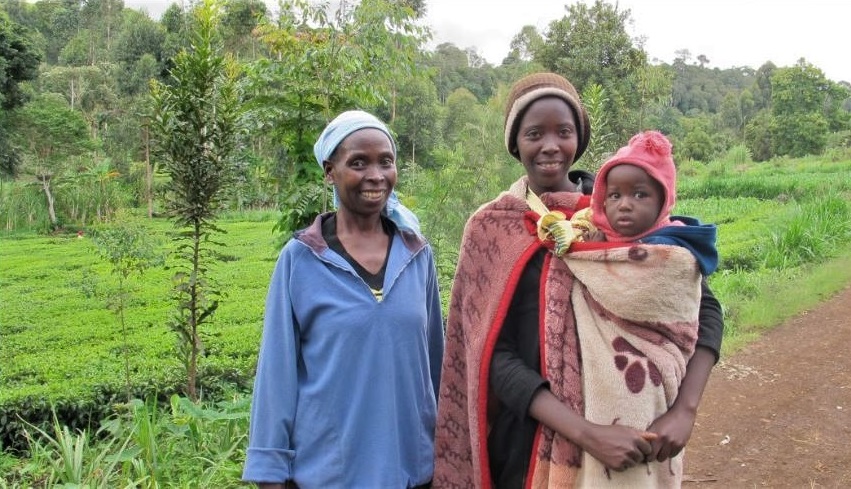 Anastacia standing near her small tea plantation, with her second daughter Sylvia and Grandson named Gift.
When I asked Anastacia about how she felt about women's empowerment in Kenya, she replied: "In Kenya today, women are very much appreciated, because she is the backbone of her family and the community. We are free to learn from other women, collaborate, and speak up, and men are realizing that this is important."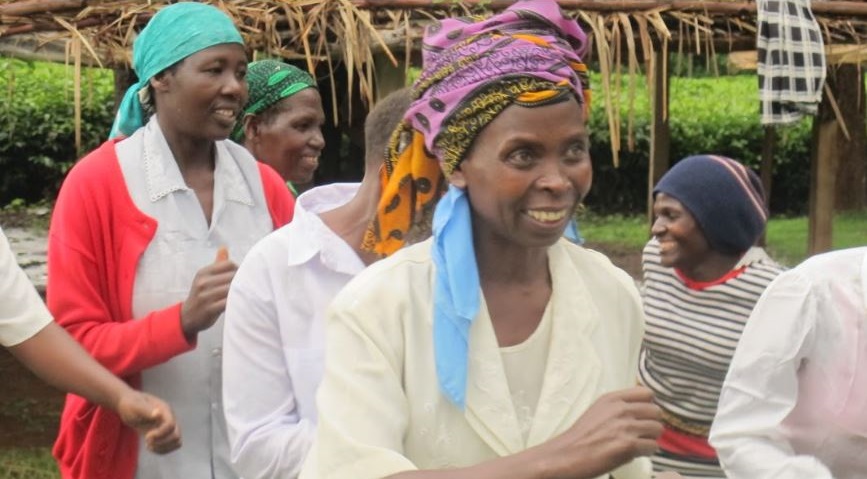 Anastacia dancing with the Wamiti women's group.
Throughout our conversation, it became clear that Anastacia held a great sense of empowerment and pride about her contribution to the reforestation of Mount Kenya. "The women in our community are very concerned about our environment. We are here to care for it, and look after the Mt Kenya water tower, so that everybody in Kenya can have enough water."
Life for Anastacia has greatly improved since joining the women's group and becoming a tree planter, but life still has its challenges. "My first daughter completed her education, but while she was trying to get into University, she suddenly became pregnant and so she didn't go. It was my goal to send her to university," she tells me, with a sadness in her voice. "It is my dream for all my children to be educated, to get a job, and have their own earnings so they can live a successful life they can enjoy. I dream that all the women in the community realize that they are the only ones who can bring changes to their lives."
If you're inspired by Anastacia's story and want to contribute to the restoration of Mt Kenya's forests, along with our other planting projects, please go here to step in as a monthly member. Your donations will go directly towards uplifting women like Anastacia, as well as a wide variety of environmental impacts around the world.
~By Lauriane Cayet-Boisrobert
---

Lauriane Cayet-Boisrobert
Reforestation Director
Lauriane came to TreeSisters with an expertise in Geographic Information Systems and Remote Sensing, as powerful tools to develop new insights and recommendations for better governance of the forests. She has conducted several research projects such as assessing forest degradation and analyzing the protection status of the world's forests. She has over 10 years of experience working for international think-tanks and non-profit organizations, as well as consulting.
She joined TreeSisters feeling that solving the environmental challenges would need more than sound studies and smart mechanisms. It also needs a more connected, intuitive and creative approach for leading the changes it takes to protect the last intact forests, re-instate a more sustainable forest cover, and serve our planet.
To serve TreeSisters, Lauriane has chosen to develop and manage its reforestation projects portfolio, as well as bring the best knowledge in forest ecology and reforestation. She started by co-developing TreeSisters' forest strategy and project selection process.
Lauriane is passionate about the many cultures on Earth. She tries to live in harmony with the Earth; so the Earth must stay wild and generous to us all. She feels deeply sad when the Earth is been abused at all prices, and mostly at the expenses of the people who rely on it.
READ MORE BLOGSLEARN MORE ABOUT TREESISTERS