Introducing our new planting project in Mozambique!

We are thrilled to announce the launch of a new planting project near Bela Vista in Mozambique. Because of your dedicated support, we are now able to fund additional tree planting projects in new areas in the tropics. Our deepest thank you for all that you gift to TreeSisters and our Earth.
Mozambique is located on the southeast coast of Africa. Our new planting project is in Bela Vista, the principal town in the district of Matutuíne. Here, we are funding the planting of mangroves, with the goal of planting 750,000 trees in the first year.
This new planting project is a program run by our planting partner Eden Reforestation. When Eden Reforestation look for potential areas to set up reforestation projects, they look for three things:
Areas which can support the planting of millions of trees so that the sites can be expanded;

A nearby seed source from healthy native trees; and

A local community who want to be employed to plant and care for the trees.
To learn more about the Eden Reforestation planting projects that TreeSisters supports, you can visit our partners page here.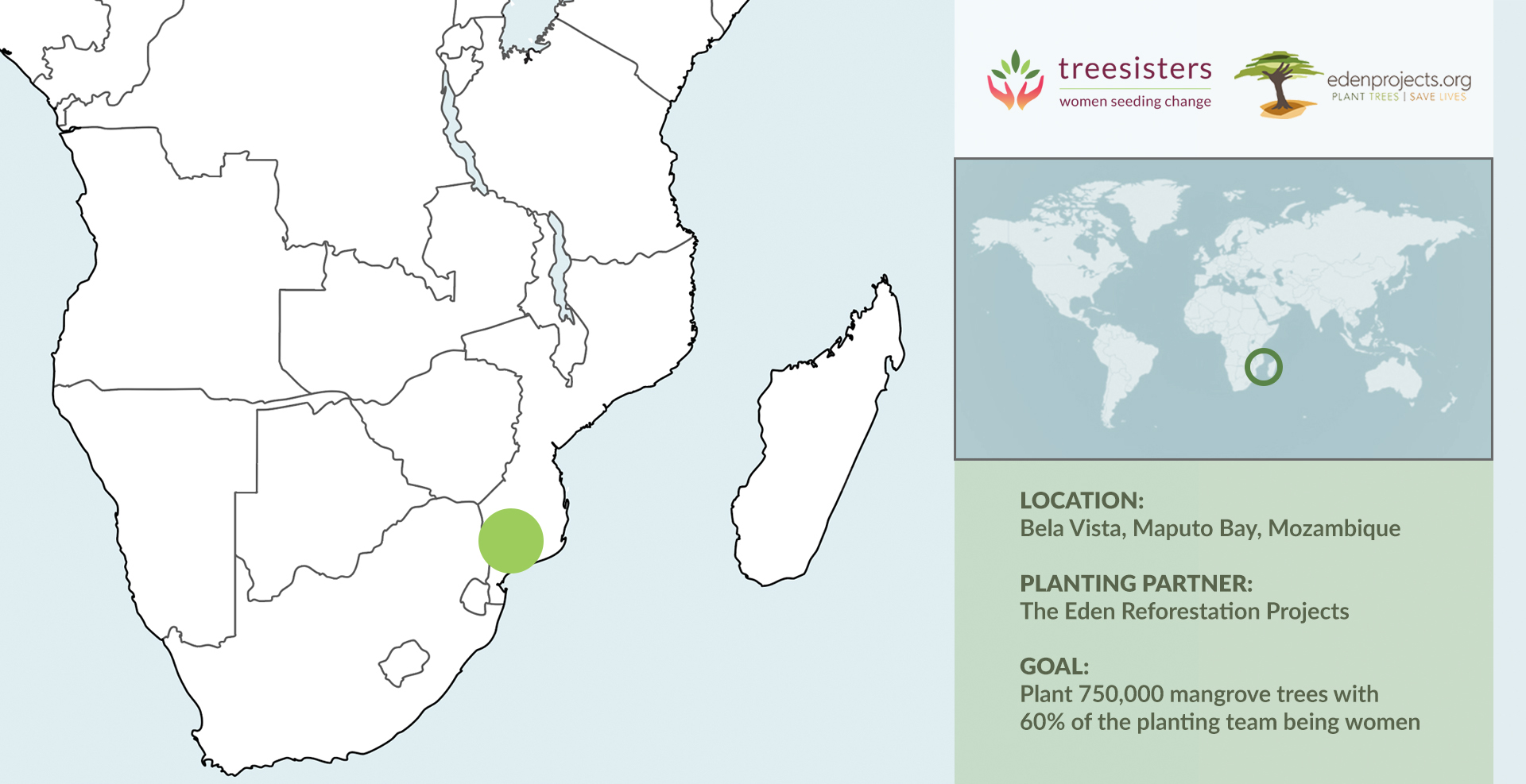 Why we are planting in Mozambique?

People in Mozambique use mangrove trees for a number of reasons including: building materials, firewood, fencing, fish traps, and for medicinal purposes. From 1972-1990, the mangroves near Maputo suffered a significant decrease of 15.2%, in part due to the civil war (1977 to 1992) where large parts of Maputo were burnt to the ground to stop rebel forces from hiding.
Today, the mangroves of Maputo are under pressure from conversion into agricultural lands for rice crops, dams decreasing the flow of freshwater, uncontrolled coastal migrations, and storms exacerbated by climate change having an increasing impact.
By planting in this area, we are contributing to the "Maputaland Coastal Forest Mosaic", a major ecosystem which hosts more than 470 bird species with 4 species and 43 subspecies endemic or near endemic. We are also working with local communities to plant the trees, creating jobs and livelihoods in Mozambique.
The positive impact your donations will have in Mozambique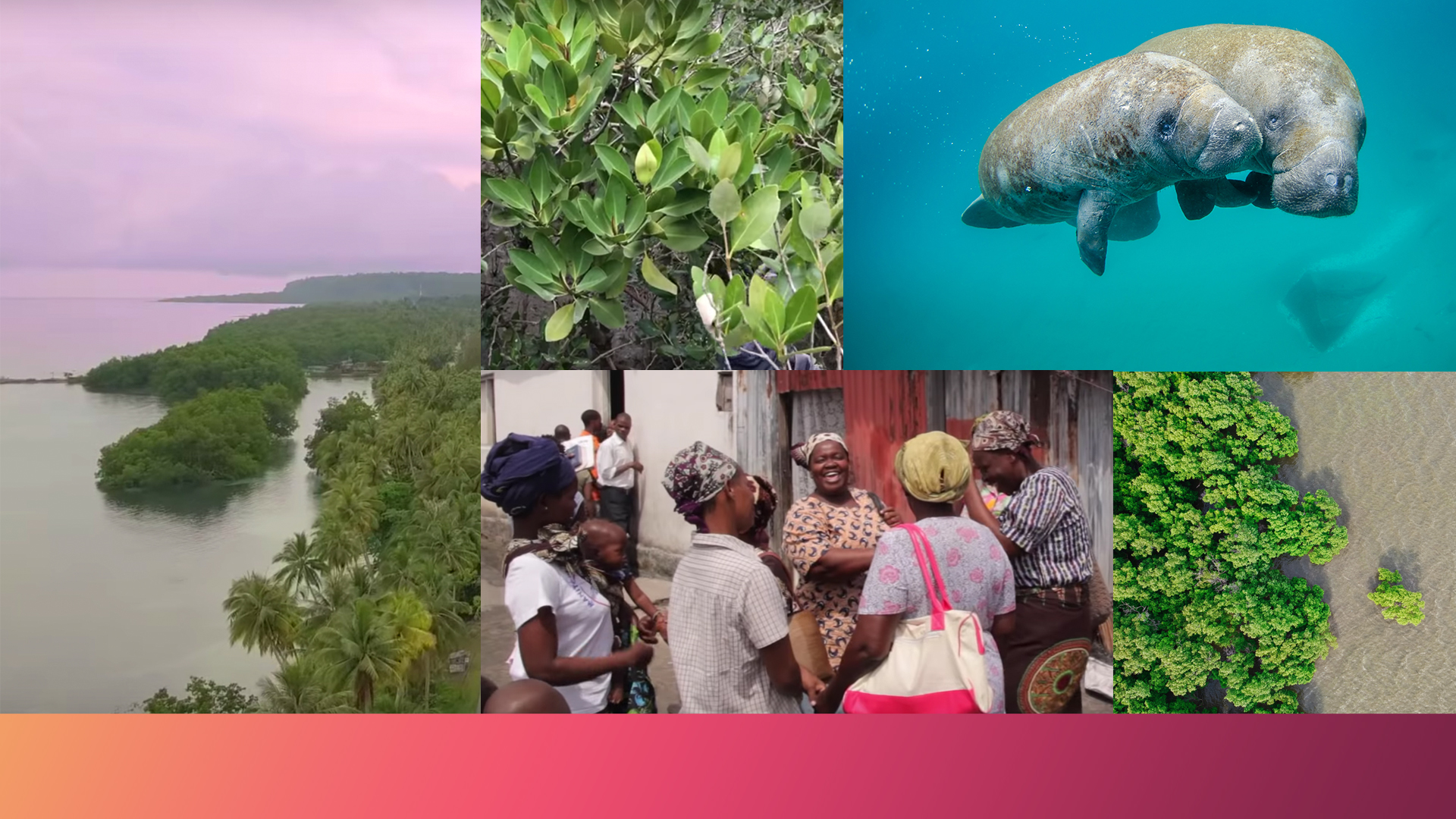 Mangroves have characteristic prop-roots which provide habitat for many aquatic species and also function as a nursery ground for various species of fish and shellfish. These ecosystems provide vital roosting and nesting places for wading and shorebirds, and are vital habitat for migratory birds, marine turtles, dugongs and porpoises. Mangroves also provide increased resilience against storms and flood events, compared to deforested areas.
By employing local communities to plant and care for the trees, we are able to have a positive impact on their financial situation as they can earn a regular, decent income and save. This gives them the option to send their children to school, and opens up other possibilities such as microenterprise. Regular employment lifts people out of extreme poverty, and in some cases frees them from slavery. Involving the local community in restoration also creates a positive change in their relationship with the forest and their landscape.
Ongoing protection of the trees in Mozambique
In Mozambique, mangroves planted 100 metres from the coastline are protected by law. But this is not enough to capture the extent of the mangrove estuary systems near Bela Vista. In creating the project, Eden Reforestation will ensure that forest use will be limited by a contractual commitment to protect the trees in perpetuity, and timber extraction will be prohibited.



Thank you for your donations to TreeSisters, we hope you have enjoyed learning more about our new Mozambique project.
If you would like to ask any questions, or discuss any of our planting projects in more detail, we would love to invite you into our online community, the Nest. If you haven't joined us already, you can sign up for an account here.
If you would like to support this project please consider becoming a monthly Restorer here.

To those of you who are donating thank you! Please consider an extra one time gift or a donation increase to celebrate our new projects!
Thank you!
By Jennifer Stevens
Photos provided by Eden Reforestation Projects