Mount Kenya Forest Restoration: October 2020 Update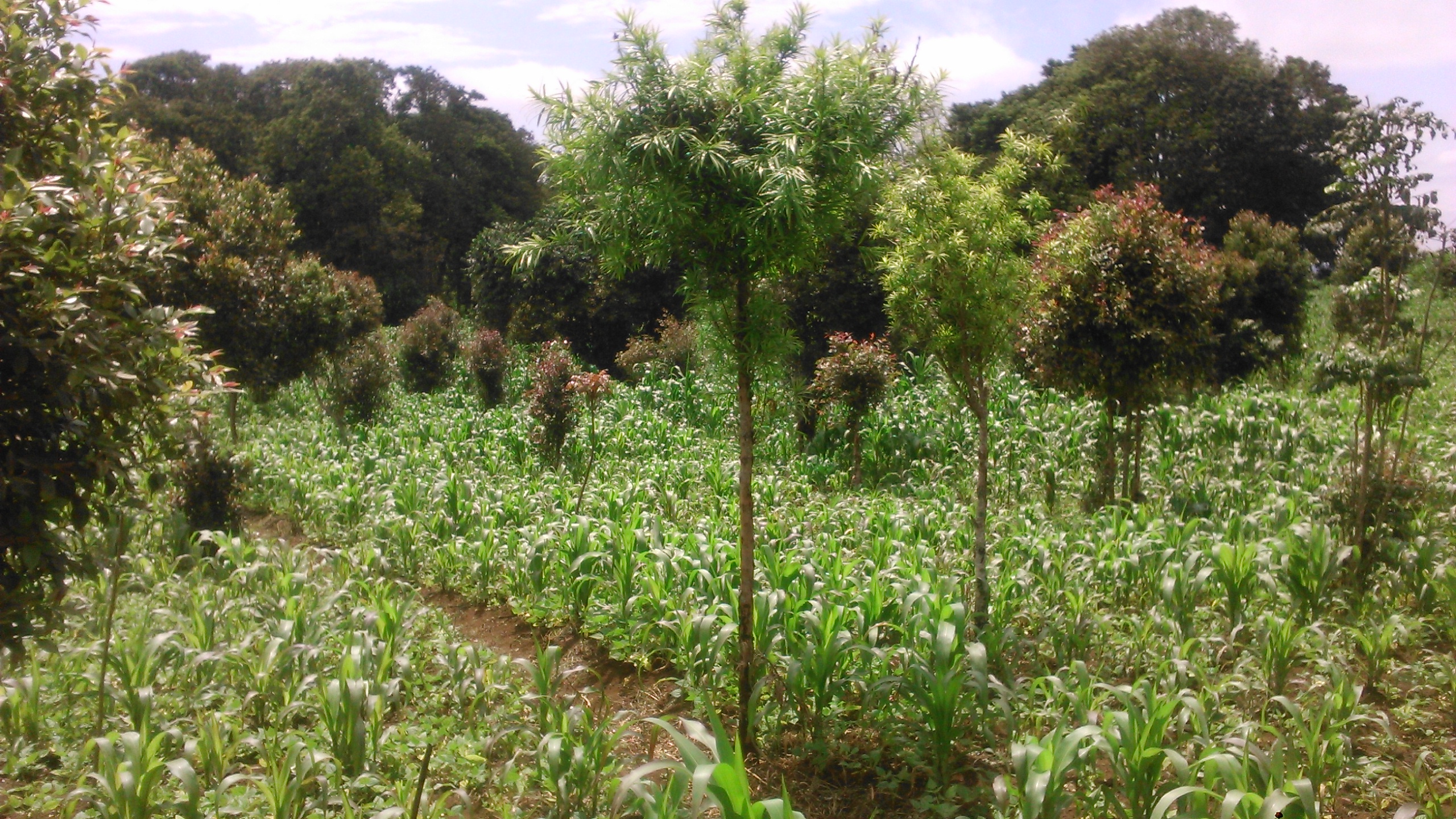 An example of trees on farms near Magaca, Embu county, Mount Kenya @International Tree Foundation
October 1st, 2020
---
On 31st December 2019 we had to temporarily pause funding on our planting project in Kenya until the International Tree Foundation (ITF) was able to find new lands and a new implementing partner to plant more trees. The Irangi Forest Fireguard and Control Group are coordinating the planting of the backlog of already funded trees - 51,220 trees in the November rainy season. When completed, TreeSisters will have funded the planting of 793,350 trees at Mount Kenya. We are now preparing to resume funding reforestation in Kenya with ITF no later than January 2021 which means more trees will be planted from April 2021 (the next rainy season in Kenya).
---
A Brief Recap of the Project in Kenya
Project start date: 1st September 2016
Project partner: International Tree Foundation (ITF) ensures project lead, capacity building, Quality Control/ Quantity Inspection and reporting.
ITF works through two implementing partners: Mount Kenya Trust (MKT) and Mount Kenya Environment Conservation (MKEC).
Project location: Two forest reserves inside Mount Kenya National Park/Natural Forest: Mount Kenya Forest Reserve and Lower Imenti Forest Reserve.
Project sites: MKT is ITF's partner for the Karuri, Kanyongo and Imenti sites. MKEC is ITF's partner at Magaca site (refer to map below)
Workforce: Local Community Forest Associations and self help groups (tree nurseries and planters)
Planted Trees: As of September 2020, 93% of the 793,350 funded trees have been planted.
read more about our kenya project
©TreeSisters with Google MyMaps
Sudden Planting Constraints
Back in November 2019, ITF's project manager Paul Laird told us we would no longer be able to plant trees at three of the four reforestation sites that we have been involved in. These areas of Mount Kenya were designated for forest restoration under the Tree Establishment Livelihood Improvement Scheme (TELIS).
The Government of Kenya, through the Kenya Forest Service, is no longer allocating land under the TELIS scheme across the country. Under this scheme, the forest authority allotted small plots of land to farmers from the forest-adjacent communities for cultivation. Reforestation partners would also plant trees on this land. The farmers who were allotted land would cultivate agricultural crops (such as green beans) intercropped with trees, during the early stages of tree growth (4 to 5 years). As part of the contract, the farmers had to protect and maintain the trees. Once the forest was too dense for growing crops, farmers were given another plot to work with, thereby progressively restoring the native forest.
As a result of the cancellation of the TELIS scheme, we were no longer able to fund tree planting conducted by ITF's local implementing partner, Mount Kenya Trust (MKT), on the northeast and northwest sides of Mount Kenya at Karuri, Imenti and Kanyongo - three very deforested patches of montane forest encircling Mount Kenya.
The only remaining TreeSisters site is the Magaca site (1) - a deforested patch in the Irangi forest, in Embu county, where restoration is held by ITF's local implementing project partner, Mount Kenya Environment Conservation (MKEC). However, there was not enough land area available at Magaca for planting all the trees ordered by TreeSisters.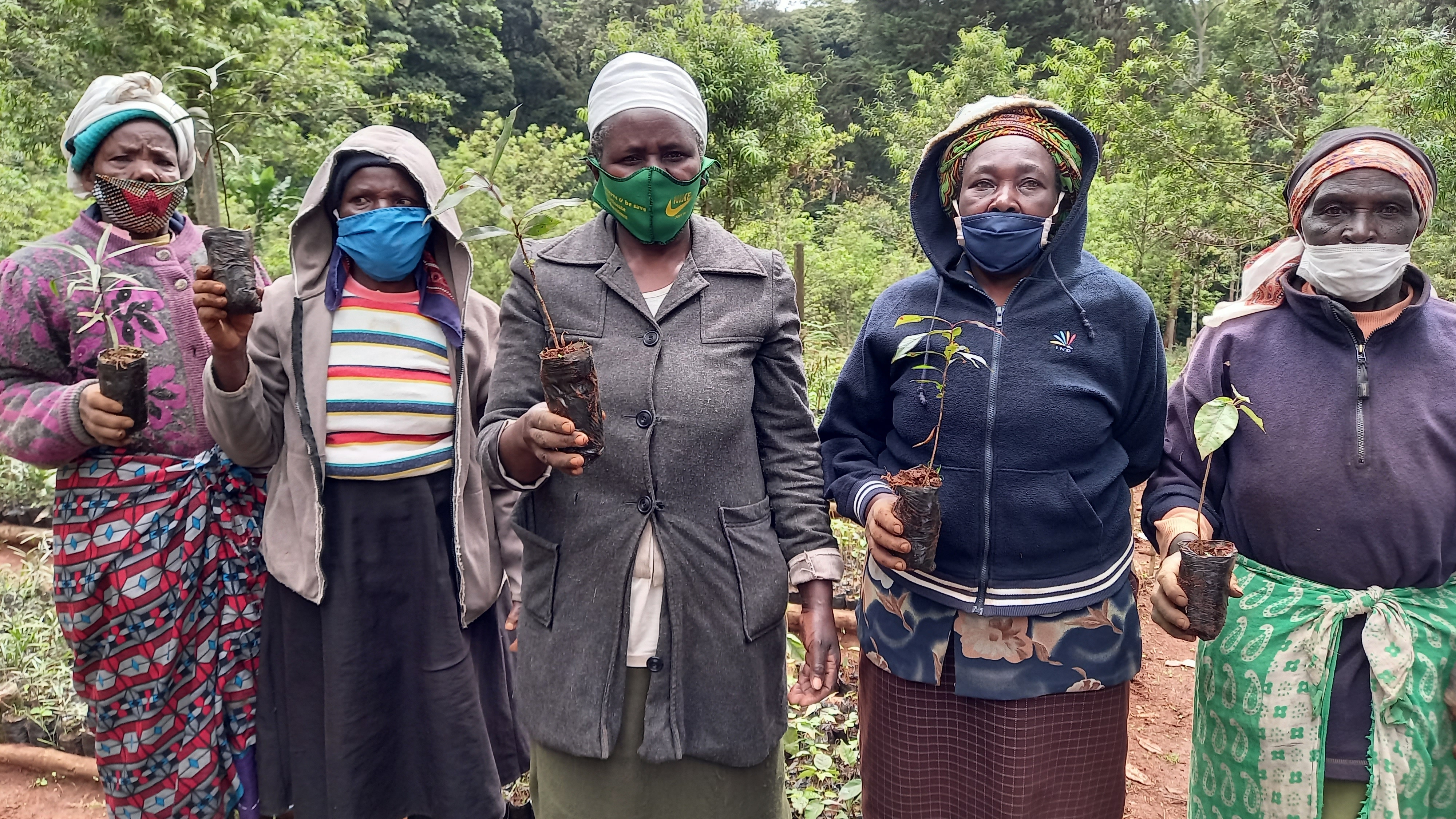 Muguru women group working together with Irangi forest Fireguard and Control Group in the nursery and tree planting activities. © Teresa Gitonga, International Tree foundation
The Solution
In December 2019, ITF proposed that we fund the planting of trees on farms to support clearing the backlog of funded trees. In addition to filling the last TELIS plots allocated to the farmers for the project, TreeSisters would fund trees on small farms and household gardens in mixed tree–crop systems, as well as food trees and fuelwood trees in school grounds, just outside the Irangi forest, in Embu County - at the same cost per tree.
Planting a variety of trees on small farms benefits communities with a variety of food, the possibility for additional revenue when sold, as well as improved soil quality, increased humidity and shade for crops. It helps restore degraded landscapes and watersheds.
Finally, the community (mostly women) no longer need to enter the forest to collect fuelwood, fodder, timber and food. Therefore, trees on farms help avoid further deforestation in remaining nearby intact forest areas.
In recent years, ITF with MKEC and other funders had been supporting forest-adjacent communities to regreen their small farms and household gardens in Embu county, as part of their Mount Kenya Forest landscape restoration strategy. ITF has also been supporting communities with training and ideas on how to generate more revenue, such as developing access to markets, production of value-added products from fruit trees, or selling whole fruits to the local and regional markets.
Thanks to the newfound complementary solution, MKEC and the community groups at Magaca were able to plant 262,548 trees between December 2019 and May 2020. From that total, 224,545 trees were planted to restore the semi-natural native forests of Mount Kenya Forest Reserve, 30,503 trees on farms, and 7,500 trees on school lands. As of September 2020, 93% of the trees we have funded have been planted.
Additional Planting Constraints
In December 2019, MKEC announced their intention to work directly with funding organisations and have put forward an interesting proposal to TreeSisters which is currently being assessed. MKEC has been supported by ITF for several years and has increased their capacity as a group. They are now ready to design and implement their own projects, and attract donors.
TreeSisters is very happy with MKEC's newfound capacity for funding, reporting, design and project implementation, as one of our aims is to support locally managed tree planting. ITF are also celebrating this initiative and are very proud of the part they have played in growing the capacity and confidence of MKEC, which began as a youth self help group called 'Save Mount Kenya Forest from Extinction' back in 2007. Additionally, MKEC informed ITF that due to other commitments they had made with other funders, they were not able to commit to planting 51,220 outstanding trees, meaning ITF had to quickly find a new implementing partner to plant the backlog of trees in Magaca.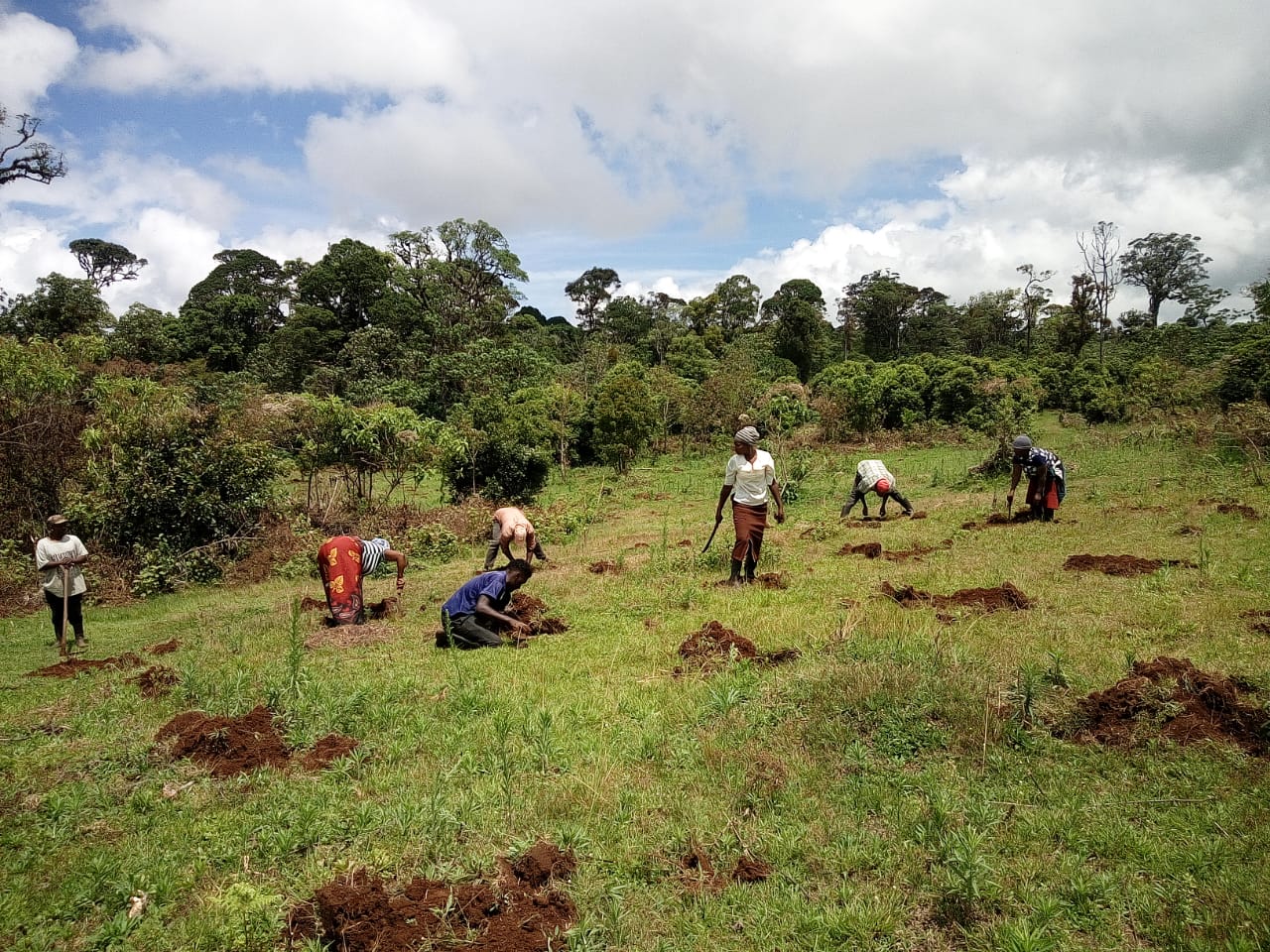 Tree planting in Magaca Irangi Forest coordinated by Irangi Forest Fireguard and Control Group © David Gichovi, Irangi Forest Fireguard and Control Group
Change of Implementing Partner in Kenya
Happily, ITF has found a new partner to grow and plant the remaining backlog of trees and continue the forest restoration at Mount Kenya: the Irangi Forest Fireguard and Control Group (IFF&CG) - a Kenyan Community Based Organisation (CBO). IFF&CG is a member of the Irangi Community Forest Association(2).
Community Forest Associations (CFA) in Kenya are responsible for diverse management activities in forest protection, monitoring, and management. The Irangi Forest Association is divided into many groups, some responsible for reporting timber smugglers and other illegal forest product smugglers, some for fire reporting and some for tree planting. The IFF&CG are responsible for guarding Mount Kenya Forest against forest fires, controlling any fire outbreaks and rehabilitating forest by planting tree seedlings. IFF&CG is the only group capable of reporting, which is a mandatory requirement of both ITF and TreeSisters.
The IFF&CG works closely with 2,014 community members of the Irangi CFA: 1,388 women, 408 men and 25 young people. The tree growing and planting work remains largely a women's activity, something that TreeSisters is always keen to support. The IFF&CG has one part-time employee supported by three group officials who manage project activities, and is under male leadership to a certain extent. But Teresa Gitonga, ITF's Centenary Campaign Manager is about to start training in gender integration in forestry to encourage women to participate more at the management and decision-making level.
We will have an update from ITF by December 2020 on the number of trees IFF&CG is able to plant during the October to December 2020 rainy season, as well as the total 2020 planting numbers.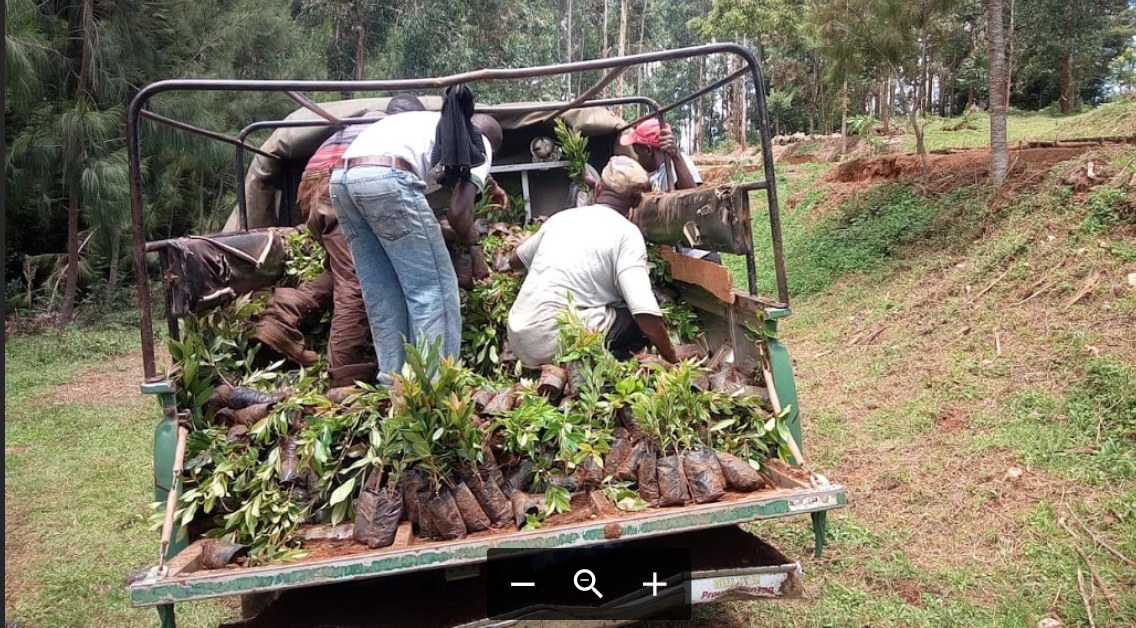 Irangi Forest Fireguard and Control Group members transporting seedlings from the nursery to the planting site © David Gichovi, Irangi Forest Fireguard and Control Group
COVID Impacts on the Project
While Nairobi and Mombasa have been in lockdown, no cases have been reported in Mount Kenya, and planting has been carried out following precautions and guidelines from local authorities. Teresa Gitonga, who is based in Kenya, visits the community-based implementing partners on a regular basis, advising and updating them on sanitary and public health directives.
Despite the current COVID health crisis in Kenya, ITF have assured us that there are no Government plans to ban training and public events; this is allowed under social distancing conditions. Planting is still possible in rural areas where the number of cases of Covid-19 remains very low. So far no COVID cases have been reported at the Magaca site and we sincerely hope that this continues to be the case.
However, we are in frequent contact with ITF because the communities involved at the Magaca site (and in the future planting sites) have numerous relatives in Nairobi, which is just a hundred miles away from Magaca and well connected by a high speed road.
Since the health crisis, ITF staff have not been able to travel to Kenya to verify the number of planted trees, as they normally do at least once a year, because of travel bans to Kenya for UK citizens.
Looking Ahead
As soon as we receive confirmation from ITF that the backlog of trees has been planted by IFF&CG during the October to December 2020 rainy season, we would like to resume the funding of more planting in Kenya. We are preparing to restart the project no later than January 2021 to start planting in April 2021.
The project will be implemented by IFF&CG with the support of ITF and will focus on rehabilitating a semi-natural forest with indigenous tree species only in the Mount Kenya Forest Reserve which is part of the Park, on land owned by the government for forest conservation(3). The first planting plot allocated for IFF&CG at the Magaca site, is awaiting mapping.
The price per tree will slightly increase so that ITF can provide the level of reporting and auditing that's required for such a project. Moreover, ITF is willing to develop digital surveys that will provide more pictures of the tree planting activities, so that we can have a better understanding of what's happening on the ground.
Ricardo Romero, ITF's program manager is planning to lead a forest field survey and a financial audit of the project on the ground for verification purposes in February/March 2020. Additionally, a follow-up on the survival rate of saplings is always done after one year (around February 2021), to assess the 1 year survival rate. Trees that have died will be replaced if mortality exceeds 10%. ITF's intention is to ensure high survival rates, so the community members involved in maintenance work hard, manually weeding around the saplings for a year following planting.
This update shows you the potential issues that may arise in reforestation projects in a developing country, and the level of adaptation needed to move with the ever changing context and circumstances that may arise. Also, it is important to understand that restoring forests is not only about just planting trees or assisting them to regenerate. It is mostly about securing land, finding planting partners and people to plant , as well as building capacity, so the local implementation organisation has the skills, knowledge, tools, funding, and other resources needed to do their jobs competently.

To learn more about our projects please visit our Grow Forests page.
To make a donation to support this work please visit our Donate page.
By Lauriane Cayet-Boisrobert with information collected from Teresa Gitonga, ITF's Centenary Campaign Manager, and Ricardo Romero, ITF's Programmes Manager.
---
Footnotes :
1.) A large gap in the Irangi section of Mount Kenya Forest, easily visible on satellite images on the south-east side of Mount Kenya.
2.) Forest Associations in Kenya are responsible for diverse management activities in forest protection, monitoring, and management.
3.) Trees cannot be cut down or used economically. Timber extraction, either for commercial or subsistence, is prohibited under State recognition.
---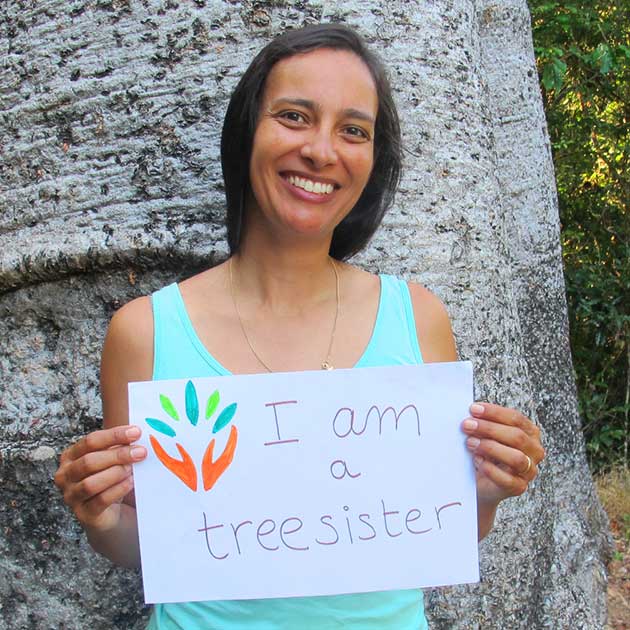 Lauriane Cayet-Boisrobert is our Reforestation Manager. She develops and manages our reforestation projects portfolio. She started by co-developing TreeSisters' forest strategy and project selection process. Lauriane is passionate about the many cultures on Earth. She tries to live in harmony with the Earth; so the Earth must stay wild and generous to us all. She feels deeply sad when the Earth is been abused at all prices, and mostly at the expenses of the people who rely on it.