Nepal: Terai Forest Restoration
Introduction
Treesisters has been supporting Eden Reforestation Projects in Nepal since October 2017. The 'Terai forest Restoration Project' aims to empower and engage local communities to regrow and protect the vibrant lowland tropical forests in the Terai region, where Terai in Nepali means low-lying lands. With close proximity to remaining natural forests, the reforestation sites create the dual opportunity to avoid further natural forest encroachment, as well as, to expand semi-natural forest ecosystem which are crucial for wildlife and local communities. TreeSisters is currently funding the reforestation of a total area of 51 hectares (equivalent to 71 football fields) spread across 2 districts: Central Nepal (Rautahat) and Southeastern Nepal (Jhapa) which are located at the foothills of the Himalayas, along the Indian border. Jhapa is a Nepali word which means 'canopy', a name that reflects the vibrant tropical forest that once covered the entire region. The areas to be replanted have been heavily deforested, burnt and cleared 30 years ago for mostly grazing purpose. Eden Reforestation Projects empowers and employs local people, to grow, plant and guard native trees on their lands.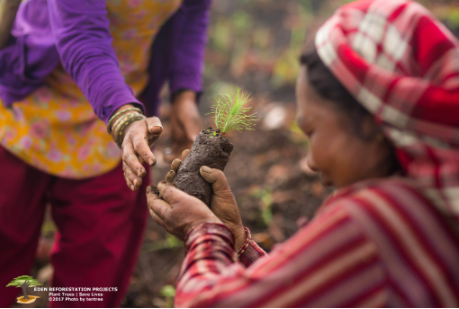 Introduction to the Eden Reforestation Project in Nepal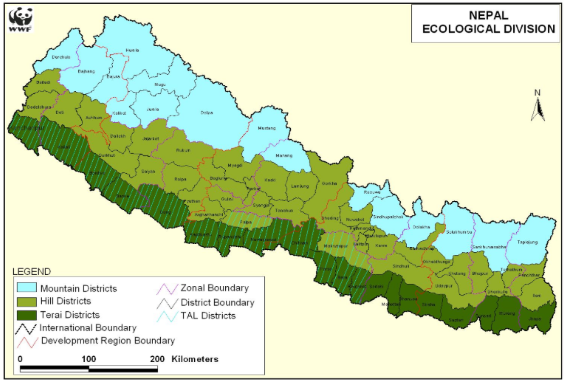 Low-lying Terai, at the foothills of the Himalayas, stretches from East to West along the border with India. Terai is the Nepal' s portion of the
Terai-Duar savanna and grassland ecoregion
, a landscape spanning across four countries in southern Asia (Bangladesh, Bhutan, India and Nepal) - formed with a variety of tropical forests, tall grasslands and savannahs. According to World Wildlife Fund, it is one of the most outstanding and representative areas of biodiversity of the planet.
(Image: Source: WWF downloaded from https://goo.gl/images/YskMGf)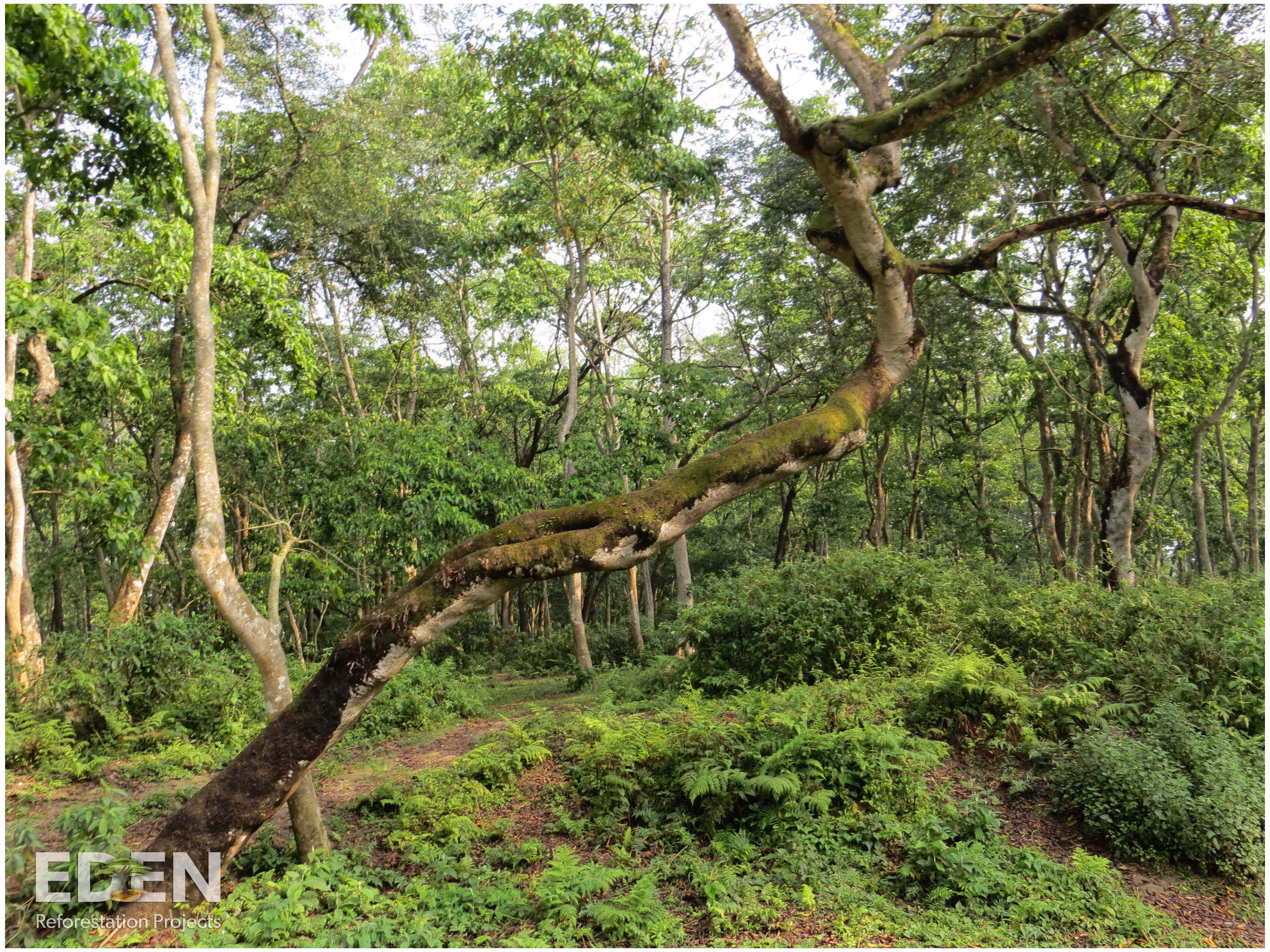 Forest state
Today, the Terai forests cover around 20% of Nepal, with 17% under protection6. Remaining forests exist along a narrow belt uphills, 8 to 12 Km wide, as northern last frontiers of the Terai. "Hariyo Ban Nepal Ko Dhan" was a Nepali saying translating into "Green Forests are the wealth of Nepal". It was for good reason as lush dense tropical, temperate and alpine forests used to cover respectively the country's lowlands, midlands and high mountains (WWF Nepal). Today, the southern low-lying part of the Terai is densely populated, and mostly under cultivation. In just half a century (1927 – 1977), the forest cover of Nepal's Terai declined by almost 60% and continued decreasing by an annual rate of around 0.4% until 2010. (Image: Terai forest at Chitwan National Park).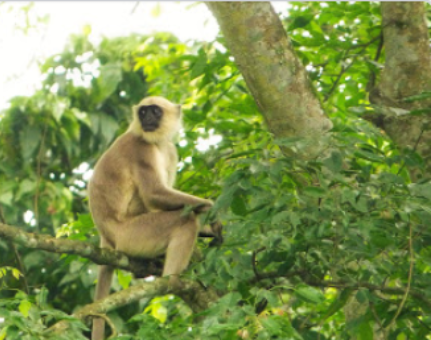 Plant, Tree Variety and wildlife
The Terai-Duar ecoregion contains the world's tallest grasslands and is home to the highest densities of tigers, rhinos and ungulates in Asia. The most dominant tree species of the Terai forest are Sal (Shorea robusta) and the most dominant shrubs are Bhanti (Ardisia solanacea), Dhaiyaro (Woodfordia fruticosa) (1). Out of the total 65 mammal species found in the Terai forest, eight are enlisted as 'Endangered' in IUCN Red List. Near-threatened Terai Grey Langur (Semnopithecus hector).
(This Langur is found in the Terai belt of Nepal. Al images © Eden Reforestation Projects.)
Drivers of deforestation
Forest Nationalization
While deforestation started under the Rana autocratic dynasty until the democratic revolution in 1953, the government taking over the forest management responsibility in 1957 led to important unintended forest clearings. (3) The Rana, who were from the Indian subcontinent, ruled the Kingdom of Nepal for a century from 1846 to 1953 and encouraged deforestation and agricultural development in the region. Feeling threatened by the 1957 Forest Nationalization Act, the then private landowners converted as much forestlands as possible into agriculture lands to keep their lands. And yet, the Act aimed to protect, manage and utilize national forests, as well as promote public welfare.
Migration & population increase
Prior to the 1950s, the Terai was largely undeveloped but massive in-country migration led to important clearings of forests for settlements and necessary agriculture lands. Terai was originally populated by non-Hindu ethnic groups with their distinct indigenous nationalities, religious beliefs (animist and nature worshippers), social practices and cultural values - Some nomads and some forest dwellers, some only found in the Terai while others also found in bordering Indian state of Bihar. (5) Then, Hindu-indian dignitaries and royalties came encouraged by the Shah Dinasty which was ruling what will be called today Nepal from 1559 to 1768. They were followed by indians who came during the Muslim invasions and then as labour in such a number that they drove the indigenous people to the slopes of the Terai hills. Terai's population had then multiplied more than tenfold. In the late 50s, growing Nepalese population pressure in the Hills led to in-country massive migrations to the Terai. (6) They essentially migrated on search for more fertile soils and more comfortable livings. This movement was facilitated through government-sponsored resettlement program and the eradication of malaria from the Terai. In the 1960s, refugees came from Tibet and Burma to flee political instability. In the early 1990s, Bhutanese refugees flocked in Eastern Terai (mostly Jhapa). Today, 50% of the population of Nepal live in the Terai - making it the most highly populated region in the country.
Extractive industry
Domestic consumption of timber and firewood, as well as illegal logging, have also contributed to fast disappearing of Terai forests in Nepal. In fact, the Terai has been Nepal's major area for logging and wood-based industries. Today, illegal logging in the Terai is increasing due to growing indian demand for timber.
Fires
Forest fire has been a major agent of land cover change in the Terai. While some have been unintentional, some burnings were set intentionally by grazers, hunters, poachers, and other non-timber forest products collectors. In Rautahat, which had been largely affected by fires in the mid-1990s, out of 120 thousand hectares of total area around 14 thousand hectares of forest cover remain today. (7)
Peculiarity of the project


Eden Reforestation Projects and TreeSisters recognize the significant importance of restoring the Terai's forests for and with people, and are building up on ongoing participative environment through Community Forestry experience in Nepal.
Social discontent
The 1957 Nationalization Act actually defied the time-tested traditional system of indigenous communities' centuries old management of natural resources. Indigenous people found themselves deprived of their traditions and forest customary rights, with the creation of wildlife reserves. (8) The high dependency of rural people on forests, for a wide range of products, such as for fodder and firewood procurement, for construction materials, and many other non-timber based forest uses, had been neglected. (9) Nepalese migrants from uphills certainly brought with them distinctive rules and regulations associated with forest and water management, believed to be many generations old knowledge. (10)
Community Forestry
In 1978, concerned over the high rates of deforestation and forest degradation, and their consequences, decentralizing forest management through community-based forestry progressively emerged as the way to go. It was a way of acknowledging the customary users and their management systems and essential to supply locals with basic forest-based products for subsistence needs, as well as stopping ecological degradation. (11) It started initially on an experimental basis(12). In 1989, a national Forest Master Plan was formed: it set the principles of decentralized management of nationally-owned forests through "Community Forestry". In 1995, they were officially regulated (12). Community forestry are Government-owned forests that have been leased out to nearby forest dwellers. According to Eden Reforestation Projects, it is thought to have numerous positive effects on Terai's ecosystems and livelihood conditions such as the reduction of domestic violence and a promising increase in wildlife, including endangered species returning in previously degraded areas.
Forest Users Groups
Community forests management are handed over to Forest Users Groups. In 2009, 14,500 community forest users groups had been formed (13) and 1.7 million hectares of forests (or plantations to be more exact) had been established within a couple of decades, increasing Nepal's forest cover from 29% in the early 1990s to 45% in 2015. (14) Forest Users Groups are local democratically-elected institutions engaged to replant degraded and cleared areas, as well as to protect the remaining remnant forests. They spend their income and earn an income from setting and running tree nurseries, tree planting, and the sale of harvested forest products, such as tree and grass fodder, fuelwood and timber.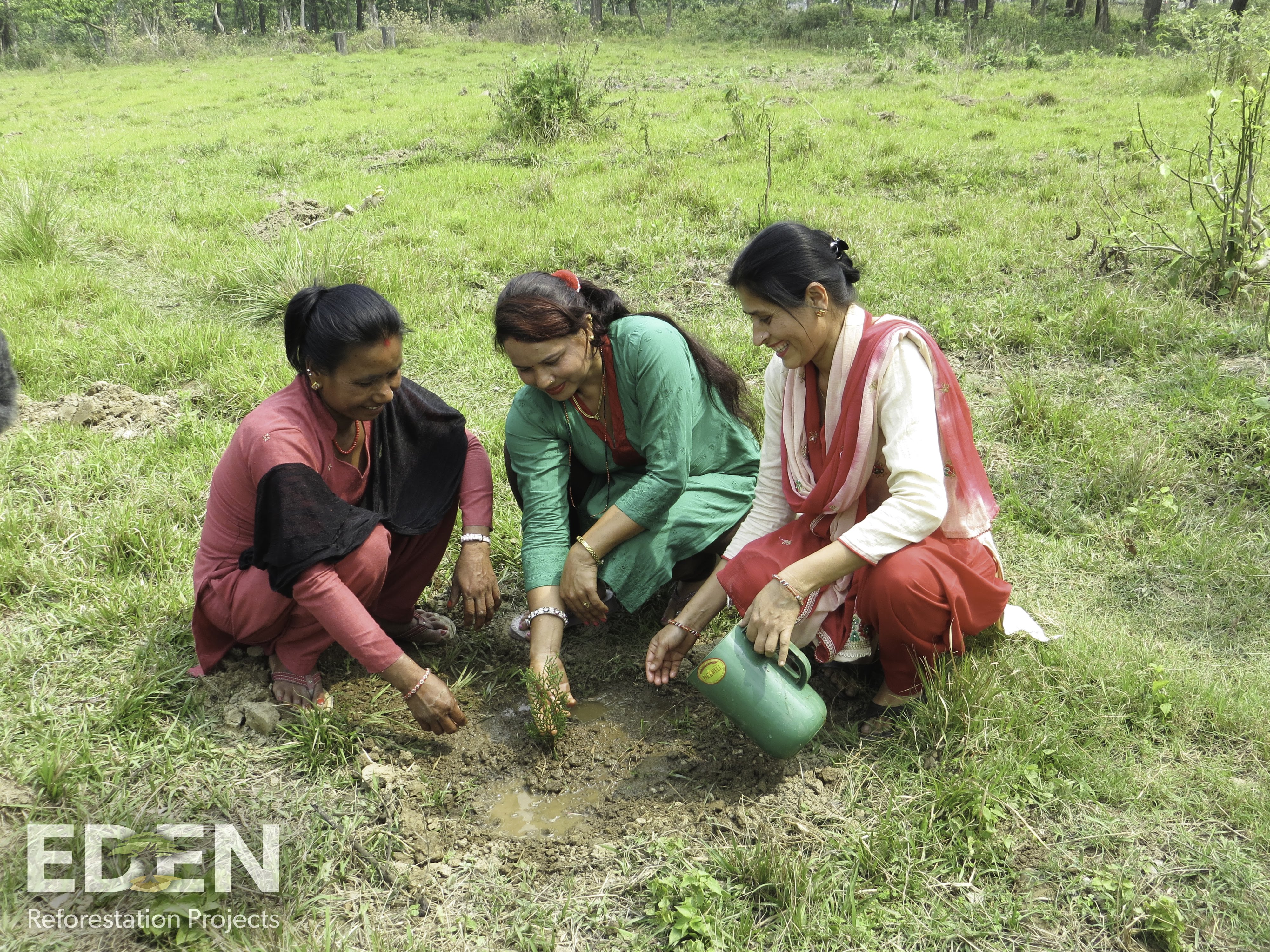 Project description
The approach
Villagers, and particularly women, are employed to grow, plant and guard the regrowing forest. To Eden Reforestation Projects, one key element to successful reforestation southern Nepal is that: "you have to benefit the local population. People who are suffering the impact of deforestation are living in extreme poverty because of the connection between the land and the local community." They call their approach the 'Employ to Plant' methodology. Reforestation helps with poverty relief and people build a relationship with trees so they value forests and become stewards.

Introduction to Eden Reforestation Project 'employ to plant' method.
What are the expected environmental outcomes?
The project aims to establish semi-natural community forests by providing the local villagers meaningful employment and impactful ecological gains. The project plans to plant 100,000 trees annually. The reforestation efforts in this area will not only bring back a healthy, diverse and native forest; it will also improve soil quality and water tables, over time improving local farming and agricultural productivity.
What are the expected socio-economic outcomes?
Villagers, mostly farmers, and particularly women, are employed to grow, plant and guard trees. The 'Employ to Plant' strategy provides the poorests of the poors with a job, a consistent income, and a sense of accomplishment. As a result, it helps families dealing with childhood malnutrition, famines, and inability to afford childhood education. In Nepal, at old projects sites, Eden Reforestation Projects reported that more children are in school because their parents can now afford to send them, there is a decrease in alcoholism and families are able to save money for the first time. Income generated through the community encourage indirectly the development of village micro-enterprises.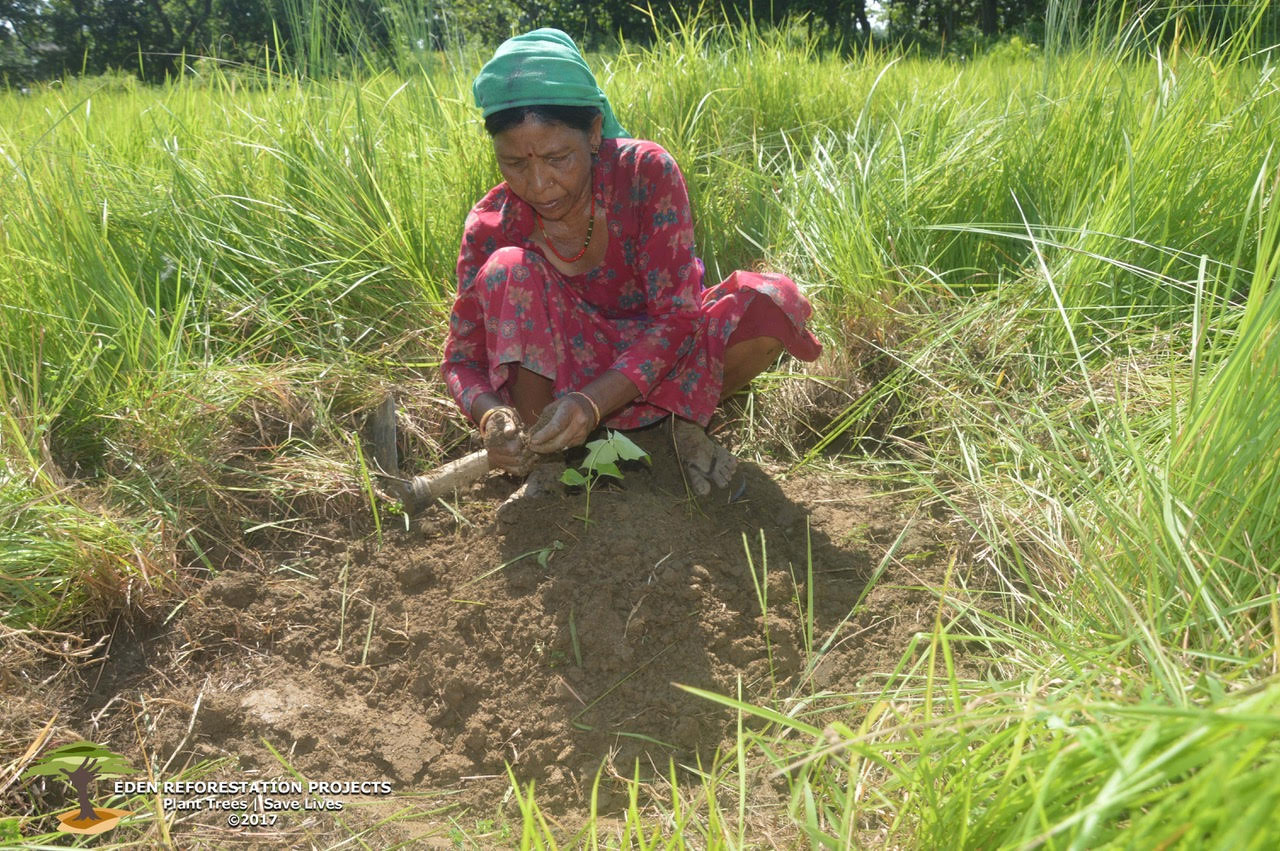 What's the restoration method?
It is a true reforestation project. Trees are planted with diversity in mind at a planting density of 1 tree per 2 meters over cleared lands. Seeds are collected from remnant nearby forests or procured from government seeds banks.
Which trees?
The project seeks to move away from (mono-culture, exotic) plantations, reintroducing native biodiversity - occurring naturally in Nepal that are indigenous to South and Southeast Asia at maximum extent. For example, planted species include: Sissoo (Dalbergia sissoo), native to the Himalayan foothills in Northern India and a pioneer species which colonize the land rapidly; the world's biggest teak (Tectona grandis), near the top of the list of world hardwoods; the Indian Rosewood (Dalbergia latifolia), which has been overexploited and under pressure from illegal logging. Along with growing, planting and guarding native tropical broad-leaved tree species, the forest users groups of the project plant a minimum 10% of agroforestry species in each area, to support the livelihoods of local people, some non-native but proven non-invasive. For example, nature's gift to human beings, Amla (Phyllanthus emblica), is one of the agroforestry species planted for ayurvedic purpose. Moringa (Moringa Oleifera) is planted for medical/food use.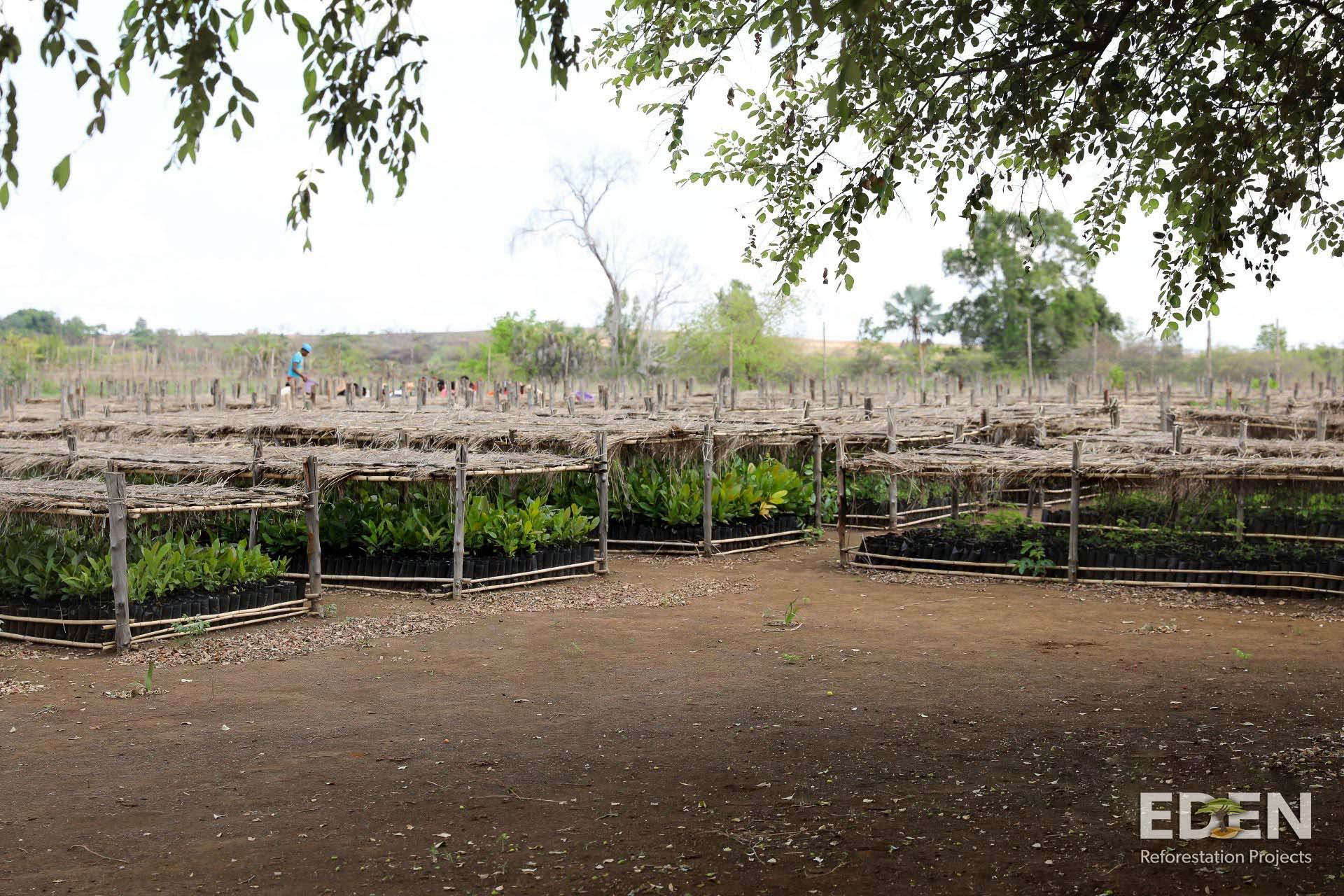 What is the reforestation site like?
The reforestation sites are cleared former forestlands. In Rauhatahat district, the sites are located 30km away from the Chitwan-Parsa-Valmiki wildlife corridor, a complex of 3 protected areas home to rhinos, elephants and tigers (Panthera tigris). According to IUCN, the Chitwan National Park is one of the most important forest remnant in Southern Nepal. It is home to over 150 tigers, and a prime breeding ground for tigers that spread out to neighbouring Parsa and Valmiki reserves which are under carrying capacity. In Jhapa district, the reforestation sites are closed to remaining Jalthal forest, which is home to the critically endangered Asian Elephant, the Common Leopard and the Clouded Leopards. It covers an area of 6,300 hectares, which is 8.55% of the Jhapa district. (15)
Who's involved?
Eden Reforestation Projects works through a small team of local staff. Reforestation activities are run through Forest Users Groups. They are paid to grow, plant and protect trees in degraded and cleared lands, as well as manually clear land prior to planting. Reforestation occurs in "Community Forests" and in one "Collaborative Forest" (16) as an experiment. Community Forests are for subsistence (timber used by the group) and/or commercial purpose (selling timber to outside market). They are governed by strong social organisation, by both written and unwritten rules. Cutting is thus allowed by the communities. They are cycling the cut zones to let natural regeneration self grow back what was cut down.
What's the place of women?
Eden Reforestation Projects supports women to work at high managerial positions within the local team, including assistant director Racchya who graduated from Kathmandu University with a degree in Environment and Natural Resources. At minimum, 60% of Eden's village employees are female, directly benefiting through employment and consistent income. Finally, the project aims to build the capacity of female village employees, in order for them to become managers and nursery leaders.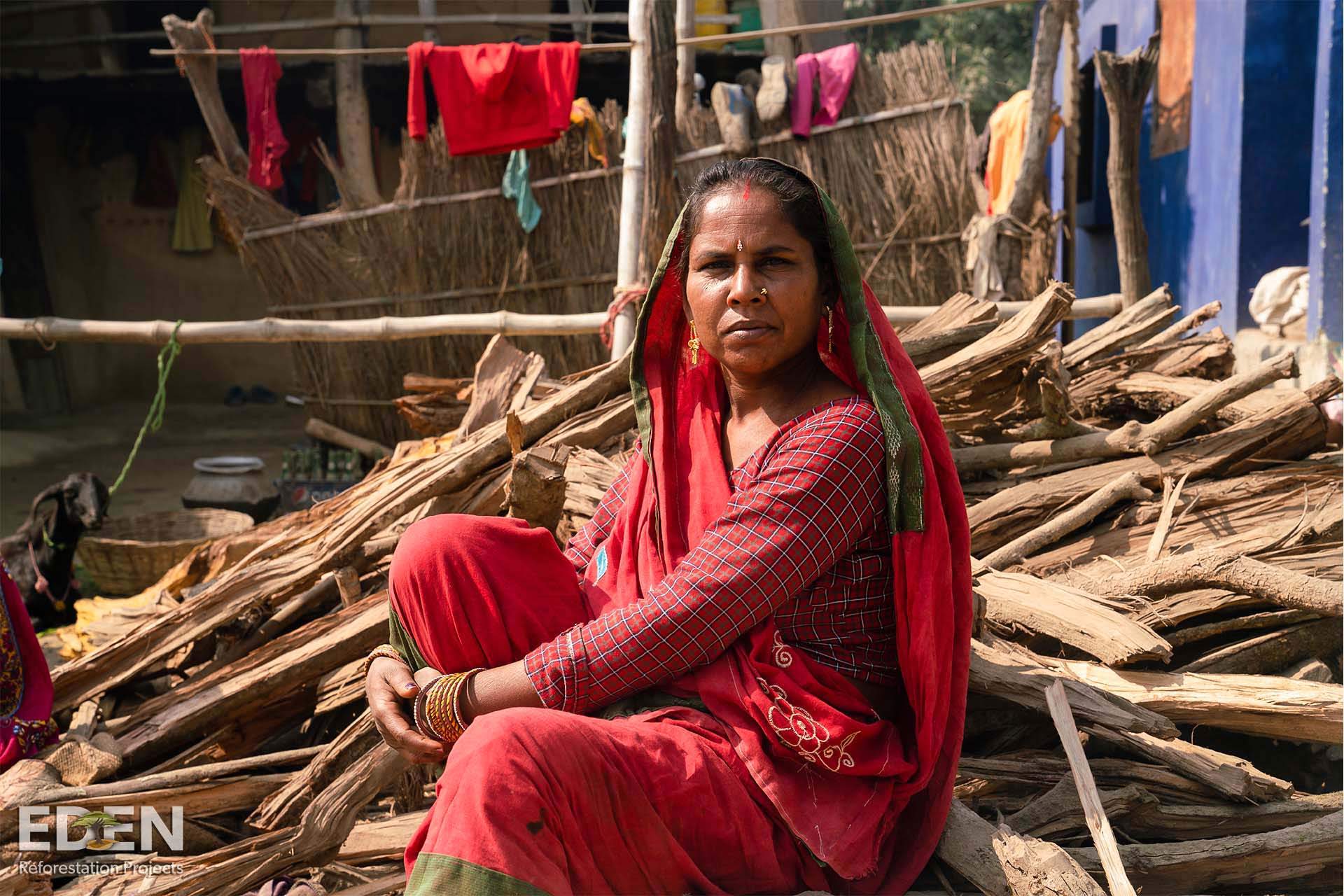 What will happen next?
Thriving forests and farmers with increasing soil fertility. The project is also extending wildlife habitat, providing them with food, water and shelter. In that respect, Eden Reforestation Projects reported the following: "In Jhapa, we have seen evidence of wild boars, elephants, snake varieties and different birds and insects in our reforested areas". Human-wildlife conflicts are of concerned and the project is already looking into innovative ways of keeping wildlife away from farms (e.g. tree fences).

Looking ahead
Project partnership agreement signature between Eden Reforestation and TreeSisters began on October 1st, 2017.
By the end of planting season (mid-September 2018) Treesisters will have planted 200,000 trees in Nepal, spread between the 2 project areas of Jhapa and Rautahat.


If you would like to support this project, and our other planting projects around the world, please step in as a monthly member. Every contribution makes a difference.
All images copyright and provided by

If you would like to share this project please download our Tree Project Cheat Sheets for a flyer with sharable facts. (Click on the flyer!)