New project in the Brazilian Amazon!

Oct 31, 2019
We are very excited to announce that your donation will now support a reforestation project developed by an indigenous leader from the Ashaninka people who live in the depths of the Amazonian forest basin. It is brought to us by Aquaverde, a Swiss non-profit organization, who will ensure good communication, liaison and reporting according to our Western standards.

The Yorenka Tasorentsi community and members of the Ashaninka community will grow a 'forest garden' in the Brazilian Amazon based on their philosophy of life. The Ashaninka have managed their forests sustainably for millennia through their strong cultural heritage, high dependency on forests for their livelihood, and the spiritual value of the forest. This project is therefore a replica of their way of life to continue living a healthy and wealthy traditional lifestyle. The Ashaninka's sustainable resource management and wisdom can inspire others to create similar projects, helping to save the Amazon rainforest, and other forests, from destruction.


Rationale
Brazil is a priority country for action in our

Tree Strategy

and the Ashaninka's indigenous territory is one of the remaining tropical Intact Forest Landscapes on Earth. It is 872 square kilometres (about the size of New York City) of primary forest and it is one of the most biodiverse areas of the Amazon.

It is important for us to support a project which supports the guardians of the forest to keep the trees intact whilst supporting the exemplary life they yearn to live. Satellite data and maps have proven their role in the protection of the forest such as in this

animation

produced by the World Resources Institute. The Ashaninka started replanting in an outside area their indigenous land 14 years ago. They know what's needed and they know how to do it. They did not wait for anyone to tell them what to do. However, they need our support to become more economically self-sufficient and resilient in the face of pressures for land and economic interests.

The current

situation

in the Amazon is urgent. There has never been so muc

h interest in opening up the Amazon to irresponsible development in the name of economic growth. Roads and resettlement of farmers drive people into the depths of the Amazon rainforest. Fires complete the land's conversion for agricultural use. Many indigenous communities struggle to protect their lands (many of which are now at the edge of the "civilized" world) against illegal logging and agricultural pressure. Last summer about 20,000 hectares

(1) of the Surui' indigenous territory was burned.

A native forest garden which is based on conservation, as well as collective and communal values, is a starkly different approach to common agriculture. Our conventional agriculture is about destroying the forest at the expenses of profitable economic activities supposedly of higher value which benefit a few but jeopardise the way of life of many. Such a project can play an important role in fostering healthier interactions between people and trees, by showcasing a different agricultural system that benefits people, soil, and Nature. With its healthier soils, a native forest garden produces nutritious fruits and nuts for both non-indigenous locals and indigenous people. It also helps stabilise water supplies, and reduces sediment run-off (from soil erosion and inland pollution) pouring into the rivers, which will, in turn, positively impacts aquatic life and the people who eat them.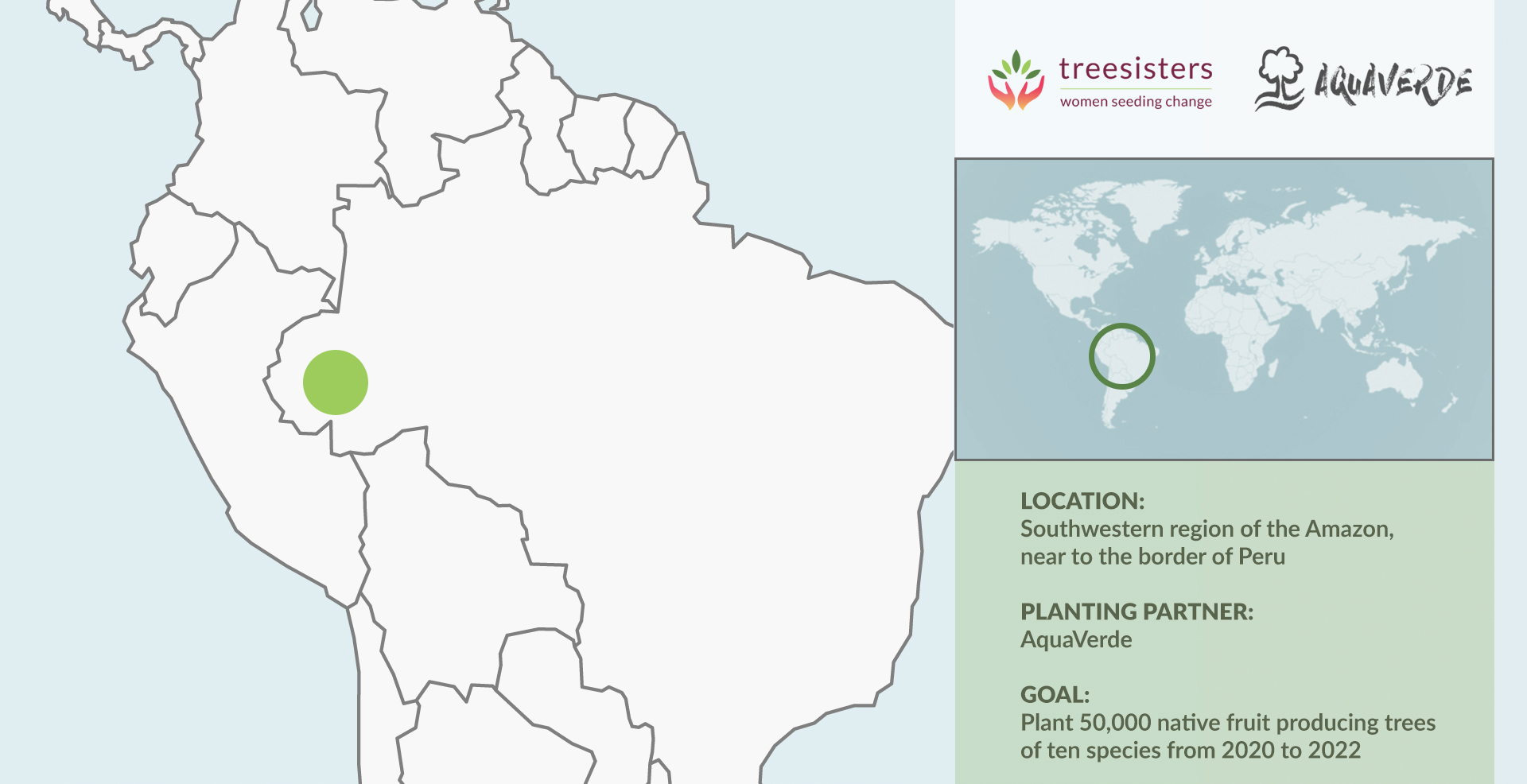 Location
The project is located in Southwestern Brazil at the border with Peru, in the State of Acre, on the edge of the town of Marechal Thaumaturgo. Planting will take place on land which belongs to one of the Ashaninka spiritual leaders - Benki Piyãko - for the benefit of not only the Ashaninka community but also other indigenous and non-indigenous communities living along the Jurua basin. The land was purchased mostly through external donations, and also through income generated by Benki's actions for the Earth, including a National Human Rights Award in 2017 in recognition of his people's fight to defend their territory.
The Ashaninka live their peaceful way of life away from the tribulations of our modern exploitative world - about 40 km from the project area. They live on indigenous territory called 'Terra indigena Kampa do Rio Amônia' demarcated in 1992, thanks to the actions of Benki's father, the local community chief. The land is only accessible by small motorised boats for authorised people only and is a six-hour journey. Their indigenous territory is covered with primary forest.


The Ashaninka

One of the most remote tribes of the Amazon, the Ashaninka are one of the largest indigenous groups in South America - between 45,000 to 70,000 people depending on the source. The great majority are found in Peru. Some, such as the Ashaninka of 'Terra indígena Kampa do Rio Amônia' (about 1,000 people) live in Brazil.
The Ashaninka have a long history of resistance. Originally from Peru, they pre-date the Inca empire, which sought to conquer the Amazon forests and their inhabitants. They fought against the Spanish conquistadors and the incursions into their land from non-indigenous who came for the rubber boom.
They are still living with great autonomy and strong culture, traditions and rituals. They continue to live in a traditional way: drinking water from the river or wells, hunting, and farming, where prosperity is measured not by economic wealth, but by the spiritual and physical health of people living in harmony with the land
The Ashaninka people have a cultural and traditional heritage that has been preserved through millennia, This heritage is passed on through families, via designated shamans, who are responsible for the health of the people and the environment.
When I asked Thomas Pizer (Director of Aquaverde who has lived among the Ashaninka) about the place of women he replied that this is an odd concept to them. Women and men are both in service to the community. They have different roles, but they are equally valuable for the community. Women in the community take care of the children and prepare food as a group, whilst the men hunt, fish and farm as a group, to feed the community.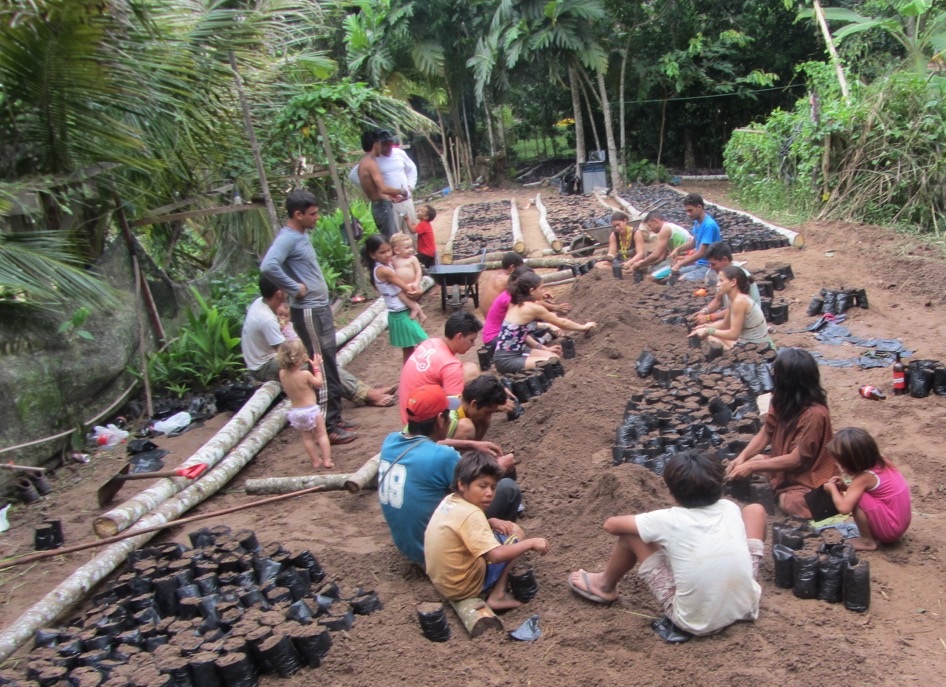 No role or job is degrading or demeaning. Personal income is also a strange concept as money circulates for the benefit of the whole community and everybody is in service to others. When someone moves away from this principle, the whole community will make sure this is understood, and bring the person back with the use of humour.
Living from a place where community holds the most importance to everyone makes great deal of sense to me and I think that's very similar to TreeSisters in the way that we want to make it normal for everyone to give back. Additionally living this way allows for women to be able to give their gifts to the Earth without the limitations that are often placed on women by money or men.
Benki Piyako of the Ashaninka
Benki Piyãko was born in 1974 of an indigenous father (also community chief) and a non-indigenous mother whose family arrived during the rubber boom. Benki has been fighting for the preservation of Nature and Ashaninka cultural heritage since he was a child. He was designated and trained from a very young age to become a community shaman - someone who holds and transfers the Ashaninka ancient knowledge, traditions, and traditional medicinal practices. (Above: Video from the Flourishing Diversity Series in October 2019 featuring Benki Piyako)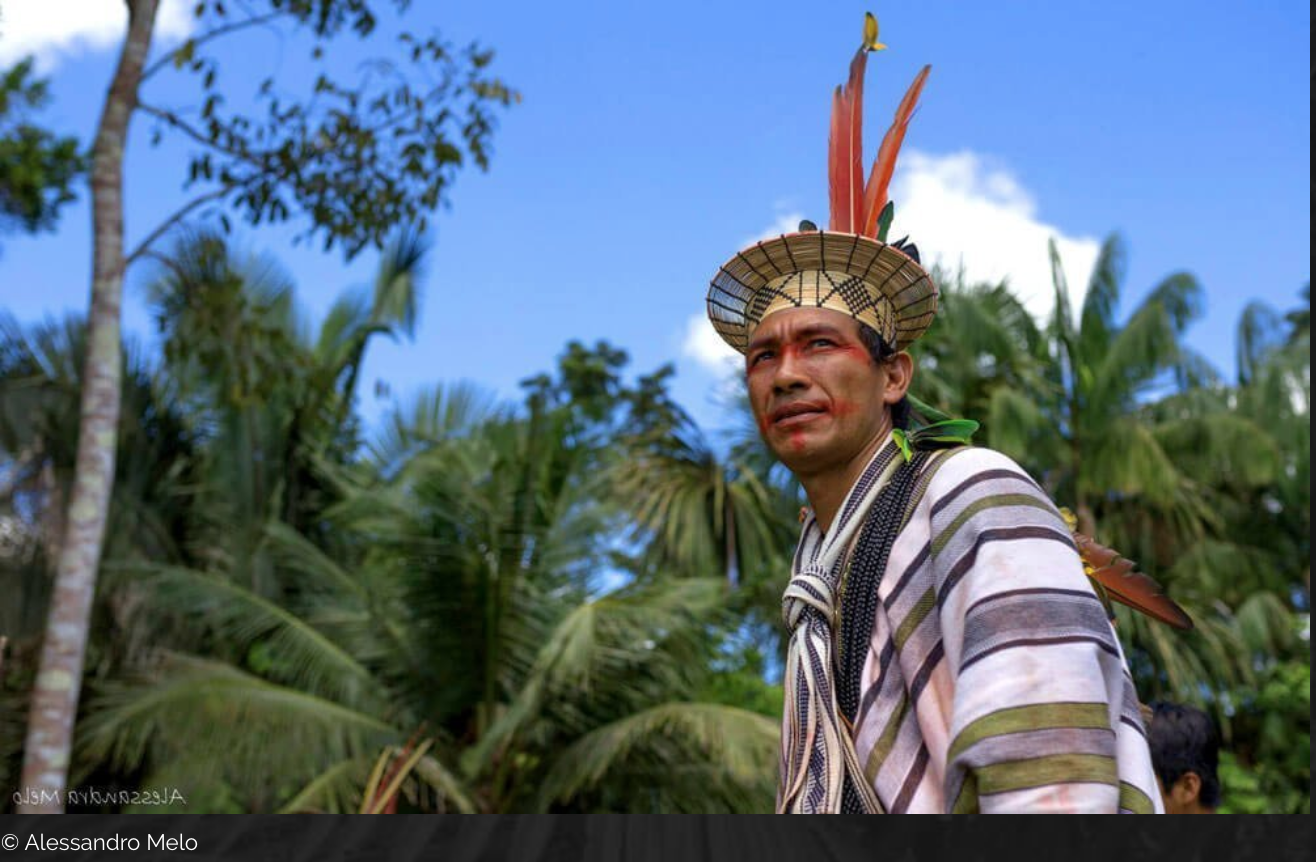 In 1992, at the age of 20, Benki created the Apwitxa Association, named after the village where he grew up. It aims to preserve the Ashaninka's integrity and local biodiversity. Projects include forest restoration and the creation of agroforestry systems for greater food and economic self-sufficiency. Apiwtxa projects have planted about 2,000,000 trees to date.
To maintain the strong cultural and traditional heritage of the Ashaninka, Benki Piyako has designed a project called 'Yorenka Tasorentsi'. It is part of a 40-year vision to share the Ashaninka ancestral wisdom and values for a better future for the Earth.
It is essentially designed to support a robust Ashaninka community to perpetuate their healthy and wealthy way of life (in the traditional sense) in the face of external pressures - with jobs and revenues, nutritious foods and quality drinking water, as well as medicines from the forest. It will also inspire other Amazon tribes and non-indigenous people who face broken environments because of broken relationships with the environment.
Project details

Through the Yorenka Tasorentsi Reforestation program, TreeSisters will establish a forest garden across 10 hectares of deforested land located on the edge of Marechal Thaumaturgo. The goal is to plant 50,000 native fruit producing trees of ten species from 2020 to 2022. There is a possibility that we could plant more trees with them after 2022 if the Ashaninka succeed in acquiring more land. This would be needed to keep up with their plan to plant 10 million agroforestry trees over the next 10 years.

This project is being implemented by the Yorenka Tasorentsi community (comprised of Ashaninka, indigenous and non-indigenous peoples), (2) whilst Aquaverde is responsible for communication (including translation) and reporting. Aquaverde has a long history with indigenous people. Since 2005, they have supported the Surui tribe to replant 7% of their degraded forest lands with over 250, 000 trees. Aquaverde has engaged with the Ashaninka since October 2017, at the invitation of Chief Raoni (Gayapo People).

The forest garden aims to: (a) generate fruits and nuts, providing sustainable nutritious food to the non-indigenous locals in the town of Marechal Thaumaturgo and to the people involved with or visiting the project; (b) facilitate other indigenous people to reclaim their values and traditions, by changing the perception of project visitors about Nature, agriculture, and about indigenous people.
This will ultimately lead to: (1) improvements in the health of both indigenous and non-indigenous surrounding communities; (2) a reduction in deforestation in the Amazon; (3) perpetuation of Ashaninka cultural, traditional and spiritual values.
Project activities include: (1) agroforestry training for 70 young men and women; (2) an awareness program involving indigenous people from other parts of the Amazon and non-indigenous surrounding communities; (3) reforestation work (seed and materials procurement, nursery raising and maintenance, plus tree planting and maintenance).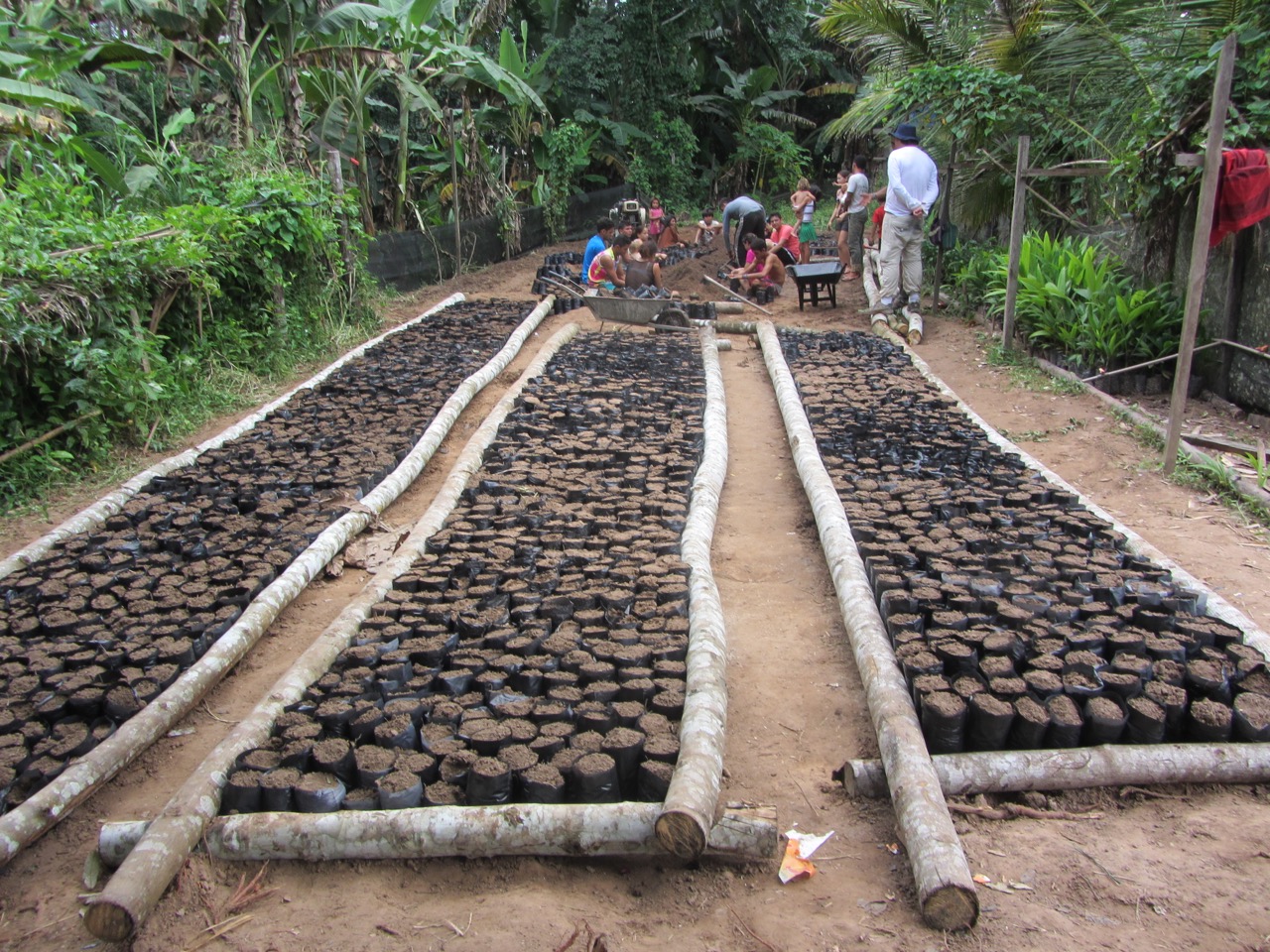 Beneficiaries
About 25 paid employees

will earn a regular income, 20 of whom are planting and teaching experts. 6 of whom are assigned to project administration and coordination, including Benki Piyãko - 3 of whom are female employees. Benki sets the example: his savings are for the benefit of the community. He financially helps the whole community by donating to individuals, or Apiwtxa projects, or by organising the

Ashaninka's festivals

.

1,000 Ashaninka ((the entire community at "Kampa do Rio Amônia") and members of the Yorenka Tasorentsi community will indirectly benefit through revenues generated by the agroforestry work and from selling products through a future cooperative in Marechal Thaumaturgo. Generated benefits will be partly reinvested into community services/welfare.

Over 1,000 people

including other indigenous Amazon people, (non-indigenous) locals living in Marechal Thaumaturgo, as well as other Brazilians, and foreigners, will benefit through knowledge and experience sharing through free awareness workshops.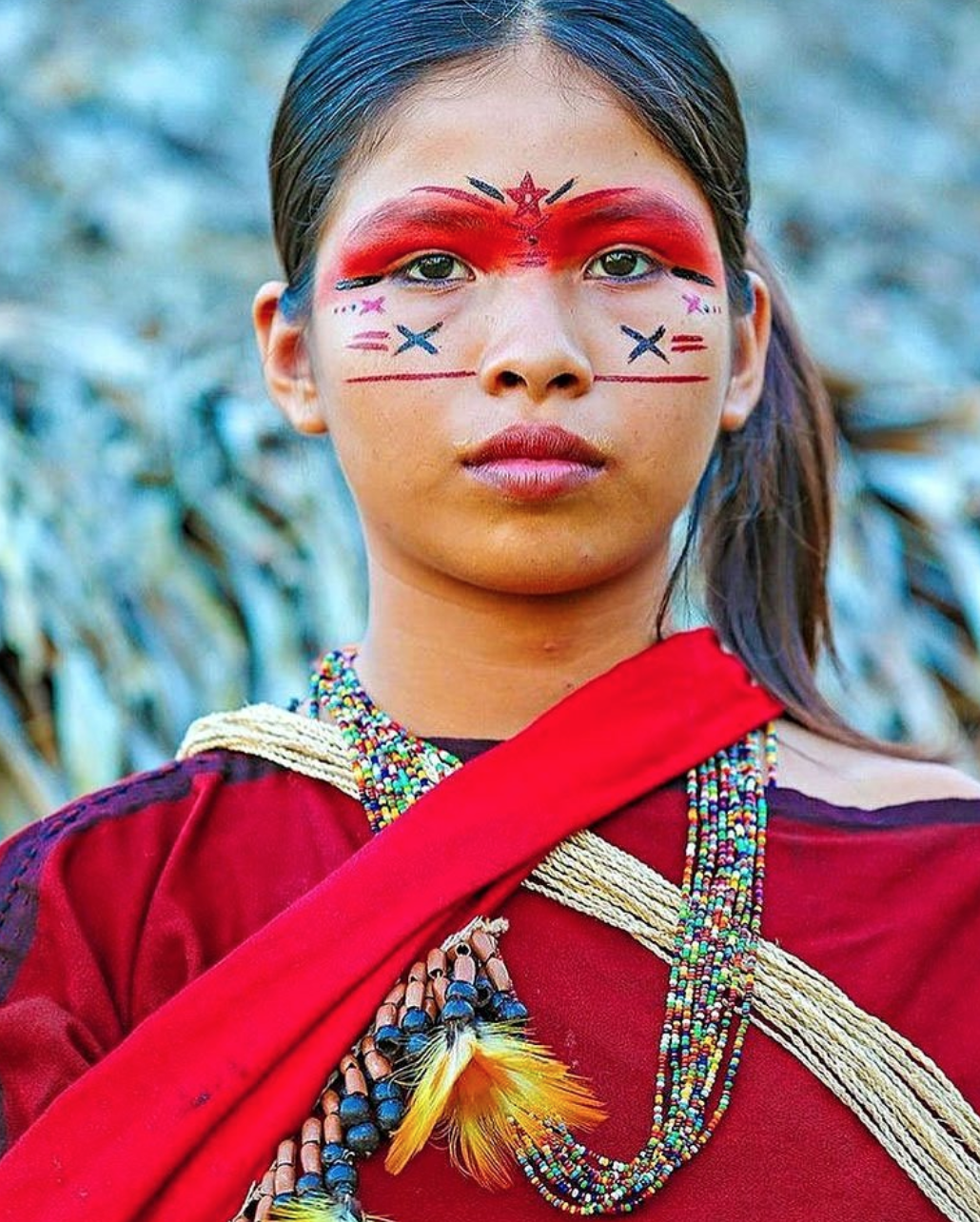 Socio-economic benefits
When the trees funded by TreeSisters start bearing fruit, some will be donated to the local schools in Marechal Thaumaturgo. Some will feed the Apiwtxa project's visitors.

A portion will be sold through the community's cooperative and generate revenues to be reinvested in the welfare and wellbeing of the community. For example, the Ashaninka use a shared transport system to reach the project area to volunteer or work and to run their errands in Marechal Thaumaturgo.

If possible, extra revenues from selling fruit trees will be reinvested in the coming

Yorenka Tasorentsi Institute where

traditional knowledge and know-how is passed on. The Institute is currently implementing several projects where the TreeSisters reforestation sites have been defined. The projects mentioned on the website have not directly been funded by our organisation.
Environmental benefits
The project preserves the Amazon's biodiversity by changing a degraded landscape invaded by African grass and non-native trees, into a native forest garden.

The project is likely to increase floral, faunal, and soil microbial diversity, as proven by a study which evaluated biodiversity within agroforestry plots, monocropping, crop alleys and even some forests

. (3)

Increased soil fertility and more productive farming systems, means less need for space for farming at the expense of natural forests, in comparison with before with monocropping/conventional farming.

People living near the forest will lower economic and/or subsistence dependency on natural forests. Local people will now be able to derive income from tree produce, making them less likely to cut down trees and sell timber to survive, as well as less reliant on cattle systems.

This project has the potential to moderate climate change through carbon sequestration in tree biomass and soil, and indirectly through reduced deforestation.

Whist trees are planted, natural forest regeneration can occur too. A study based on satellite imagery in the State of Rondonia in Brazil showed that farmers engaged in Agroforestry farming tend to have more secondary succession and/or primary forest in and around their land

. (4)

The Ashaninka's vision to share their agroforestry knowledge, forest management practices and wisdom to outsiders will have a ripple effect on the entire Amazon, and of course, reduce global carbon emissions and global warming.
Author: Lauriane Cayet-Boisrobert

If you would like to support this project and our other planting projects around the world, please join Treesisters as a monthly member. Every contribution makes a difference.
Photos provided by Aquaverde
---
Footnotes:
(1) From Thomas Pizer, President of Aquaverde from his conversation with Chief Almir Surui.
(2) Portuguese name is 'Associação de Jovens Guerreiros Guardiões da Floresta'.
(3) ResearchGate. "(PDF) Agroforestry and Biodiversity." Accessed October 31, 2019. https://www.researchgate.net/publication/333255638_Agroforestry_and_Biodiversity.
(4) Blinn, Christine E., John O. Browder, Marcos A. Pedlowski, and Randolph H. Wynne. "Rebuilding the Brazilian Rainforest: Agroforestry Strategies for Secondary Forest Succession." Applied Geography 43 (September 1, 2013): 171–81. https://doi.org/10.1016/j.apgeog.2013.06.013.