Nina's Precious Gift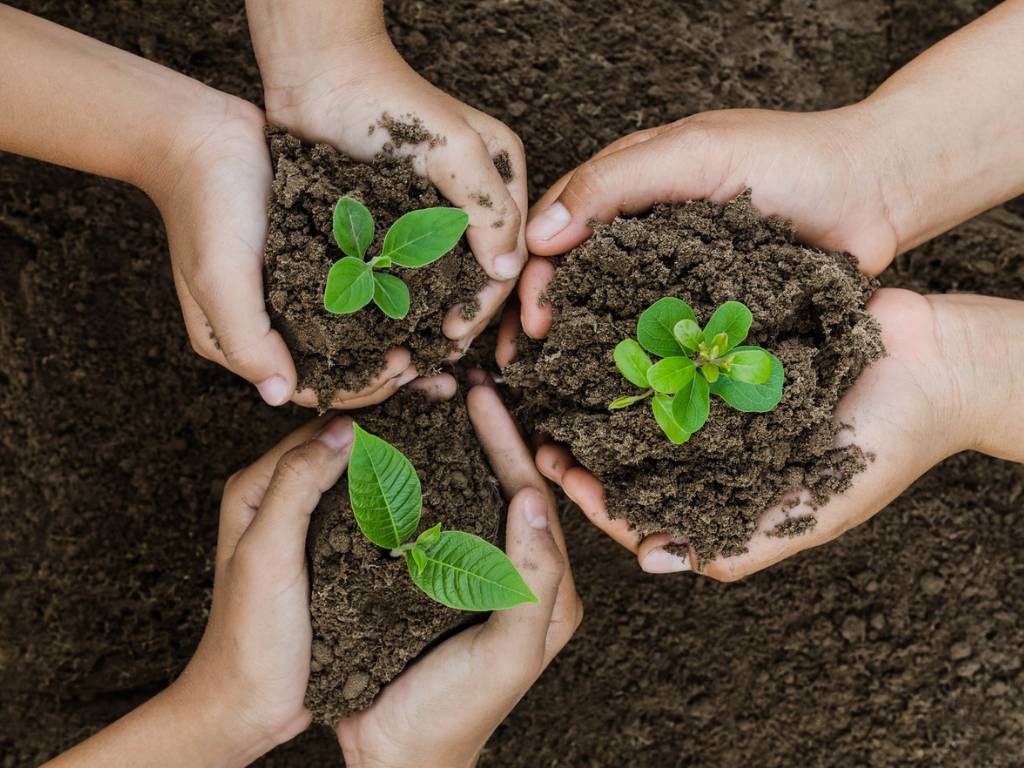 Today we celebrate our youngest treesister Nina who gifted her 10th birthday to the forests. Instead of having presents, she raised 635 Euros which will plant 1,867 trees across Madagascar, India, Kenya, Cameroon, Nepal and Brazil.
Nina's Precious Gift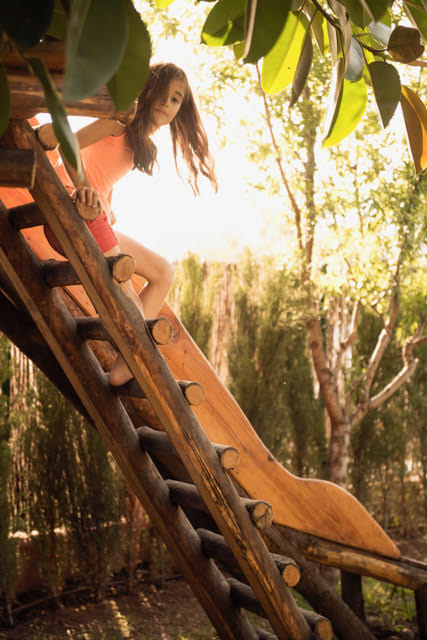 Nina was on the threshold of her 10th birthday. Already a consciously aware young lady Nina had been donating to charities whenever she had a birthday, but this one was different. This one was a milestone.
So she and her mother sat down and talked about what they wanted to do. Every year well-meaning friends and family members would give her toys and gifts. Things to play with for awhile but eventually gifts that would just accumulate and not really fulfil her wish to help the planet and others.
At the same time Nina had relatives all over the world. From Europe to South America to the United States. They thought of TreeSisters, so her mother wrote into TreeSisters support and asked if there was a way for Nina to have a personalized link for all her relatives and friends to help plant trees.
Yes there is! Just Giving is an online charity donation site that TreeSisters has been using since the very beginning of our journey. While we moved the regular donations elsewhere, Just Giving has an amazingly simple way to create a Fundraising Page that you can set up and personalize.
I wrote back to let Nina's mother know, and from there Nina and her Mom created their own page. Just Giving has a template set up for fundraisers, so it's as easy as selecting the occasion, adding your own photo, setting up your goals and why you are fundraising and adding anything else you want people to know.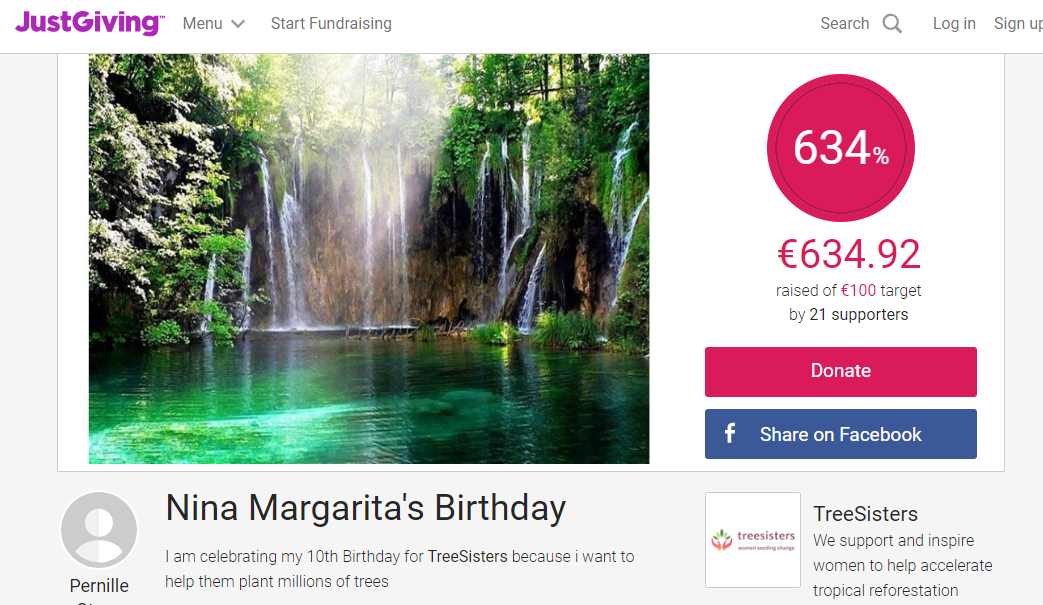 Nina decorated her page with a lovely tropical tree photo and wrote her own powerful statement ~ "I am celebrating my 10th Birthday for TreeSisters because I want to help them plant millions of trees."
Her mother and her then added "Times of receiving plastic toys that pollute the planet are over its time to take earthly matters into our own hands, we are the future for this planet and need to show it gratitude for the millions of gifts we receive from our mother every day."
They shared it with family and friends and while they set up a goal of 100 Euros, much to their delight many joined in and they raised 635 Euros!
Nina, we are so appreciative of your generous heart and caring soul! Your selfless action not only planted trees but in so doing you've helped lemurs, jaguars, gorillas and many other species of animals that live in our reforestation areas. Your gift also helped the people who live there. And your gift of 1,867 trees will grow and grow every year helping to heal the planet.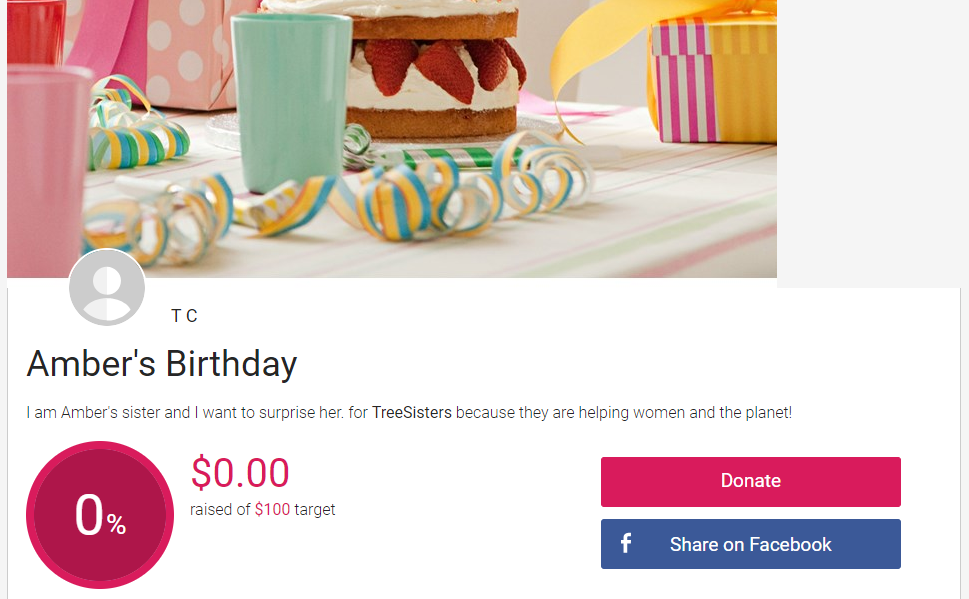 If you want to make a difference just like Nina did, please visit https://www.justgiving.com/treesisters. You will need to create an account first, then just click on the Fundraise for us link.
It's easy to do and fun to create. You can add your own photos or choose the ones that they provide. Plus they send the money directly to us, so you don't have to worry about collecting it and turning it in.
Thank you so very much for giving the gift of Trees!
---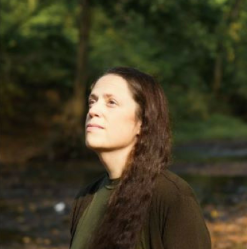 Terra has always been passionate about the Earth both in celebrating it's beauty as well as actively working to heal the planet and treasure it's many unique species including plants, minerals and animals.
At TreeSisters, Terra is the Network Relations and Service Manager. Network Relations is the in breath and out breath of the communications between the staff and all those who are treesisters or are supporting our mission in other ways. Her place here has become a soul purpose and she wants to help other women find their connection to nature in the way that TreeSisters has helped her deepen her own.
Read more blogsLearn more about TreeSisters