Nourishing Mind, Body and Spirit
Jul 27, 2020
For as long as I can remember I have eagerly awaited the ripening of the blackberries at the end of summer in the UK; watching them turn from red to purple and thinking about all of the berry crumble I would be eating very soon. In early September, my afternoons are often spent rambling around nearby patches of woodland, soaking up the autumnal colours and letting my feet carry me wherever the brambles lead. I often return home hours later so very content, with hands stained deep purple and boxes filled with delicious treasure.
Apart from blackberries, my knowledge of foraging and eye for what's edible in the wild has been very limited - until recently. These past months, the huge global shifts we are experiencing have been very challenging in so many ways, but one of the gifts lockdown has blessed me with is that it forced me to be still; still enough to pay attention and notice things on my doorstep that I have previously been too busy or distracted to see. Observing the seasonal shifts through spring and into summer from that place of stillness has been such an enchanting and eye opening journey for me, and I am so grateful for having had the privilege of time and pockets of Nature nearby which facilitated this journey.
Relishing my daily walks around the neighbourhood, I found myself getting to know these little pockets of Nature more intimately than ever before. The tiniest changes caught my attention and sparked my curiosity.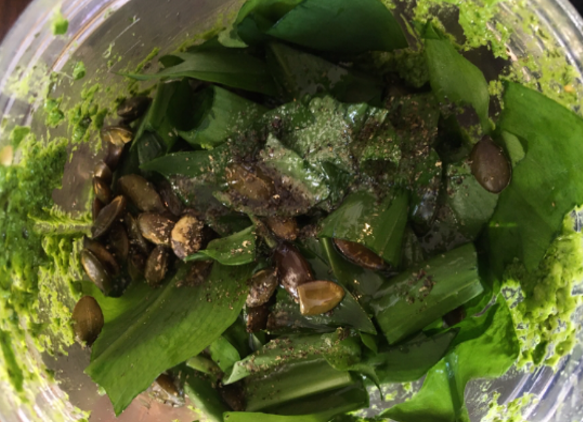 (Wild Garlic, soon to be pesto)
With the help of internet searching and some fantastic UK foraging groups on social media, I began to identify edible plants which previously I may not have given a second glance, or which I would never have imagined to be edible. The humble dandelion – widely (and sadly) considered a pesky weed and general nuisance - I found myself stewing and brewing into sunshine yellow syrups and jams, both tasty and nutritious. Spring became a cornucopia of culinary delights, seeing nutrient rich greens on my doorstep transformed into jars of nettle, three-cornered-leek and wild garlic pesto, and vibrant flowers stewed and bottled up as sweet fragrant cordials. Then spring rolled into summer, welcoming sweet juicy cherries and elderflower tea shared with friends.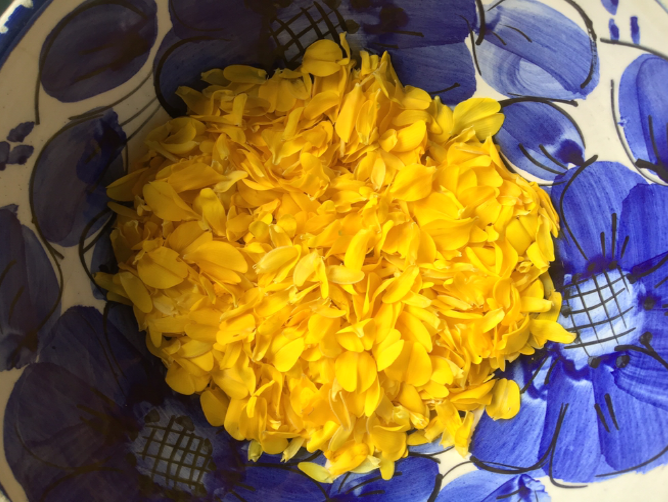 (Gorse petals have hints of coconut and vanilla and make for tasty cordial)
To nourish the mind and the body in this manner, gathering and celebrating the gifts that Nature offers, nourishes the spirit every step of the way. It is a way of practicing reciprocity with Nature – I take only what I need and give back whenever I can. Foraging feels like a sacred practice, one which activates wonder and deep gratitude for Nature and Life itself. It bridges the chasm of disconnection that has been widening in western societies for centuries. After all, it is our disconnection from Nature which allows us to participate in or overlook its exploitation.

A recent study has found that almost half of children in the UK cannot identify stinging nettles, let alone know of their nutritious potential. This was shocking and saddening to read. Rekindling the connection we have lost, and sparking that sense of wonder and gratitude as a collective, paves the way for a relationship based in reciprocity and respect. This means taking only what we really need, not what the profit driven dominant narrative of consumerism tells us we 'need'.

This means giving back and restoring Nature whenever we can. When sharing foraged delights with loved ones, I notice the glimmer of amazement and childlike curiosity that often shines through. Sharing in that wonder reassures me that the deep knowing that we are a part of Nature and Nature is a part of us lives within us all. If we are to start honouring the natural world, there is a huge amount of work to be done and there are no easy-fix solutions. The current destructive systems of power which exploit people and planet for profit do not serve us. It is time to welcome in new ways of living and being.

Watching spring flow into summer over these past months, I became acutely aware of the 'little death' which struck me at this turning of the seasons. The fluffy, fragrant blossom wilted and the bluebells shrivelled before my eyes. I felt a loss. I had grown attached to their presence on my daily walks and I observed my resistance to their parting. But only after the blossom falls can the fruit begin to grow. The death of spring highlighted to me my own personal attachment to the comforts of the known. It has me asking the question more frequently – what is asking to be let go of? In this time of huge global shifts and ongoing internal shifts for each of us, what is it that is asking to be let go of so that we can invite in something new?
Foraging has brought a wealth of gifts into my life, from the edible goodness I can enjoy with those around me, to increased Nature connection and profound nuggets of wisdom. The hours spent inquisitively squatting beside unknown plants and flowers and watching the bees go about their day have held my hand and soothed my soul through the turbulence. As the world continues to shift, so do the seasons. The blackberries are on their way...
(Gathering three-cornered-leek on a sunny afternoon.)
Author's note: I encourage anyone wishing to embark upon foraging adventures but stress how important thorough research is. Please prioritise your safety and wellbeing always.

By Ellie Herndlhofer

All photos by Ellie Herndlhofer
---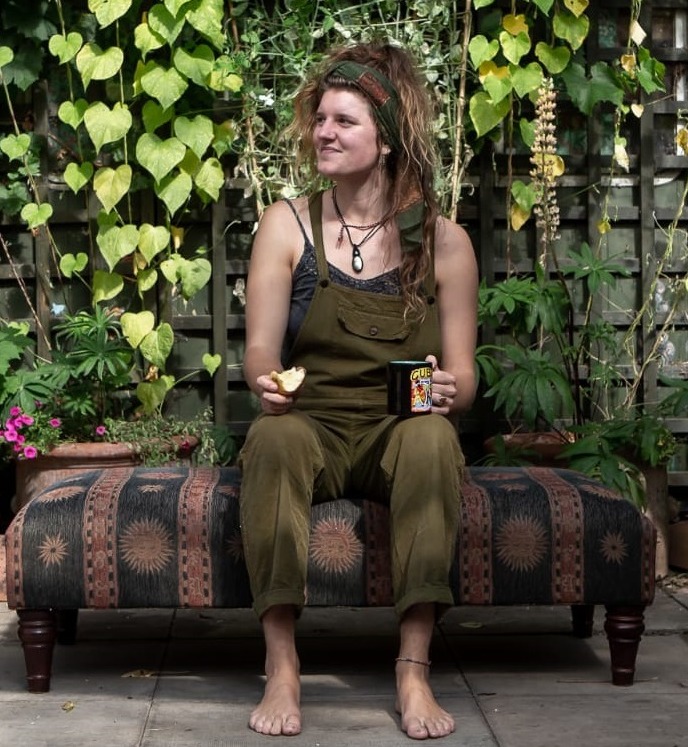 Ellie works in Network Relations and Volunteer Support for TreeSisters. She is passionate about people and planet, and sharing the love she feels for Mother Earth motivates her every day. She first became an active environmental advocate within the Extinction Rebellion movement, and firmly believes in a climate justice that is rooted in global and social justice. Playing a role in the TreeSisters team brings Ellie joy beyond words.
---