Please Life ~ What Am I For? ...The Path to Project GreenHands.
Every life turns on a series of pivots.
The path to Project GreenHands was the path to TreeSisters, and the pivots were stepping stones laid through a river of longing.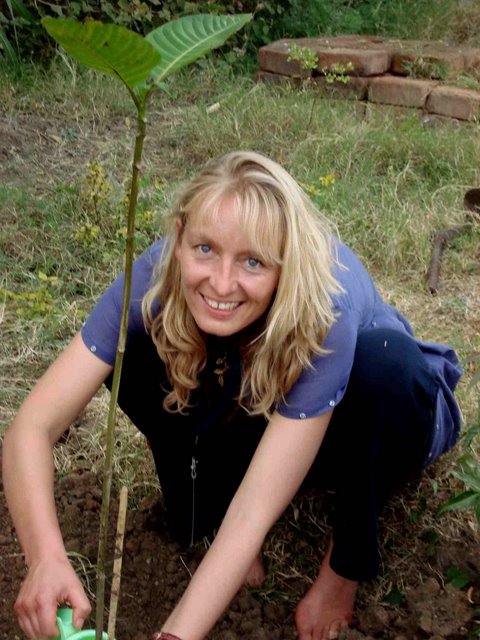 Please life - what am I for?
The first pivot point was one of the most uncontrollable crying fits of my life
at a new year's dance retreat at the birth of 2002. I found myself unexpectedly playing the role of Mother Earth in a short piece of ritual theatre called 'The Rape of The Earth' (the story of which
is here
) Life changed and an undeniable need to be part of the active solution arose.
The next pivot point was unexpectedly watching Lynne Twist speak three times in one month
and crying every time (my body uses tears like signposts). She speaks of fundraising like a sacred art and having watched her,
I deeply knew that part of my life purpose was to raise millions for something...
The same year pivot three was watching John Perkins speak live
(Confessions of an Economic Hit Man) about his betrayal of the rainforest and his subsequent purpose to protect them - and weeping with the 'knowing' that
I was on his team and that I would be raising that money for tree
s
- but not having a clue how, when, where or with who. At the time, I was working as an Intuitive, a coach for social entrepreneurs and trying to understand what it meant to build a consultancy out of feminine principles.
Money and trees were nowhere in sight.
Two years later, knowing I would have to learn fundraising at some point, I attended the Soul of Money training in London with Lynne Twist where she decided to bring the Pachamama
'Awakening The Dreamer'
symposium to the UK.
Pivot four was a game changer
- attending that first

Symposium

in London
and sitting on the back row where the emotion had nowhere else to go and literally drowning in grief.
I could not accept the reality of what we were doing to our natural world.
Grief turned to rage, turned to determination - NOT ON MY WATCH.
The path was laid and I was primed.
Pachamama teaches three interlocking factors for human well being - spiritual fulfillment, social justice and environmental sustainability.
They became my true north.
My searching led me to India and to the Isha Foundation Ashram of Sadhguru - an astonishing south Indian Guru - and the founder of
Project GreenHands.
There, you cannot explore the spiritual without being plugged into the physical, ecological world,
and so I sat in front of a video about Project GreenHands and sobbed
.
Pivot five had arrived.
Ok, I thought - this is it. I'm supposed to be raising money for Project GreenHands (PGH).
It was my first direct Pachamama match. Birthed out of a spiritual teaching that giving oneself as a volunteer in selfless service is a fast track to growth - offered to agonizingly poor rural communities alongside yoga and meditation to help heal broken spirits before catalyzing action through tree planting.
Spiritual fulfilment was literally the ground of PGH.
Then - take a caste culture and bring them all together -
every sector of society side by side in the tree nurseries.
The military, business owners and employees, single mothers, aids victims, school children and students, farmers, politicians and police - you name it, PGH brought every type of person together around the shared cause of reforesting to counteract the extremes of climate change - flood and drought
.
Social justice was the currency that levelled the playing field of PGH.
Literally
'we are all in this together'
.