Reporting our impact - focus on the number of trees funded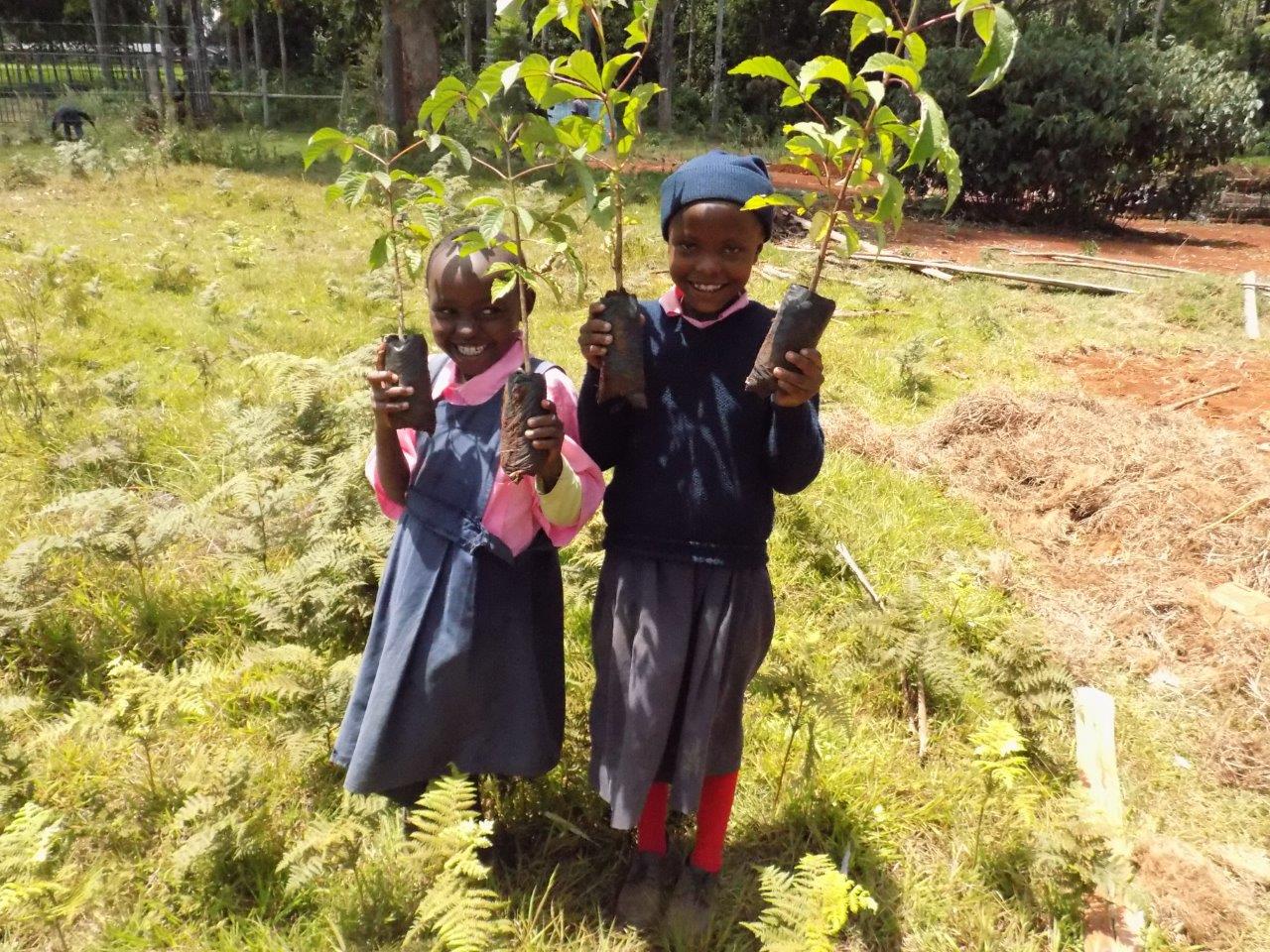 Photograph by Top International Tree Foundation ITF
May 14, 2019
In this blog, I am explaining the complexity of reporting our environmental impact. I am touching on the limitations behind a simplistic metric, the "number of trees funded" - that we communicate to our donors in our seasonal impact reports here. This will help you reflect on the limitations of the metrics you might encounter through carbon offsets programs or other compensation schemes.


Number of trees funded - What does this mean?

The projects that TreeSisters fund have environmental goals that go beyond the number of trees funded. This metric does not encompass the plant and animal biodiversity that's also being protected and nurtured, nor the related environmental impacts (watershed replenishment). Not to mention the socio-environmental benefits that are accomplished through these projects ...
However, this 'funded trees' metric gives a sense of TreeSisters' action to re-robe the tropics with trees across a variety of projects.
The number of trees funded is trees that are potentially establishing; meaning growing roots and trunks and branches, thanks to the level of funding received. It is a direct conversion of the level of funding into a number of potentially establishing trees.
Funded trees can be seen as a "purchase order" to be honoured. Each project has its own price per tree, which is essentially the global project budget divided by the number of trees. When you make a donation of $10, TreeSisters converts it into number of trees funded by dividing your donation by the price per tree. If $1 per tree, you essentially fund the establishment of 10 trees. Every quarter, we update our accounting table and communicate a projection of the annual number of funded trees thanks to the current level of funding with the tree counter here.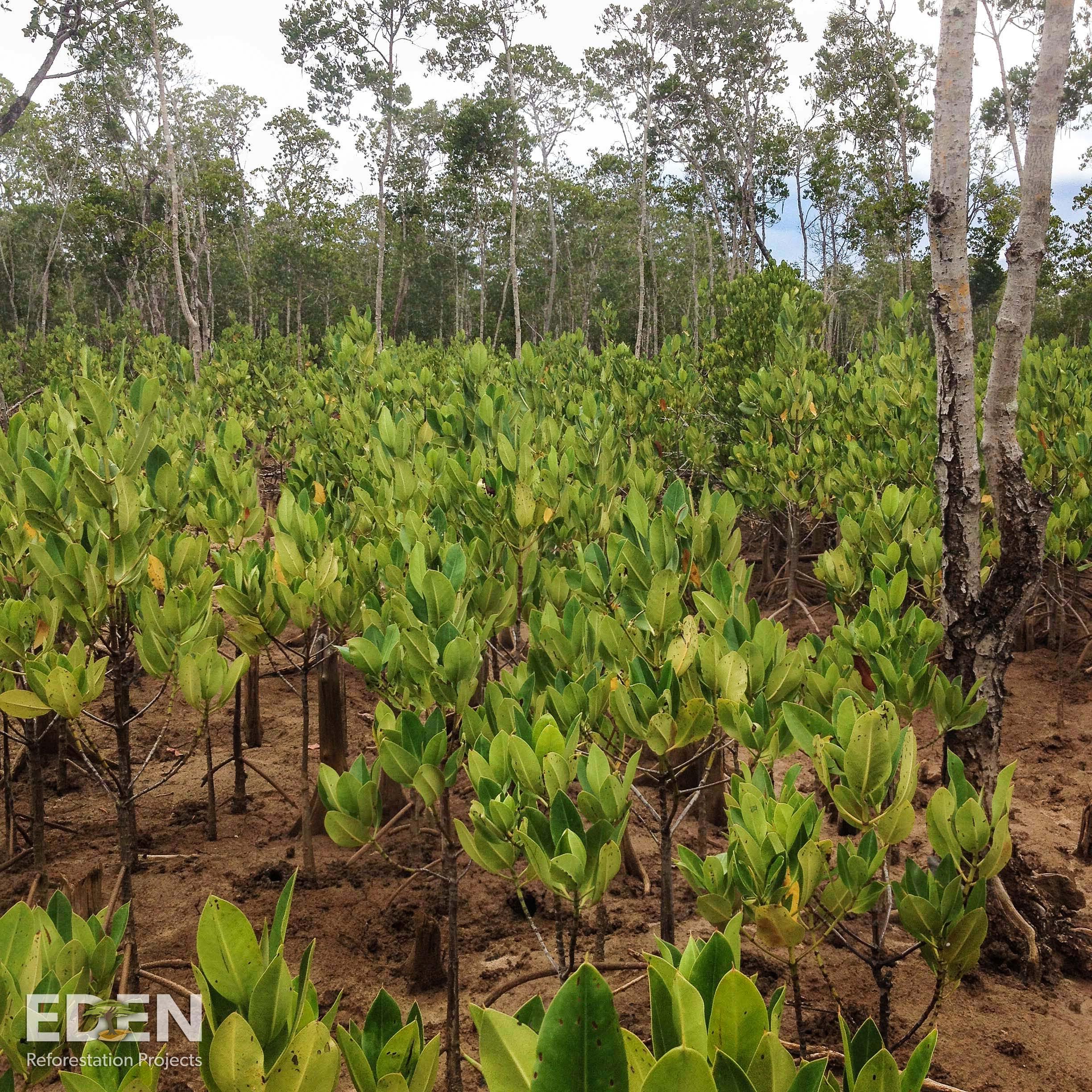 Photography by Mangroves Eden Reforestation Projects
It is important to note that this metric is time limited. The figure becomes obsolete after about 10-20 years. The tree seedlings that are planted and the seeds that are naturally germinating and growing tree seedlings during the project funding period, are not necessarily representative of what the forest will look like 25 years from now. Through time, some species that were initially planted will start decreasing in number and be replaced by other species. Some species will start dominating in sizes. The number of trees understorey will start decreasing drastically. Hence, the structure and the tree species composition will be very different when the forest reaches a more mature stage in about 40-50 years since the first trees' establishment.
The number of trees funded is more accurate for projects that work towards a number of trees goal. That's the case with projects that use Assisted Natural Regeneration (ANR) —a forest recovery method which aims to help forests recover or regenerate faster than they would naturally and with low interventions. It consist of suppressing any factors that prevents tree seeds from germinating, surviving, and growing, and thus stopping forests from taking root. In this case, the cost per tree relates to the recovery activities that are implemented to ensure the target goal, and the trees may take 2-3 years and up to 25 years to become established.
However, these "regenerating" trees are more abstract to envision. Which is why ANR projects follow a longer and more advanced monitoring and reporting scheme. As an illustration, WeForest's Brazil – Restoration of the Atlantic Forest project (described here), ensures 5-year maintenance and field-based monitoring including tree density, floristic indicators; tree composition through the Shannon-wiener diversity index; measures of tree cover through the basal area and/or canopy cover. Monitoring also includes remote sensing assessment of the percentage of change over time until the end of funding.
Are the number of trees funded planted already?

In fact, they are not all planted. We sometimes oversimplify for communication purposes by using the simple term: "planted trees". However, it entails 'established' and 'establishing' trees —some planted and other potentially "regenerating" (under ANR) as our Tree Project Partners establish the trees that you fund in two different ways:
through planting out tree seedlings which were raised in tree nurseries. Sometimes without a nursery phase

through ANR. Without this assistance, natural forest recovery would take many decades to start up.

To be more exact, it takes 2-3 years for a tree planted out in the field to fully establish. During the establishment period, the tree seedlings that were planted might be eaten by leaf cutting ants or die from a sudden drought. Weeds can hamper young tree seedlings, but when tree seedlings reach a certain size, they start shading the weeds and inhibit their growth.
Hence, a lot of care and monitoring is needed in the first years of tree establishment, as well as tree replacement when losses occur. As an illustration, the International Tree Foundation project in Kenya agreed to address tree mortality by planting replacement trees when the survival rate is less than 90%. They are prepared to predictable damages, but for obvious reasons, they can't replace beyond to a certain damage extent (that would not be predictable and will not be financially possible). For tree seedlings that are part of agroforestry schemes—trees that are intercropped with the farmers' own crops for the first years of the tree's establishment, the tree seedlings are taken care of by the farmers themselves.
While the majority of the funded trees are already established and establishing, some of the trees are not yet in the ground. Some will be planted within a year. Others will grow at the pace of Nature under ANR and may take several years to fully establish.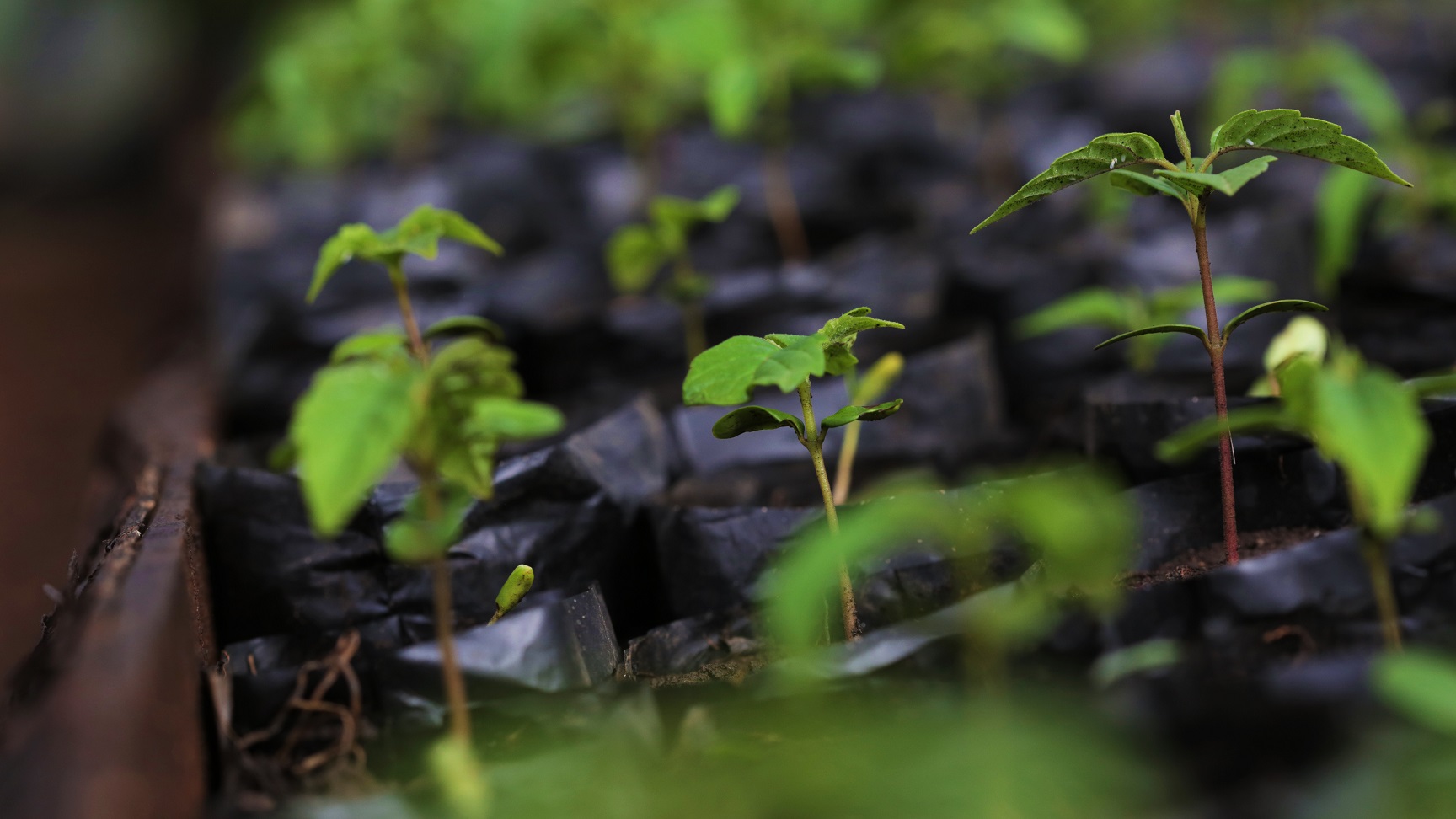 Photograph of seedlings Unknown
Trees that are already in the ground
As of today, 85% of the overall trees that have been funded are already in the ground or waiting in tree nurseries for the coming planting season to be transplanted.
This is the case for:
Project Green Hands in India here,
Eden Reforestation Projects in Nepal here;
Eden Reforestation Projects in Kalamboro, Madagascar here;
International Tree Foundation in Kenya here;
Eden Reforestation Projects' dry deciduous forest restoration in Madagascar here.

Most of our tree planting projects have already planted out the number of trees funded during the last quarter or they securely keep tree seedlings in a tree nursery on hold to be planted at the next planting season (to ensure the best conditions for survival and establishment).

How can they be so responsive? Tree planting projects that have been operating for over 5 years are able to respond immediately to an increase in donations to a certain level. They often have a reserve of tree seedlings that are ready to be planted. They can start delivering the "purchase order" right at the project's onset. As an illustration, all communities involved in mangrove restoration in Eden Reforestation Projects in Madagascar, collect mangrove propagules (1) throughout the year. They store bags of mangrove propagules sorted by species, ready to be planted by the time they receive their first funding when the project started.


Trees not yet in the ground

Waiting period
As of today, there is a waiting period for 5% of the total of our trees funded before the projects can start delivering. This is the case for "The Mount Bamboutos Initiative - South West Cameroon project" described here.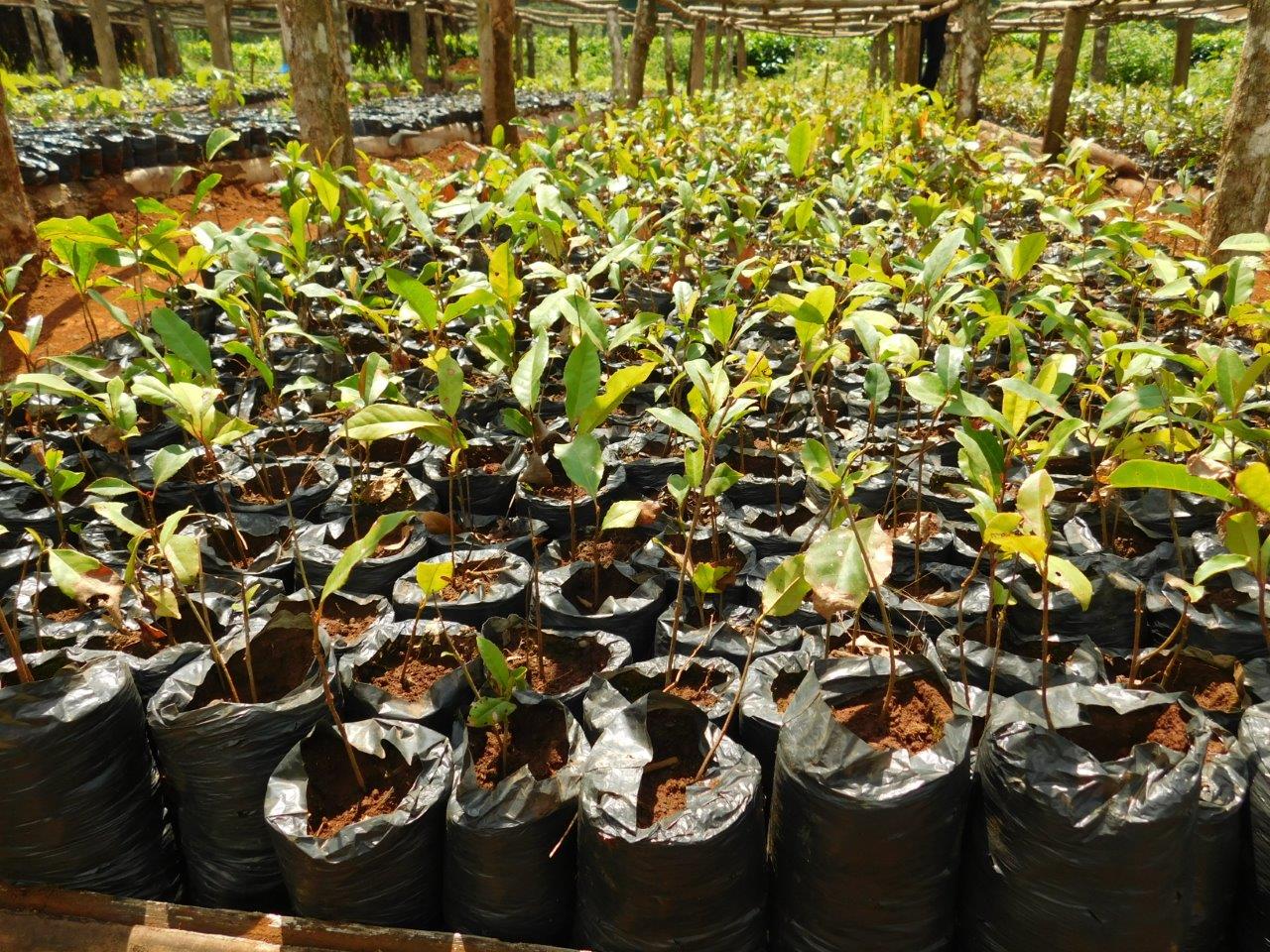 Photograph of saplings ITF
Projects are not necessarily all operational at their onset. While we only engage with new partners on operational and running projects —that have been in existence for at least 5 years and have achieved measurable impacts (2), we may engage with our current trusted and tested partners, based on a proposal. That is possible only if the project is based on the collaboration with a local experienced and successful organization with proven past experience from past and/or pilot projects that were run for at least 5 years and has achieved measurable impacts.
While all the proposed activities to be carried out not unknown to the project proponent and associated experienced local partner(s), the project team will have to build the necessary project's capacity and supporting systems at the project onset, by to teaming it up with additional partners for integration purpose, recruit more people (staff and labour), set-up the tree nurseries, training people, acquire the required materials for the tree nursery and onsite restoration works.
In these cases, there may be a time delay before the tree seedlings can be raised and planted in the field. It can take up to 6 months to grow the required number of tree seedlings agreed upon with TreeSisters. If the planting season corresponds to the time the tree seedlings are ready to be transplanted to the wild, it is perfect timing. If not, the tree seedlings will have to wait in the tree nurseries for the coming planting season. This means that planting can occur between 6 months and a year on average after the project starts.
Let's illustrate that further with "The Mount Bamboutos Initiative - South West Cameroon". TreeSisters has been involved with the project holder, International Tree Foundation (ITF), in Kenya since September 1st, 2016. While ITF is working for the first time in Lebialem, Cameroon, the work is executed by Environment and Rural Development Foundation (ERuDeF) which is a non-profit founded in 1999, dedicated to the conservation of wildlife, and protection of fragile environments through research, training, education and community engagement.
The first tree seedlings will be planted April-July 2019, so a bit more than 1 year after the project's start (April 1st, 2018). What has been achieved so far? From the project's onset, TreeSisters' funding has been used to establish the tree nurseries and run other project activities as described in the blog here. Tree seedlings have been raised in the tree nurseries from collected seeds, and naturally germinated seedlings (wildings) have been collected from nearby forest areas. These are waiting for the coming wet season to be transplanted to the field.


Assisted Natural Regeneration

As of today, trees (potentially) regenerating under ANR method represent 10% of the total of our funded trees.

This is the case for 2 projects:
WeForest in the Khasi Hills here;
WeForest in Brazil here.
Under ANR, it is going to take time for the forest to take root and thus time before the number of trees funded all establish one after one. Forest will regenerate at an accelerated pace, following forest succession—a natural gradual process which leads to a stable old-growth forest which implies species composition and structure change over time.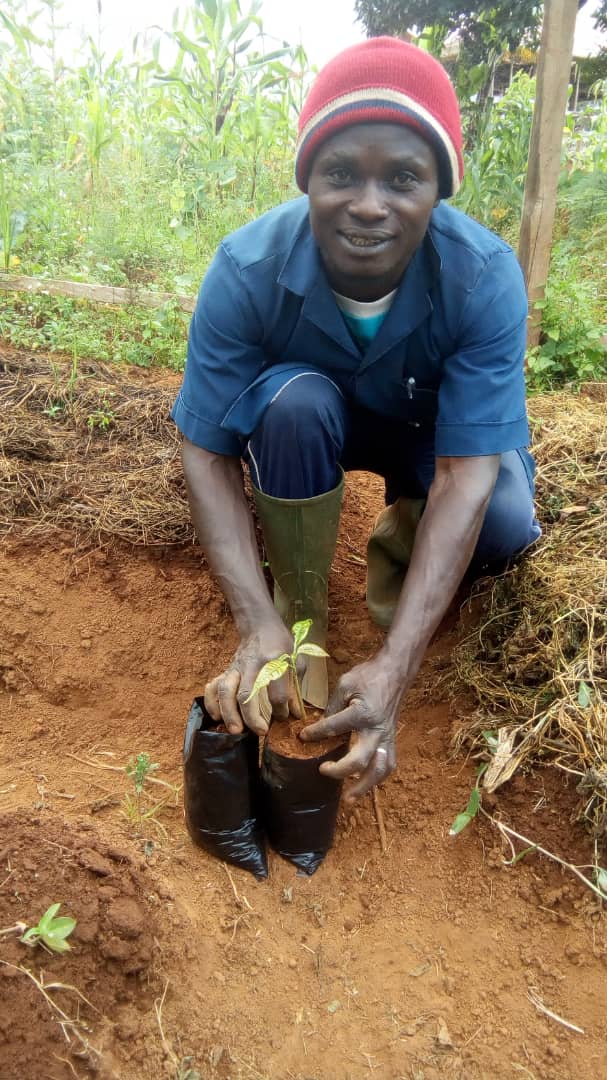 Photograph of tree technician at Mt. Bamboutus ERuDEf
Photograph at WeForest nurery by IPE
In fact, projects that conduct ANR forest recovery work towards a defined restoration goal that is to reach the same tree density and composition as neighbouring natural forest over a defined period. As an illustration, our partner WeForest does this in Brazil. They work towards reaching the same forest composition and structure as in the neighbouring old-growth remnant Atlantic forest in 25 years (approximately 1,500-2,000 trees per hectare).
What are they doing then with our donations? Essentially, ANR projects help seeds germinate and ensure tree seedlings' survival and growth, by counteracting limiting factors such as lack of beneficial shade. As an illustration, our partner WeForest in Brazil does the following:
area isolation and protection (fencing and firebreaks);

increasing incoming seeds brought by birds;

keeping invasive African grass and tree leaf-cutting ants off the regenerating trees;

and providing the people with (in-kind) incentives or support to keep them away from the regenerating forest.
Q&A
"When I donate to TreeSisters, I'd rather purchase a tree that's planted rather than regenerated through ANR."
Well ... think twice! It is important for you to understand that our tree planting projects plant a majority of native pioneer species or fast growing native species to shade out and cover very degraded lands, in order to jump start the process of natural forest succession. This means that all trees that get planted will be replaced after some years by other native tree species that will germinate and grow when the forest reaches a more mature stage. As a consequence, the trees you think you'd planted will be bypassed by Nature herself. Nature will continue the forest restoration work, recruiting more trees, both in count and number of species than our projects. Something we are not able to do ourselves; something bigger than my "personal credit".
Moreover, it is important to note that ANR is known as a cost-effective carbon uptake method in comparison with regular planting projects. (3) The restoration success is higher in terms of biodiversity and forest structure in ANR in comparison with projects which only plant trees. (4) Moreover, trees established from ANR are stronger because they are more locally adapted with a stronger root system in comparison with transplanted tree seedlings where root systems get damaged, which is particularly important in the first years of tree establishment.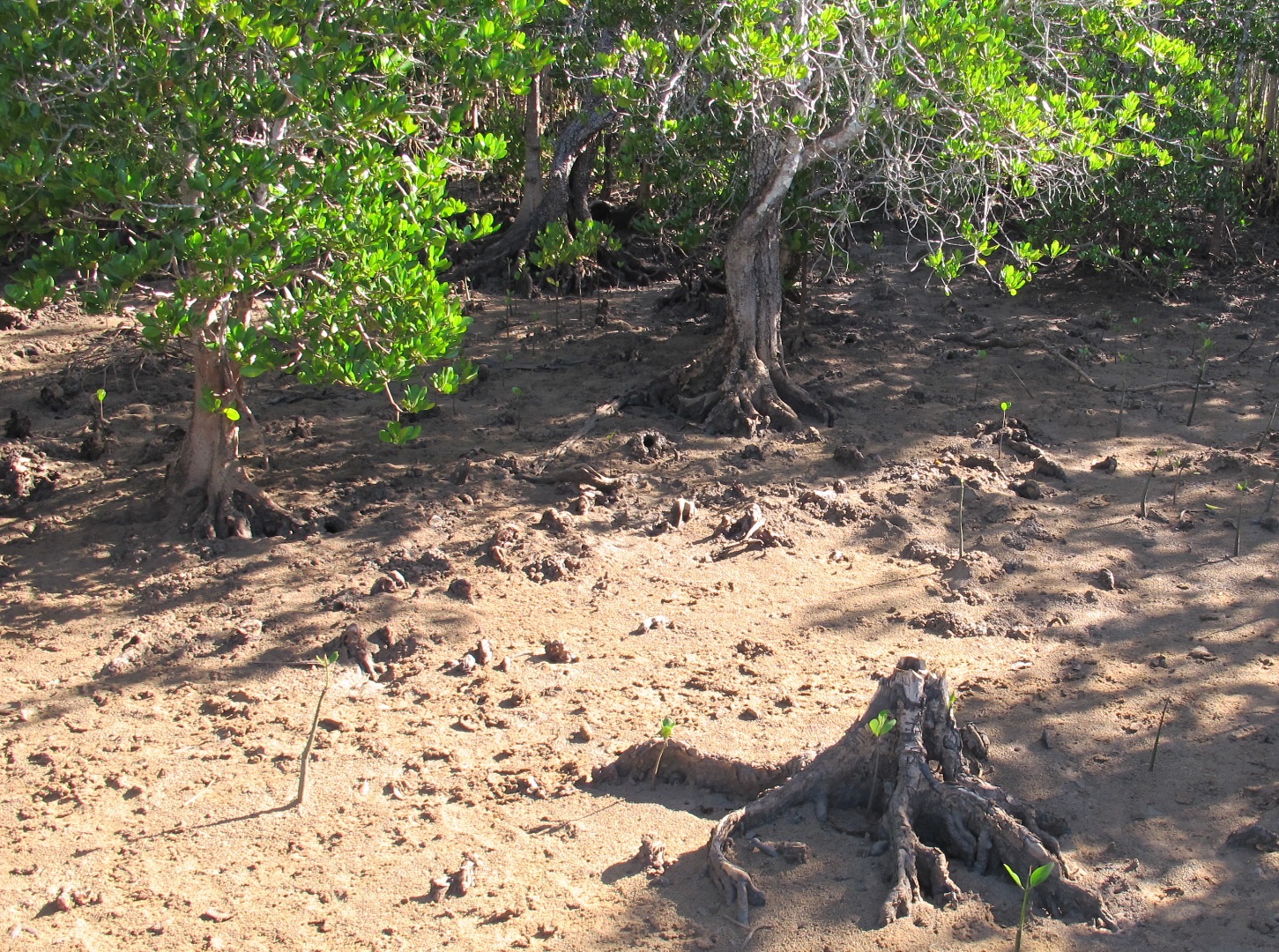 Photograph of shade trees by Lauriane Cayet-Boisrobert
Written by Lauriane Cayet-Boisrobert, TreeSisters Reforestation Director
---
Footnotes:

(1)Baby seedings with a long pod shape that grow attached t o their mother tree.
(2)Proven successful, preliminary/past or pilot projects count in.
(3)https://www.researchgate.net/publication/273389245_Carbon_farming_via_assisted_natural_regeneration_as_a_cost-effective_mechanism_for_restoring_biodiversity_in_agricultural_landscapes
(4)https://www.ncbi.nlm.nih.gov/pmc/articles/PMC5677348/


---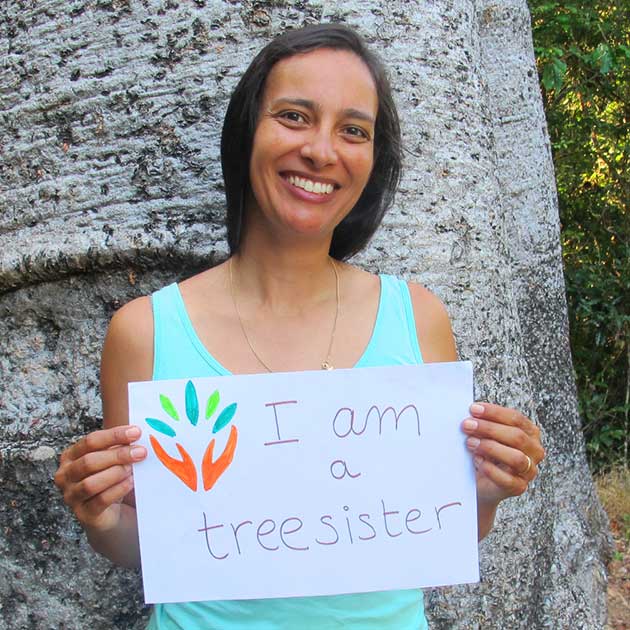 Lauriane Cayet-Boisrobert is our Reforestation Manager. She develops and manages our reforestation projects portfolio. She started by co-developing TreeSisters' forest strategy and project selection process. Lauriane is passionate about the many cultures on Earth. She tries to live in harmony with the Earth; so the Earth must stay wild and generous to us all. She feels deeply sad when the Earth is been abused at all prices, and mostly at the expenses of the people who rely on it.
READ MORE BLOGSLEARN MORE ABOUT TREESISTERS
---