Saving the Amazon

In this episode of our series, we meet Diego Martínez de Río Samper and Daniel Gutierrez of Saving the Amazon, two very passionate gentlemen who are part of a brilliant organization that is helping the indigenous people of the Amazon as well as using technology to connect the land with all of us worldwide. Their work is full of compassion for the planet, their country and one of the most important ecosystems in the world. Their combination of innovation and heart results in an effort that is repopulating the Amazon, while respecting those who live there and also memorializing those who have been lost. Please visit their website SavingtheAmazon.org to learn more.

Saving the Amazon's mission statements: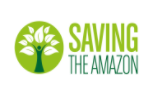 Through the donation of trees planted by indigenous communities, we made forest enrichment at the most important ecological altar on the planet, the Amazon region; which in turn allows contributing to their food security and the transformation of their socioeconomic conditions, through green microenterprises from the trees planted.
OUR MISSION
Restore and reforest the world's lung with native species to regulate climate change.

Contribute to the creation of green companies for the welfare of indigenous families and their food security.

Offer the planting of trees to the world through our collaborative platform and disseminate indigenous initiatives.
OUR VISION
To be the best option to restore the Amazon and achieve the goals that mitigate global warming.

Encourage the sustainable development of new generations of indigenous communities.

To be the leading tree planting platform in the western hemisphere.


(Please note: Zoom cut out before we finished recording.)
You can view the PDF they feature in this video by clicking here.



---
July