Season's Greetings & Thank You from TreeSisters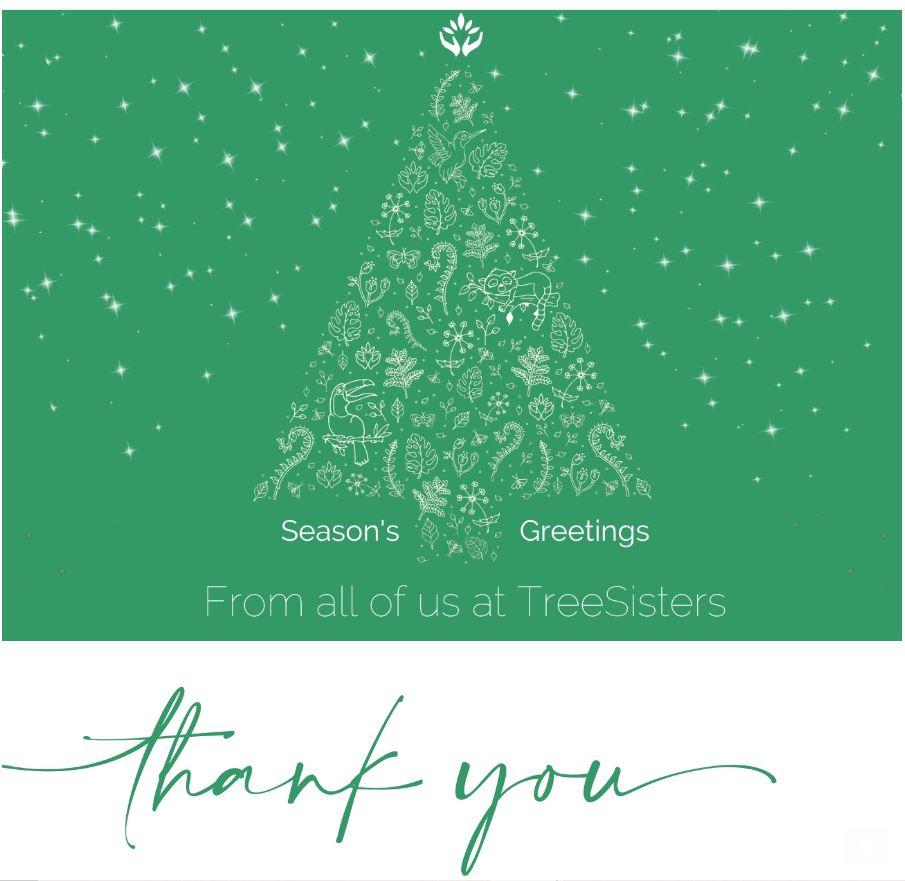 To our incredible TreeSisters network,
As Interim Executive Director and Chair of the Board, Sital and I want to wish you a special season's greetings on behalf of everyone here at TreeSisters. And to give a huge thank you, from the bottom of our hearts, for your continued support in what has been a wonderful but demanding year for the organisation. We couldn't be prouder to be part of this network, stepping into restoration and collectively standing for trees, women, community and nature.
We know these past few years have been tough for everyone, and TreeSisters is incredibly grateful for your continued support. We want you to know we take that support seriously and give it the utmost respect. This past year has been challenging with some tough decisions. Yet every one of these has been made with your gifts and support in mind. We are beyond proud to be going into 2023, standing in our fullest integrity, aligning with our ethics and values and working toward robust monitoring and evaluation systems. All to ensure that your choice to support TreeSisters is the right one and that your donation, large or small, makes a real and tangible difference all over the world.
So, as we reflect on the year gone by and look ahead to 2023 with goals and intentions, please consider donating or signing up to be a monthly giver today. Because when you support TreeSisters, you choose to take meaningful and direct climate action through ethical reforestation. You protect and restore species and habitats and are part of a growing network that has so far funded planting over 27 million trees. Not only that, but your donation has social impacts too. Your support empowers women globally by championing them in the environmental sector and pushing for change by working with planting partners with a workforce that includes and values women. You partner with, centre and amplify indigenous voices and the local communities who work and live near our projects - those who have often been successfully tending to the earth for millennia. And you say yes to a global revolution for change, tackling the root cause of climate change by advocating for nature's inherent rights and educating and inspiring everyone on the importance of reconnecting and living in alignment with our natural environment.
Nature is not somewhere you visit; it is us, it is home, and we must stand up and protect it before it is too late. We have a long road ahead, but we are so thankful to have an incredible team working behind the scenes, and we are profoundly grateful to have you as part of our network and revolution for nature.
Whatever this time of year means to you, we wish you all a nature-filled happy holidays and a prosperous start to 2023. We are so excited to see what we can collectively achieve in the coming year.
Thank you!

Georgina Gorman & Sital Punja

Interim Executive Director & Chair

TreeSisters
read more blogslearn more about treesisters