The Brilliance of Wangari Maathai: Women and Trees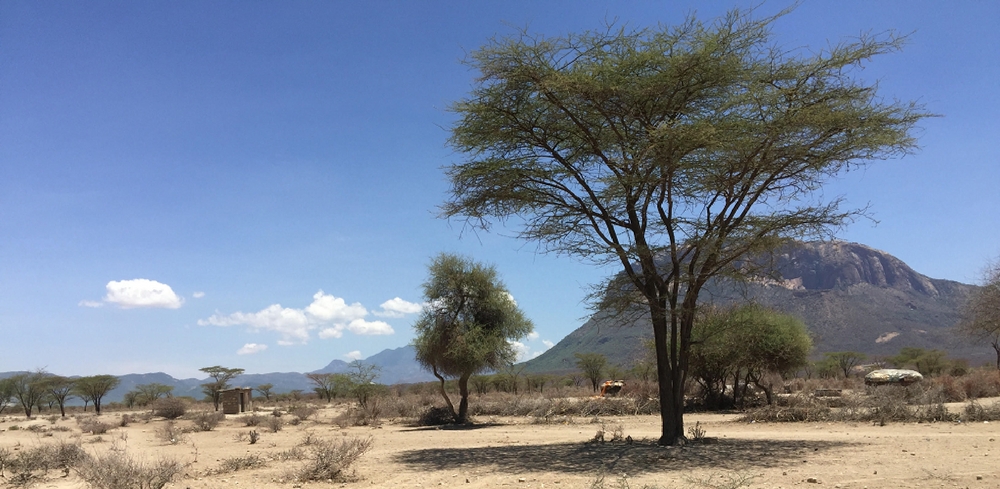 By any account, Wangari Maathai's name is synonymous with epic achievement.
A woman born in 1940 from Africa who became the single most famous woman from the continent due to her work from 1976 with the National Council of Women of Kenya, who devised and implemented an ingenious plan to mobilize a massive community tree-planting effort in Kenya and lift women out of poverty. This work evolved into the Green Belt Movement (GBM) designed to stabilize degraded soil, conserve and reforest land and address poverty and sustainability. The Green Belt Movement has assisted women in planting more than 45 million trees on community land across Africa and benefited over 900,000 women.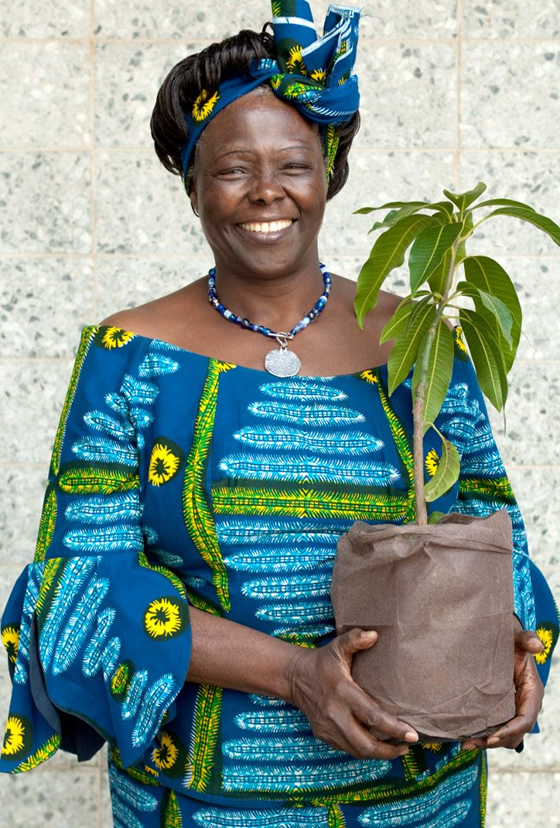 In 2004 Wangari Maathai was awarded the Nobel Peace Prize for her contribution to sustainable development, democracy and peace. One of the most important people of the last century for her roles in women's rights and environmental rights, the life of Wangari Maathai upends the question, Can one person make a difference?
Wangari Maathai saw the big picture: the link between poverty, political corruption and depleted natural resources through deforestation and exploitation in her beloved country; but the key to the organization of the GBM was women. The prescient plan tapped a well of feminine power and energy - a drive to nurture and protect nature for future generations. Women in Africa planting trees were a sisterhood, organized and inspired by Wangari Maathai, that grew into a powerful holistic platform for women and forests.
Maathai said early inspiration for her work came from growing up in a large family on a farm in a mountainous area of rural Kenya. There was a large fig tree that her grandmother told her was sacred and not to be disturbed. As a young girl she gathered water for her family at springs protected by roots of trees and a stream that ran next to her house, from which she drank fresh, clear water, which later dried up. "I tried to understand why we didn't have clean drinking water, which I had when I was a child. The link between the rural population, the land, and natural resources is very direct. But when you have bad governance, of course, these resources are destroyed."
In 1960, after excelling in school, Wangari Maathai won a scholarship to attend college in the US, one of 300 Kenyans chosen as part of the 'Kennedy airlift'. She continued her studies in Germany then returned in 1966 after Kenya had won independence. A few years later she became the first woman in east and central Africa to earn a PhD from an African university. During her work as head of the University of Nairobi's Veterinary Department she saw environmental damage and the impacts on Kenyan women who were responsible for growing most of the food. Wangari Maathai saw the problems and started a program, backed by the National Council of Women, that paid women to plant trees in their communities.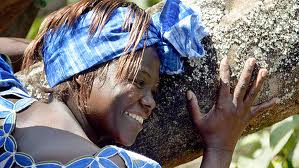 "Kenya's forests were being cleared and replaced by commercial plantations. The result was more drought, loss of biodiversity and increased poverty." She became determined to address the root causes. At first it was just a few small groups of women who gathered seeds for trees from the forest and planted them in tin cans; when they were a foot tall they were planted on private lands. In 1981 major funding came from UN Development Fund for Women and the tree planting effort grew so that thousands of women could be paid. By 1986 the GBM expanded to include reforestation in countries across the region and a civic and environmental education program to teach people to make connections between actions and societal problems.
Her personal story includes a bitter divorce and an extended public fight against the government of Kenya that put her own life at risk. Wangari Maathai's active resistance to the corrupt regime of Daniel arap Moi and bold opposition to a plan to construct a skyscraper in the largest public park in Nairobi were a contributing force to ending his power. She later served in Parliament and as assistant Environmental and Natural Resources Minister.
Maathai's understanding of the importance of addressing issues of democracy and peace expanded as did the organization. She was involved in many efforts to save forests and green spaces. In one case she led tree planting in Uhuru Park, Nairobi, to demand the release of prisoners of conscience and a peaceful transition to democracy. The tree became a symbol for challenging political abuses, environmental mismanagement and the struggle for democracy in Kenya. In her book Replenishing the Earth: Spiritual Values for Healing Ourselves and the World she describes the trees and mountains as sacred because of their life-giving services. In helping to heal the earth, she said, we heal ourselves and the work became about sowing seeds for human rights and democratic space.
Now forty years after her efforts began, critical interrelated problems of poverty and women's rights, politics and environment have increased, the links are clearer and the effects of climate change are threatening life systems in real time.
Two weeks ago in Raleigh, NC I had the privilege of meeting Paul Hawken, environmentalist, author of Blessed Unrest and editor of Drawdown: The Most Comprehensive Plan Ever Proposed to Reverse Global Warming. Published April 2017 and New York Times bestseller within a week, Drawdown compiles the top 100 solutions and blueprint to combat global warming and mitigate climate change.
In his presentation, Hawken emphasized solutions from categories of Land Use and Women and Girls. Tropical Reforestation is ranked #5 in terms of impact to draw down carbon and Educating Girls and Family Planning are #6 and #7. Science, logic, and now 70 of the most prominent researchers and scientists from around the world validate the efficacy of Wangari Maathai's strategy: Women and Trees!
Ultimately all the solutions are subject to Peace, the #1 solution found by Drawdown to ensure a sustainable planet. I believe that women collaborating to reforest the tropics for a livable planet is peace in action.
TreeSisters' mission is to reforest the tropics and empower women to connect with their nature-based wisdom through a global sisterhood of women expressing their gifts, individually and collectively. Ushering in a 'Restorer Species' TreeSisters' work powerfully embodies the values of Wangari Maathai and honors her legacy.
You may also be interested in visiting the group that is carrying on her work today: http://www.greenbeltmovement.org/wangari-maathai