TreeSisters and COP26 in Glasgow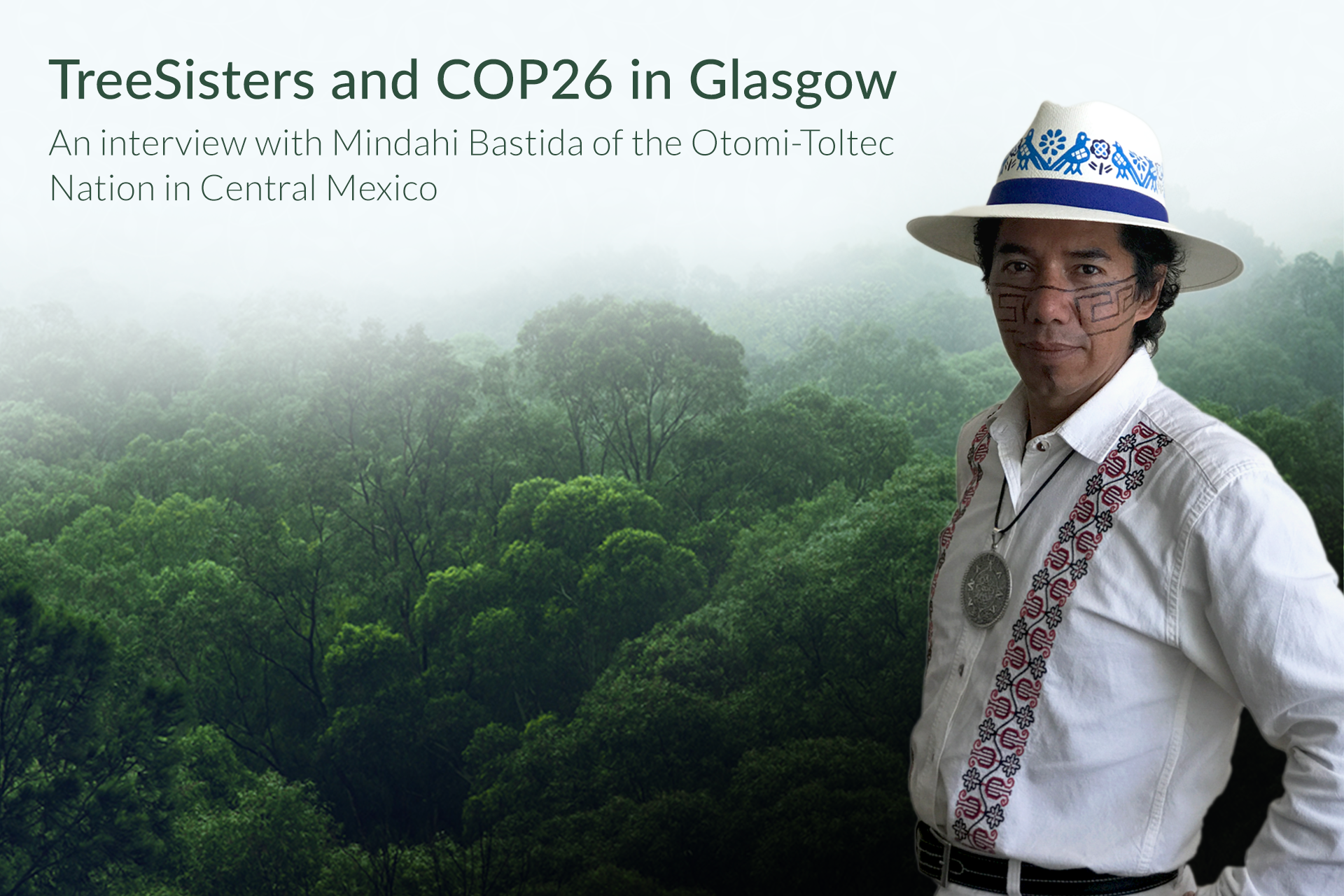 Photo courtesy of Mindahi Bastida of the Otomi-Toltec Nation
October 25th, 2021
What is COP26 and why is it important?
It's that time of year again! The 26th annual Conference of Parties (COP26) to the UN Framework Convention on Climate Change will be held from 31st October to the 12th November in Glasgow, Scotland. Postponed by the pandemic, the climate negotiations are co-hosted by the Governments of the UK and Italy.
COP26 builds on the Paris Agreement, set at the 2015 COP in France. The Paris Agreement set a goal of keeping global average temperature rise on Earth below 1.5 degrees Celsius and invited nations to make pledges on climate change. It also asked countries to update their commitments every 5 years. Due to the pandemic postponement in 2020, this is the year for countries to renew their climate commitments according to what the science says is necessary.
One key issue to watch for during the negotiations is Article 6 of the Paris Agreement, which addresses both market and non-market approaches for trading greenhouse gas emissions reductions between countries. The rules for Article 6 still need to be clarified, and this has been one of the most contentious issues in negotiations. There are significant outstanding questions and concerns regarding human rights and environmental integrity. For example, many communities and Original Peoples (1) do not support what is seen as the 'monetisation of Nature' through the carbon markets. Governments, businesses and NGOs are looking to use markets to drive investment in landscape restoration. There is also a risk that governments and businesses will use offsets without acting to reduce their emissions with vigour, which is necessary to avoid a dangerous rise in global temperature.
As these negotiations progress, there are ongoing challenges in terms of allowing for equitable representation of Original Peoples, Nations and local communities and the protection of the inherent rights of Nature. This year, travel restrictions and limits on representatives from countries due to the pandemic have meant additional obstacles to access and participation.
Finally, we can expect to see announcements by governments, companies and NGOs committing to reforest, restore landscapes and reduce deforestation in supply chains. The attention on Nature is vital; in the past, conversations around land use have been in a silo relative to other climate solutions, like energy.
TreeSisters will be watching to see how these commitments uphold human rights, particularly of women, Original Peoples and local communities. There must be deep listening and engagement with these populations from the beginning. Partnerships with those who hold ancestral wisdom and understand the needs of the land will ensure that we are successful in our efforts to protect and ensure a healthy, thriving Earth.
Below we share how TreeSisters is developing such partnerships and exploring how Original Peoples can be heard in global conversations on climate change.

Conversation with Mindahi Bastida and Suzi Steer
We are excited to share an interview with Mindahi Bastida of the Otomi-Toltec Nation in Central Mexico. Mindahi speaks about listening to Nature and Mother Earth and what Original Peoples' and Nations need policymakers to hear and act upon. Mindahi is the Director of the Original Nations Program for The Fountain, Spokesperson for the Grand Council of the Eagle and the Condor, and Executive Committee Member of the Alliance of Guardians for Mother Earth. In addition, he has been working with TreeSisters to support the creation of the Ethical Tree Growing Framework.
This interview is part of the "Listening to the Earth" series, which focuses on the climate negotiations in Glasgow.

Listening to the Earth: Tune in and listen during COP26
As part of TreeSisters commitment to elevate Original Peoples and support them in sharing the wisdom they hold, TreeSisters is supporting our ally, Listening to the Earth, in inviting Original Peoples to center Nature in the UN climate negotiations. During each day of the COP, representatives of Original Peoples from around the world will open a Sacred Space in the Nature+ Pavilion between 10:30 and 11:00 am GMT (this is subject to change, please check the website closer to the time). The Nature Pavilion is in the Blue Zone, which is where government representatives will be holding negotiations. These will be live-streamed and links can be found on the TreeSisters Facebook page. This will be a moment to honour Mother Earth and centre Nature in our hearts and minds as global conversations around climate change are held.
Where to watch for more information
During the COP and as it approaches, please check out TreeSisters on Facebook, Twitter and Instagram and visit us in The Nest to find out more, share what you're learning and connect around what is alive for you!
---
Footnotes:
1.) The Mother Earth Delegation of United Original Nations have requested that they be called Original Peoples. For more information about the Delegation, please see https://motherearthdelegation.com/
---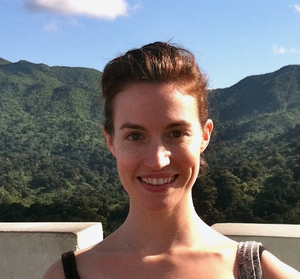 Rebecca Lefton brings more than 15 years of experience working with nonprofit organizations and think tanks at the local, national, and international levels. Rebecca is passionate about educating and empowering people to be leaders on local and global issues, particularly the environment and gender equality. When working in Washington D.C., she directed global advocacy and policy initiatives on climate change. She spearheaded efforts to reduce greenhouse gas emissions from the aviation sector, limiting global warming pollution in the Montreal Protocol on Substances That Deplete the Ozone Layer, and to increase international funding to protect tropical forests.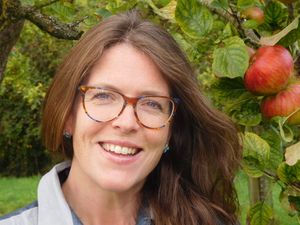 Suzi Martineau (birth name Steer) is working on Education and Alliances within the TreeSisters Network. This includes co-developing TreeSisters strategy in collaboration the TreeSisters team, network and external partner organisations, moving forwards into the UNEP Decade of Ecosystem Restoration (2021-2030). She is currently working on a number of different projects including supporting our education through the Nest, developing collaborative partnerships with reforestation and tree focused NGOs and grassroots projects, and extending our knowledge and relationships with global reforestation projects, planting methods and strategies to support halting deforestation.
read more blogsfind out more about treesisters