TreeSisters at the Autumn Equinox 2014
All Great Quests are Guided by Burning Questions
Image credit left: Elisabetta Trevisan
"In what ways can TreeSisters embody the Feminine Principle and Living Systems in our organizational unfolding and emergence?" This has been the burning question that has guided TreeSisters throughout 2014.
Unbeknownst to us, on the day we asked it, a bonfire was lit. It so fired our imagination that we decided to incorporate living systems - in the form of the annual seasonal flow - within our organizational planning and reporting. And that fire has continued to warm, inspire, and nourish us through the seasonal flow of 2014.
Our Seasonal Organisational Flow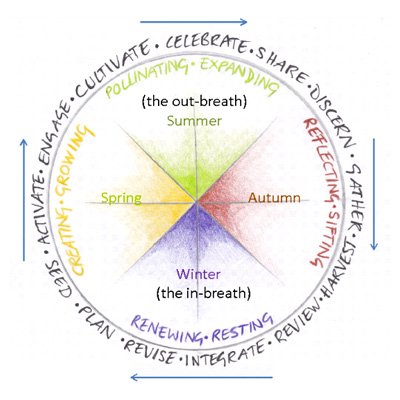 Our change tool puts life at the center of the Map.
This indicates the choice to work 'with' Life's energies, rather than over-ride or dominate.
To do this we are bringing operations into the flow of the seasons so that our outer activities folow the life cycle, and strengthen our connection to Nature.
The Journey from the Summer Solstice to the Autumn Equinox
In the Northern Hemisphere, the Autumn Equinox was on September 23rd and we are excited to share the journey from the Summer Solstice through the Autumn Equinox with you in this seasonal update (at the end of the year we will highlight and map the year's entire journey). We have chosen to use the Celtic Festivals as mid-way points because of how they embody nature's energetic flow into and out of particular fixed points within the growing season and annual lifecycle.
We began this summer season by doing a 2014 Summer Solstice Assessment. Just as a gardener notices what is growing well, what needs nourishing, and what might need to be pulled up altogether, we looked at the organization through a living systems lens in order to determine what was flourishing and where to continue putting our energy and focus, as well as where we needed to more fully nourish the organization's emergence, and redirect its growth.
Creating Organisational Systems that Thrive
Image credit left: our planting partner Project GreenHands
Summer was a time of expanding and deepening. We fine-tuned our financial systems and created a new fundraising model that focuses on the creation and offering of empowerment materials as a means of ensuring organizational sustainability. We also hired a new core team member, Gloria, who is helping us create a new database system and identify new website and blog platforms that will create a dynamic and interactive community for the entire network (to be launched in late winter 2015). These new platforms will also enable us to offer our empowerment materials on a global scale which will activate the TreeSisters' network in an unprecedented way.
Sophie, our Facebook mama and Social Media Director, created a new social media strategy based in living systems that will include a Kick Starter campaign and fundraiser to create our new website and interactive community during the winter of 2014-2015.
Follow the Tao of Women
Internally and below ground, our Core Team began an experimental journey using Alexandra Pope's 'A Woman's Quest' to explore how we could integrate a woman's monthly menstrual cycle into our organizational rhythm and work week.
Every week during our team call we each share where we are in our cycle and what we are experiencing and learning about ourselves and how our cycles impact our work rhythms within TreeSisters. These weekly check-ins also enable us to more fully understand one another's energy and to plan accordingly for that week's organizational unfolding. Putting the feminine menstrual cycle at the center of our team interactions was a bold step in walking our talk about integrating the Feminine Principle into our organizational unfolding.
Our desire to integrate living systems and the Feminine Principle into our work rhythm also inspired us to create a unique "Moon Chart" that combines the lunar cycle, the tides, and the seasons within a woman's monthly cycle. We are still in the experimental stage with this process, but we are more convinced than ever that tapping into the Tao of Women (the menstrual cycle) is a wellspring of wisdom and guidance overlooked in the current corporate model of leadership. We believe following this wisdom is key to defining, experiencing, and nurturing what we have termed "women's nature-based leadership."
Celebrating our Partners
We began this seasonal movement toward the Autumn Equinox with the creation of our new TreeSisters' blog and designing a new TreeSisters' Partner Page which will highlight the amazing women we have been collaborating with this year.
When dynamic women began stepping forward and offering to raise funds to support TreeSisters through the giving of their gifts, we couldn't help but say yes and follow where these experiments led. Thousands of dollars have been raised to support TreeSisters and we continue to receive more offers from within the network. These partnerships emerged organically from within the network and have been a potent affirmation that the TreeSisters network is ripe and ready to be fully activated.
The Deepening
Our Core Team gathered on Cape Ann (Massachusetts) in late August in order to co-create our first series of women's empowerment materialsas part of our larger vision to provide women with the resources needed to become fully alive as we collectively step into our deepest callings and passions in service and stewardship of Gaia.
TreeSisters was awarded a grant from the Big Lottery Fund (in the United Kingdom) in late 2013 which has enabled us to develop and pilot a 12 week series designed to activate and empower women who long to deepen their relationship with themselves, the sisterhood, and Nature in service of Life.
There is a saying, "no tears in the writer, no tears in the reader." We spent two weeks crafting the series, creating interactive and transformative processes, and filming the project. Creating this initial series was an invitation from Life itself for us - as a core team - to step forward in the fullness of our gifts while simultaneously stepping out of our comfort zones.
We sensed that if there was "no risk in the creation, there would be no transformation for the audience." So we went to our personal edges with the vision of inspiring other women to do the same. We plan to unveil The Deepening before the 2015 Spring Equinox
Nourishing our Reforestation Strategy
We visualize TreeSisters as a twin tree nourished by the same root system. One trunk is feminine empowerment and the second trunk is >reforestation. Therefore the summer's seasonal unfolding wouldn't be complete without parallel growth in relation to the trees and reforestation.
Throughout the summer months our reforestation team (Nicole in Switzerland and Lauriane in Belgium) researched and crafted the TreeSisters' Reforestation Strategy. They brilliantly integrated the TreeSisters' Map of Five Choices and the Feminine Principle and used them as the guiding framework in the creation of our reforestation strategy. We envision our reforestation strategy as an embodiment of our twin-tree approach and look forward to sharing more of these details with the network as the strategy unfolds.
The Autumn Equinox is a balance point when the day and the night are of equal length. The Earth is poised to move into its Yin Cycle during which time TreeSisters will continue to harvest the wisdom of 2014 and find ways of more fully applying living systems and the Feminine Principle to our 2015 planning and development.
In the past when we have given these seasonal updates on our meditation calls we have had many women encourage us in our vision of applying living systems and the Feminine Principle in how we grow TreeSisters. We wanted to open up this juicy conversation to the entire network so we decided to post the Autumn Equinox update as a blog which would give us all a chance to voice our thoughts, inspirations, and ideas as TreeSisters turns toward the visionary winter season.