TreeSisters at the Winter Solstice 2014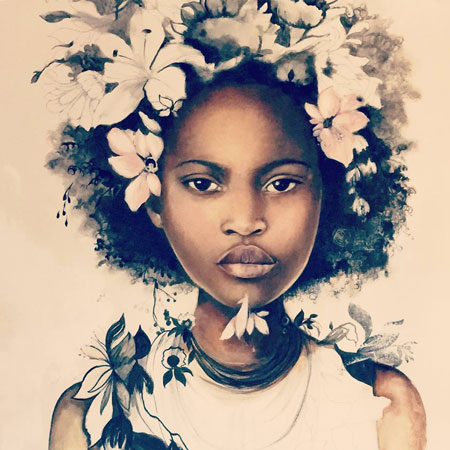 Image credit left: Claudia Tremblay
This month's New Moon and shift to Waxing Moon was a time of reflection at TreeSisters as we invoked new possibilities, set intentions, made some course corrections, and did strategic planning for 2015. Part of that process was reflecting on what we accomplished between the Autumn Equinox and the Winter Solstice. In the Northern Hemisphere, the Autumn Equinox was on September 23rd and the Winter Solstice was on December 21st . It was a full-on time at TreeSisters as we created and launched multiple new projects designed to fulfill our two-pronged mission of calling forth women's nature based leadership and reforesting the tropics.
The Deepening
This six week period held multiple 'first time' accomplishments for TreeSisters; the greatest one being the creation and completion of our first educational course for the network entitled The Deepening. The course is not only finished, but was piloted in the United Kingdom by some very talented facilitators who are helping us fine-tune the course before we unveil it in Spring of 2015.
New Moon Reflection Calls
Image credit right: Elisabetta Trevisan
During this period we also initiated and began offering New Moon Reflection Calls in addition to our Full Moon Meditation Calls. We created the New Moon calls as an offering to the sisterhood and as a way of connecting us all more fully to a nature-based rhythm. It is also our way of sharing how TreeSisters is embodying the Feminine Principle and Living Systems it its organizational unfolding.
Re-branding & Website Campaign for Winter 2015
As TreeSisters continues to grow from seedling to sapling we realized it is finally time to create an interactive platform that will enable the network to engage with each other, participate in our upcoming on-line courses, and find ways of becoming more deeply involved in our mission. Sophie, our social media director, led the way in co-creating a Kick-Starter campaign that will be launched in the first part of 2015. An important part of this process has been exploring the ways in which TreeSisters would benefit from a re-branding process. We want to be totally accessible to the most amount of people. How we articulate and express our mission is a big part of that equation.
Guest Blog Posts Platform Launched
In the summer we created a new blog that has enabled us to engage the network at a deeper level than ever. As part of that new blog, we have created a dynamic 'Guest Blog Post' initiative that enables the network to share the projects and initiatives that women are engaging around the world as more and more women step forward in their nature-based leadership. We want to make those women and their projects visible to the entire network as a way of inspiring and connecting us all.
TreeSisters Annual Report
In October we submitted the TreeSisters Annual Report as required by charity law in the United Kingdom. It was a wonderful opportunity to review and articulate our progress and growth as an organization from March 2013 – March 2014. This is available upon request.
The Feminine Principle & Living Systems
Image credit; Debra Bernier
This was a beautiful period in which we expanded our living systems approach within TreeSisters. We continued to integrate the wisdom found in Alexandra Pope's workbook "A Woman's Quest" into our core team and operations. As part of this process, we are asking ourselves how we can integrate more of the Crone wisdom into our organizational unfolding. This is one of our key inquires within the TreeSisters Board of Trustees.
Lunar-based and Seasonal Organizational Alignment
We created a lunar organizational planning process that aligns us with the creative energy and phases of the moon cycle. This has become central to our weekly Core Team planning agendas and meetings. We have also aligned ourselves more fully with the seasons by using this period to do intentional course corrections, strategic re-visioning, and beginning the process of slowing the pace down so that our entire team can honor and embody the wisdom of Winter.
This period has begun what we call The Deep Drop; a time within TreeSisisters dedicated to deepening our vision, redefining our key objectives & identifying our desired outcomes for 2015. Part of this Winter alignment will be catalyzing three network based co-creation circles that will help us presence the ways in which TreeSisters is ready to grow in 2015. These circles will explore how we engage independent instructors in our new educational model, how we distribute leadership within TreeSisters, and how we can encourage and support more of the network to bring forth their gifts on behalf of fulfilling our collective mission.
Earthing the Moon
Earthing the Moon is a dynamic course we have created in partnership with Jewels Wingfield as part of our exploration in how to engage independent instructors in creating courses for women that give an embodied experience of the Map of Five Choices. It is the first in several courses planned for 2015. Enrollment is still open and registrations are still being taken for this course which begins in mid-January. As we enter the depths of Winter we will turn our attention toward deepening our roots, creating a compelling vision for 2015, and gestating the future we long to birth in Spring.