TreeSisters Creative Voice ~ Summer Blog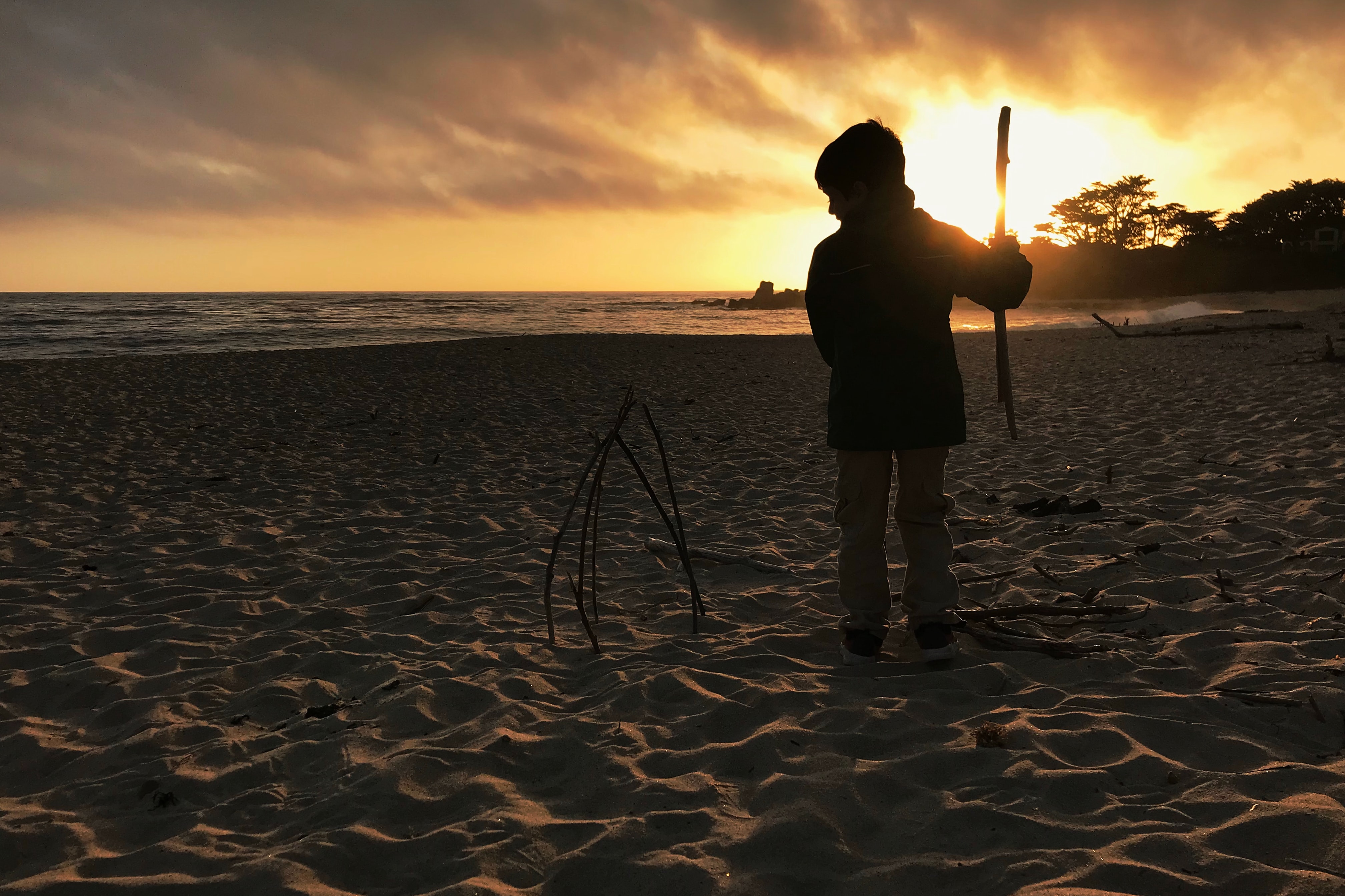 June 16th, 2021
Passing the Talking Stick to Earth
Isn't it time we pass the talking stick to her?
A long time ago, I owned a tiny eco-shop inside a holistic healing center, where I held women's circles, taught classes on how to be green & creative and I sold local hand crafted and eco-friendly items. I called my shop "Hear the Earth" because I was determined everyone should listen to her. As strange as it seemed then, she talked and I listened, she gave me visions to manifest and guided me on paths to follow. I have been listening since and that is how I wound up here, as the creative doula for TreeSisters.
Science has come a long way to prove Earth is a sentient being and while many are still not present enough to listen, I am relieved to know that the TreeSisters community and many others are listening. That is why the name of the TreeSisters creative course is "Liberating Our Creative Voice for Earth", because it is her voice we are listening too.
The idea of listening to the Earth really deepened during our Spring Equinox Journey within Liberating Of Creative Voice for Earth, we were inspired to create Stick Art, mainly talking sticks and walkings staffs, which also morphed into writing sticks, wind chime sticks, water song sticks, stick tents and deeply reverent stick sculptures all of which were offered in ceremony to express our deep grief and undying gratitude to Earth. As treesisters, we are aware of the voices of women and Earth that have been silenced for one reason or another, so we wanted to create a platform to liberate and share them. You are all invited to join and create one with us in the Nest. Join us here.


Where does the talking stick originate?
The Story of the talking stick originated when five Native American tribes: the Mohawk, Seneca, Cayuga, Oneida, and the Onandaga created a peace agreement with the aid of Deganawidah, known as the peacemaker. He instructed the warriors to bury their weapons and over them he planted a Great Tree of Peace. The branches were meant to protect the people and the roots of truth would reach out in all directions, carrying the news. They sat there to make their peace agreement, which is said to have been used as a template for the United States Constitution and the United Nations Charter. When they listened carefully and spoke truthfully from their hearts, the people were able to make peace. They began a tradition of passing a stick of the tree around the circle to show who was speaking from their heart.
As you will see in the virtual exhibit below, there are many talking sticks, grieving ceremonies, and apologies reaching out to her who is listening and speaking to us.

Content warning: Some of the sharings below contain violence to humans and also the destruction of trees.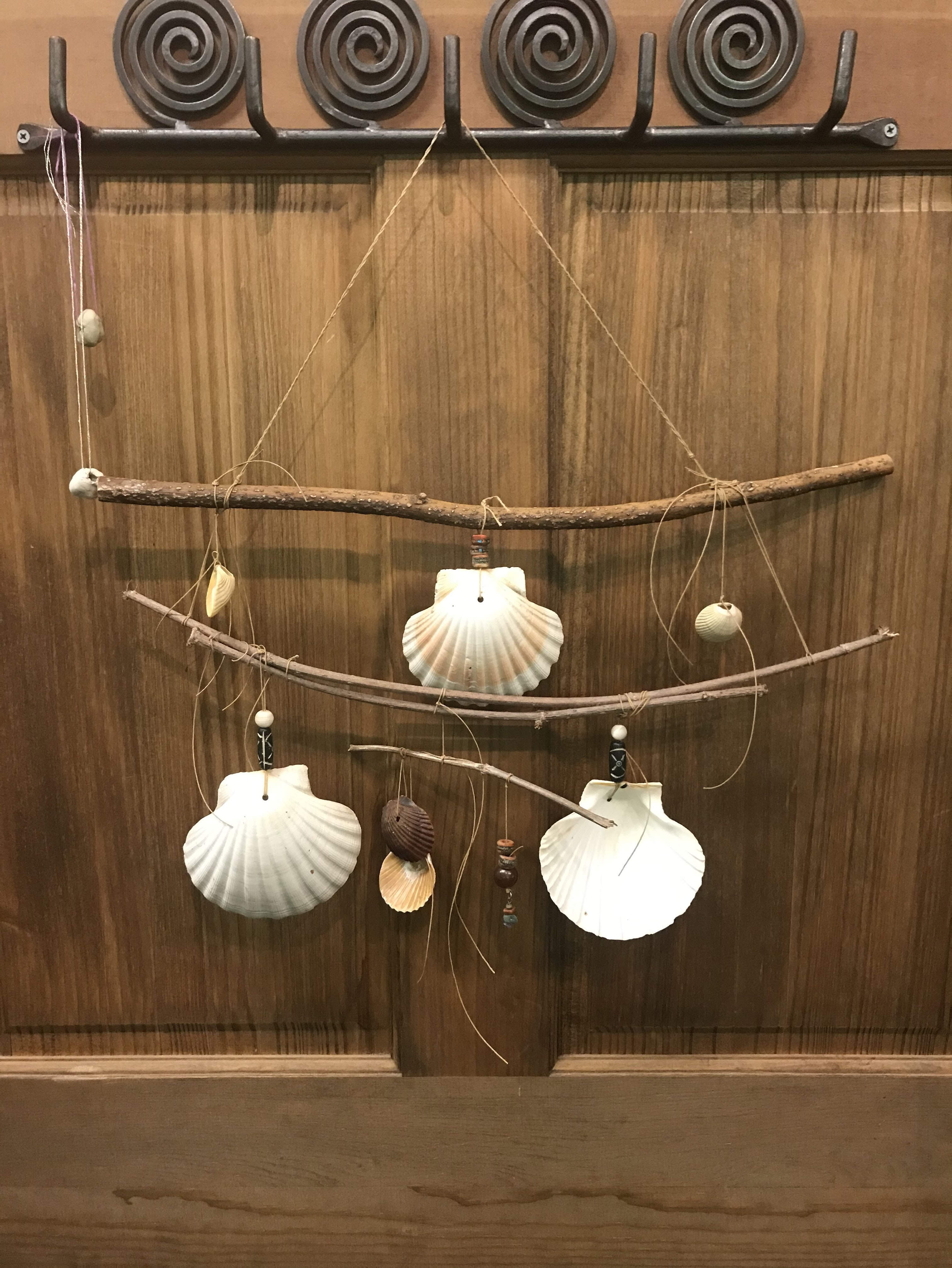 Talking Stick In Progress ~ by Sara Malik McQueen
My talking stick and shell wind chime creation, a different kind of talking stick.

A Poem by Ursula Dutkiewicz
What is stopping me being the more of me?
What is at the core of me?
Shedding away the less of me
To restore the more of me

The I Am most beautiful me,
The shining light brilliance of me,
The I am not good enough of me,
has to go, so I can show,
I Am the more of me.
An open door to my Creativity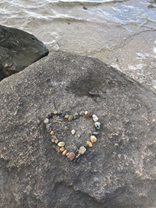 Heart by Erika Donat
Sharing my reiki back into the Earth, especially on our weekly forays into Nature and out of the city. I also like to do little nature art installations like the one pictured here.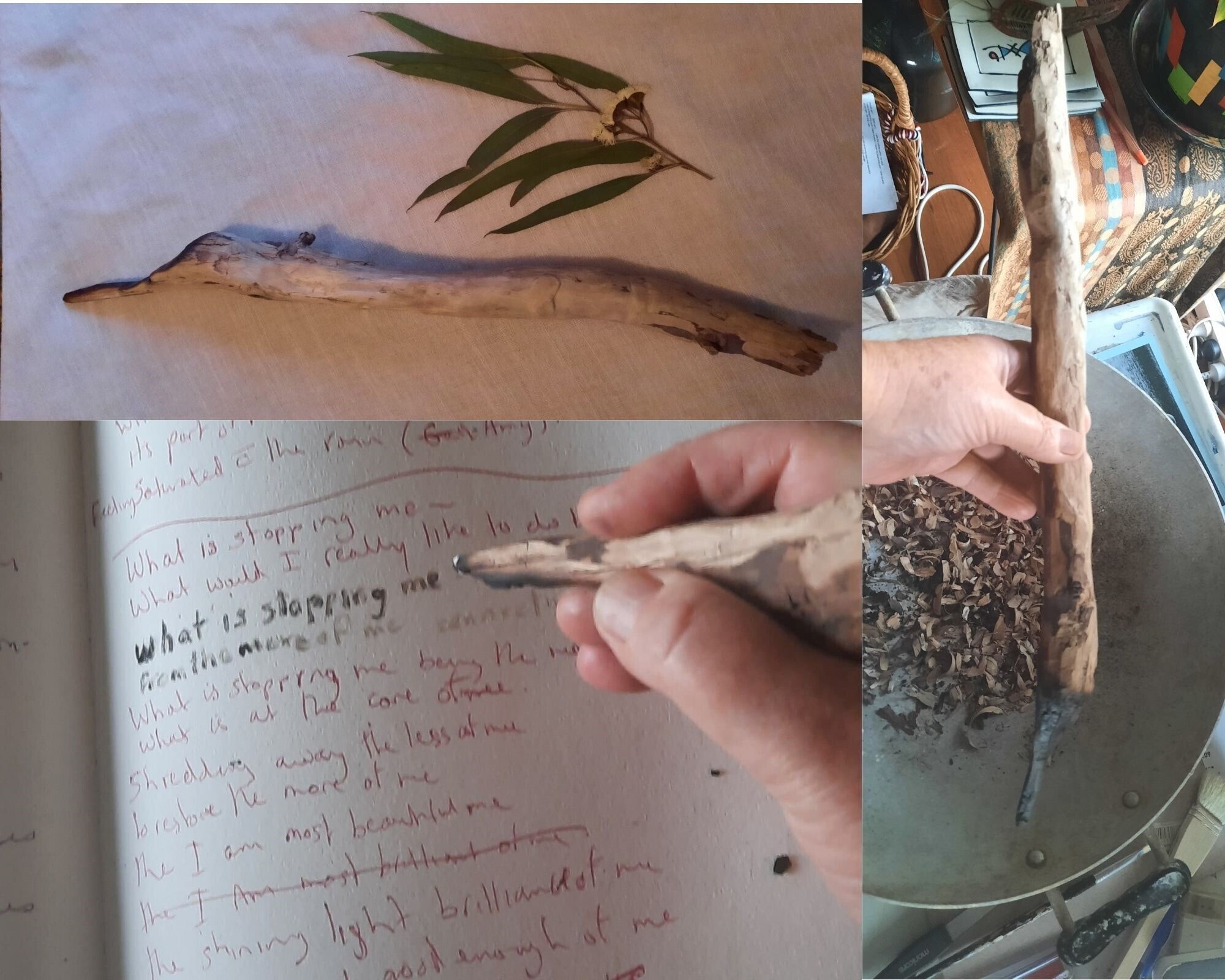 Collage of Talking and Writing Stick ~ by Ursula Dutkiewicz
I retrieved my talking sticks from the Indigenous 'Welcome to Country' smoking fire we had on the creek. I found two wonderful sticks and I thought one was a writing stick because of its burnt charcoal tip. When we were asked to write "what is stopping me"… a lot of fear rose for me, at first, I drew a blank, then I wrote those words with my talking stick as a poem came to me. I am so grateful to this course for awakening my creativity.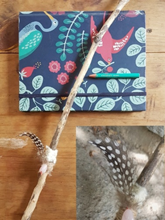 Talking Stick – by Daphne Helvensteijn
While wandering and wondering around our camp, this little branch caught my eye. When I sat down to decorate it, I wanted to keep it in its own natural beauty. The black and white feather means there are always two (or more) sides that are equally important. The little rose quartz stone to remind me to speak out of love, the white thread is the light we seek and the brown flax thread made of flax, connects to older traditions when it was clear Earth sustained us.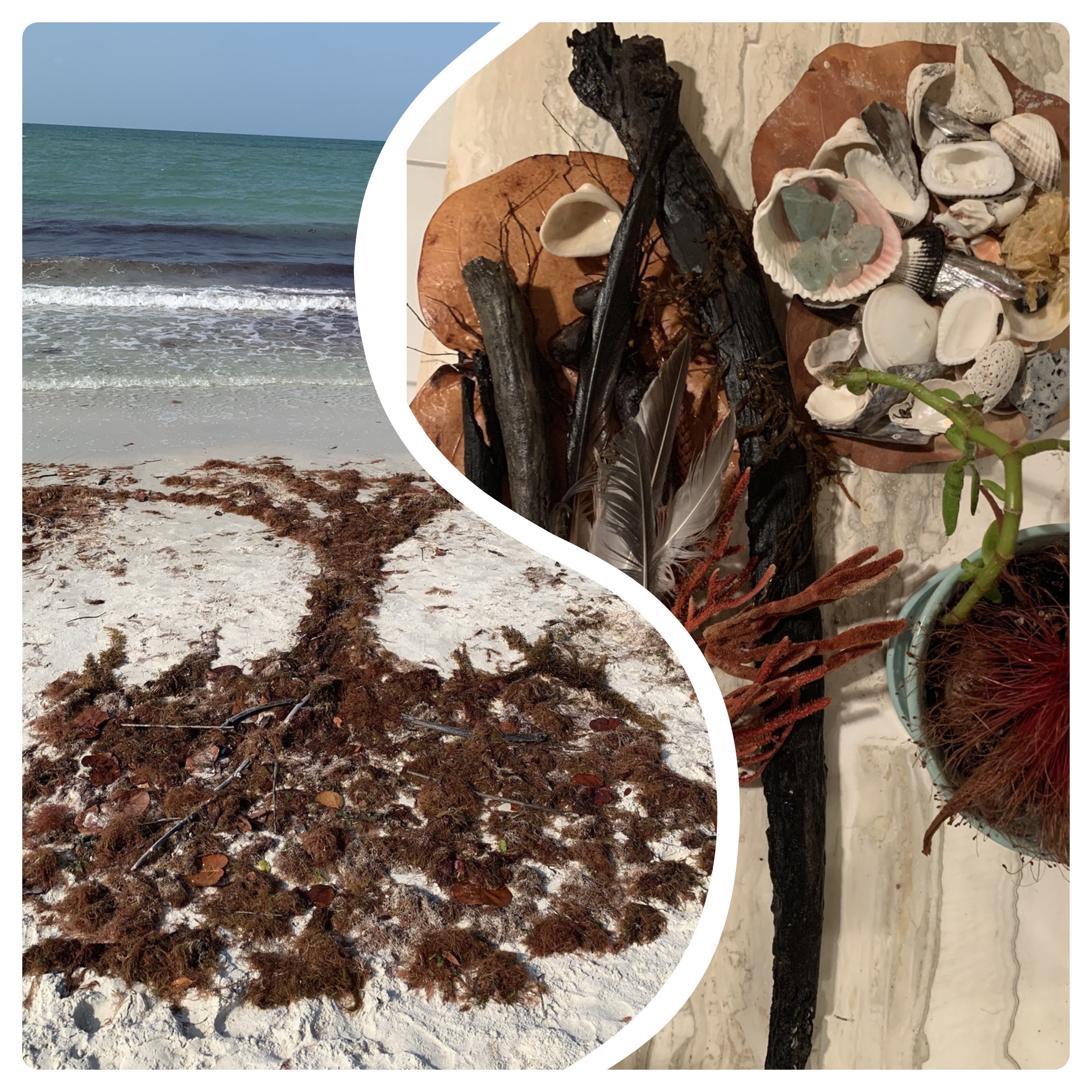 Water Talking Stick ~ Seaweed Tree by Kathleen Brigidina
The morning I went foraging to make my sea talking stick, all these leaves and branches washed up on the shore like a gift from her. Bursting to share the love affair between water and trees, and the stories of enlightened sea creatures and watery wisdom of the ages with us. Humbled, I returned her gifts by sculpting a seaweed tree in the liminal portal between sandy earth and sea. I am now preparing to get permission to make a 10' tall talking stick sculpture for Mama Earth in a public forest Preserve nearby.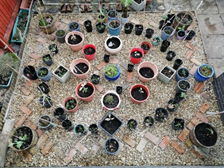 Sapling Mandala by Emily Burnell
I've had a beautiful morning creating my tree mandala with 62 trees I've been nurturing in my garden. Next week a few will be replanted in a field. The rest need a bit more tlc until they can brave the big wide world (and the rabbits!). As a P.S I shared my Mandala on FaceBook and added a donate button as I mentioned TreeSisters (I've never done this before) and 3 kind people have already donated £68 to TreeSisters because of it....the power of a Mandala and Trees!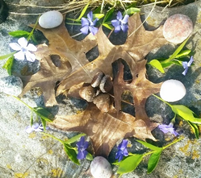 Funeral for a Tree: by April Theriot
Yesterday they finished cutting down the neighboring hundred-year-old Oak tree I used to watch out my window. Everyone seemed to approve of its removal. I was alone in my sadness. I scrounged around in my garden beds and collected some of the Oak's leaves and acorns from last year to make a mandala. You can feel the huge hole that has been left in the energy and canopy of the neighborhood where this grandfather tree used to be. My heart is heavy with it.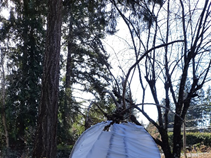 Womb of Branches – by Gaileen Flaman


I birthed this creation using sticks limbed from hazardous tree branches. No real intention but the end-product is an homage to murdered and missing indigenous women and girls mashed together with red tent symbolism (a red flood light inside lights it up at night) and it now serves as a sacred retreat when I've had breakdowns and feel the need to return to the womb.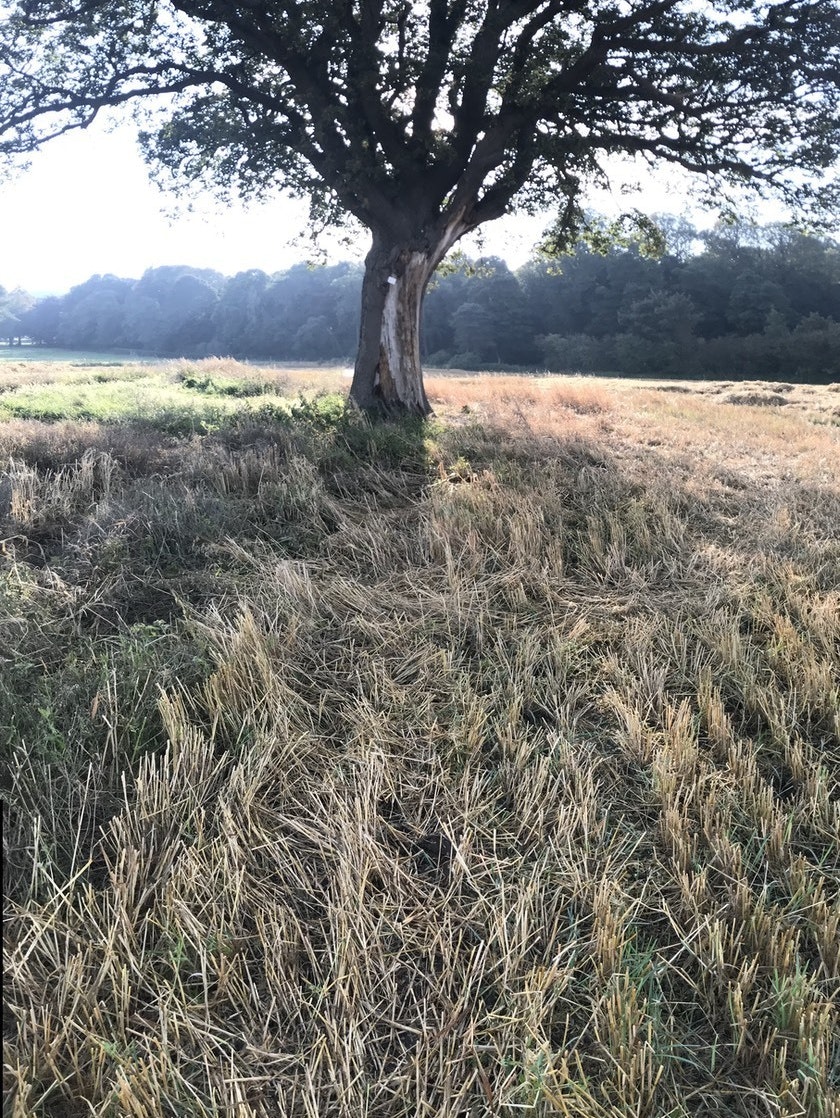 An Invitation to Ceremony by Mabel Regis
This tree is my friend and has been used by humans to hang others. I was also made aware of trees cut down by a logging company while walking in the nearby forest a couple of years ago. Shortly after I thought about the places around the world where humans used trees to kill, hurt, execute, conquer other places and torture each other. I'd thought to travel to those places and say "Sorry". Wherever we feel called to go to a tree or tree friend, to go there creating the sacred time just by that intention and say "I'm sorry. On behalf of (....your words) I'm sorry". You/we could use the Ho Opono Opono.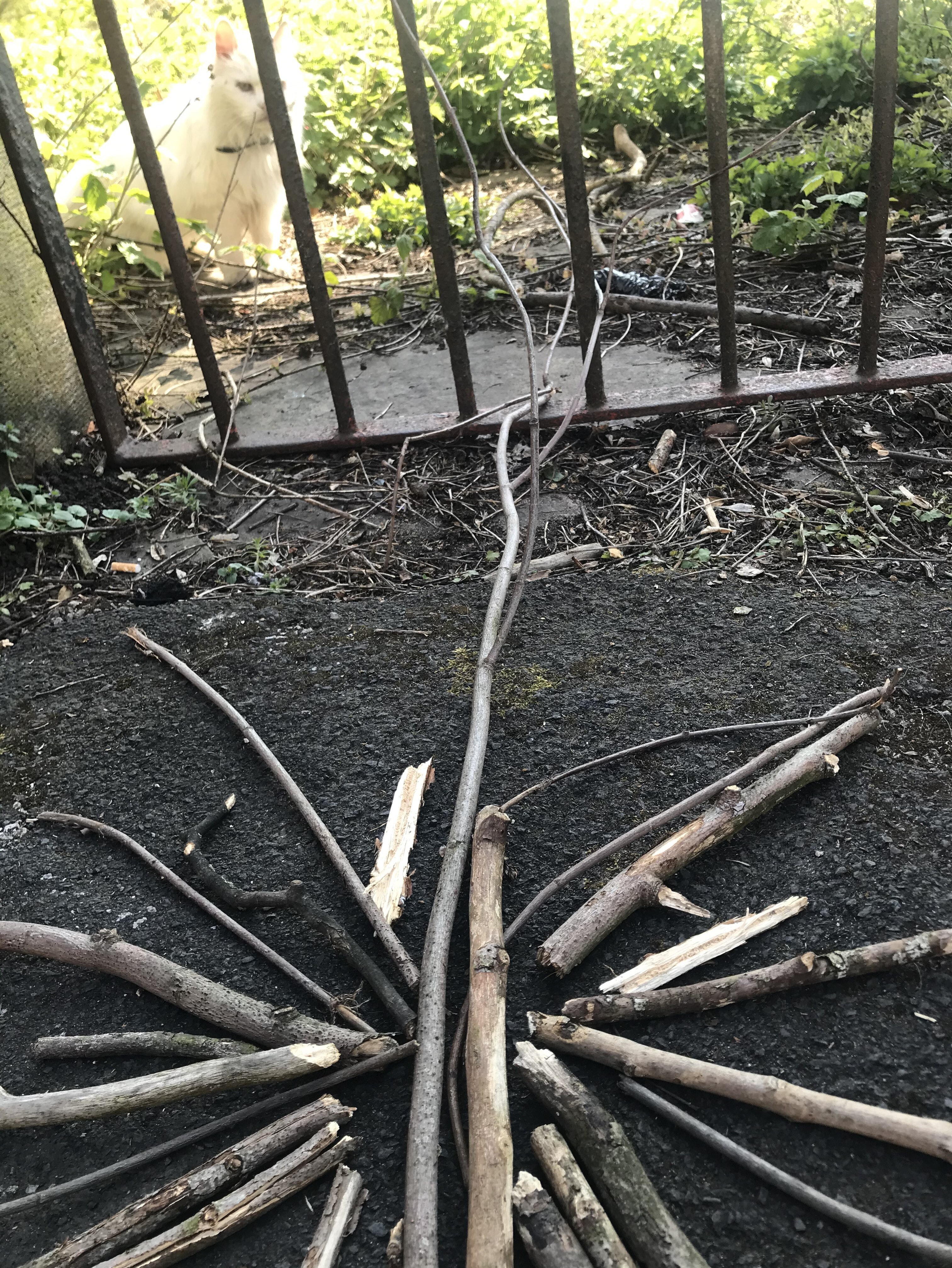 by
Mabel Regis
I was walking towards a community centre in Stockport and noticed the spire of a church. Walking near it I saw what seemed to be a park as part of it. Walking closer I saw sticks on the ground. It felt right to make a circle. I did though the park gates were closed to honor the trees that had fallen, and an elderly furry friend came to watch.
.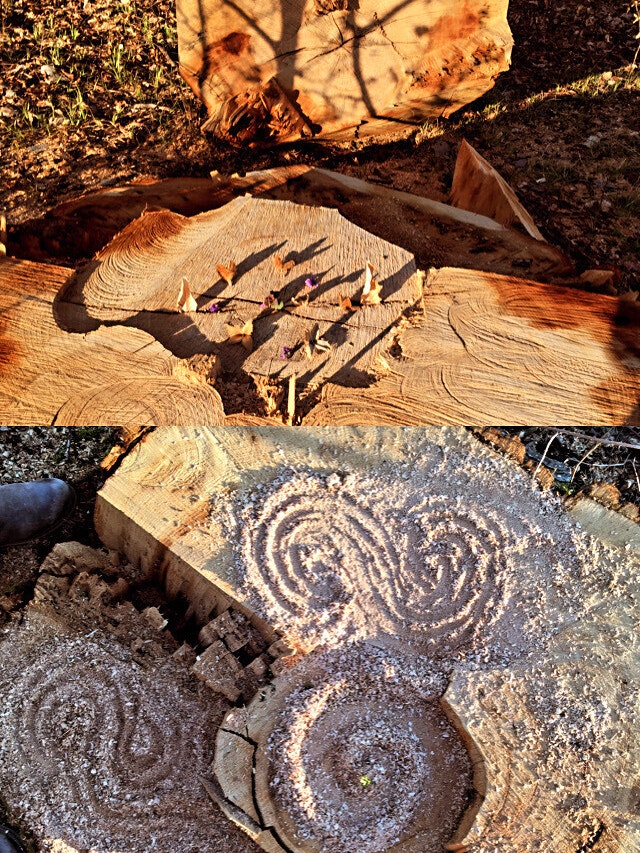 Tree Stump Mandala by Yi Pang
In honor of the two stately trees that were felled in our neighborhood woods, I made mandalas on the stumps of their trunks. For the Beech (upper photo) I brought opened beechnut shells, collected in the fall, asked the violets gift three flowers, and a purple nettle to gift one blooming head, and then filled in the mandala with dried beech leaves from the forest floor. The sweet chestnut stump (lower photo) had a lot of saw dust on it, so I did a quick spiral pattern to call on the energies of life, death and rebirth. Thanking the trees for all they gifted with their lives and now with their deaths, I invited their spirits to shelter in a space in my garden blessed with violets.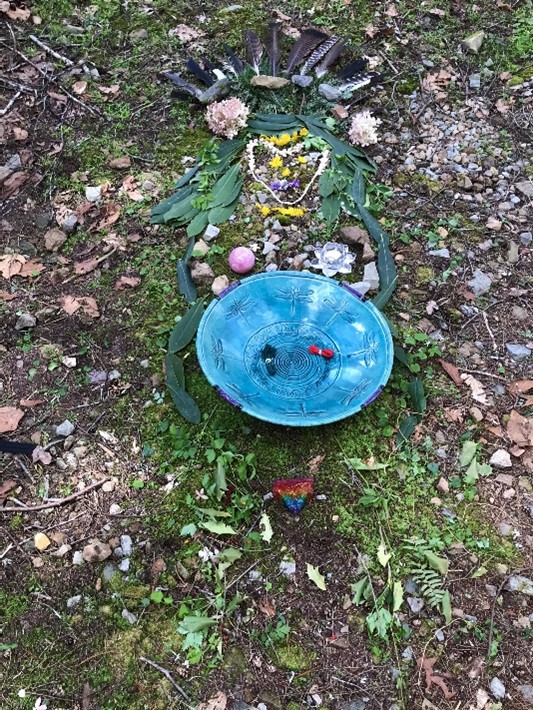 Earth Art by Geri Fox
Thank you PachaMama for your unconditional love and generosity. For your soft, mossy embrace when I am in need of restoration. For not judging my less than perfect voice when I sing my prayers and dreams to you. For catching my tears of grief when they need to be shed. For all you continue to teach me with your miraculous creations on this beautiful planet about resilience and reciprocity. I am forever in awe of you and I celebrate you this Earth Day week and every day. May I be an instrument in service to you Beloved Mother.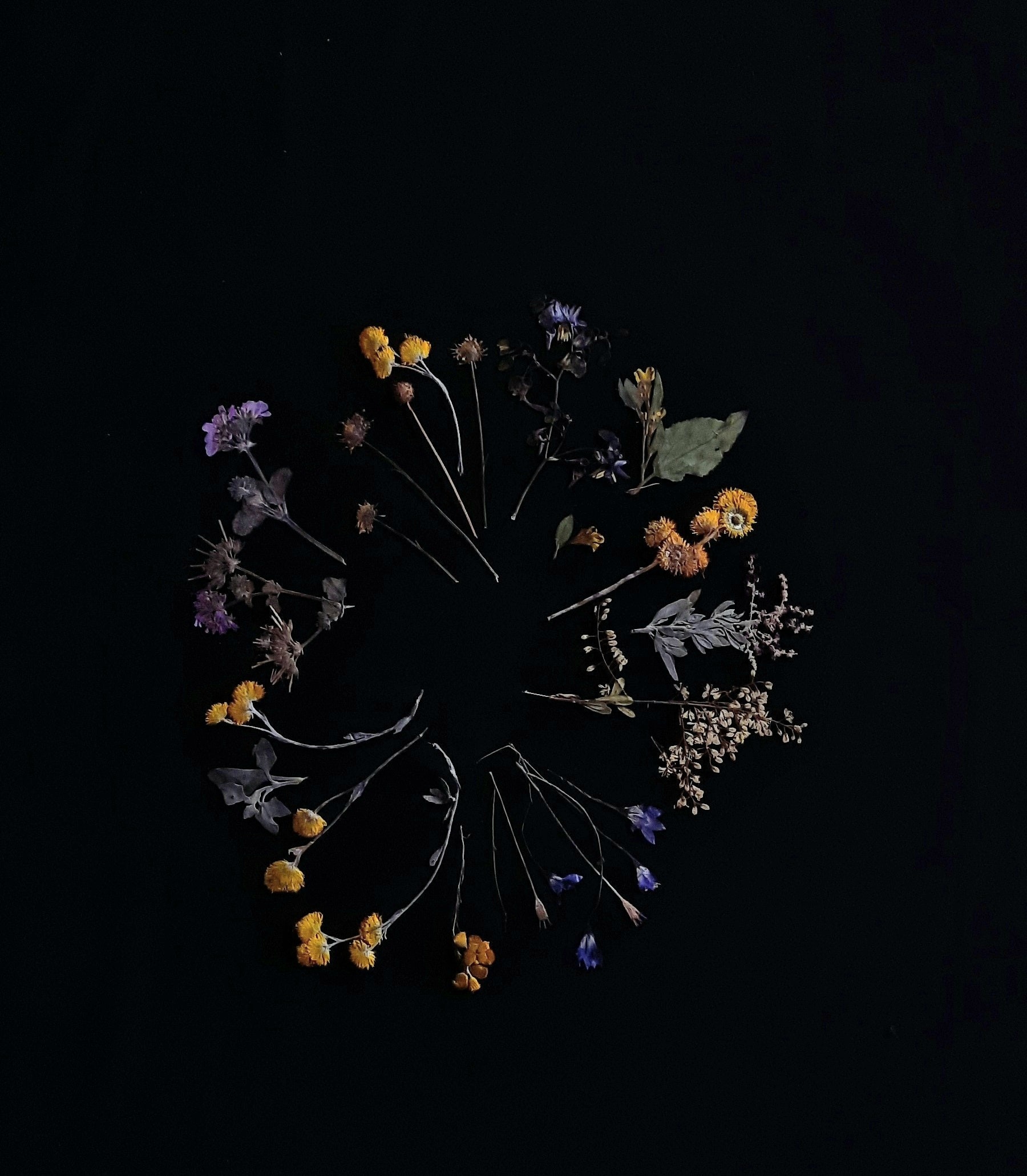 Grassland Flower Mandala by Ursula Dutkiewicz
We are in Late Summer moving into Early Winter here on 'Naarum' the country of the 'Wurundjeri' people of the Kulin Nations which was renamed to Melbourne by European settlers. It is the time of birds flocking and migrating North. I acknowledge them as the custodians of this land and their deep connections to this country. I was called to make my mandala with the wild flowers of the grasslands where I live. I have been helping re-plant with the friends of our creek to honour these plants.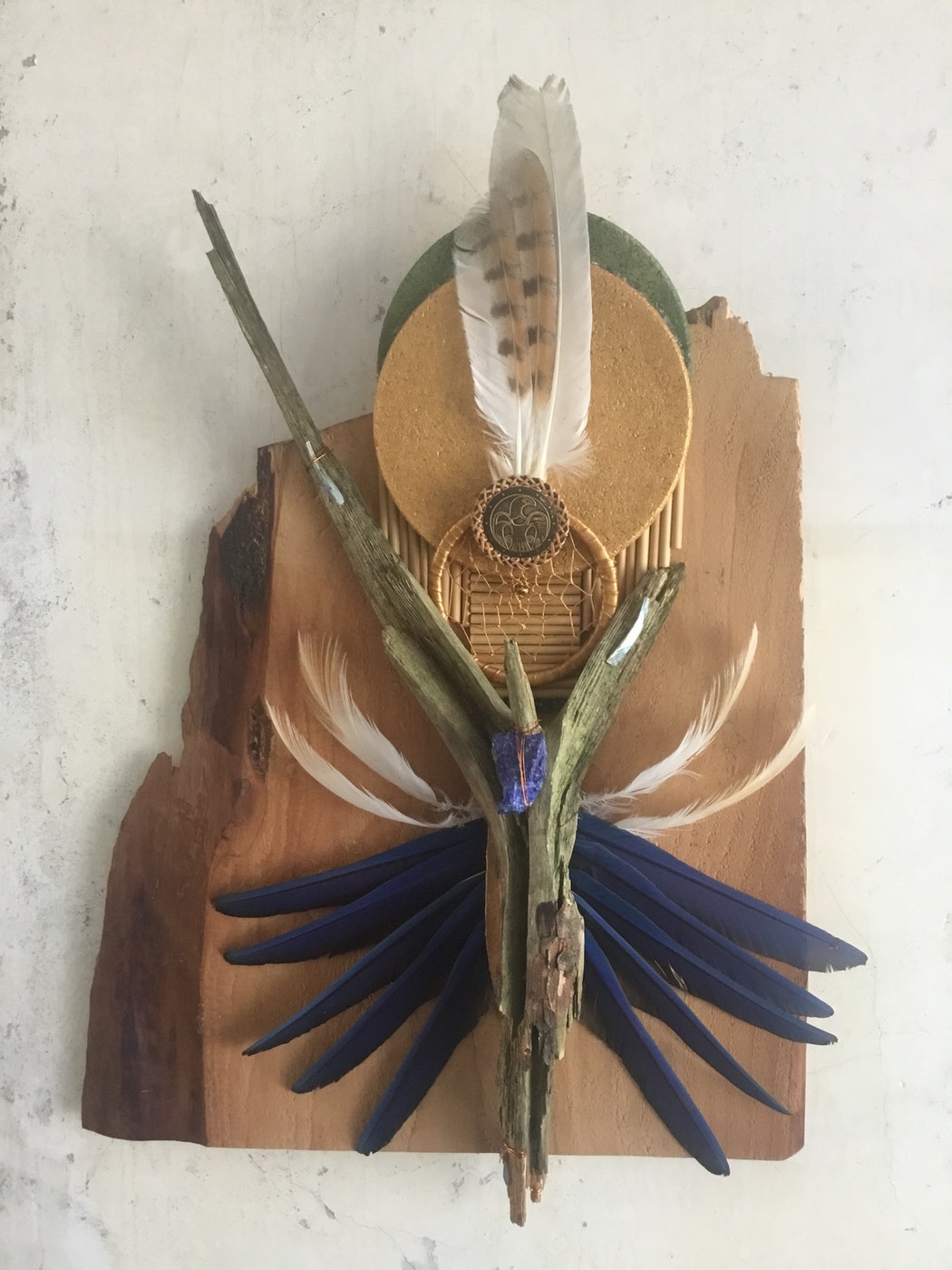 Sacred Shield by Angelique Boas
I thought I had 'lost' my creative flow since I became my Mom's caretaker. It takes a lot of energy and I thought I could not create freely, without any personal feelings of grief and family matters attached. The encouragement and understanding offered to me here that my Art-Muse has not left me at all, helped meI succeed in re-finding my trust-within and I remembered the way to empty myself to reach the state of being 'a hollow bone' in order to receive the information required.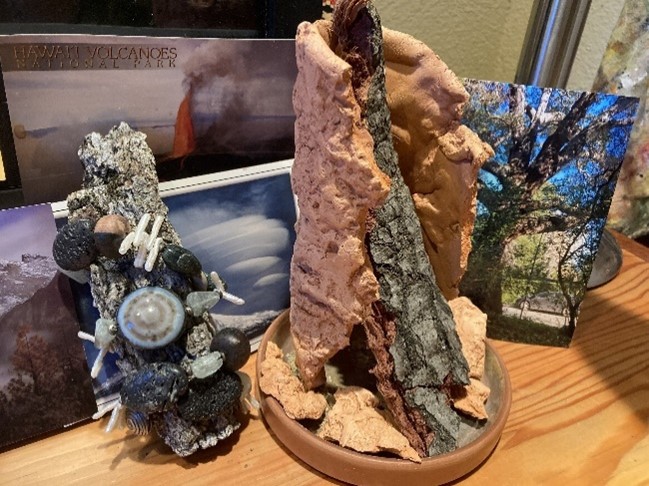 Earth sculpture by Linea Stewart
My talking stick (on the left) is made with a piece of bark given to me by this Guardian Oak wrapped with a necklace of Stone People made for my 60th birthday by a dear friend. This is the tree in the photo from which I made a clay casting of the bark. Ki stands on a quiet side street next to San Francisquito Creek 1/2 block from our home. The creek bridge is going to be replaced with a modern span & the wonderful Oak will be removed despite protests, which makes me deeply treasure this gift of ki's magnificent trunk so freely given.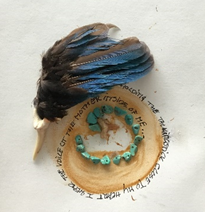 by Angelique Boas
Such a wonderful and happy feeling in this time of grieving and Beauty, where healing is taking place in my family of origin and where we are able to accompany my Mom together as One (at last) on her last Journey on Earth. Holding my renewed and re-created Talking-Stick close to my heart... "I will be hearing 'The Voice of the Mother' inside of me. Giving thanks for this amazing Creative Journey Course.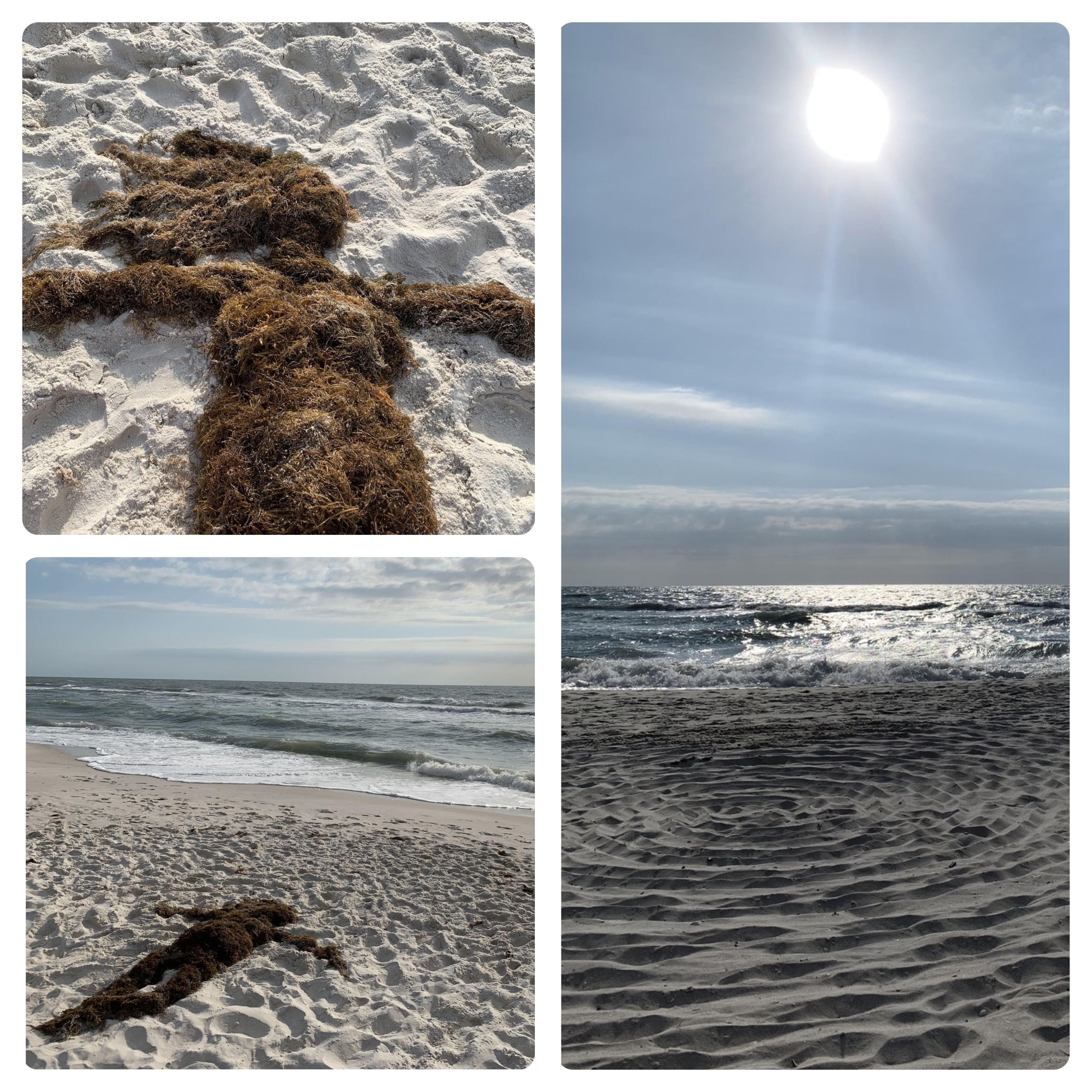 Mandala, Sculpture and Haiku by Kathleen
Mourning separations from each other, ourselves, Nature, Truth and Love. Photo ~ Equinox Spiral Sand Mandala: Walking Earth's Rhythms (a barefoot meditation) and Seaweed sculpture ~ A Still Listening Life and Haiku.
Shapeshift me Mother
I have washed up on your shore
Open heart to sea
Many more individual and co-creative projects are emerging from within our community, the TreeSisters Nest. Within this space, we offer biweekly Sistering Calls, Courses, create community for TreeSisters Grove Circle Tenders and SoulTree Business partners, along with a Marketplace to share your wares and so much more. If you are feeling the call, I invite you to join us here: www.treesisters-nest.org; Our Nest community is where we gather to support, grow and take action together on behalf of our precious Trees, Earth and all life.
If you would like to learn more about the creativity within the TreeSisters community, you can also read our previous Creative Blog here https://treesisters.org/blog/listening-and-co-creating-with-natures-resilient-heart
---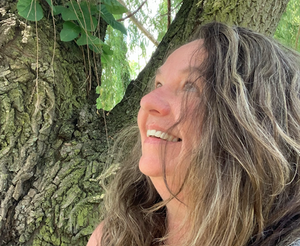 Kathleen feels it is her destiny to experience, or share and contribute to all that TreeSisters mission and culture embodies. She began as a volunteer to support Artists in 2015 and while believing creativity is our greatest natural power alongside love, eventually founding TreeSisters Well of Creativity & Creative InnerViews and now manages TreeSisters Nest, our online community https://www.treesisters-nest.org and facilitates four seasonal Creative Journeys, "Liberating our Creative Voice for Earth"
Kathleen is blessed with two daughters and caring deeply about their future is passionate to inspire increased awareness, expression, and consciousness by reconnect with our planet heart to heart.
Besides being a tree lover, Kathleen is an eco-artist, co-founder of SisterArt-Conscious Creatives, Water ceremonialist and Council member of Loving Waters, gallery curator, writer, creative doula/teacher/coach, energy healing practitioner, & sustainable garden designer. She has founded various green expos, events and community college courses for sustainability. She studied fine art at the School of the Art Institute Chicago, worked closely with Barbra Marx Hubbard as a Guide for the Conscious Evolution, Trained in Various Energy Healing Practitioner Modalities, and as a Facilitator of A Wild Soul Woman, Teen Portraiture, Art of Allowing, Transition Town and Pachamama Alliance-Awaken the Dreamer.