Women of the Trees - Walking with Trees ~ A one day woodland gathering with Glennie Kindred and TreeSisters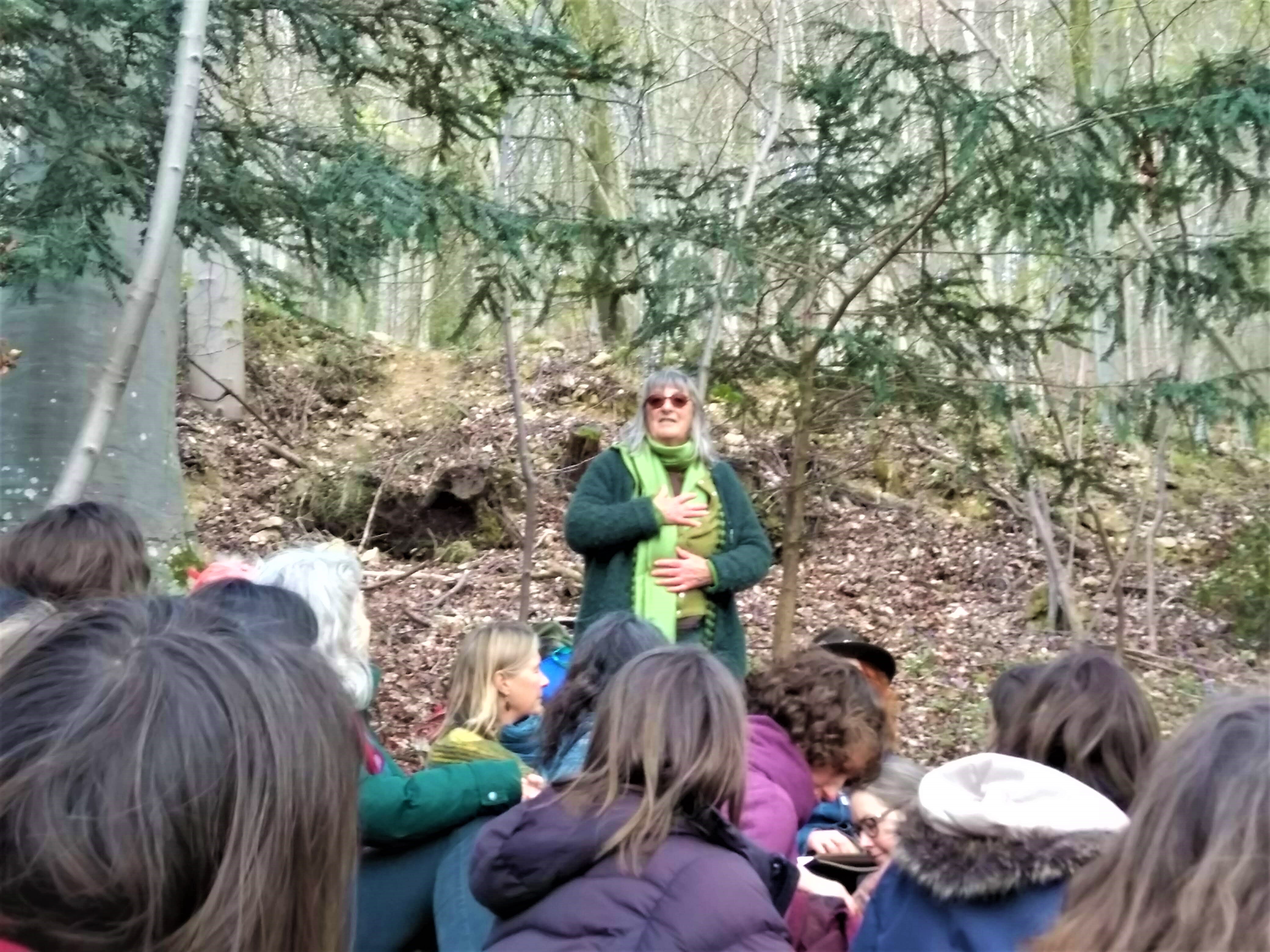 We gathered, we sistered, we walked, sung and communed with the Beeches, Yews, Hollies, Hazels and Sycamores. And, between us, we raised enough to plant over 5000 tropical trees too - what a wonderful day we had for Women of the Trees with Glennie Kindred.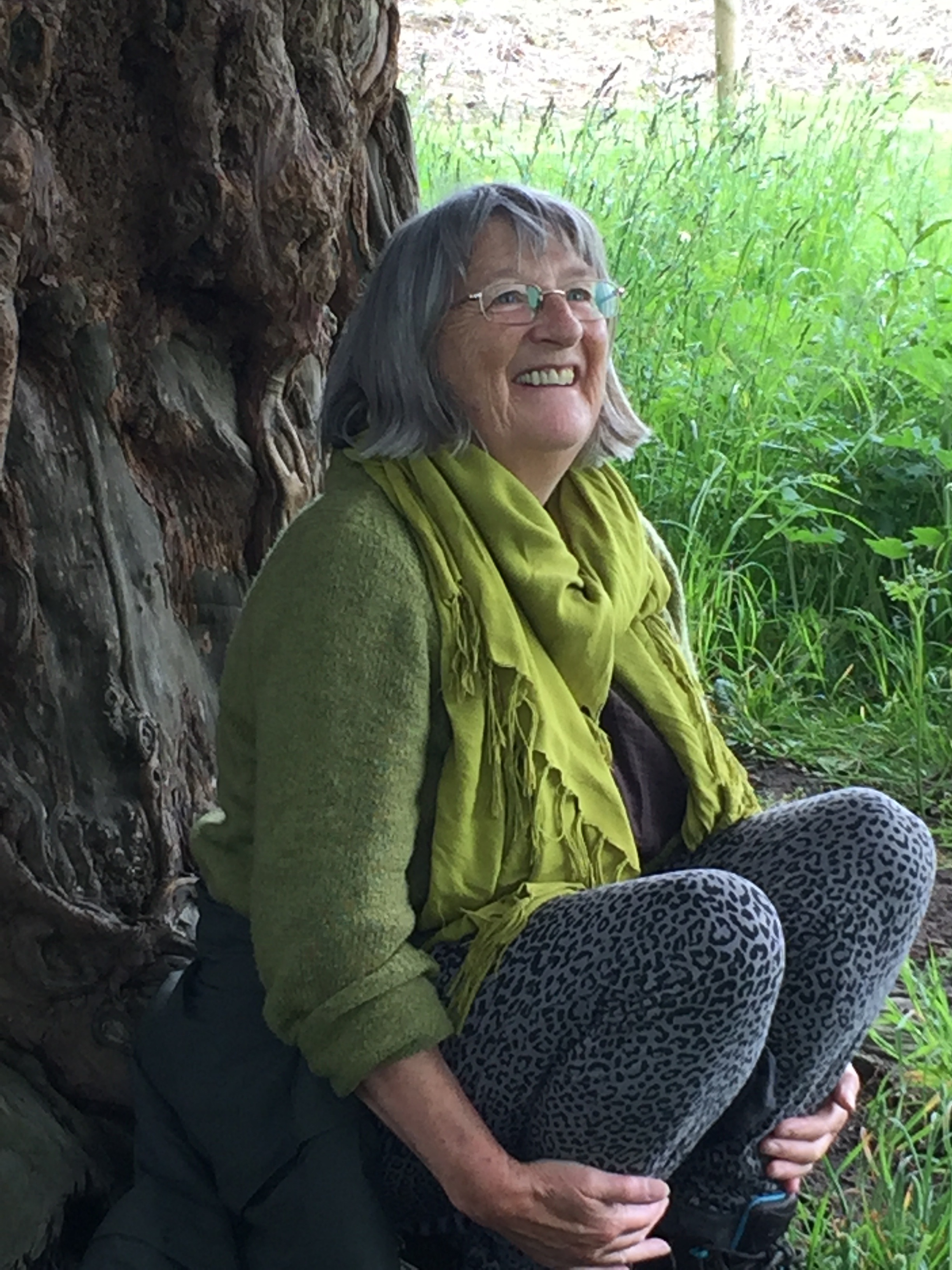 On Saturday just gone, nearly eighty of us gathered at Sheepscombe village hall in the Cotswolds in England for a one day treesister in-person gathering with Clare and Glennie Kindred.
"Blessings on this beautiful day. Sisterhood at its sweetest, thank you. Feeling deeply blessed in gratitude and grace, we walk in wonder." ~Be
The day came out of a long held dream of Clare and Glennies to come together as women for the trees and was made possible through a group of TreeSister volunteers beavering away for a few weeks behind the scenes taking bookings and ensuring we would have all that we needed to host this many sisters in one space!
Women arrived mostly from the UK, but we were also graced with visits from Vanessa from France and our team member Louise from Australia who was over for various TreeSister meetings.
We welcomed about thirty new treesisters and forty five existing ones, and started the day with a scrumptious sistering process to support a dropping into a deeper more embodied connection with ourselves and each other. Women milled the room, pairing up with each other to share as honest responses as they could to the open ended sentences 'A woman knows.......' followed by 'My heart knows.... The responses brought tears, joy and a tangible drop into a much deeper connection as the roots of our energies entwined forming the forest floor of our circle for the day.
"Thank you all treesisters, wonderful heart expanding unforgettable day." ~Holly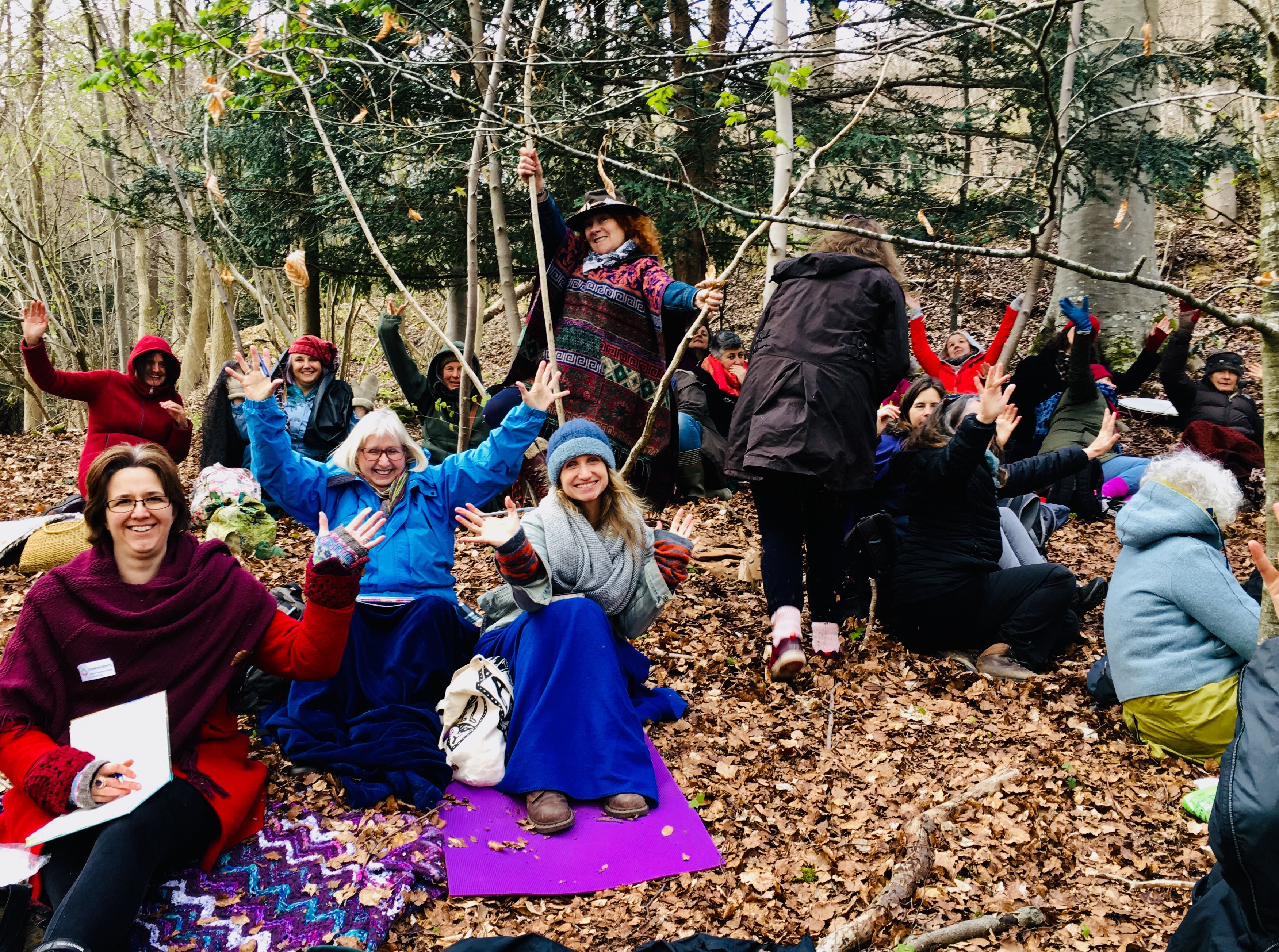 We then walked in silence for the twenty minutes or so up to the 'Workman's Woodland'. I have never been part of a group of women that size walking through a village in utter quiet. It was an extraordinarily, powerful and precious way to really be together.
Half way along the walk, it became clear that most of us were still operating from far too busy and fast a rhythm and Glennie urged us to slow right down so that we could open to the energies of the beautiful trees that were now surrounding us.
Beech, Alder, Hazel, Holly and Yew welcomed us as we made our way to a sitting spot in the heart of the forest and then together co-created a ceremony acknowledging the presence of and offering gratitude for each element in turn.
Rich songs followed and then we sat first all together to connect more deeply with the woodland and then in groups with specific trees opening our sensing selves up more deeply. We shared our experiences, lunch and connection.
Clare and Glennie then co-led us into a beautiful tree whispering-esque practice where we each chose a tree to sit with whilst holding the question of 'What can I do for you?' This led to a collective field of reverence across the forest as woman after woman found her way into deeper intimacy with a standing one.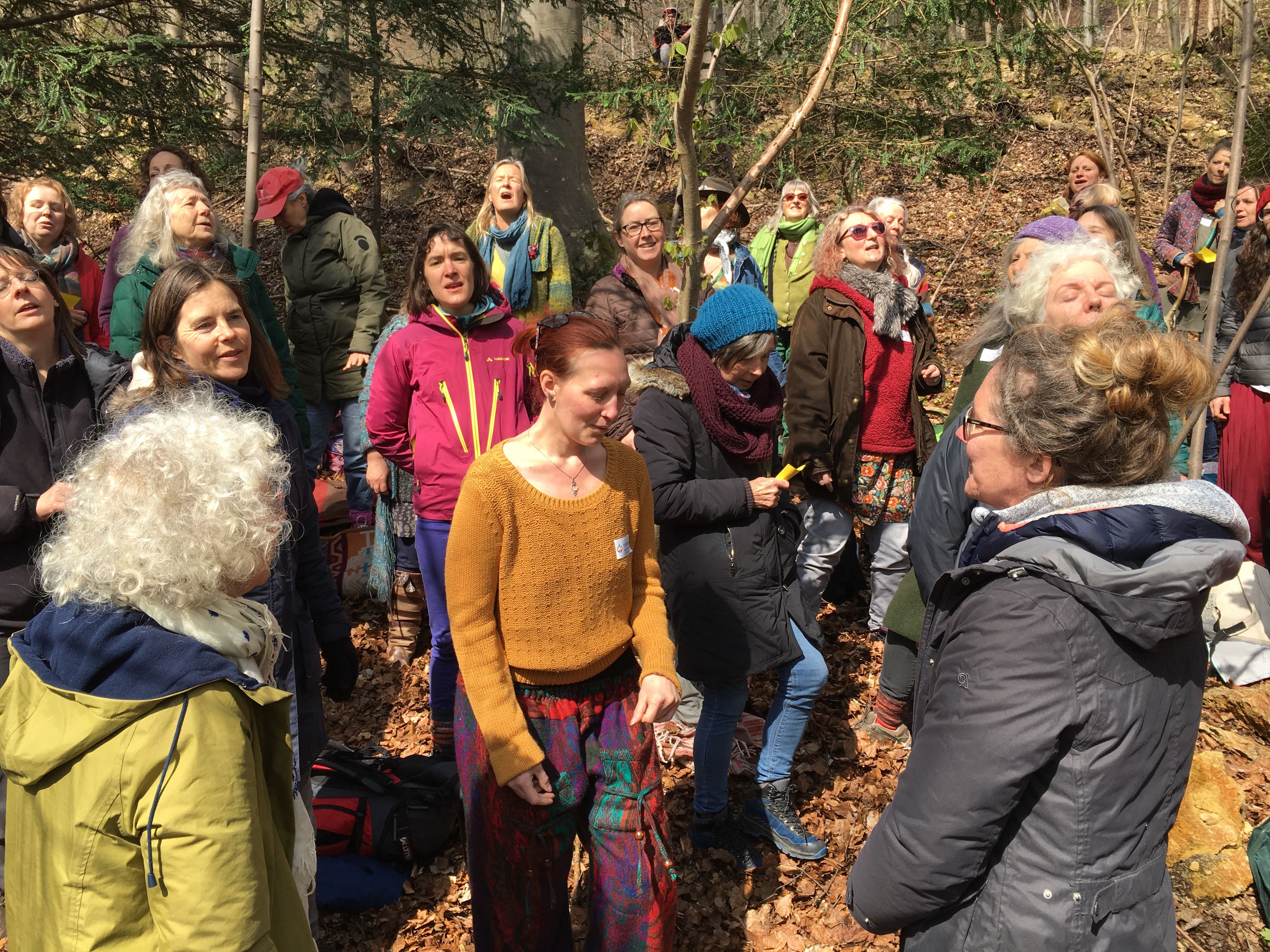 "Genuinely, it was such a beautiful, heartfelt, healing day. I was a bit scared because there were around 80 women in circle, but a part of me knew that the fear was mixed with longing, and that longing was my heart yearning to be heard'. " ~ Charlotte
Finally we came back into pairs with another sister and took turns in 'speaking tree' - simply by starting the sentence with 'the forest in me knows.......' , and then allowing whatever wanted to be spoken to be shared. This invitation revealed a depth of wisdom and connection that surprised many and also much similarity between what came through different women.
The beauty of the day was in its utter simplicity. Women who love trees and who know the importance of their role at this time on earth, gathering together to nurture each other through sisterhood and nature.
"It was so lovely to be at the Women of the Trees event - everyone was very welcoming... I loved the singing and I loved being with the trees. Asking for guidance from the Forest left me feeling hopeful – which isn't always easy! " ~ Sally Mullard
A day like this offers a replicable template for ways to gather in our local women's groups The TreeSister Groves. Spending time with each other and the trees in ways that are simple, meaningful, nourishing and inspiring, whilst at the same time putting trees into the earth through our tropical trees planting projects. If you wanted to organise such a day we have a fundraising pack created that has all the TreeSisters resources that you might need.
Whilst so much is feeling so complex and charged on earth right now, creating regular days like this for so many really is sacred activism at its best. This is activism that honours both the in-breath of nourishing ourselves and the out-breath of offering our love out to the wider world. This is activism that is heart based, resourceful and that has the capacity to endure the long road we have ahead of ourselves.
~~~~~~~~~~~~~~~~~~~~~~~
For more info on Glennie Kindred please see here and to buy her new book Walking with Trees at a treesisters discounted price please go here and use the code TREESISTERS.
Photo credits:
Top photo Jenny Smith of TreeSisters
Glennie's photo courtesy Glennie Kindred
Group photos by Clare Dubois of TreeSisters