Weaving, Grieving, Laughter, Love & Song

A story about what's possible when women gather
For me, gathering with women is deeply nourishing, co-creative, filled with love ... and a wee bit scary. It feels like the most important thing we can do in these turbulent times: come together to support, strengthen and inspire one another, so that we can rise together in our collective 'Yes' to planetary restoration.
Over the weekend of 7-9th September, 23 Australian treesisters gathered at the beautiful project of treesister Joy Foley. Peace Valley is a deliberately simple bush retreat in northern New South Wales that offers people a nature-connection experience in stunning surrounds. There are no walls, no paved roads, no fences, no houses in sight, no plumbed water, no grid power, no flushing toilets, no wifi and no mobile reception. But there are rolling golden grasslands, interspersed with verdant swathes of olive green eucalypts and a backdrop of deep green-blue hills, birdsong aplenty, a sparkling panorama of stars at night, the peace that comes from no machine noise, and of course Joy and her abundant joyfulness. It's truly a magical place.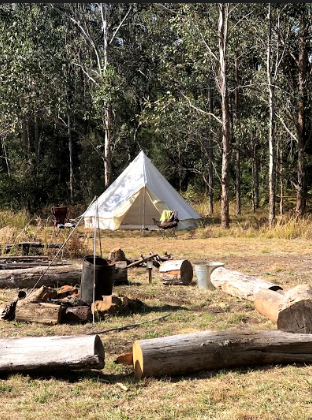 We began the weekend with the Sistering practice that is at the heart of TreeSisters. It's not the easiest thing in the world to hold eye contact with a stranger and speak what is moving through your system. Women's courage and willingness to dive into deep work always amazes me. Sistering is challenging, but it's also deeply connecting and it reminds us to make the choice to love, because we can. This simple and profound process led us into easeful relationship even though we'd come from all over Australia. Some of us knew each other a little from online contact within the TreeSisters network, some were new to TreeSisters and some had come with friends.
During the weekend we sang, we wove with natural fibres, we planted baby trees into Joy's TreeSisters spiral, we voiced our grief, rage, fear and emptiness, and we ate spectacular organic food!
There were moments during our time together that were so intensely beautiful that everything seemed to flow in slow motion. Before our baby trees went into the ground, we each held a sapling in our hands, feeling for the new life and where it might like to grow. Joy led us slowly and silently around the spiral of existing trees. At one point I looked behind me to see a snaking line of women of diverse ages and backgrounds, the bright colours of their clothing moving through the landscape. Each nursed a baby tree and stepped slowly together in the bright sunshine, like a procession of tree priestesses arriving in a natural temple to hope and the future.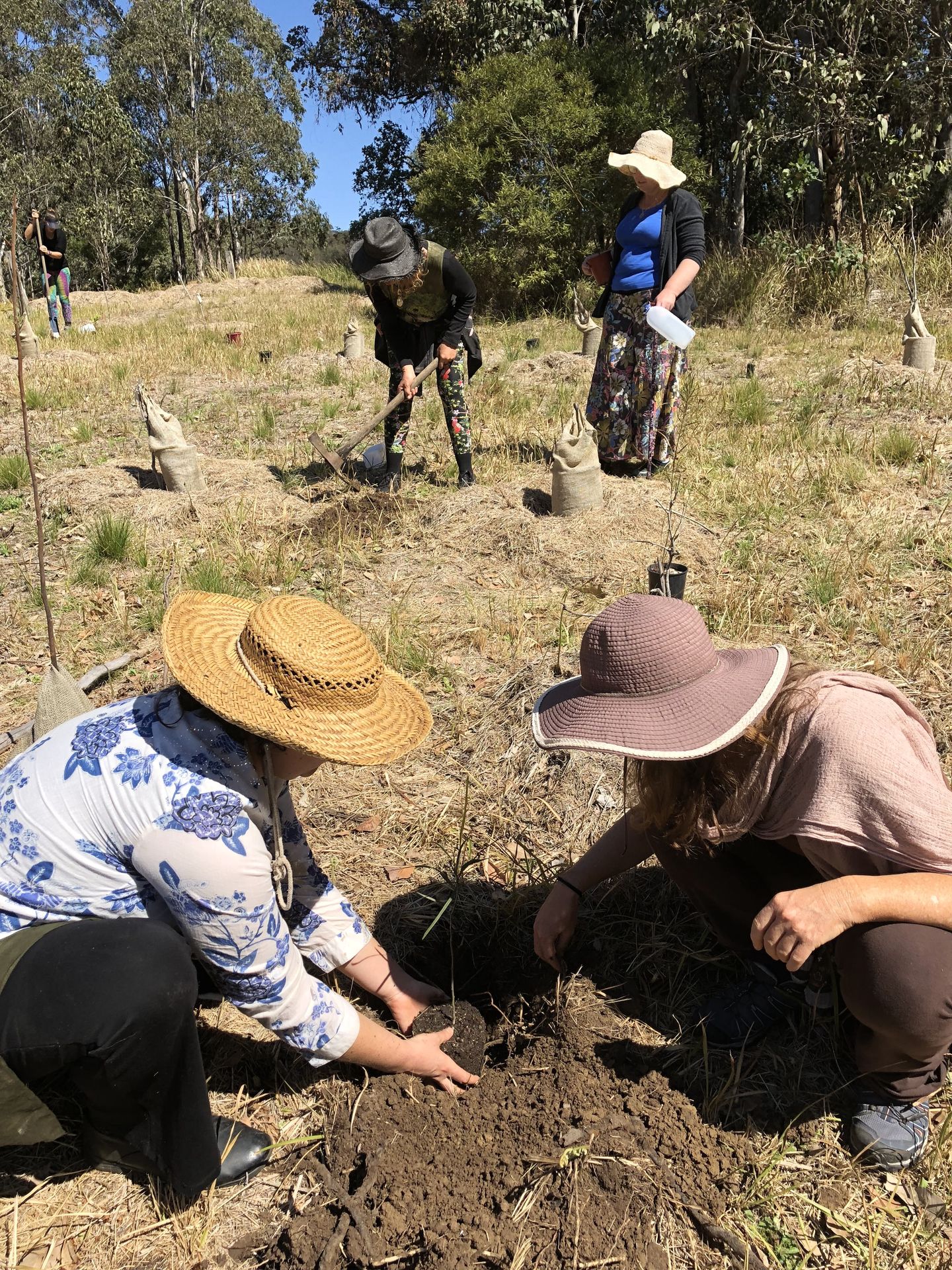 On Saturday, when the rains broke, we gathered at Peace Valley's Truth Mandala - a large stone circle marked out on the ground, designed specifically for Joanna Macy's Work That Reconnects. The process we participated in is about hope; without hope we would not come together. Those who felt drawn to, spoke, wept, whispered and roared their grief, fear, anger and emptiness for our planet into the circle. To be free to express what we so often suppress, witnessed by women who are choosing to love (because they can) is potent and deeply moving.
On Sunday night we sang. The stars hung low and bright overhead, a welcome sight after 24 hours of steady rain. The fire glowed orange and red, throwing off sparks and highlighting the dark outline of many women swaying in circle, singing, drumming, voices raised, breathing together into songs shared. The unity of our voices felt timeless, as if ancestors gathered with us, willing us into deeper connection through the power of sound.
We need these activities of common unity that defy background, conditioning and circumstance. Our voices carry a magic that cannot be defined by logic and reason. Women have been singing together since humans found voice. Our voices and our songs hold medicine that not only heals and empowers us, but also nurtures the places on the Earth where we sing.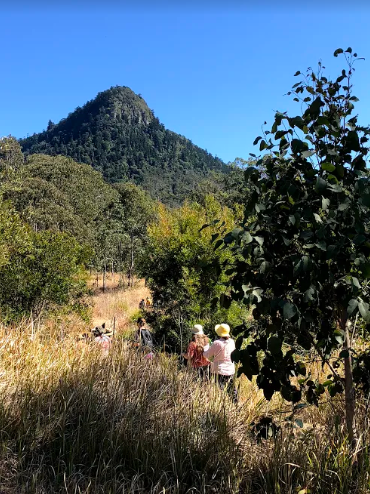 These experiences are indelibly etched into my memory: magical, transformational and very beautiful.
Present also was the shadow of sisterhood. When women come together, along with our love and our courage, we bring with us all of our conditioning to compete, to judge, to shame and to withdraw into not-enoughness. Patriarchy has trained us to separate from one another, so that we cannot feel the power and strength of our unity. We've been conditioned to dull our shine, to fear speaking out, to turn away from anger, to be nice, and to label strong emotion as instability. These are all lies that keep us from rising together in service to life, yet they are present.
It's a big deal to come together with around 20 women you've never met, join in with group activities, navigate around one another in cramped conditions (because of the less than perfect weather), and manage the wounds that can be triggered. My personal experience of the weekend was a combination of awe, wonder, deep love and internal struggle. The truth is that, like everything in life, nothing is all beauty, all love or all marvellous. And that's completely OK, because the wounds that well up in the face of sisterhood are ready to be loved and transformed. They are calling us into all of who we are, both individually and collectively. Can we rise to that challenge? If our gathering was anything to go by ... absolutely we can!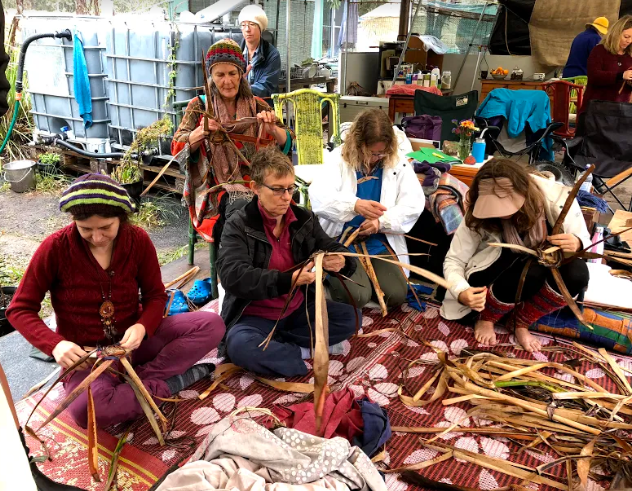 I want to bow down to each of us for not only weathering the wounds, but also for being willing to dive in, even when it's uncomfortable. We need to normalise our discomfort so that we can keep coming together, keep weaving the bonds of connection and unity, keep inspiring each other to shine and to act for the planet that nurtures us all. Our collective courage and creativity will change the world.
One of the beautiful and brilliant things that has come out of the weekend is that many of the women who came feel inspired to bring women together in their area, and/or participate in a TreeSisters Grove. That is a thrilling outcome.
If you'd like to start bringing women together where you are, we have a wealth of excellent resources to support and encourage you through our Groves program.
Photos and Story by Pollyanna Darling
---
Pollyanna Darling ~ TreeSisters Community Engagement & Strategy. TreeSisters holds a piece of Pollyanna's heart and she has been involved since it was a tiny seed. Pollyanna is all about living a fulfilled, joyful life. She's an intuitive coach, mother of four boys, award-winning author, singer, passionate Earthlover, women's empowerment facilitator, and loud laugher. All of her work is focused on helping women to make strong connections to their empowered wholeness so they can live deeply satisfying lives and create their deepest longings - always with an eye on sustainability, unity and giving back to the Earth. She is dedicated to helping women live bigger and have significant impact on the future of our planet and the one people that inhabit it.

Read more blogsLearn more about TreeSisters