West Papua: Yapen mangrove restoration
Introduction
Eden Reforestation Projects helps the village of Ansas replant the mangroves in its vicinity. The project addresses both poverty and mangrove restoration together. Addressing poverty and restoring mangroves will over time retroactively influence positively one another. Healthy mangrove forests will provide an abundance of life and fisheries resources. The Ansas community will in time be able to build a different relationship with their mangroves, improve their livelihoods, and plan a better future.


Rationale:

West Papua's mangroves are a highly productive ecosystem crucial to the nutrient dynamics in the coastal areas, which are essential to sea life. The loss of these intact ecosystems has significant negative effects for fisheries.

Mangroves are an effective and cheap Nature-based protection from the impacts of typhoons and tsunamis for vulnerable coastal communities. Indeed, in Autumn 2017, Eden Reforestation Projects started to replant mangroves in the nearby island of Biak at a location that had suffered a terrible tsunami in 1996.

West Papua's mangroves are some of the most biodiverse mangroves in the world. They form part of the coral triangle — a roughly triangular shaped area of tropical marine waters in South East Asia. West Papua's mangroves contain ten endemic or near-endemic bird species

. (1) Many migratory birds depend on them for their migratory journey.

Mangroves are carbon-rich, hence

crucial for climate mitigation. Mangroves hold a high carbon content that can be found in the soil. A study across the Indonesian Archipelago shows that mangrove trees at Bintuni in West Papua hold 232.6 tC per hectare which is similar to carbon content of tropical land-based forest trees which hold from 200-300

tC/hectare. However, the mangroves at Binturi holds 1014.8 tC per hectare in the soil. That's about 5 times more than in the trees

! (2)

And yet, the mangroves are under threat from industrial businesses (oil, gas, charcoal, wood, and palm oil). They are also facing pressure from the local people and communities yearning for increasing their livelihoods. Local people and communities clear mangroves to make space for building larger houses, for farming and trading, as well as to make charcoal.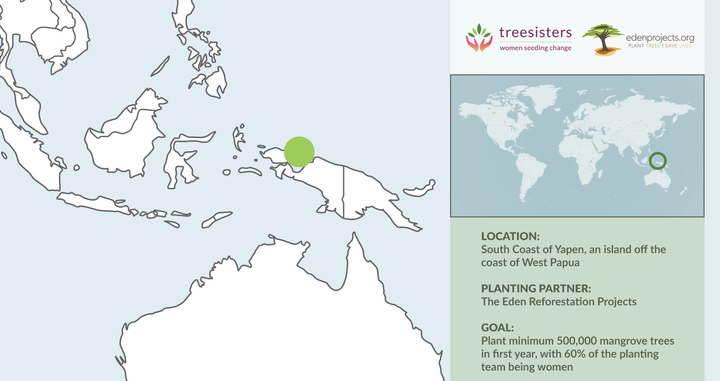 Location

About 3,000 people (3) live in Ansas, a village off the South coast of Yapen. Yapen is an island of remote West Papua. (4) It is only accessible by ferry or plane from other regional islands. It is about eight hours away by motorized canoe from Serui, the capital of Yapen Island.




The people in Ansas
The Ansas people primarily make their living as farmers, fishermen, gatherers and hunters. Women, in particular, feed the family from resources from mangroves such as crabs and shellfish they collect. They live in stilt houses without electricity or running water. The Ansas people are disenfranchised tribal people who have been discriminated against by other non natives. They have a distinguished identity in Indonesia and speak the Ansas language, which has been handed down through generations.

State of the Ansas mangroves
The villagers have traditionally used mangrove wood as a building material or for cooking. And over time, the village has partially expanded on their adjacent mangrove area due to population increase and the need for space. Despite a one time replanting effort led by the Indonesian Department of Forestry in 2015, large areas still remain available for mangrove rehabilitation in Ansas.
Project approach
While mangroves are protected by Indonesian law, this is rather hard to police and it is difficult to apply the law where mangroves are the main sources of subsistence survival for adjacent poor people and communities.
Even if they know how destructive it is, they may not be able to think about mangroves preservation. Local people and communities might just sell mangrove lands to investors in fisheries, oil and gas, or for rice production, in exchange for increased nutrition and health care or the construction of a school.
A multifold approach is necessary to address the nexus which exists between poverty and deforestation. It all starts by employing people to plant. Employees will earn a regular income to replant the mangroves, which will benefit the whole community. Then it is important to find ways to reduce fuel wood consumption and ways to create a circular economy linked to the mangroves. The problem of deforestation will neither be solved overnight nor by replanting trees only.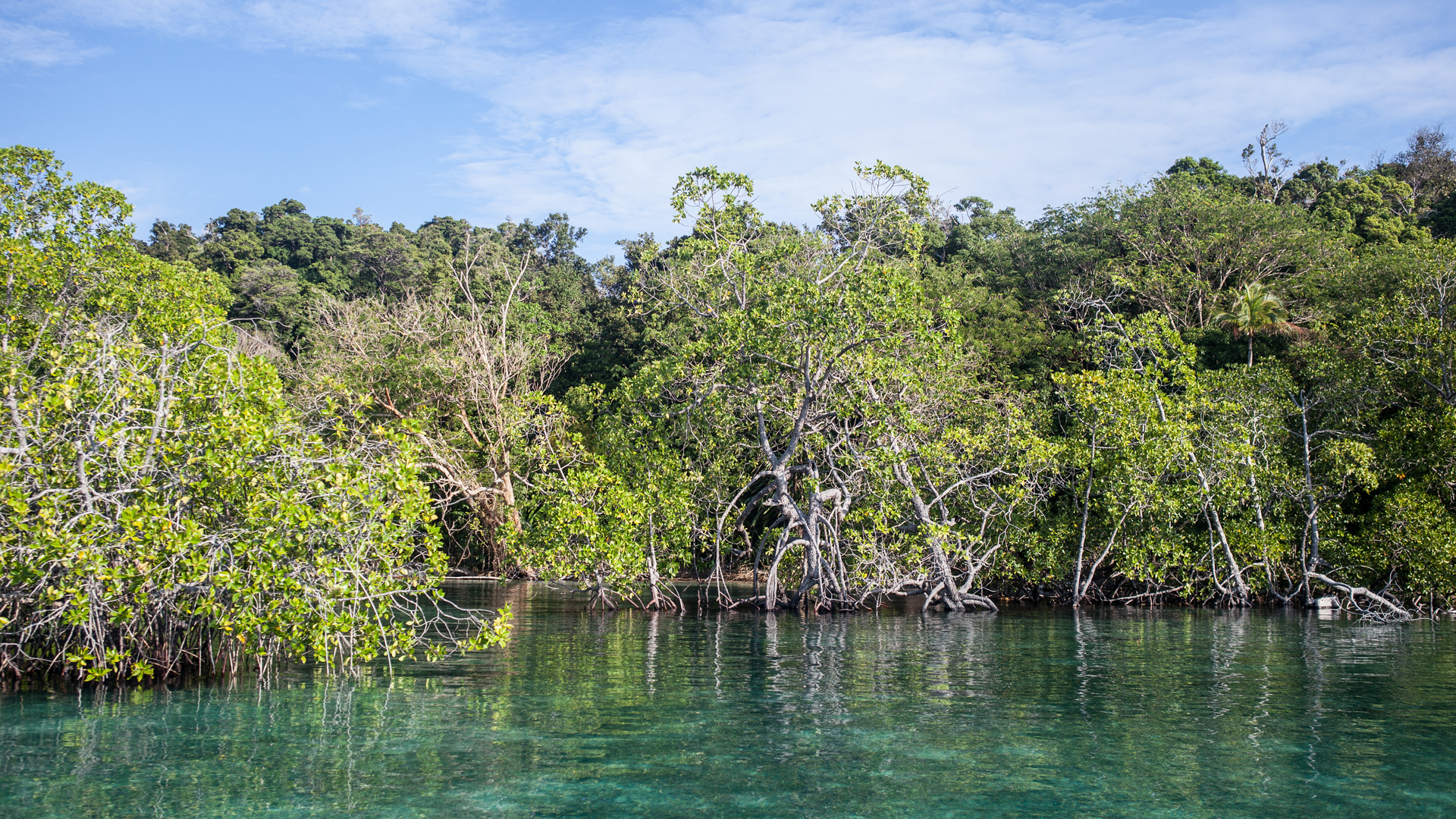 Project details
The Yapen Mangrove Restoration Project began on December 1st, 2019. A minimum of 500,000 mangrove trees will be planted the first year. The project will also be planting at least 10% agroforestry trees (5) beginning in the second year, to take the pressure off the mangroves.
Planting will occur on land under communal ownership with 22 employees chosen among the local community. Eden Reforestation Project has already identified a first site that requires an estimated 1 million mangrove trees, covering about 66 hectares.
This project is carried out by Eden's local director, Jesse Willem, who is Indonesian. Jesse has been working with Eden Reforestation Projects to engage coastal Indonesian communities in reforesting their land and started working on Biak island in 2017.
Potential co-benefits of the project are:
1 - the possibility for these families to send their children to school through increased income;
2 - the opportunity to create microenterprises from savings generated;
3 - enhanced stewardship;
4 - improved fisheries;
5 - enhanced biodiversity and wildlife;
6 - increased resilience against storms and flooding events.
The project aims to financially empower women with a set goal of a female-to-male planters ratio of 60% and will attempt to increase women's leadership in a community where women are mainly involved in domestic matters and excluded from decision-making outside the home.
Restoration method
The work consists of collecting and planting suitable propagules in small degraded patches and larger deforested zones. It involves only replanting native mangrove species commonly and historically found in that area.
There will be a contractual commitment between Eden Reforestation Projects and the village council to care and protect the trees under perpetuity--hence cutting down trees and charcoal production will be prohibited in the mangroves.



Project activities
The following activities will take place over a 2-year period:

Meetings to mobilize and identify leadership in a participative manner according to the customary rights. All community members including women are invited.

If possible, conduct and provide a representative study relating to baseline socioeconomic and environmental traits which are common throughout the region's coastal communities.

Selecting and designating planting teams and planting locations. Training on propagule selection, how to sort and store them by species, how and where to plant different species, and how to monitor the planting sites.

Collecting and planting mangrove propagules.

Restoration work follow-up.

Replanting dead propagules when needed.

Entrepreneurship awareness/education workshop meetings with communities.

Guarding of restored forests.


By Lauriane Cayet-Boisrobert TreeSisters Reforestation Director
Images by Shutterstock


Support this project
If you would like to support this project, and our other planting projects around the world, please step in as a monthly member. Every contribution makes a difference.
---
Footnotes:
(1) World Wildlife Fund. "Southeastern Asia: Western Coast of New Guinea | Ecoregions | WWF." Accessed December 13, 2019. Accessible here.

(2) ResearchGate. "(PDF) The Potential of Indonesian Mangrove Forests for Global Climate Change Mitigation." Accessed November 22, 2019. Accessible here.
(3) ResearchGate. "(PDF) Report on the Ansus Survey West Yapen Island Papua, Indonesia." Accessed November 22, 2019. Available here.

(4) West Papua is New Guinea's 2 westernmost peninsulas and the smaller islands around them.

(5) Agroforestry trees provide firewood, fodder for animals, small fruits, construction materials.