What can a flower do?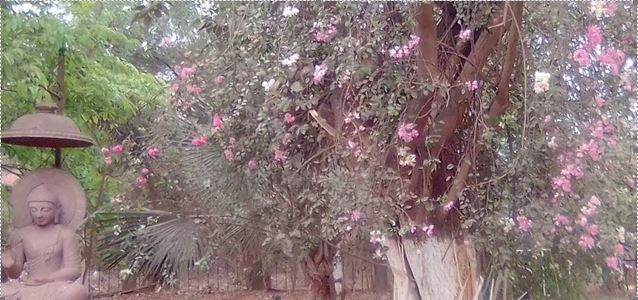 It's springtime in India, and as I look out of my house, I see trees laden with flowers, as you can see my view above. As a child I was given this question to ponder: What can a flower do? All around me in churches, mosques and temples I savoured the aroma of jasmine incense, lavender oil and sage smudges that spontaneously remitted stress. Having inhaled the aroma, I came out reinvigorated with more clarity of thought and better focused on the present. I remember the words of my grandmother who told me, "Never underestimate the power of the flower. It has always been mightier than the sword. A flower can not only heal one, two, or three people, but a whole country of people and more."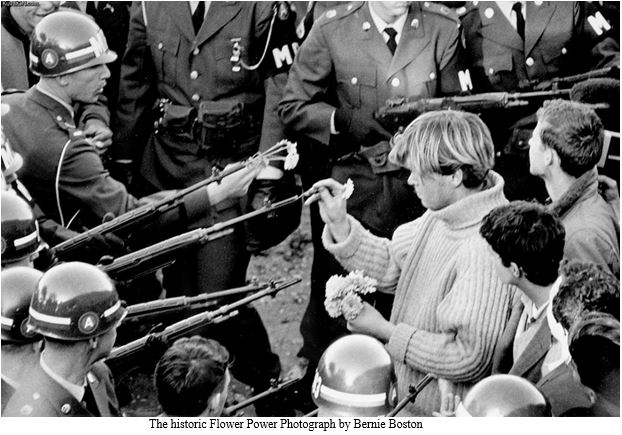 These words turned into reality when I watched the November 2003 Tbilisi's Rose Revolution which peacefully healed Georgia with another government. As I grew up from kid to a man, I started questioning if it took more courage to stand in front of the barrel or behind it? To answer to this question, I looked to The Father of my Nation Mahatma Gandhi, who said: "In front of it to prevent it from killing lives." But my peers and the world around me asked me to toughen up, be a man, stand behind the barrel and shoot.
Being born into a family of tree-devotees and tree-healers, since childhood I was taught the values of protecting and preserving the earth, the trees, and all of life - just as my Mother did. I realised that carrying these values in me made me no less a man than my peers, but my peers thought otherwise. As I entered university to study law, I was surrounded by peers who ridiculed my idea of "Mediation" as a career, calling it 'soft law', not for the 'man'. I told them I wanted my cases to be a win-win, but my man friends said honour lied in winning and defeating the other party.
In 2017, I was led to TreeSisters, and the informal man wing of TreeSisters called Treebrothers. Recognizing that I was not alone in the movement to disseminate nature centered wisdom, especially as a man, I courageously journeyed into healing the world using aromatherapy and mediation, integrating essences of flowers and herbs in family dispute resolution sessions. Thus my institution "Lawromatherapy" was born. I witnessed that incorporating herbal and floral essences into our lives could relieve us of anxiety, hypertension, constipation, fatigue, grieving, infection, pain and spiritual distress, amongst others. These benefits of flowers and herbs are well supported by clinical research (for which you may refer to resources mentioned at the end of the story).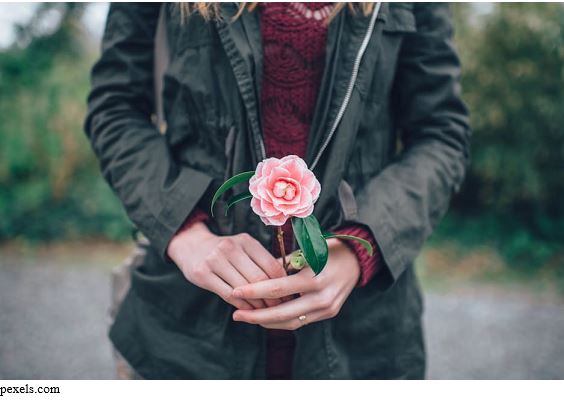 Flowers and herbs in our lives work wonders to help us cleanse the heart, de-addict the soul from nicotine, help treat depression, melancholia, stress, anxiety, fatigue, grieving, infection, pain and spiritual distress, amongst many other ailments, through reconnecting us with the healing power of nature. As a Lawromatherapy Practitioner, I have successfully treated disputes between married couples, and helped resolve toxic male egos that are destructive both to the woman and man. In one case, a woman observed her husband take up the habit of smoking, with more and more cigarettes being smoked each day. When the woman protested, the man often slammed the door on her and went into the bathroom without responding. The woman visited me to understand how she could take legal action against this cruelty of her spouse. I invited both to a Lawromatherapy session with me.
The first thing I got them to do was sit together in the patience room (not patient room) for a little less than half an hour with a Lavender aroma. Then I met each one of them alone in my chamber to connect with them. What I learned from the man is he had taken up the habit of smoking to fit in with his 'masculine' peers, and had been 'manned up' enough not to communicate this emotional phenomenon to his wife, for fear of being labeled as emotionally vulnerable. Hence, he felt it was better slam the door on her than cry before her. I communicated this sensitively to the wife who was moved to tears. I informed both of them that the husband's behaviour could be interpreted as cruelty in the law, but resolution of the behaviour and restoration of the marriage was a better solution. This would require intimacy between them and a catharsis of releasing the man from the cobwebs of false manhood. They would need to tap into their combined strength in their bond, rather than give into the external forces that were weakening it.
In this session, I helped the man to release his pent-up emotions before the woman, by slicing onions in my chamber - yes onions literally - till he could cry without the aid of the onions. The session ended with inhalation of marjoram aroma to bring the clients to calm. I also prescribed Angelica root to the man to help him quit smoking, and educated him on cruelty and mental harassment in the household and the workplace, besides empowering him with legal and aromatic remedies he may take to deal with his male peers. Today these clients are empowered, more clear and confident in their lives. I am still connected to them and feel deep joy in creating a win-win for all stakeholders, including me.
Healing lives with essences from herbs and flowers, I keep on answering to the world "What can a flower do?" The answer as I know now is simple. In the words of the erstwhile U.S. first Lady, Lady Bird Johnson:
"Where a flower blooms, so does hope".
Article and photos provided by Soumitra Subinaya
Resource: Clinical aromatherapy: Essential oils in practice" by J. Buckle and International Journal of Aromatherapy.
---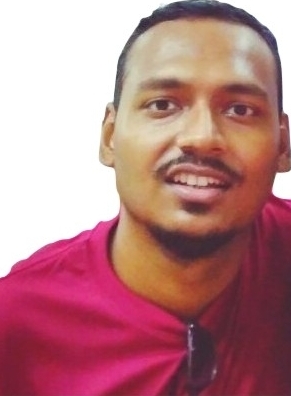 Soumitra Subinaya is a legal professional in India who has experienced that narratives can change destinies, just like two narratives changed his: "Liaofan's Four Lessons" by Yuan Liaofan and "The Heart of The Labyrinth" by Nicole Schwab.
Belonging to a family lineage of tree-devotees and tree-healers, and a part of Treesisters' informal "Treebrothers' Wing", Soumitra has interest and practice in areas of integrating narrative medicine, herbalism, mediation (in family disputes) and environmental law jurisprudence. He completed B.A., LL.B. from National Law University Odisha.
As a "Creative and Contemplative Thought Artist", he is always on the lookout for imparting therapeutic education by means of practicing law, singing, acting, narrative medicine, teaching and so on. His latest social enterprise is on www.harmonynegotiators.ga