What's Your TreeStory Campaign
Ward Serrill, is a TreeBrother who has helped establish TreeSisters in 2011. Here he speaks about his work with Trees.
As I rounded the corner of the building and could clearly see the full life force and figure of the Madrona tree, green leafed and rounded against the twilight sky, I felt a tingling all about my head. It felt that what I was heading to meet had instantly reached out to meet me hundreds of feet away.
Perhaps this explained the experience of the past two mornings as I woke to an image of this tree and a feeling that it was waiting for me. Some people consider communication with a tree nonsense, while others can attest to the reality of a presence amidst them. I am of the latter camp. Trees have always spoken to me in feelings and in a grounded calmness that envelops me when I am among their company. I have always, no matter where I have lived, become friends with one tree in particular.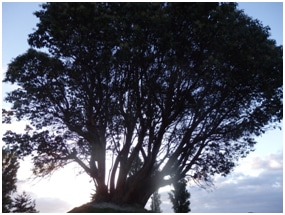 This large Madrona tree in Port Townsend, Washington will be my companion for the next 30 days—at least two hours a day leading up to a full 24 hours in its limbs. I will be taking a journey to explore the depth of what a tree is and what I will become in it. Why? My first answer is I am doing this simply as a profound act of love towards nature and trees as nature's doorways. I am doing it to deepen my own innate relationship with trees. And I am doing it to inspire a worldwide conversation and sharing of tree stories. Can sharing of tree stories help save the planet? My answer is yes!
And that is at the heart of TreeStory a series of dynamic tree-inspired films that aim to awaken a deeper care and appreciation for trees. We have created three films so far and have just launched a campaign to create the next five. Before we are done, we will amass a library of hundreds of tree films from around the world.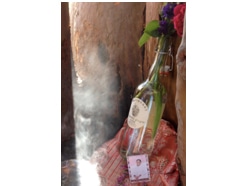 Tomorrow morning begins my 30 days in the Madrona. Tonight we are doing a ritual to bless the tree, to cleanse my heart, to clarify my intentions and to welcome the magic. With my friend and Medicine Sister, Jo Croft, we prayed and circled the tree three times speaking of my intentions and asking its support to help inspire tree awareness and more conscious relationships with trees around the world. We established an altar in its base and burned incense, mugwort, sacred copal and palo santo from South America and offered a mixture of tobacco, coca leaves and corn meal along with flowers, feathers and a photo of Amma all to establish me in rapport with the tree and offer the journey over the next 30 days to service and love. Jo sang and a crow came to visit and the duet was gorgeous.
This Madrona is a special medicine tree. It has a bowl of 12 trunks that rise to the heavens. Its leaves make magic of the wind and its multi-colored bark sends my eyes into ecstasy. I sink my roots down, prepare to slow down and to get down with my new friend, this Madrona tree over the next 30 days.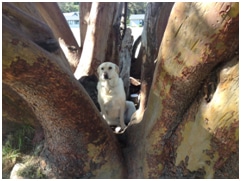 Dolly the Madrona Tree Dog
I am a deep fan of TreeSisters and the vital work they are doing inwardly and outwardly in the world. I ask each TreeSister who reads this, to choose a tree and commit to notice it over the next 30 days. Visit it if you can every day for a bit. Develop a relationship or a deeper relationship to it. See how it affects your life. Take the journey, befriend a tree now. And please follow along on my journey with the Madrona.
---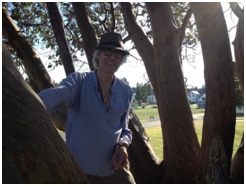 Ward Serrill is an award-winning director of The Heart of the Game, released by Miramax to wide critical acclaim and which Ebert and Roeper called "an Oscar level piece of work." He has created more than 90 short films including Building One House with Robert Redford and Wild America with Sissy Spacek.
He produced and directed 50 films for Paul Allen's Vulcan Productions in Seattle on education reform and Something in the Water a documentary on Seattle's music scene for PBS. His feature documentary Song of the New Earth: Tom Kenyon and the Power of Sound is in worldwide release. He is currently working on TreeStory a Web series devoted to humanity's relationship to trees and Catching Fire about Peter Scott, inventor of a cook stove to save lives and forests in the developing world.
What's Your Treestory Campaign
---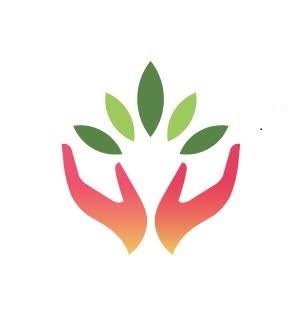 Join the TreeSisters community
We are a social impact initiative exploring the role that women can play in rebalancing humanity's relationship with nature and trees. We inspire feminine leadership, behaviour change and crowd-fund tropical reforestation. To give monthly and become a treesister, please visit: treesisters.org/home/join

Read more blogsLearn more about TreeSisters