What's Your Favourite Tree?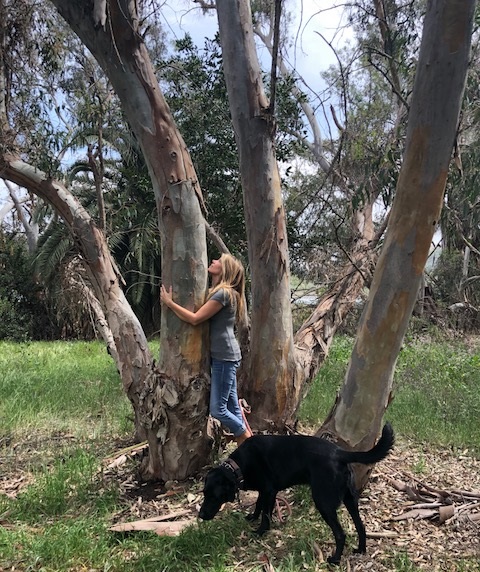 Trees stand at the heart of all that we do at TreeSisters - not only because of their ecological benefits, but because of the way they nourish our minds, bodies and souls. Research is proving just how much forests relax our nervous systems, alleviate stress, and increase happiness. Trees serve us in so many ways, both practically and spiritually, no matter where we come from in across the globe. When we feel ourselves as one with them, breathing life into one another, we open ourselves to the ancient ways that we women have received the Earth's blessings, and how we can serve the Earth in return.
A treesister in our community has created a beautiful relationship with a very special tree in her life, who she calls Hilda.
"Finding Hilda has been a gift of a lifetime. She is my ultimate mentor channeling the wisdom of the ages through my head to my toes. I know I would not have recognized her for the goddess she is had I not stepped into circle with Clare Dubois and the global grove of Treesisters. When a woman awakens her wild soul, she in an instant remembers her intimate place in the web of life and sees brothers and sisters in all beings, may they be winged, or hoofed, branched or tidal – we are one. Trees, our most steady and enduring partners in life, not only collaborate to metabolize carbon into air but they remind us to authentically connect while reaching for all that is possible. So now as I take this step to initiate fully into my place in the wild, I prepare to form my own circle grove of women with Hilda as our elder and ultimate teacher. I thank her for her patience, endurance, resilience and faith in me. My kiss, which she holds on to day after day, tells me she in turn is fed by my love. And so, we do the work of loving our home and all of it's creatures – together..."
~ Lori Wallace, treesister, USA
---
This Earth Day, we'd like to invite you to tell us about your favourite tree. What kind of tree is it, and where could we find it? We'd also love for you to take a photo of yourself with your arms wrapped around it, just like Lori's photo! You can post your photo as a comment on this blog or on your Facebook page with the hashtag #iamatreesister. You could even write your favourite tree a love letter to go with your photo.
Thank you for being a treesister, and for opening your heart to the trees.