When the courage to shine gives its gifts
There is a story that goes with this video and it is acutely vulnerable to share because heaven knows, women are not supposed to shine. That is exactly why I'll share it...
I asked for the privilege of opening the Emerging Women Live conference in Denver last year - because I feel so passionately about deepening relationship between women and shifting consciousness to call forth the best within and between all of us. I was granted that privilege which was amazing. And - I am terrified of public speaking. No-one knows that by watching or listening to me - but I am. I get sick before hand, am in fear for days before and have only just mastered letting go of the podium and walking around on stage!
I also dress down. I always have. With an allergy to standing out or drawing attention to myself (whilst 6ft tall and blonde that might seem ridiculous) but like so many, many women out there, I have not wanted to be centre of attention for fear of attack.
An hour before going downstairs to do this opening, I was in the shower trying to figure out what to wear. I was fighting with the part of me that wanted to wear a brown shirt and jeans to be comfortable and feel like myself - because another part of me wanted to try on what it would be like to dress up and celebrate being a woman in public rather than trying to hide whilst on stage.
As I washed my face I had a realization. The Goddess lives within every woman, and we can try to dumb Her down, or we can be walking celebrations of Her. What is more honouring of the sacred feminine, hiding or shining?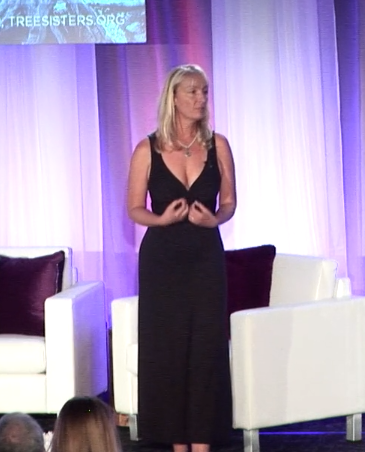 I decided to dress up. I put on the only dress I had with me and went into shock when I saw my cleavage - having put on a considerable amount of weight since it was gifted to me by my beloved Lucy. I stood staring at my breasts in complete horror - could I REALLY go downstairs dressed like that??? In a 'fuck-it' moment I thought YES - how about not being ashamed for once and just celebrating being female as I see so many amazing women doing effortlessly and like breathing - so I headed off down stairs and found everyone in jeans and casual wear looking at me with surprise. I immediately felt like sprinting back upstairs and stripping off back to comfort. I didn't.
Here's the thing. Quiveringly, I got onto the stage and dared myself to enjoy it - to really connect to everyone - to be bold and outspoken and to say it exactly as I wanted to. For the first time, I managed to let go of the podium and walk around without falling over. I shared my own poem and expressed that I loved it. I delivered exactly what I wanted to deliver, exactly how I wanted to deliver it and then went back to sit down.
The woman next to me asked if I wanted to know what her favourite part of my presentation was, and I nodded - she showed me her journal and in it were written the words 'I want to share a poem with you that I wrote - I really like it, and I think you'll like it too' She had plucked the moment when I publicly acknowledged myself as her high point. I was amazed. What if we're longing for those around us to stop self negating and be permission to simply blaze?
What was more amazing though was this. I wasn't tied in knots. I wasn't in my usual contraction of 'oh my god, I should have done this or said that or I'm so crap or...blah blah' I was calm, happy, centered. I was amazed and I got it.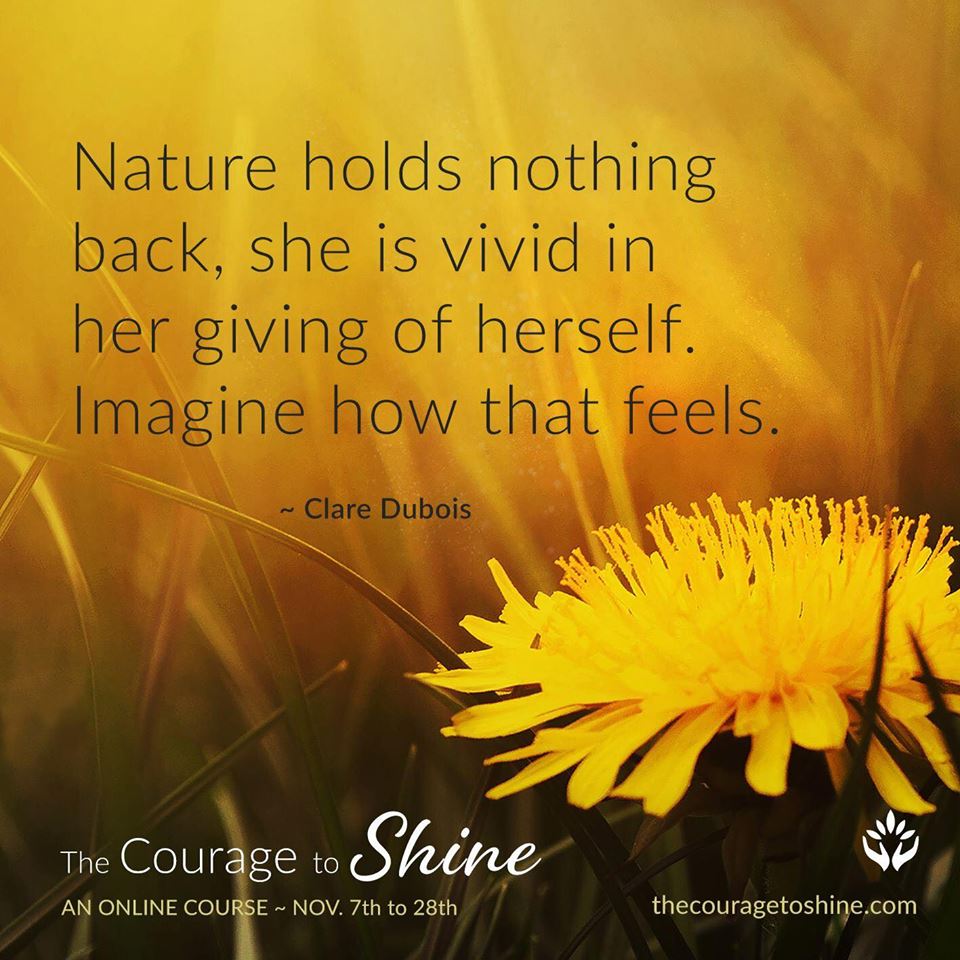 We spend so much time self diminishing, negating our shine, being less than we are in order to make ourselves safe by ensuring that we're not too much for others or seen to think too much of ourselves. It hurts us. It suppresses our life force, it damns our inner rivers and it negates our souls.
For the first time I got on stage and didn't negate myself and for the first time I got off stage not feeling vile as a result. I grew. Yes it's taken me years of contracting to get there, but I got there (in that moment anyway!! I've since experienced the old known Clare, but hey - everything is a spiral:-) and I want to share that.
I want to share what it has taken me to keep trying, keep getting up, keep facing fear and doing it anyway, keep discovering that only we negate ourselves and that life is there like the wind under our wings waiting to show us how high we can fly. I want to share that anything is possible, that the sky is the limit and to share practices and tools that carve that path.
Never in a million years would I have imagined myself doing what I'm doing 10 years ago - but life knows us better and life is not interested in self negation whatsoever.
Really.
This is why The Courage to Shine - the 21 days of inner alchemy I'm offering starting on Nov 7th. I yearn to live in a world of people wildly celebrating the giving of our all - and that means alchemizing fear, lies, false beliefs, shame and all the other crap that we allow ourselves to hold us back, when really it is just fertilizer for our own magnificence. It's time for a profound reframe and that is what I'm about to offer.
So!!
Ready to take another step along side men and women from all around the world? I hope so!
Just join here www.thecouragetoshine.com and start another journey that matters, and we'll also plant 110 mangrove trees in your honour! 20,000 trees and counting:-)
The free intro call is a must for those who like to know exactly what they are about to do and you can find that on the landing page and here.
Welcome to The Courage to Shine