Why Our Planet Needs Circles of Sisterhood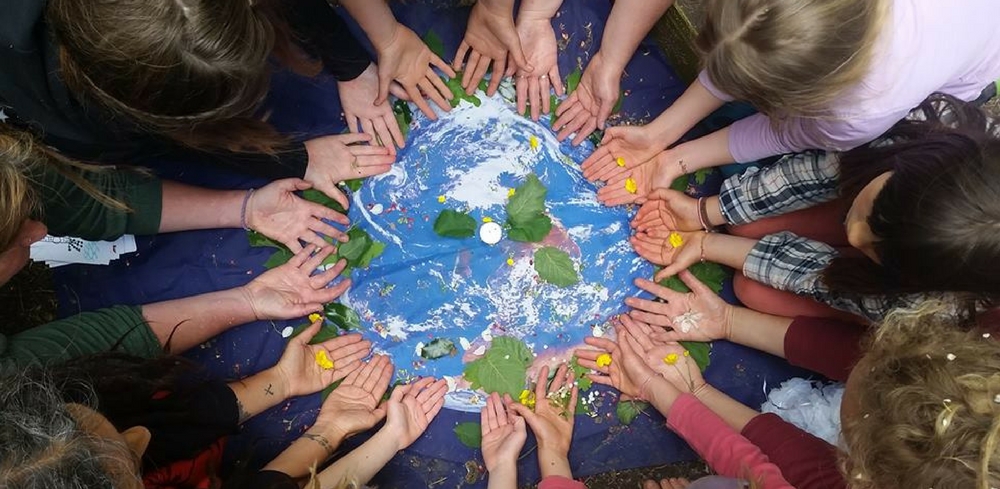 July 4, 2017
The doors to the world of the wild Self are few but precious.
If you have a deep scar, that is a door, if you have an old, old story, that is a door.
If you love the sky and the water so much you almost cannot bear it, that is a door.
If you yearn for a deeper life, a full life, a sane life, that is a door.
Clarissa Pinkola Estés, "Women Who Run With the Wolves: Myths and Stories of the Wild Woman Archetype
I was in a queue in a chemist earlier this week and the woman in front of me asked for castor oil. One female pharmacist said to another, 'that's been taken off the market, hasn't it?' and the other replied with some incredulity in her voice, 'yes, women were taking it to induce their labour'. Whether it is essentially wrong or right to take castor oil to bring on a pregnancy isn't the issue for me, I am sure both sides can be persuasively argued. What my system responded to was an underlying suggestion that women couldn't be trusted to know what is right for them, that they needed to be regulated, governed, kept in check......
Regulating is not a word that I would put next to sisterhood circles, it feels too officious. But in a world where the level of mistrust of feminine power still looms large and predominantly resides in the unconscious realms, I personally do need to seek refuge, recognition and the occasional reality check from the women that I gather in circle with.
Life led me into circle very young.
I was invited into sisterhood very young, born as the youngest of three sisters into a very matriarchal family. From 14 three girlfriends and I would go away for nights together, gathering on one of our beds to read excerpts from our diaries, we'd write wishes for ourselves and the world on bits of paper and bury them in the earth asking life to help them come true. No one suggested these practices, they seemed innate.
At 24 I joined the staff of a very progressive addiction agency where there was an in-house women's group. It was super informal, very low key, and for me a place where I literally lay down and rested amongst other women. On leaving I formed my first peer women's circle with three others. As single parents, we grabbed minimal time together, carving out occasional nights away two or three times a year for many moons. We created our own version of an intensely supportive women's group that carried us collectively through bereavements, divorces, new relationships, job gains and losses, mental distress, huge growth and much much more....
Discovering the safety and the stretch of sisterhood
The women's groups that followed have continued to offer me a rich mix of ease and stretch. The Treesister's adage that 'alone we are powerful but together unstoppable', has played out in front of me, again and again, as I've witnessed countless women feeling held enough to step more and more into the most powerful version of themselves that they can be.
I am under no illusion that gathering in circle is all fluff and light.... For sure this is a sweet element of sisterhood, but alongside the sparkle, sits the reality of our oppression and betrayal which cannot fail to appear, either consciously or through a steady seeping under the back door. As a woman taking her seat to call back the balance between the masculine and feminine in this tumultuous and turbulent time on our planet, I feel committed to honouring the whole of our experience. Not through the drama of the pain body, but through a fierce, compassionate and truthful love. For me the power to awaken a woman out of her conditioning is one of the deepest offerings of a strong sisterhood circle.
Nothing less is needed on our planet at this time
It is not the easiest of paths, but it may well be one of the most rewarding. All of us have scars through our experience of being women. All of us have taken in the belief that we are somehow 'less than' and now many of us are breaking away from the erroneous dogma that we have been fed. stepping back into our stunningly glorious selves at a time in life when no less is absolutely essential. We are ongoingly facing planetary devastation through extreme deforestation, frightening increases in global warming and alarming levels of species extinction. That is why at Treesisters we are calling women to gather in circle now, and are this week launching our own Treesisters Groves network of local women's groups; places where women can relax into wholeness and feel into how their gifts want to be expressed into the world.
The healing and transformation that has the potential to rise up through our Groves network is enormous, and this healing will be for the women themselves and for the world they wish to live in. This wave of energy that we are currently unleashing through the launching of the Groves is indescribably and wildly powerful.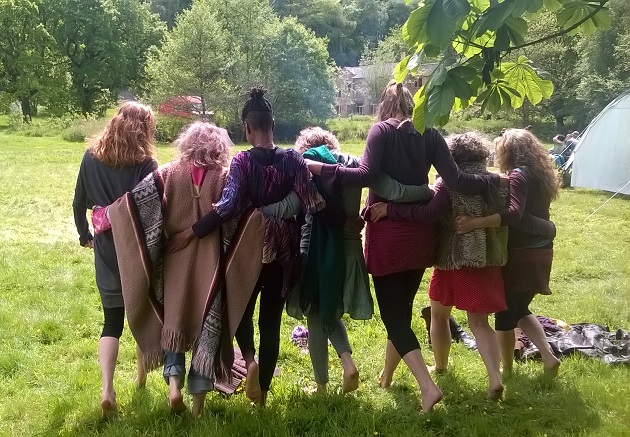 We'd love you to join us for our live launch event on June 27th where Clare, Jenny and Kenya will be diving into a deep exploration of the transformational power of sisterhood circles. Sign up to join us via this link.
By Jenny Smith ~ TreeSisters' Groves Mama