Wild Soul Women (and 39,000 Earth Day trees)
A wild soul woman is a woman
of belly and breath and boundlessness.
She makes her own way through ancient lands.
With soft footsteps, lays down fresh tracks.
Barriers break apart before her.
Instinctively she moves, on fin and wing and prayer.
She listens to the wisdom of stone.
She is the echo of a deeper voice
that speaks from the fiery cave.
She is molten, flowing, shape-shifter.
She is living proof of a language
that banishes all sense of loneliness.
The Earth warms her, welcomes her, enfolds her.
~Mary Reynolds Thompson
More and more, women are hearing the call of the wild. We are longing to listen to and follow the untamed forces within us.
As we look towards Summer at TreeSisters we are thrilled to be offering a soulful journey to support this collective re-wilding process: A Wild Soul Woman. We will gather as a global circle of sisterhood on Tuesday 31st May to begin this adventure with a free initiatory online event and we would love to have you with us.
A Wild Soul Woman ~ Free Online Event
In this free online event, acclaimed author Mary Reynolds Thompson will initiate us into an experience of the five archetypal landscapes of the feminine soul. This journey of soul recovery offers a dynamic pathway for women to reclaim their innate and instinctual wildness.
A Wild Soul Woman explores the ways in which the wounds of the earth are the wounds of women and how by reclaiming our wild souls - our Earth consciousness - we can reclaim our own vibrant beings as we revitalize our planet.
This initiation will also serve as an introduction to our upcoming course: A Wild Soul Women - Journey to the Heart of Your Untamed Self which starts June 16th. We ran this course last year and it was our most successful course so far - we hope you'll join us for the introductory call on May 31st.
***************************************
Earth Day ~ You're planting 39,000 more trees!
This year, the Earth Day theme was Trees for the Earth. We decided to celebrate with a Plant Your Own Forest campaign, to support our efforts to re-robe our planet in green.
Thanks to everyone who supported and contributed to the campaign we will be planting 39,000 Earth Day trees this year in Madagascar. To find out more about where your trees are being planted and how they are supporting local villagers to find their way out of poverty, visit here.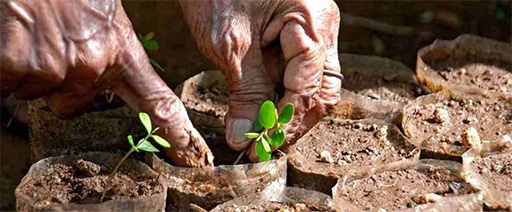 Tree Update ~ How much does it cost to plant a tree?
Thanks to your generous contributions, we have now planted nearly 100,000 trees. As a donor, have you ever wondered how many trees we could plant with your donation?
We would love to give you a simple answer, but it is actually quite complex. It depends on the cost of planting a tree. And this cost per tree varies widely between different reforestation projects.
In this blog, Nicole who is leading our reforestation strategy explores the different factors that determine how much it costs to plan a tree, including; where they are planted, who plants them, the state of the land and how easy it is for the saplings to survive.
You can read more here.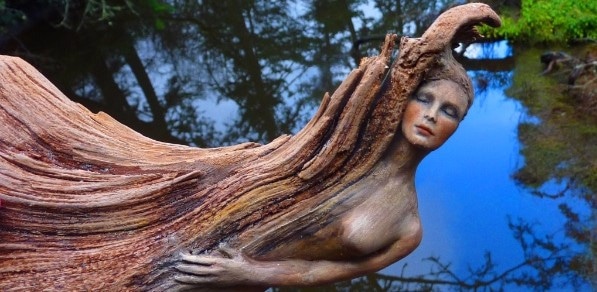 Full Moon Online Retreat ~ Embodying River
This is the final session in Clare's Spring free full moon series to support the collective re-wilding journey that is the fundamental invitation of TreeSisters.
Over the last three full moons, she invited us to explore our relationship with our sensuality (Embodying River) our grounded power (Embodying Earth) and our limitlessness (Embodying Sky) so that we could deepen in our nature connectedness as treesisters.
This month we are returning to the river for more self discovery. Having embodied Earth and Sky - the River has given more of her gifts and we will journey there again together.
Embodying River is about surrender to our own life force - the river of vital energy that longs to flow unchecked through us at all times. This is about bowing to our own mystery - how much of ourselves we feel able to live and embody. This is about letting go of the dams that hold us back and feeling for the river banks of our own clarity that support our fullest expression.
When: Tuesday 20th May
11am PST / 2pm EST / 7pm UK
You can find out more and invite your sisters here
To register, click the button below

*********************************************

New Moon Online Retreat
On Thursday 2nd June Edveeje will guide us on our third journey into the Heroine's Way: When A Woman's Authentic Self Blossoms
Having given our authentic selves the ideal conditions to grow and thrive throughout spring, in June we will turn our attention toward the burgeoning wisdom of summer and the beauty of our unfurling authentic selves.
We will celebrate what has emerged and assess where we are on The Heroine's Way as we prepare for a season of continued growth and nourishment.
(In April Edveeje introduced The Heroine's Way in When A Woman's Sap Rises and in May we explored When a Woman's Desire Sprouts Above Ground).
~ When A Woman's Authentic Self Blossoms ~
When: Thursday 2nd June
11am PST / 2pm EST / 7pm UK
You can find out more and invite your sisters here
To register, click the button below