Your April Newsletter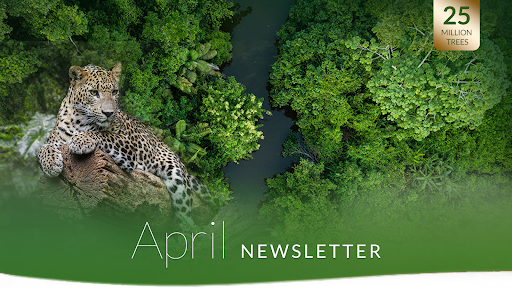 Total Trees Funded To Date: 25,445,684*
We have so much exciting news this month. First up, we want to say a MASSIVE THANK YOU. Together we have now funded an incredible 25 million trees!
This is such a huge milestone, and it feels so apt to have fallen in April, coinciding with Earth Day. We want to express our most enormous, leafiest gratitude to each and every one of you for your support of TreeSisters and the work we do. We know sometimes it can feel like an uphill battle, but together, we are making and pushing for real, substantial change, both environmentally and socially, and we couldn't do it without you. Thank you.
The news doesn't stop there. On the back of this fantastic milestone, and your amazing generosity in previous years, we are absolutely delighted to have been selected to be part of the Big Give's Green Match Fund again. Between the 22nd and 29th of April, any donation, large or small, made to our Protect, Restore, Reforest campaign will be DOUBLED. You can find more details below and please give what you can to invest in our planet this Earth Day.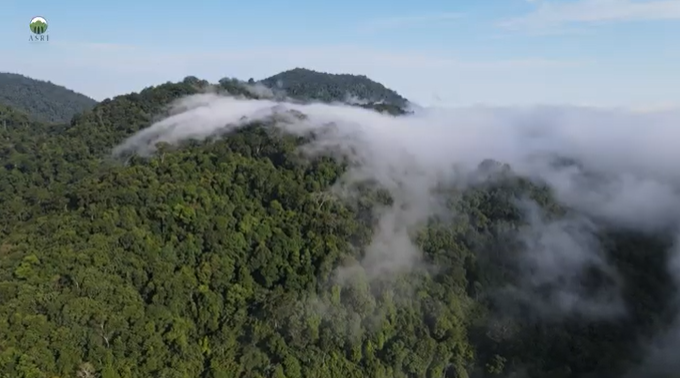 If you needed any more motivation to give this month, check out this short video update, made exclusively for TreeSisters from our planting partner, Health in Harmony, from Alam Sehat Lestari (ASRI) in West Kalimantan, Indonesia. This provides just a snippet of the fantastic work your support allows us to achieve for the local communities, wildlife and biodiversity in these areas. Thank you.

This month, you are invited to…

Starting this Earth Day, the 22nd of April, and for one week only, every donation to our Big Give Protect, Restore, Reforest campaign will be DOUBLED!
We can't tell you how much this means to us (and the planet) to have been selected. This doubles your impact in ethically replenishing the world's forests, empowering women globally, and championing social and behavioural change as real-world solutions to climate change. So whether you're a seasoned giver or have never donated before, this Earth Day is the time to act and invest in our planet.
You can find all the information you need on our Big Give fundraising page, and we will send you a reminder when it's live. For now, please bookmark this page, share with friends and family, post on your social media, shout it from the rooftops… anything you can do to help us reach our goal is massively appreciated. This is your opportunity to do twice the good with one donation.
Protecting, restoring and reforesting our planet is in our hands.



We're taking a break.
No, not from the work we do but from this newsletter. It's only for a few months to ensure that TreeSisters is the very best it can be. That includes providing the most relevant, informative, and engaging news and information possible to help spread our message on behalf of the trees. We would also love your input! So, please, take just a few minutes to fill in this very short survey and let us know what you want to hear more (or less) about and how we can grow and evolve going forward. Your contribution and support are massively appreciated.




Join us for the next phase of The Embodied Forest Meditation series of Full Moon Gatherings.
Having delved into the forest floor in our last series, we will spend the next six months travelling through a tree, leaning into the unapologetic nature of the tree simply being who it knows itself to be.
On the 14th of April, join TreeSisters Abi Denyer-Bewick as we continue this new phase of the series in the stabilising and steadying roots of the tree. Each full moon, be guided through meditations to gather, slow down and listen. This audio-only experience enables you to touch into your sense of belonging, pause, and tune in to the natural world, both individually and in community.



We have many fantastic guests lined up for our Indigenous Wisdom for the Earth series over the next six months. Remember, we won't be able to shout about them here, so sign up to our mailing list and don't miss out.
In the meantime, you can now watch our conversation with Shaman Benki Piyako of the Ashaninka tribe in Acre, Brazil and learn about our food forest there.
We're also delighted to share a bonus conversation with Buena Semilla. This grassroots collective is based in Guatemala and supports marginalised Indigenous and non-Indigenous women and their communities to reclaim their voice, wellbeing, self-authority and self-determination. You can watch both of these inspiring conversations here.



In this blog, we share just some of the incredible co-creative projects that our network of TreeSisters around the world have been producing, including a life-size embroidered forest spotlighting deforestation.

Read more here.
TreeSister Events
Partner Events featuring the TreeSister Team
Divine Feminine Summit 2022

, 18th-30th of April. TreeSisters Founder, Clare Dubois will be contributing to this free summit where women are encouraged to embody their most empowered selves, align with their true purpose, and increase their impact and income. TreeSisters is profoundly grateful to be a beneficiary of their closing ceremony live fundraiser on 1st May. Please find out more and how to book

on their website.
Boomtown Festival

, 10-14th of August, Hampshire, UK. Tickets are now available for this living theatre music festival. The festival encourages everyone in their remarkable community to donate towards their ambitious

1 million trees pledge

in support of TreeSisters.
Did you know, our planting project in Gunung Palung National Park in Indonesian Borneo is home to a nearly complete inventory of all of Borneo's fauna, including many rare, protected and/or endemic species. It is a critical habitat for approximately 2,500 orangutans, with an estimated 54,000 remaining orangutans in Borneo. Also, it contains the headwaters of the region's primary source of drinking water. Find out how your donations directly make a difference in this community here.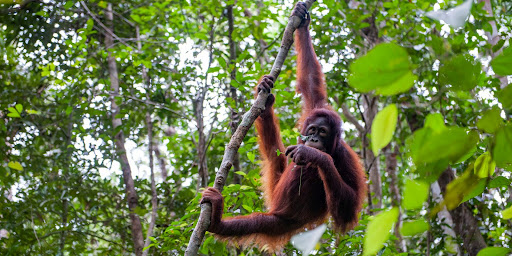 Image credit to
Health in Harmony
Thank you for being part of our community!
In sisterhood and for the trees,
The TreeSisters team