Your Trees ~ Stories from the field
Meet Mayilvaganan, a farmer from Tamil Nadu in Southern India. He is the caretaker of 1,050 of the trees that you have planted, through donations to TreeSisters, by our partners Project GreenHands.
Mayilvaganan is just one of thousands of farmers across southern India who faces an uncertain future. He and his family live right at the coal face of climate change, where climatic patterns are shifting at an alarming rate. The monsoons that used to bless the land have all but disappeared: imagine two years of no rain with forty to fifty degree heat. Twelve major rivers in the region have simply disappeared and as the rivers vanish, agricultural land like that which houses Mayilvaganan's farm is dying.
Farmers like Mayilvaganan and their families are facing severe financial losses and are often forced sell their lands and migrate to cities for labour work. Tragically this is leading to a widespread trend of farmer suicides, leaving wives and children bereft and destitute.
Project GreenHands was born when saplings were gifted to thousands of families who had lost loved ones after the 2004 Asian Tsunami. Through the tending of these saplings the villagers found a place to pour their grief, and slowly but surely a green revolution began…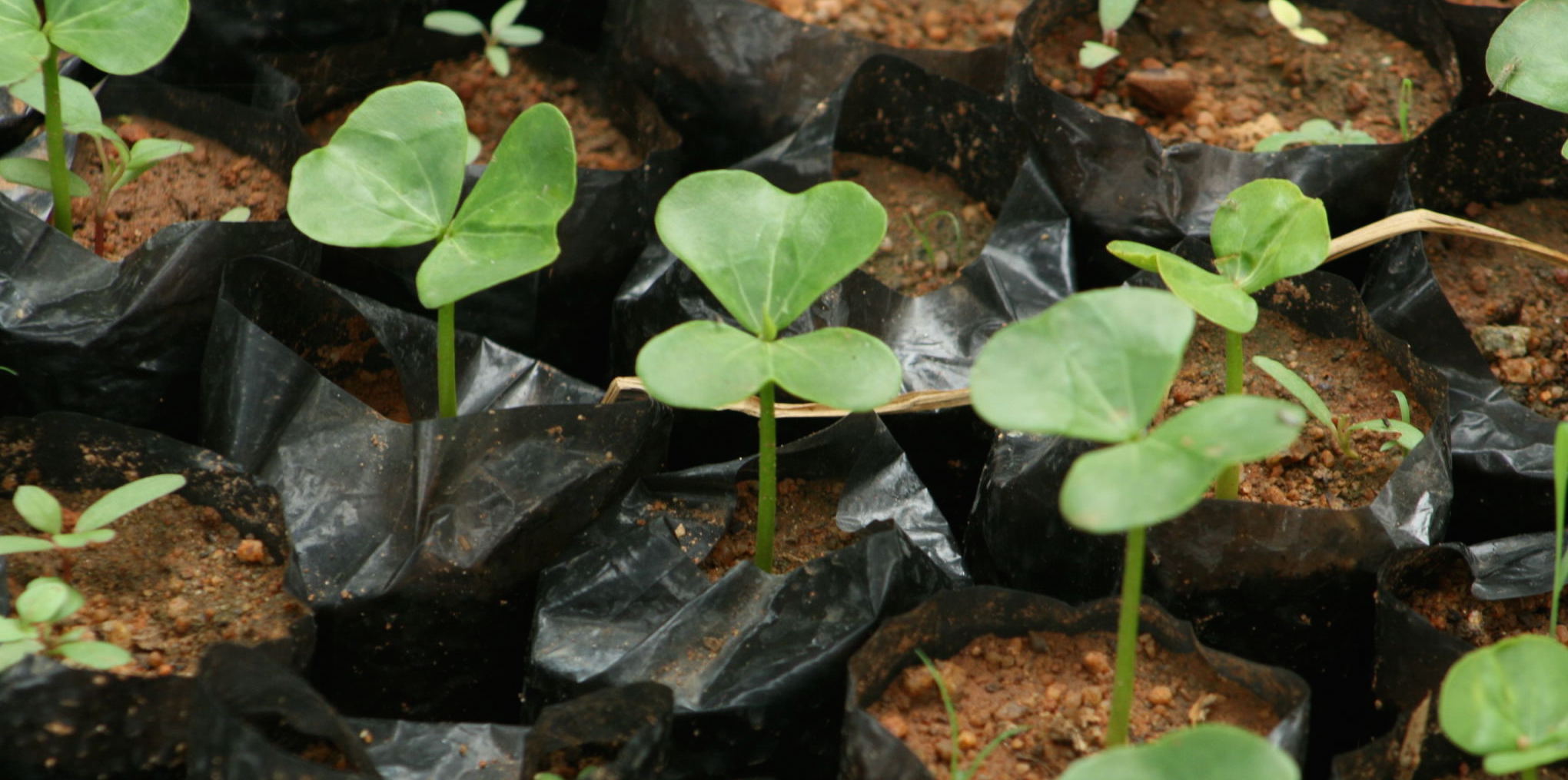 This eventually developed into a widespread 'Agro-forestry' project. Agro-Forestry is not plantation planting, it is the integration of trees into existing agriculture and animal husbandry so that trees become depended upon and so valuable that their replanting becomes inevitable. From just six small villages, the movement has exploded and to date 25 million trees have been planted through millions of volunteers.
Mayilvaganan shares, "I had the thought of planting trees in my farmland, but was not able to success due to water scarcity on our area. The few trees I planted earlier didn't survive the drought condition. I came to know about about the agro forestry model promoted by Project Greenhands.
I contacted them for planting tree saplings in my land. They guided me in pitting, the appropriate distance that should be between two trees, irrigation techniques, water management and mulching. The mulching process helps much in water scarce areas as seen here. With this method the land retained the water and helps in minimal uses of the available limited resources.
After three months they made the follow-up visit and rectified any mistakes that were made and guided on further maintenance of the trees. I was very much impressed by the dedication and commitment of Project GreenHands and its team towards tree plantation in a sustainable way."
We are growing tropical dry evergreen species that can handle drought and produce accelerated growth when water does come. Eight farmers, including Mayilvaganan and his family are care-taking the first 14,551 trees you have funded through your donations, and the next 3,449 TreeSisters' seedlings have been seeded and are growing strong.
TreeSisters is an audacious experiment fuelled by the love and creativity of every-day women. We want to know what becomes possible when millions of women decide to offer their care, creativity and generosity towards the swift reforestation of our world. We invite you to join us as a TreeSister donor today and help us plant millions of trees.