Amazonia Calling - Live Meditation Event with Clare Dubois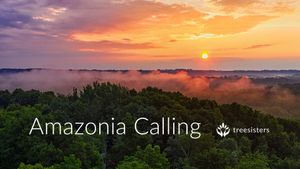 Amazonia Calling - Live Meditation Event with Clare Dubois
September 5th is World Amazon Day, and now 11.11am (every day) has become Amazon Time.
The Ashaninka tribe have requested that prayers be sent to the Amazon at 11.11am where ever you are, so that as time rolls around our world, so does a wave of love for the forests on fire and the guardians under grave threat. These fires are bringing the forests into global consciousness as never before, lets use this moment to grow and spread the love that we have for the forests that we cannot live without and the peoples who steward them.

Join Clare at 11am GMT for a live gathering, to prepare for a deeper drop into togetherness, visioning and prayer at 11.11am. We understand that this is too early for many US treesisters, but feel free to watch when you can and use this at 11.11am where you are.

Prayer and intention are powerful beyond our knowing. Its a way of unifying our hearts and minds towards the world that we long for - one within which all life is respected and cherished and there is a new, reciprocal relationship between humans and nature.

Let's join to call this in, together on Sept 5th, World Amazon Day.