Becoming Nature ~ The Gathering to Embody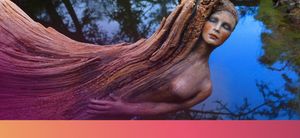 Visit Website
Becoming Nature ~ The Gathering to Embody
17th September / (REPLAY) 18th September ~ You are invited to our Inner Journey of Awakening live call at the time of the full moon.
17th September 11am PST / 7pm UK : This live call is hosted by Clare Dubois, TreeSisters CEO and Founder.

18th September 6pm AEST / 9am UK : This replay is hosted by Pollyanna
To join us: sign up here in advance and details will be sent to your email address: https://treesisters.lpages.co/full-moon-opt-in/
The Inner Journey is a course that is designed to be an empowering journey into the embodiment of your gifts. This course allows you to step into your own feminine energy in service to self, life and the planet. At the heart of the journey is an embodied experience that is designed to help us shift beyond our limitations and into pleasure and flow. It's time to liberate our life force and rediscover our magnificence. With the support of the full moon, we step into sacred togetherness to discover moment by moment what is possible.
Ultimately the work of TreeSisters is to help humanity shift from a consumer species to a restorer species; the Inner Journey is a part of that shift.
This month, in September, we are into Embody.
When we embody our own nature as part of Nature, we can find ourselves woven into creation in a way that brings belonging, comfort, wisdom, peace and strength. We can feel safe in ways that we've never touched before. Reclaiming our intrinsic nature is a homecoming that can provide nourishment on every level. As women with bodies that rise and fall with the tides and the moon, our home is within the nature of our bodies. Join us as we let Nature's voice rise through our bodies, strengthening our instinctual knowing and our capacity to follow that knowing...
The Inner Journey of Awakening is hosted online, free and can be worked through at your own pace. You are welcome to step into this sisterhood at any time. Alternatively, you are very welcome to join in just for the full moon meditation.
To join the live call, on 17th September 2019 at 2:00 PM EDT / 7:00pm UK / 11:00am PDT, you need to join our mailing list in advance by signing up here:
https://treesisters.lpages.co/full-moon-opt-in/
If you have already signed up for previous moon calls, you don't need to sign up again.
We cannot wait to have you join us!