Indigenous Wisdom for the Earth featuring Ann Marie Miller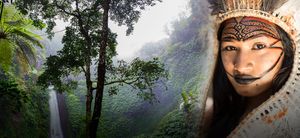 Visit Website
Indigenous Wisdom for the Earth featuring Ann Marie Miller
12th September ~ Preserving the Forest, Celebrating the Culture, 11am PDT / 2pm EDT / 7pm UK
Thank you everyone for reaching into your hearts and opening your minds to the wisdom that is shared on these calls.
In response to the situation in the Amazon Rainforest, we are moving our call up early this month. Our guest is Anne Marie Miller of Indigenous Celebrations. Her group works hand in hand with the Yawanawa tribe. There are many challenges faced by the people of this tribe from having their growing and hunting seasons changed due to climate change to being on the edge of losing their language and culture heritage.
Additionally Anne has been on the ground at a fire in Bolivia. She will share with us why these fires are so dangerous, how it impacts the people and what actions the local villages are trying to take to save the forests.

Protect the Forest; Celebrate the Culture
In this call, Anne Marie Miller and I talk about:
~ Indigenous Celebrations and their unique approach to preserving the Indigenous
~ The impact of climate change on daily life
~ Empowering the Women
~ Preserving the language and the culture
~ Nipei: The Garden of Medicine
~ The fires in Bolivia and what the local tribes are doing (and how you can help).
Sign up to join us here.