Indigenous Wisdom For The Earth Series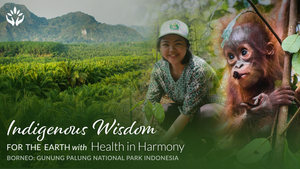 Indigenous Wisdom For The Earth Series
November 19th ~ we will be joined by our new reforestation partners Health In Harmony.

Hear from our new reforestation partners, Health In Harmony, on our Indigenous Wisdom for the Earth series on December 19th.
With Health In Harmony, we are now funding the recovery of carbon-rich Gunung Palung National Park in Borneo, Indonesia, which over time will become a habitat for orangutans!

Join us as Pollyanna Darling speaks with Nur Febriani, Executive Director of Alam Sehat Lestari (ASRI) and Mahardika Putra, ASRI's Conservation Director, both based in Kalimantan/West Borneo. ASRI is Health in Harmony's partner in Borneo and employs 120 Indonesian staff. Febri and Dika shared:
what they both love about and think is really important about the project at Gunung Palung National Park;

the amazing and inspiring story of transitioning illegal loggers from cutting the forest over to sustainable livelihood activities,

the chainsaw buyback program and what ASRI will do with all the recovered chainsaws!

the unique combined health and environmental approach of this project;

the unexpected benefits of Covid-19 provisions, and

the preservation of orangutan habitat, and much more.