Loving Gaia - Feminine Nature Based Leadership Teachings with Cynthia Jurs and Clare Dubois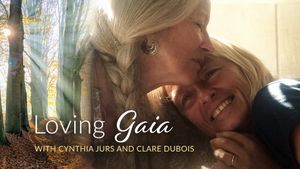 Visit Website
Loving Gaia - Feminine Nature Based Leadership Teachings with Cynthia Jurs and Clare Dubois
Loving Gaia - Feminine Nature Based Leadership Teachings with Cynthia Jurs and Clare Dubois On Jan 22nd you are invited to join an extraordinary conversation. https://treesisters.org/loving-gaia
Loving Gaia - January 22nd
https://treesisters.org/loving-gaia
Loving Gaia - Feminine Nature Based Leadership Teachings with Cynthia Jurs and Clare Dubois

On Jan 22nd you are invited to join an extraordinary conversation.
What happens when two Earth loving, service driven women find each other and realize that they share so much highly relevant life and leadership experience that would be so useful for others? They immediately want to share it.

Cynthia Jurs, whose mission includes the spreading and burying of Treasure Vases as gifts for Gaia's healing, and Clare Dubois, Founder of TreeSisters are coming together to offer their life experience as a gateway into the imagining and dreaming of more feminine potential in this world.

This conversation will touch on their own journeys of finding courage, dealing with the unknown, feeling intimately connected to Gaia, stepping through fear and working with the limitations of the body -- and it will be offered for you, for free.

This first call is also an introduction to what will be a second experience: a transmission and initiation. Cynthia is going to offer an Earth healing teaching to the TreeSisters network in February that will seed a practice to increase our intimacy with Gaia, and help us serve her more fully.

We are planning a global ceremony for Summer Solstice, and this second offering is the foundation for that.