The Australia Spring Gathering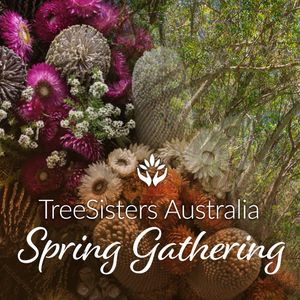 Visit Website
Commonground Cooperative NA, Seymour, Victoria 3660
The Australia Spring Gathering
Nov 22-24th ~ We are thrilled to invite you to our Australian TreeSisters Spring Gathering this year ...
Last year we were in Queensland, this year we will be in Victoria at the beautiful Common Ground venue near Seymour (just over and hour from Melbourne). http://www.common-ground.org.au/venue

Dates are Nov 22-24th in Victoria

Coming together in person to weave deeper connections, spend time in Nature, laugh, share food, be creative, grieve, love and celebrate is so deeply nourishing.

The weekend is open to treesisters and their female friends, aunties, sisters, mothers, grandmothers! Young babies (not yet crawling), and girls 15 and over are welcome.

We are hoping to weave our Melbourne/VIC treesisters community together into something cohesive, active and restorative for its members and country. All welcome (including from other states), however we request that if you choose to fly to attend, you take an action to restore/give back to our beautiful planet.

This gathering is a delicious opportunity to immerse yourself in gorgeous, natural surroundings with a fabulous group of heart-centred, Earth-loving women ... to slow down, put down your responsibilities for the weekend and give yourself the gift of spacious time out.

You can expect hands-on art activity, laughter, singing, a glorious group sound session, walks in Nature, communing with the trees, sistering, sharing fabulous food together and more.

The weekend has been crafted to be a gentle blend of activity, relaxation, connection and spaciousness.

Ticket prices and all the information you need about food and accommodation are here: https://www.trybooking.com/BEYGD

We only have space for 32 women, so please book as soon as possible if you would like to come.