Riding The Wave ~ The Gathering to Activate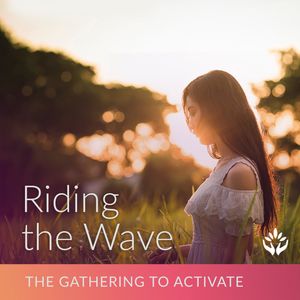 Riding The Wave ~ The Gathering to Activate
15th - 16th October ~ You are invited to our Inner Journey of Awakening live call at the time of the full moon. These live calls are hosted by Clare Dubois, TreeSisters CEO and Founder.
*When*: October 15th 11am PST / 7pm UK
and
*A replay hosted by Pollyanna*: October 15th 9am UK

*To join us*: sign up here in advance and details will be sent to your email address: https://treesisters.org/full-moon-gatherings

The Inner Journey is a course that is designed to be an empowering journey into the embodiment of your gifts. This course allows you to step into your own feminine energy in service to self, life and the planet. At the heart of the journey is an embodied experience that is designed to help us shift beyond our limitations and into pleasure and flow. It's time to liberate our life force and rediscover our magnificence. With the support of the full moon, we step into sacred togetherness to discover moment by moment what is possible.

Ultimately the work of TreeSisters is to help humanity shift from a consumer species to a restorer species; the Inner Journey is a part of that shift.

This month we move into Activate.

How easy is it to let life's waves lift us up and carry us? How much do we trust our own knowing and say yes to our own flow? How often do we ignore the small voice of our heart or the loud call of our body, and how would our lives change if we chose to be true to our own nature? Riding the wave is a meditation of saying yes to ourselves. It's daring to let go of reality for a moment, and simply allowing ourselves to fall into the flow of our own rivers, completely and without compromise! Why? Because our rivers are calling us into fullness, and it's time to explore how that feels….

Join us on the 15th October at 7pm UK time:

To join the call online, you need to be on our moon mailing list. You can sign up to that list here: https://treesisters.org/full-moon-gatherings

The Inner Journey of Awakening is hosted online, free and can be worked through at your own pace. You are welcome to step into this sisterhood at any time. Alternatively, you are very welcome to join in just for the full moon meditation.

If you wish to receive notifications of the meditations in your email inbox please sign up here: https://treesisters.org/full-moon-gatherings If you have already signed up for previous moon calls, you do not need to sign up again.