Turning Towards Our Elemental Nature ~ Gathering in Circle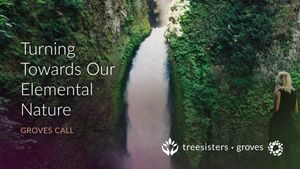 Turning Towards Our Elemental Nature ~ Gathering in Circle
28th January https://treesisters.org/new-moon-gatherings
Turning Towards Our Elemental Nature ~ Gathering in Circle
https://treesisters.org/new-moon-gatherings
On the 28th of January, we invite you to join us for the first New Moon meditation of 2020. This month you're invited to an exploration of Feminine Nature-Based Leadership.
Within TreeSisters we talk about the concept of Feminine Nature-Based Leadership. There are many ways to express this and each of us will take a unique journey with it.
We are gathering in circle to embark on an exploration of our internal relationships with the elements of air, earth, fire and water, through a simple meditative enquiry into how they appear in our experience.
These elements are present in all of the natural world, and sometimes surprisingly, we find that it is no different when we turn inwards towards our human make up.
In our time together, we will feel into which elements are familiar to us and which we may be still finding our way with, and the possible gifts available to us when we open to them.
These calls offer a space to lean into the support of a group of treesisters from all around the world; an hour each month where you can rest and receive nourishment to help replenish and rebalance you.
https://treesisters.org/new-moon-gatherings