Project description


The approach
Villagers, and particularly women, are employed to grow, plant and guard the regrowing forest. To Eden Reforestation Projects, one key element to successful reforestation southern Nepal is that: "you have to benefit the local population. People who are suffering the impact of deforestation are living in extreme poverty because of the connection between the land and the local community." They call their approach the 'Employ to Plant' methodology. Reforestation helps with poverty relief and people build a relationship with trees so they value forests and become stewards.

What are the expected environmental outcomes?
The project aims to establish semi-natural community forests by providing the local villagers meaningful employment and impactful ecological gains. The project plans to plant 100,000 trees annually. The reforestation efforts in this area will not only bring back a healthy, diverse and native forest; it will also improve soil quality and water tables, over time improving local farming and agricultural productivity.

What are the expected socio-economic outcomes?
Villagers, mostly farmers, and particularly women, are employed to grow, plant and guard trees. The 'Employ to Plant' strategy provides the poorests of the poors with a job, a consistent income, and a sense of accomplishment. As a result, it helps families dealing with childhood malnutrition, famines, and inability to afford childhood education. In Nepal, at old projects sites, Eden Reforestation Projects reported that more children are in school because their parents can now afford to send them, there is a decrease in alcoholism and families are able to save money for the first time. Income generated through the community encourage indirectly the development of village micro-enterprises.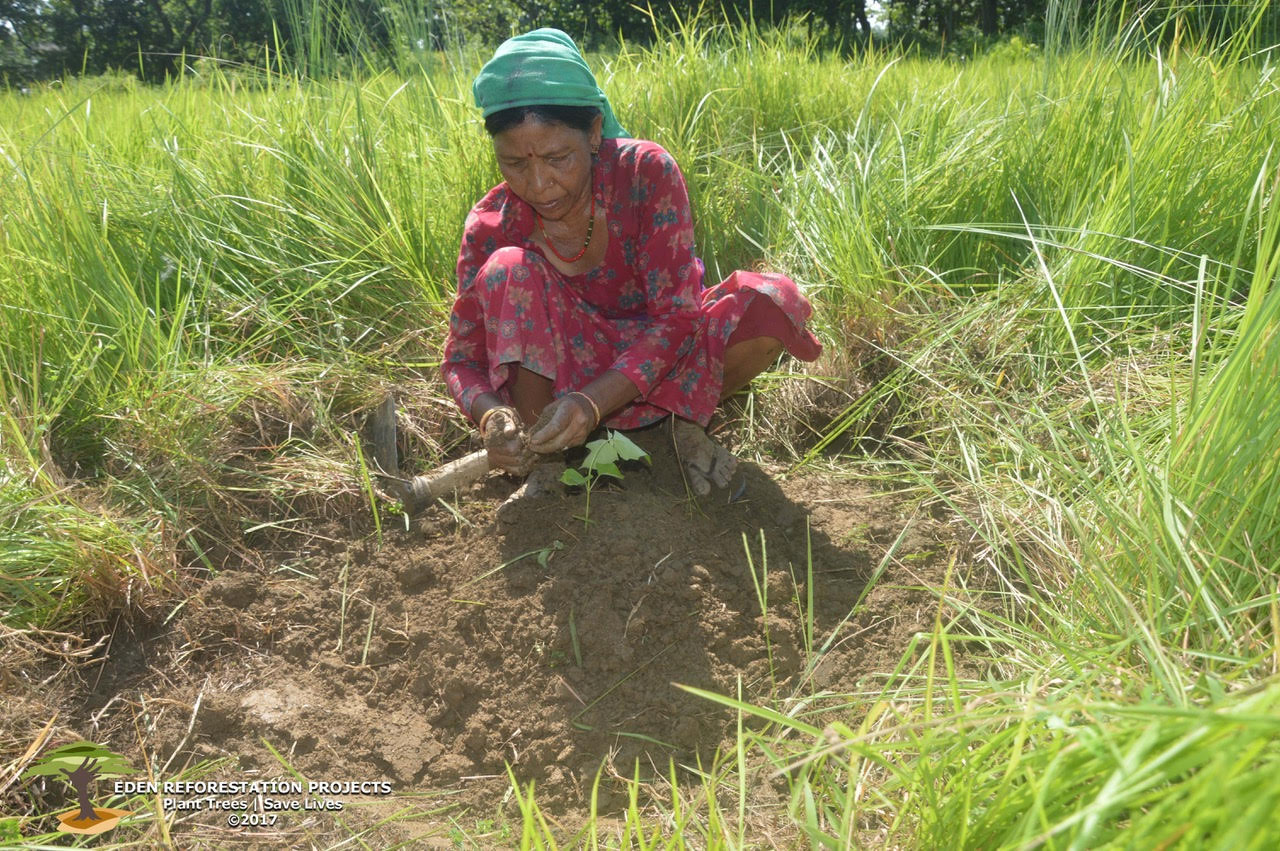 What's the restoration method?
It is a true reforestation project. Trees are planted with diversity in mind at a planting density of 1 tree per 2 meters over cleared lands. Seeds are collected from remnant nearby forests or procured from government seeds banks.

Which trees?
The project seeks to move away from (mono-culture, exotic) plantations, reintroducing native biodiversity - occurring naturally in Nepal that are indigenous to South and Southeast Asia at maximum extent.

For example, planted species include: Sissoo (Dalbergia sissoo), native to the Himalayan foothills in Northern India and a pioneer species which colonize the land rapidly; the world's biggest teak (Tectona grandis), near the top of the list of world hardwoods; the Indian Rosewood (Dalbergia latifolia), which has been overexploited and under pressure from illegal logging.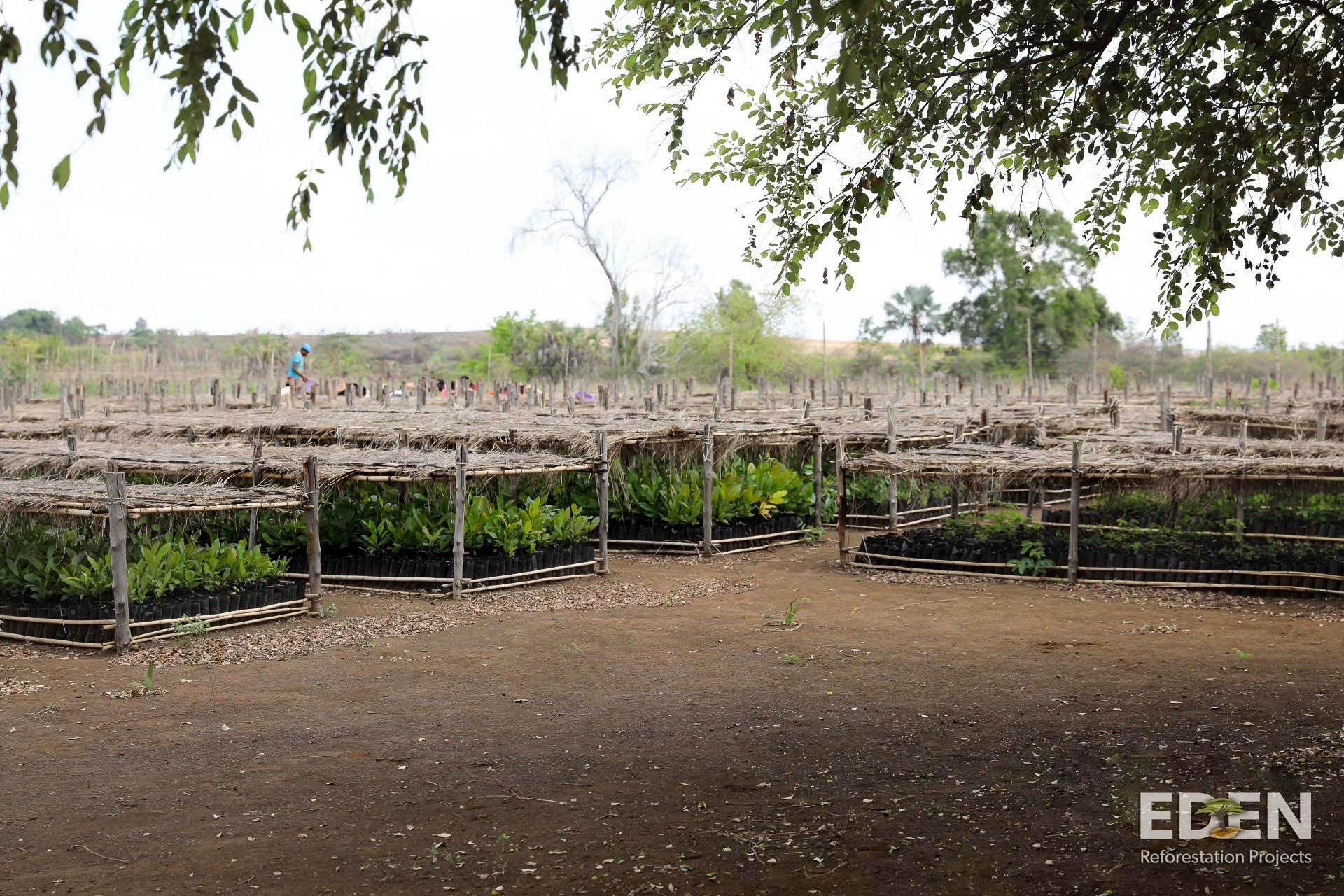 Along with growing, planting and guarding native tropical broad-leaved tree species, the forest users groups of the project plant a minimum 10% of agroforestry species in each area, to support the livelihoods of local people, some non-native but proven non-invasive. For example, nature's gift to human beings, Amla (Phyllanthus emblica), is one of the agroforestry species planted for ayurvedic purpose. Moringa (Moringa Oleifera) is planted for medical/food use.


What is the reforestation site like?
The reforestation sites are cleared former forestlands. In Rauhatahat district, the sites are located 30km away from the Chitwan-Parsa-Valmiki wildlife corridor, a complex of 3 protected areas home to rhinos, elephants and tigers (Panthera tigris). According to IUCN, the Chitwan National Park is one of the most important forest remnant in Southern Nepal. It is home to over 150 tigers, and a prime breeding ground for tigers that spread out to neighbouring Parsa and Valmiki reserves which are under carrying capacity. In Jhapa district, the reforestation sites are closed to remaining Jalthal forest, which is home to the critically endangered Asian Elephant, the Common Leopard and the Clouded Leopards. It covers an area of 6,300 hectares, which is 8.55% of the Jhapa district. (15)
Who's involved?
Eden Reforestation Projects works through a small team of local staff. Reforestation activities are run through Forest Users Groups. They are paid to grow, plant and protect trees in degraded and cleared lands, as well as manually clear land prior to planting. Reforestation occurs in "Community Forests" and in one "Collaborative Forest" (16) as an experiment. Community Forests are for subsistence (timber used by the group) and/or commercial purpose (selling timber to outside market). They are governed by strong social organisation, by both written and unwritten rules. Cutting is thus allowed by the communities. They are cycling the cut zones to let natural regeneration self grow back what was cut down.

What's the place of women?
Eden Reforestation Projects supports women to work at high managerial positions within the local team, including assistant director Racchya who graduated from Kathmandu University with a degree in Environment and Natural Resources. At minimum, 60% of Eden's village employees are female, directly benefiting through employment and consistent income. Finally, the project aims to build the capacity of female village employees, in order for them to become managers and nursery leaders.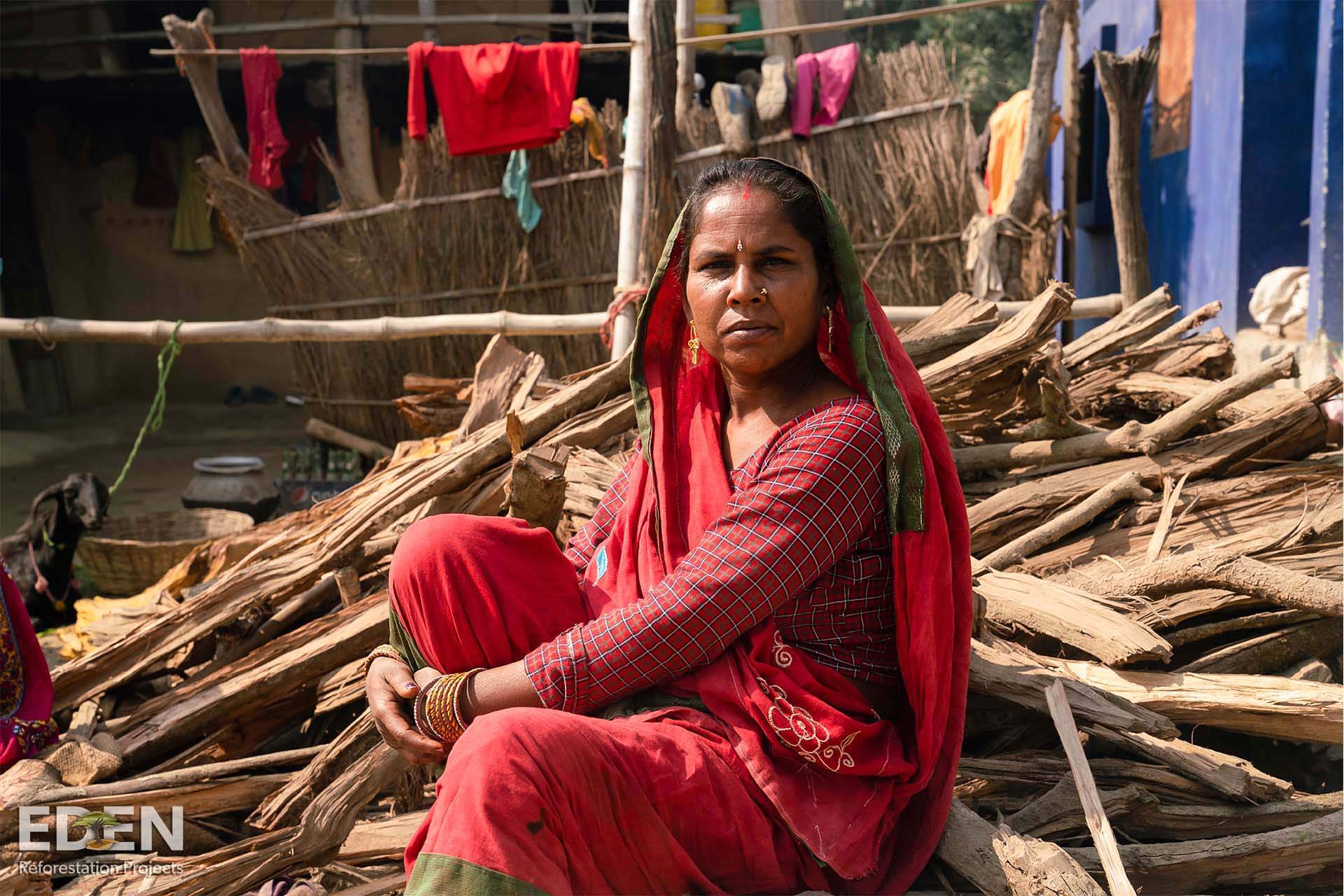 What will happen next?
Thriving forests and farmers with increasing soil fertility. The project is also extending wildlife habitat, providing them with food, water and shelter. In that respect, Eden Reforestation Projects reported the following: "In Jhapa, we have seen evidence of wild boars, elephants, snake varieties and different birds and insects in our reforested areas". Human-wildlife conflicts are of concerned and the project is already looking into innovative ways of keeping wildlife away from farms (e.g. tree fences).

History and Future of the project
Project partnership agreement signature between Eden Reforestation and TreeSisters began on October 1st, 2017.
By the end of planting season (mid-September 2018) Treesisters will have planted 200,000 trees in Nepal, spread between the 2 project areas of Jhapa and Rautahat.
Support this project
If you would like to support this project, and our other planting projects around the world, please step in as a monthly member. Every contribution makes a difference.
Written by Lauriane Cayet-Boisrobert
Published 29 March, 2019
Photos are courtesy of Eden Reforestation Projects and Lauriane Cayet-Boisrobert