Project description
What are the expected outcomes?
The project seeks to restore 5,000 more hectares of degraded forest lands towards reaching 833 trees per Hectare, which is the tree density of the nearby natural forests, in order to tackle poverty and reduce pressure off the Khasi forests. The project also contributes to protect watersheds, improve water availability and water quality. The project creates forest-based livelihood opportunities, through raising awareness and capacity building events, as well as tree nursery development and other activities such as poultry, piggery, tailoring, to limit grazing.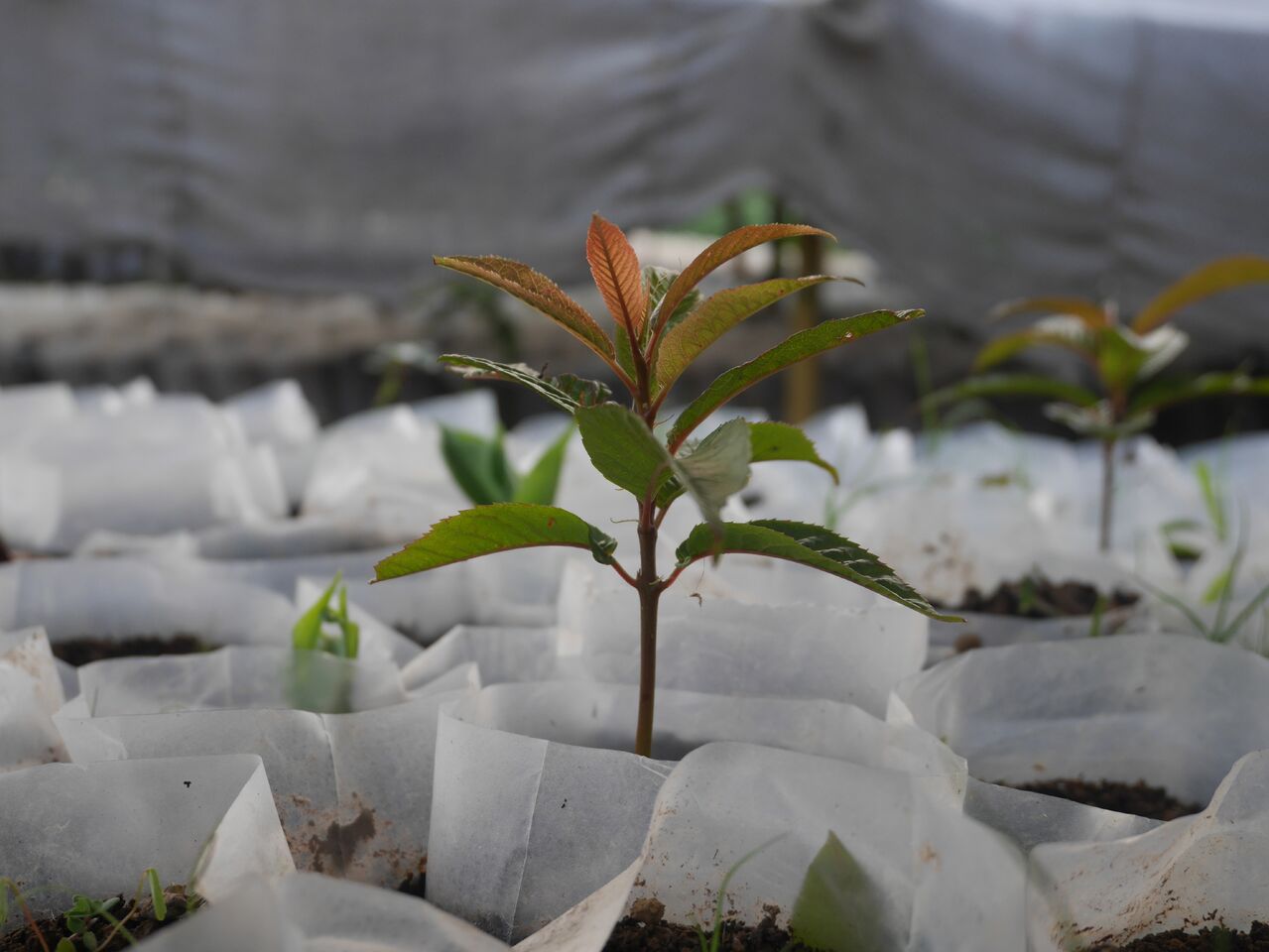 A tree seeding growing in the nursery.
What is the restoration method?
Under this project, the forest restoration involved is called "assisting natural regeneration". It is essentially the protection of wild regenerating tree saplings of over 40 species of trees but the project also plants 10% of trees per year to increase species diversity. Sites are selected when assisted natural regeneration is possible through a technical feasibility developed by WeForest.

Which trees are they planting?
Among the 40 species of trees involved are: Alnus nepalensis, a pioneer (tree often colonizing clearings), nitrogen fixing tree, which is native to the subtropical highlands of the Himalayas. Project is also planting endangered tree species such as critically endangered Ilex Khasiana which is endemic to India.

Who owns the land?
The restoration work is organized in several scattered plots across the Khasi Hills in the South and North of the city of Shillong (the capital of Meghalaya), on newly degraded areas (in different plots than the 'Khasi Hills Community REDD' former project). These are lands held by the Khasi communities, clans, and families, or even Sacred Forest (set apart for religious purposes), and areas surrounding water catchments.

What's the restoration site like?
Under this project, Khasi communities are restoring degraded mixed broadleaved forests and some forests plots where there are currently mostly pines growing. The starting density at the restoration sites varies between 300 and 600 trees per Hectare (degraded forestlands). Fragments of mixed evergreen cloud forest remain in the project area as sacred groves.

How does it benefit the locals?
The project does not generate revenues from paying (back) the Khasi for ecosystem services, such as in the 'Khasi Hills Community REDD project' mentioned above.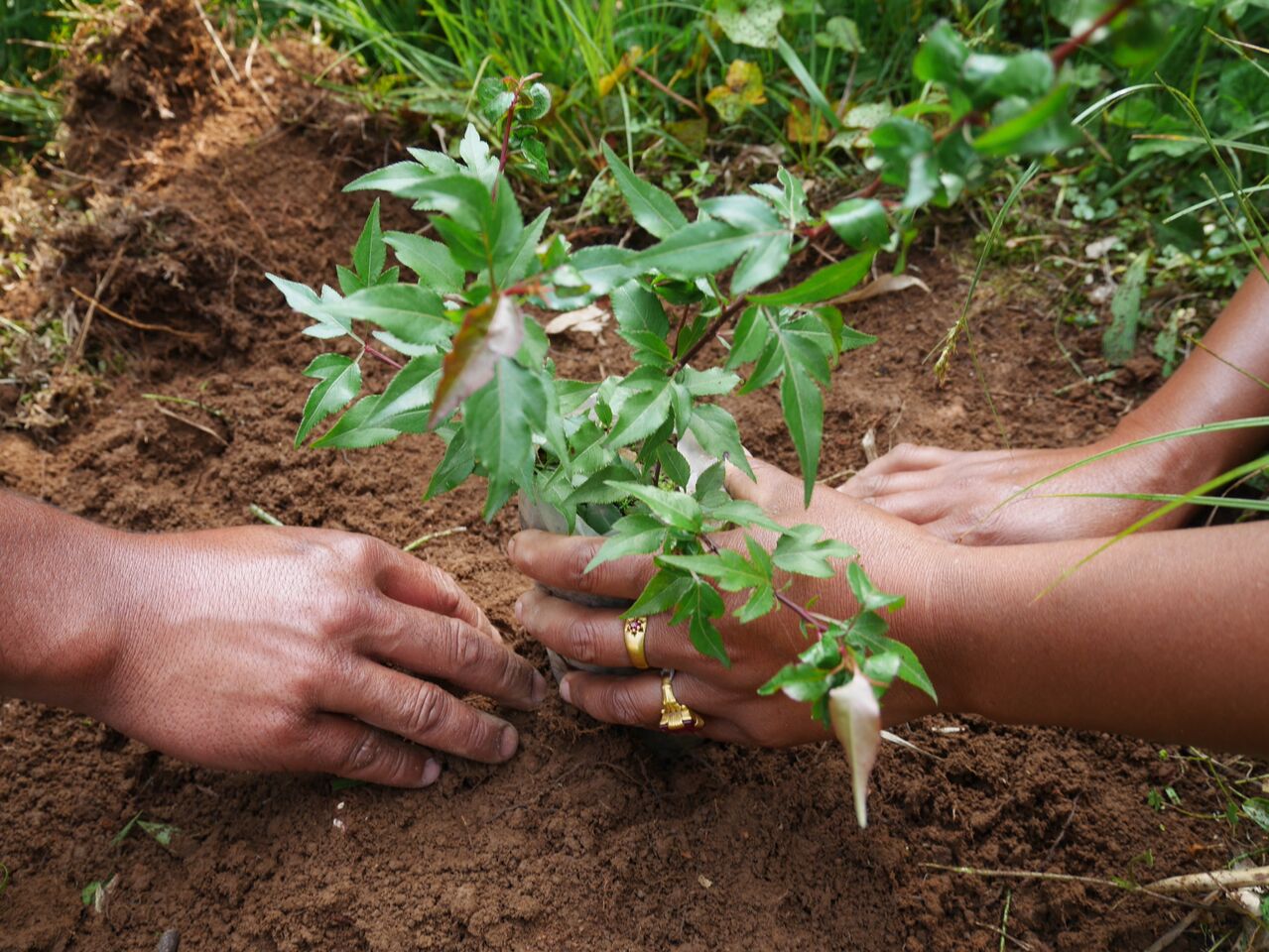 The Khasi directly benefit through: restored landscapes, employment and additional livelihoods, increased soil fertility under agroforestry systems, and indirectly in the long run, through replenishing water tables and drinking water. It is interesting to note that WeForest has been working with other partners to strengthen the communities' capacity to monitor the forest-water interactions. Indeed, tackling water scarcity in the dry months and pollution has been stated the top priority by many community members.

Who's involved?
~ The Federation is responsible for the project implementation. They facilitate and organize the field work and events, with individuals, Self-Help Groups, Farmers clubs and LWCs.
~ Khasi participating villages are employed to operate tree nurseries and do the forest restoration work. This is done by individuals, Self-Help Groups (9) and farmers' clubs. Villagers are actively involved; they participate to designate forest management sites, the best intervention approach (tree species, silvicultural approach).
~ WeForest is responsible of project coordination and reporting to TreeSisters. They are also engaged in capacity building and research to enhance the silviculture practices and water quality and availability. We Forest also organize trainings on sustainable agriculture, including agroforestry, forestry conservation and protection. LWC's Forest Management Plans are solely financed under the REDD project (it is not part of our project's budget).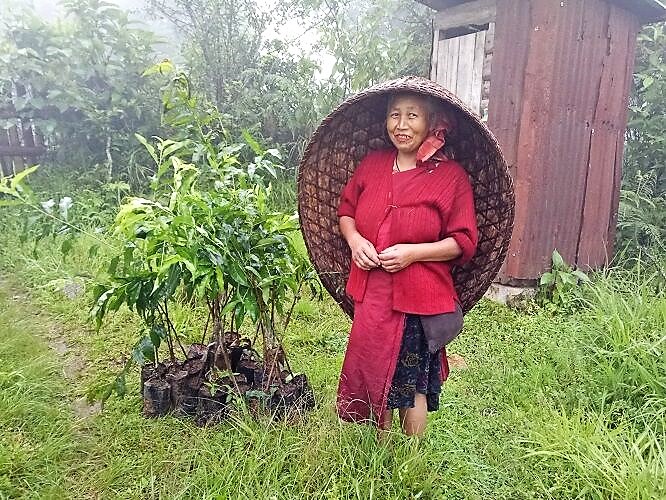 What is the place of women?
The distinctive Khasi society is matrilineal (the youngest daughter inherits) and matrilocal (the husband lives with his spouse's family). Because of that, women are primary business holders and entrepreneurs. As a result, they largely benefit from the trainings and awareness programs and 75% of the Self-Help Groups engaged in livelihood activities (including ecotourism initiatives, animal husbandry, food establishments and tree nurseries) are run by women. While, women are not involved in community decisions because they have been traditionally barred from taking part in decision making, (10) the project makes sure they participate in the Dhurbar's consultation meetings regarding decisions about the forest.
And thanks to the project, women hold an increasing stake in forest restoration and management, today forming half of the LWC elaborating the Forest Management Plans. Since Summer 2017, the project also employs female community facilitators as promoters of natural resource management. They also serve as managers in the respective villages to keep the restoration activities running and create a bridge between socio economics and forestry.
What will happen next?
The Khasi will continue to long-term manage their forest resources - with trees and forest continuing to drive their culture and livelihoods. This is possible because the project encourages forest-based entrepreneurship. Self-Help Groups, farmers clubs and micro enterprises are trained on how to set up, manage and operate tree nurseries, and small horticulture businesses (including the cultivation of plums, peaches & others, under agroforestry systems).