Project approach
While mangroves are protected by Indonesian law, this is rather hard to police and it is difficult to apply the law where mangroves are the main sources of subsistence survival for adjacent poor people and communities.
Even if they know how destructive it is, they may not be able to think about mangroves preservation. Local people and communities might just sell mangrove lands to investors in fisheries, oil and gas, or for rice production, in exchange for increased nutrition and health care or the construction of a school.

A multifold approach is necessary to address the nexus which exists between poverty and deforestation. It all starts by employing people to plant. Employees will earn a regular income to replant the mangroves, which will benefit the whole community. Then it is important to find ways to reduce fuel wood consumption and ways to create a circular economy linked to the mangroves. The problem of deforestation will neither be solved overnight nor by replanting trees only.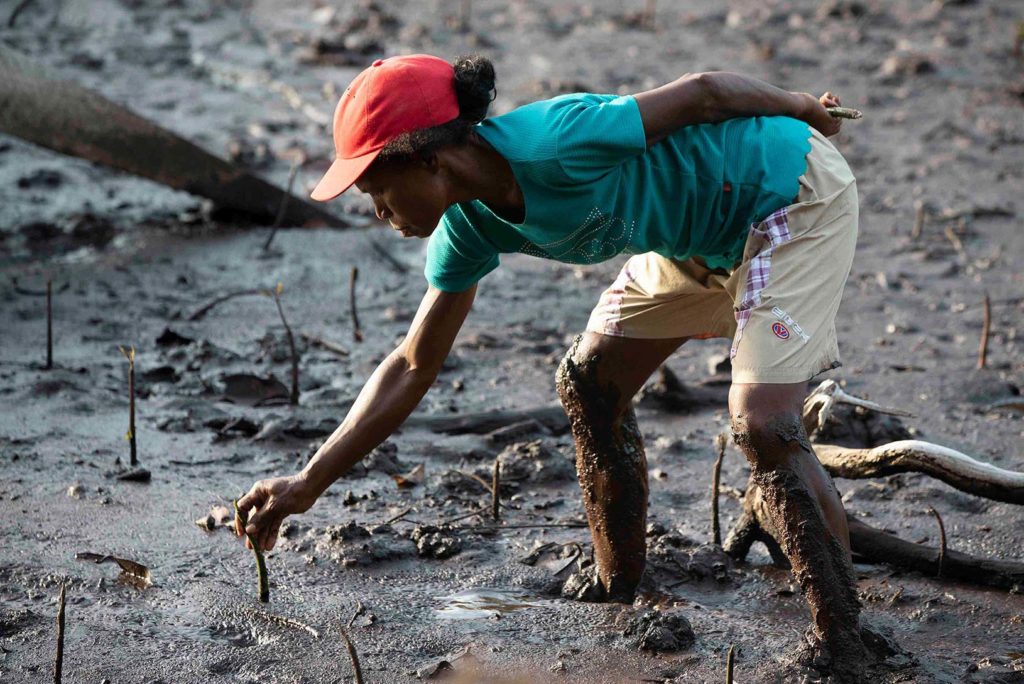 Project details
The Yapen Mangrove Restoration Project began on December 1st, 2019. A minimum of 500,000 mangrove trees will be planted the first year. The project will also be planting at least 10% agroforestry trees (5) beginning in the second year, to take the pressure off the mangroves.
Planting will occur on land under communal ownership with 22 employees chosen among the local community. Eden Reforestation Project has already identified a first site that requires an estimated 1 million mangrove trees, covering about 66 hectares.
This project is carried out by Eden's local director, Jesse Willem, who is Indonesian. Jesse has been working with Eden Reforestation Projects to engage coastal Indonesian communities in reforesting their land and started working on Biak island in 2017.
Potential co-benefits of the project are:
1 - the possibility for these families to send their children to school through increased income;
2 - the opportunity to create microenterprises from savings generated;
3 - enhanced stewardship;
4 - improved fisheries;
5 - enhanced biodiversity and wildlife;
6 - increased resilience against storms and flooding events.
The project aims to financially empower women with a set goal of a female-to-male planters ratio of 60% and will attempt to increase women's leadership in a community where women are mainly involved in domestic matters and excluded from decision-making outside the home.