Angharad Barlow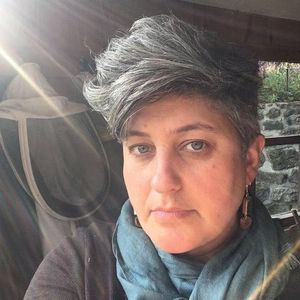 Angharad Barlow
Groves Programme Manager
Angharad has worked with conservation projects both as a creative and on the ground for 25yrs, and her longstanding passion for insects sees her leading pollinator awareness projects and working with re-wilding and honey bee health across Europe. Her deep relationship with the honey bee has led her into greater connection with the trees, their inextricable relationship and the combined wisdom that they have to teach us.
Angharad brings experience as an Arts and community engagement facilitator, workshop leader and teacher. She is also a writer and practising artist that spends time exploring 'Art as Activism' and forms of storytelling for our human mythos. On the journey of sharing nature based practices and becoming a Voice for the Voiceless, Angharad joined TreeSisters after discovering a team of kindred spirits and an organisation with integrity and the Earth at it's heart.
Angharad has studied and trained in shamanism and embodied feminine healing and wisdom practices. She is dedicated to the restoration of masculine/feminine balance both in our relationship with the natural world and each other, empowering and supporting others to find their own gifts and connections.