Jenny Smith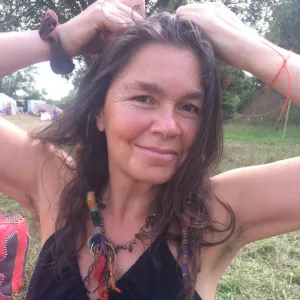 Jenny Smith
Groves Programme Manager
Jenny has many years of experience of setting up services in the 'Not for Profit Third Sector'. She has created local and national services in the UK in the fields of addiction, mental health and women's self-harm. She has a deep capacity to be with what is marginalised and outcast in our world, and a steady earthy energy that offers grounding and reassurance to those that she supports.

She is also a very experienced facilitator having trained multiple teams to work on front line services; being a facilitator of Joanna Macy's Work that Reconnects and co-facilitating the annual Eartheart Women's Initiation with Jewels Wingfield.

Jenny is the outward co-ordinator of the Groves project – the groups through which local Treesisters gather. She supports women to call Groves into being and to help grow themselves and each other through the process.

Her own relationships with women have been integral throughout her whole life. As the youngest of three sisters and having been part of women's circles from very young, she is extremely familiar with the joys and challenges within women's dynamics. Jenny is committed to supporting women to rise up through limited perceptions of ourselves, rooting down instead into our powerful and deeply knowing natures, and resting back into the interconnected field of love of which we are all unique expressions of.
Jenny is currently taking a 6 month menopause sabbatical.