Kate Williams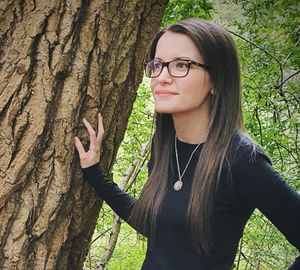 Kate Williams
Graphic Designer
Kate is a passionate creative with a love of nature, she has led several design projects with a core value of giving back to the earth and building brands with an eco focus. She is driven to designing with purpose and truly values being able to work in supporting the trees and reforestation. Kate brings over 8 years of experience in graphic design and branding with a mix of skills from illustration, animation, video and more. A firm believer that design is the silent ambassador of a brand which can be used to powerfully communicate messages and a call to action.

After forming a closer connection with Nature during a period of illness, Kate found her recovery in visits to local parks and lodges, sitting with nature and finding moments of clarity and creativity. She loves to take her sketchbook and explore new ideas, hoping to one day live nearer to the coast.

Kate also has an ambition to write and illustrate a children's book with a focus on the forests, teaching young children about nature and planting trees in a fun and magical journey. In her spare time she enjoys spending time with her brother and walking her dog Jasper. She recently found her love of Yoga and is part of the find what feels good community.