Kathleen Brigidina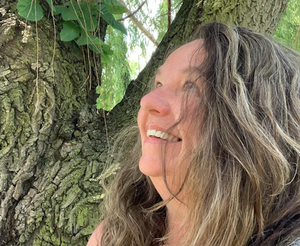 Kathleen Brigidina
TreeSisters Artist Liaison and Community Engagement Coordinator
Kathleen feels it is her destiny to experience, or share and contribute to all that TreeSisters mission and culture embodies. She began as a volunteer to support Artists in 2015 and while believing creativity is our greatest natural power alongside love, eventually founding TreeSisters Well of Creativity & Creative InnerViews and now manages TreeSisters Nest, our online community https://www.treesisters-nest.org and facilitates four seasonal Creative Journeys, "Liberating our Creative Voice for Earth" https://www.treesisters.org/liberating-our-creative-voice-for-earth.

Kathleen is blessed with two daughters and caring deeply about their future is passionate to inspire increased awareness, expression, and consciousness by reconnect with our planet heart to heart.

Besides being a tree lover, Kathleen is an eco-artist, co-founder of SisterArt-Conscious Creatives, Water ceremonialist and Council member of Loving Waters, gallery curator, writer, creative doula/teacher/coach, energy healing practitioner, & sustainable garden designer. She has founded various green expos, events and community college courses for sustainability.

She studied fine art at the School of the Art Institute Chicago, worked closely with Barbra Marx Hubbard as a Guide for the Conscious Evolution, Trained in Various Energy Healing Practitioner Modalities, and as a Facilitator of A Wild Soul Woman, Teen Portraiture, Art of Allowing, Transition Town and Pachamama Alliance-Awaken the Dreamer.