Jessica Brookes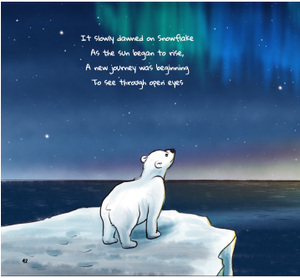 Visit Website
Jessica Brookes
Dreamweaver Books: a platform to share locally printed books designed with consideration for the environment using 100% recycled paper and ecological printing techniques. Our content seeks to inspire, educate and enrich life. Our collaborators are forces for good, creators with purpose expressing from the heart. Dreamweaver's first book, is a children's story about a polar bear called Snowflake who gets lost during a snowstorm and has to set out on a journey to find his family and friends. His tale has him face his fears and grow...
Dreamweaver Books
What inspiried you to write your book?
Snowflake The Last Lost Polar Bear was inspired by my childhood, I love polar bears and wrote stories about them and given their fragile lives and what they represent in terms of the changing environment and climate, felt it good to highlight.

Why is giving to TreeSisters important to you?
I really admire what TreeSisters stand for.

Please check her website for when the book is available. It is due to go to publishing soon!