International Tree Foundation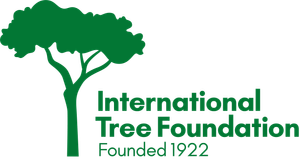 Visit Website
International Tree Foundation
International Tree Foundation works with communities in Africa and the UK to carry out sustainable community forestry projects which protect, regenerate and cultivate trees and forests to conserve habitats rich in biodiversity and to enhance human and environmental well-being. They are one of the TreeSisters planting partners, with projects in Kenya and Cameroon.
Cameroon: Endangered Gorilla Protection
LOCATION: MOUNT BAMBOUTOS, LEBIAHEM HIGHLANDS
PLANTING PARTNER: INTERNATIONAL TREE FOUNDATION
This project supports the urgent restoration of the Lebialem Highlands forests, home to high endemism and endangered species, such as the most critically endangered of all African primates - the cross river gorilla with just 300 remaining in the wild. The project occurs in an area of many interests combining mining, bushmeat hunting and logging.
The International Tree Foundation and its local partner ERuDef aim to create an ecological corridor through degraded forest lands restoration, connecting community forests and riparian forests, and agroforestry in surrounding areas. The project seeks to improve the local communities livelihood in order to relieve the pressure off the actual forests through green development associated with timber and non-timber products such as avocado production and cottage industries. It is also helping set up a platform to help well-organized women build their businesses and find the financial support they need.
Kenya: Water Tower
LOCATION: FOOTHILLS OF MT. KENYA, MT. KENYA FOREST RESERVE AND LOWER IMENTI FOREST RESERVE
PLANTING PARTNER: INTERNATIONAL TREE FOUNDATION
IMAGE CREDIT: THE INTERNATIONAL TREE FOUNDATION
Kenya has one of the lowest levels of green cover in Africa at just 7%, which makes water scarcity a national problem. However, Kenya in 2015 committed to increasing tree cover from 7% forest cover to at least 10% in the next 15 years.
TreeSisters is supporting the International Tree Foundation's 20 Million Tree Campaign to work with farmers, women and school children to reforest the denuded and degraded lands which were once part of Mt Kenya's forest ring and connected Lower Imenti forest. These forests are growing on gazetted lands within forest reserves. The project also supports agroforestry activities on small-scale farms, in farmlands adjacent to the forest reserves.
The aim is to restore a critical water catchment for Kenya's people, delivering an estimated 40% of the country's water needs, and gather communities around the rehabilitation of both their forest and their agricultural lands. This is an audacious project that warrants significant support.

Learn more